Boy Friendship Quotes | Best Friend Quotes
Boy Friendship Quotes | Best Friend Quotes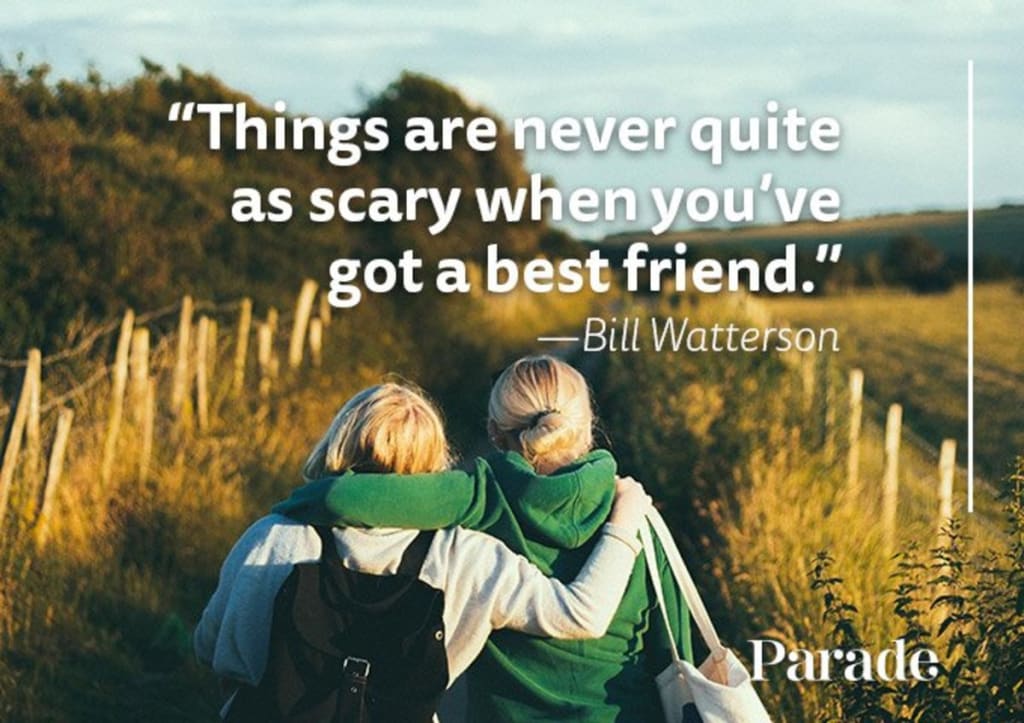 ***Boy Friendship Quotes.***
* Some connections are meant to be.
* Having a boy best friend is lifelong support.
* Boybestfriends are the best critics.
* They point out our mistakes immediately rather than supporting them
* I admire my friendships with some of my boy friends because I can always look upon to them if I have a problem
* They will always provide their support no matter what
* Boy friendships are something I respect because they help you out in your worst situations .
* They help boost your confidence through their sincere efforts.
* They protect you like brothers.
Boy friendships are in reality a sincere brotherhood that every girl long
From walking you alone at night to helping you whenever you need something boy friendships are such a blessing
To have a brother from another mother and to provide the same support and care as your family is a true blessing
Boy friendships often are mistaken by society but they are the most sincere relationships that will ever exist
Some relationships require no labels but just a smile.
Someone who's like a brother, someone who's like family – Boybestfriends
My best friend is someone I would change the whole world for.
A true friend Is someone who stays by your worst situation and helps you overcome it.
He supports you during days you need it and boosts your moods
Having a single boy best friend is enough not to feel alone.
They make you laugh out of nowhere and make you forget all your worries
Ever wonder how God made our boy best friends this goofy and stupid at the same time?
He knows when things aren't right and we feel lonely and will try his level best to make us smile.
A boy best friend is someone who respects your boundaries and never makes you feel uncomfortable.
A boy's best friend always has the best advice for you.
He warns you about circumstances that aren't decent for you.
He always makes sure he has done his brotherly needs when you need them the most
He respects your personal space and gives his best support
God created boy best friends for girls who don't have brothers.
Society might mistake the friendship between a boy and a girl but the value of love that grows between them is so pure.
Girls are so blessed to have a boy best friend.
A boy best friend is more important than having a boyfriend
Boy best friends give you all the information you need to know abou4 boys
Laughing with your boy best friend is a different kind of fun.
They change your life by giving you a new perspective to think about
Boy best friends remind us that we don't need makeup or any materialistic look pretty and feel confident
They increase our confidence and self-esteem because they never judge us
Boy best friends never judge our appearances.
They can be trusted with anything and trust they will never share it with anyone.
Friendships with my boy best friend taught me the true values of trust, loyalty and sincerity.
Boy best friend always prioritizes our safety first.
Someone who can be trusted for life
Someone you can always count on, to solve your silly problems.
Someone you can always look upon to
Someone who will always help you out when you feel completely blank.
Someone who will always advice you the better values.
Someone you can place your heart in
Boy best friend friendships are so precious and important.
They are present through your darkness and light.
They are someone who will always remember you as a part of their life.
Boy best friend's are to die for.
Reader insights
Be the first to share your insights about this piece.
Add your insights