August's Virtual Book Club Choice Announced
Awaken Your Inner Fire: Ignite Your Passion, Find Your Purpose, and Create the Life That You Love by Heather Ash Amara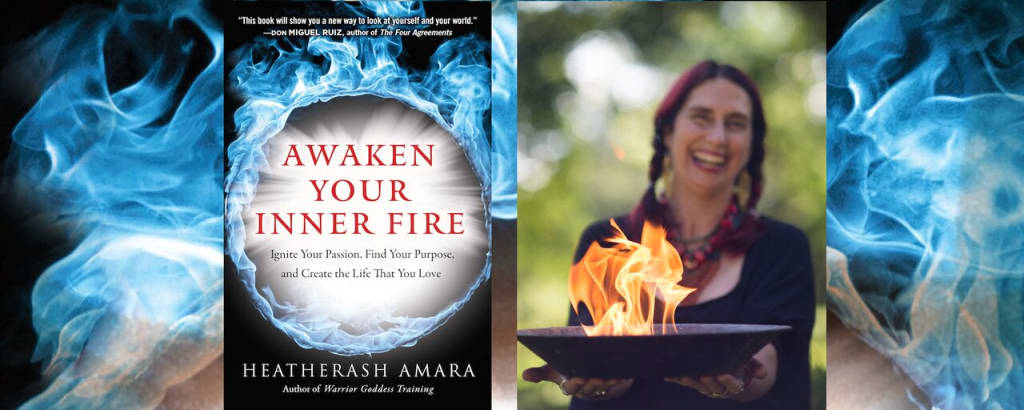 Used with permission
August's Virtual Book Club Choice
Join us for the August's Virtual Book Club as we read Awaken Your Inner Fire: Ignite Your Passion, Find Your Purpose, and Create the Life That You Love by Heather Ash Amara. The first meeting is Thursday, August 6 at 8:00 am central time.
Please go ahead and order the book here so that you can be ready for class on Thursday.
About Awaken Your Inner Fire: Ignite Your Passion, Find Your Purpose, and Create the Life That You Love by Heather Ash Amara
Your Inner Fire is the vital energy within you, the unseen force that gives life to your being. Perhaps because this energy cannot be measured in a lab, many people live without any idea of its existence, or the importance of tending to it.
In this groundbreaking book, best-selling author HeatherAsh Amara introduces you to the fundamentals of your Inner Fire, and explains how the four major aspects of your being--the mental, spiritual, emotional, and physical--all interact with this powerful energy.
Amara teaches that when you view these four aspects through the lens of your Inner Fire, you can radically change how you think, feel, and live in the world. In these pages, you'll find practices, meditations, and explorations to put the concepts to work in your life.
By tending to your Inner Fire, you will learn how to:
Find your true work in the world, regardless of any job you do or role you play.
Use your Inner Fire as your own personal North Star, allowing it to guide you when making important decisions.
Move beyond busyness, stress, and overwhelm and live in joyous creation
Implement a new daily practice to live in balance no matter what life brings.
Learning how to tend your Inner Fire in a world that is constantly trying to hook your attention is a challenge--but this book invites you to take new perspective on who you are and how you relate to the world.
About the Author
HeatherAsh Amara is the founder of the Toltec Center of Creative Intent, based in Austin, TX. She studied and taught extensively with don Miguel Ruiz, author of The Four Agreements, and continues to teach with the Ruiz family. She is the author of The Toltec Path of Transformation, The Goddess Warrior Series and Training, The Warrior Heart Practice, Big Freedom. Her website is www.heathserashamara.com
About the Virtual Book Club
The Virtual Book Club is an event hosted by me and my business A New You Self Care and Wellness Center. The Facebook Page can be found here along with the other events being offered due to Covid-19. The interactive group may be found here. We offer many workshops and classes that help you to find a new you. This is one of the many things that we offer for a reasonable cost that makes it affordable to all.
How to Register
To register, simply email me at [email protected] and I will send you the Zoom room and Password. The cost is donation based and helps to pay for the Zoom subscription. Payments can be sent to Paypal.me/bertena or Cash App $meditationgirl
Midnight Musings Information
If you have a suggestion for a topic that you would like featured please message me here with it or email me here: [email protected]
Want to leave a tip for me or read my other stories then visit my profile here.