9 things to KNOW if you want to be SUCCESSFUL
Easy tips to GROW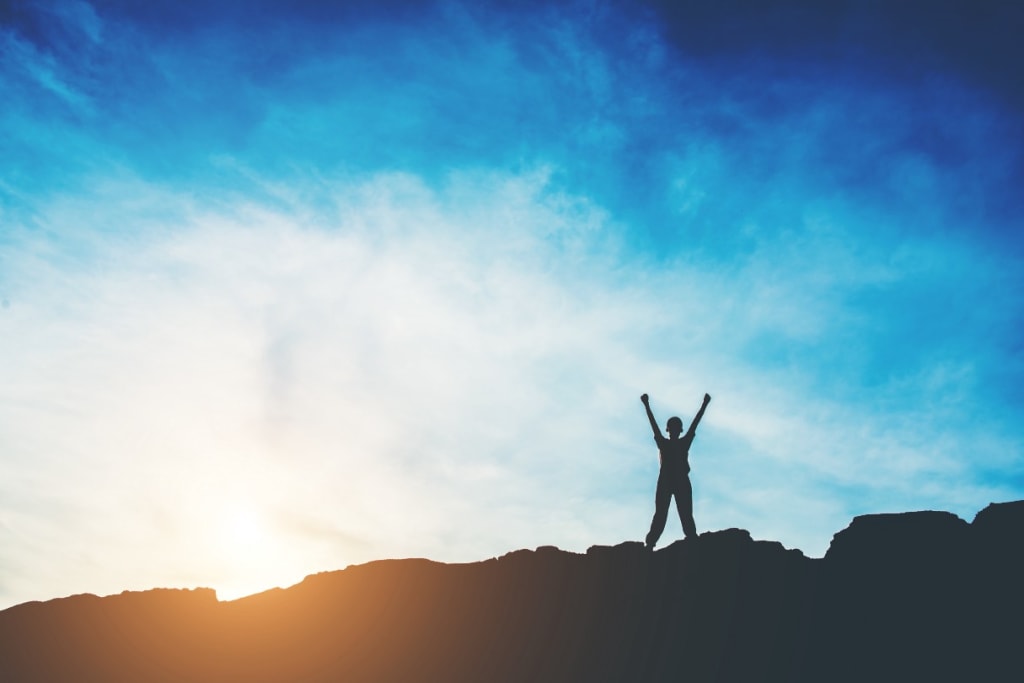 Photo Credit: Freepik — JComp
Regardless of the situation that you might be in, you must have uttered this, once in your whole life: "I WANT TO BE SUCCESSFUL!"
Think for a while, who wouldn't wish to be successful, right?
But not everyone achieves their goals due to being inconsistent or somewhat other reasons.
Wouldn't it be fun if you knew some magic tricks that would turn everything in your favor, hmm?
I wish that, too. But sadly, we should stop living in our fantasies and have a look at this life.
To some extent, things depend on fate as well. But mostly, your condition depicts how you treated yourself in your past.
Without any further ado, let me break things down for you.
1. Have Plans
Neil Patel writes that 9 out of 10 startups fail. The reasons vary for each startup, but there's one thing that is common amongst them.
What would it be? Any guesses, hmm?
Let me tell you, things will fall apart when not planned enough to make them grow.
The young energetic blood starts off with things without a second thought, which eventually discourages them at any point.
To minimize the fall, one should properly plan things before taking off, if not then be ready for a severe crash.
The rest is up to you!
2. Have Patience
"Life is not fair; get used to it." — Bill Gates
Not every time, success would be at your doorstep.
Not every time, you would see things in your favor.
Not every time, you would be getting the achievements you desire for.
But, most of the time, you would be experiencing harsh times. And things that really push you harder to the opposite lane, which is to "Give UP".
However, you should keep in mind that "THIS HARD TIME WON'T LAST FOREVER AS WELL".
Having patience can calm down your inner tsunami, but a question might pop up in your brain that "It's not as easy as this lad is spitting, is it?"
Believe me or not, giving it a try won't cost you a bit.
You can be the master and receive the top-tier awards for your patience.
What do you choose? Having some patience during your hard times or let your demons fight back and destroy everything?
3. Follow what you LOVE
There are people, who are mainly forced by their parents to proceed in one domain while they are enthusiastic about another.
Who to follow? Your Parents' choice or Yours?
Simply, you can ask them out to understand your situation and be cooperative so you make them proud in the near future.
I know, some parents won't agree with their kids as they are way too concerned about their children's future.
However, if they see your passion regarding your beloved field, they can be melted as well.
It's up to you: how you convince them because situations vary to individual.
4. Invest your time
If you're serious about something then it is a known fact that you would dedicate most of your time to it.
However, if you were passionate about a certain thing and gradually lose interest then you were just attracted to it.
Our young generation is mostly wasting their time on unnecessary things, which is not hidden from anyone.
But if they invest their time in learning a skill then there are high chances of being successful in life at any point.
Being successful shouldn't be considered as when you begin to make a ton of money.
Moving your mindset from being materialistic to finding the real peace and joy in life or in what you do, should be depicted as "Success".
And investing your time, strength, energy, and every portion of your body to one field/domain should be your foremost priority in order to outplay everyone else.
5. Don't be Nice to Yourself
Go hard on yourself, if achieving your goal is your main chick.
Not too hard that you start to mess with your mental and physical health.
Moving out from your comfort zone will only assist you in being #1.
Follow the 40% rule, which says: "When your mind urges that you're exhausted and cannot move further anymore, it means you're only 40% done."
Your brain is your enemy and ally at the same time. It is you, who should properly control it and do not let it enslave you.
No matter how many times your brain tells you that you're exhausted and cannot have a bit of energy to go forward, you should remind yourself frequently that you're capable of achieving anything if you really wish.
6. Don't Expect from anyone
The biggest mistake one can make is to expect anything from anyone.
Expecting things from humans will only turn you into a dependable creature that craves for everyone's help.
However, that shouldn't be the case.
In some scenarios, it is acceptable and it solely depends on the time and situation that you're in.
The best thing would be if you train yourself to be a "LONE WOLF", if not then you're on your way to being doomed by some hypocrites, selfish, and pretenders.
"Be alone, that is the secret of invention; be alone, that is when ideas are born." — Nikola Tesla
7. Think twice before taking any step
If you're concerned about yourself to the extent that you don't wish to see yourself to be a failed warrior then thinking before taking a step would increase the chances of winning.
However, if you just do things that randomly pop up in your mind then my friend, there's no place for you on the road to be successful.
It's not about only thinking before doing something, but the main agenda behind this is to encourage you to observe all of the aspects and do things accordingly.
Anything that comes your way should be fully analyzed and observed before you begin to take any action.
This way, you will clear one more obstacle from your path.
8. Don't Overthink
Overthinking kills.
If you don't stop overthinking then instead of finding ways to solve your problems, you would end up getting stuck in them to the point where you would find no other way except for giving up.
If you're in a problem and can't find a solution for it then give your mind some rest and be peaceful for some moment, after that you will see how you're going to deal with it.
Another best approach would be if you get some advice from someone, whom you trust the most.
That way, you will get through it without messing it up.
9. Make Changes
Some people don't make changes in their life. Also, they prefer to repeat the same cycle for their whole life.
What you can do to make things in your favor is, to begin with changing yourself.
To stand out, continue to make changes. And embrace them for the sake of your success.
If you keep rolling in the same cycle for years then there's no chance of growing and succeeding.
If your friend or someone from your family is struggling with life and cannot achieve his/her desired goals then share this piece of writing with him/her so h/she can go with the flow and minimize falls.