9 Instagram Accounts That Will Help You Fall in Love with Yourself Again
We all need a little self love boost sometimes. So in this article, I'll be sharing with you some of my favourite body positive, forward thinking, self-love inspiring social media accounts. I'll also be telling you a bit about what I love about each and every one of this carefully selected group of beautiful ladies, who's feeds never fail to leave me swimming around in a big old pool of self lovveeee. Think Amy Schumer after she falls off the spin bike in "I Feel Pretty", level confidence.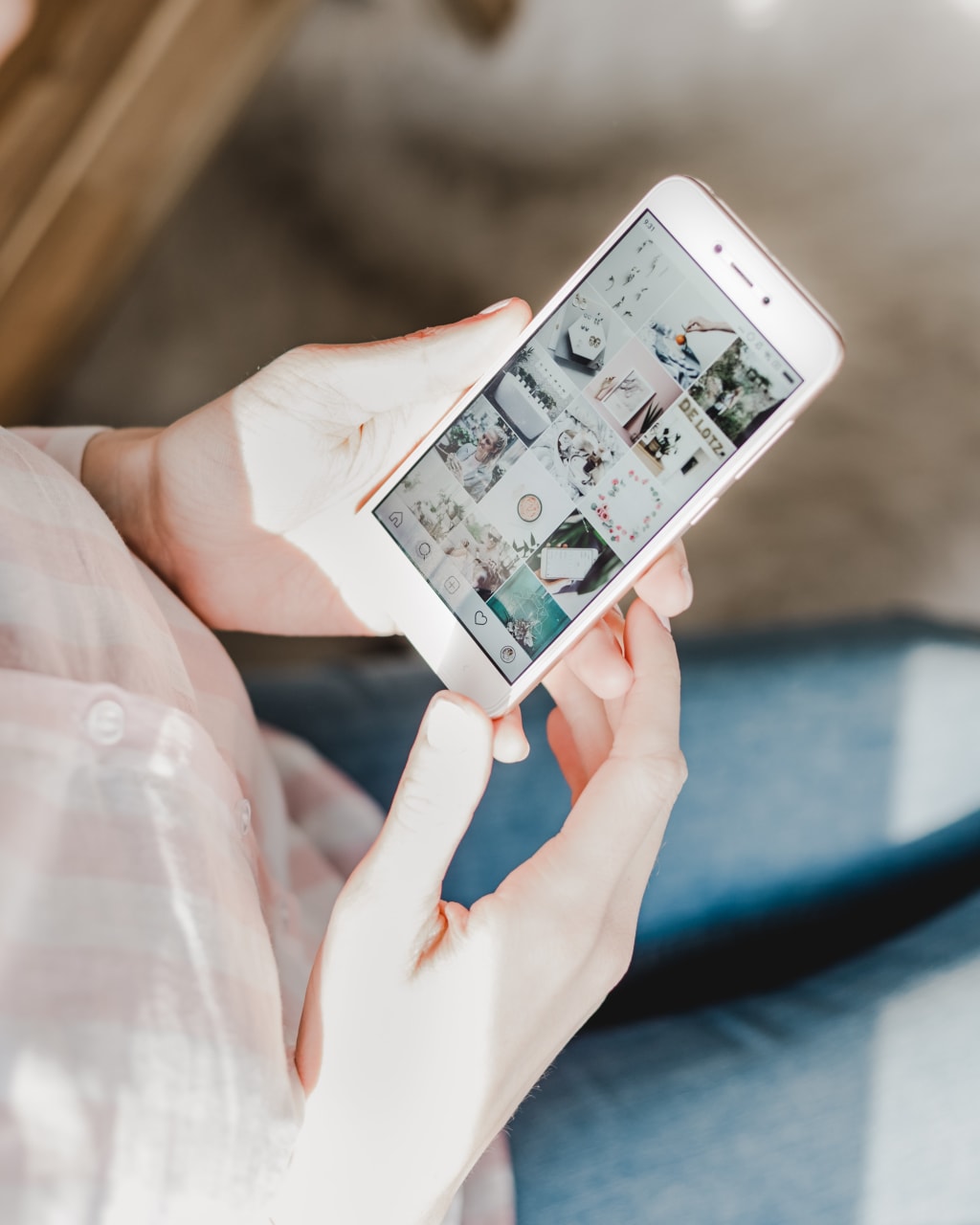 The world of social media can feel a little daunting at times can't it? Fancy food, holiday pics, models, super models, more super models. There's a chance when we're sat on the couch with the same Mum bun we've had in for three days; dipping a penguin into a jar of Nutella; whilst surfing the gram; between tackling laundry mountain, it could possibly, make us feel a tad inferior. I'm definitely not using those examples because they're exactly what I'm doing right now as I type this… There's Nutella on my shirt? That's somebody else's Nutella! Don't you look at me like that!
So to help us learn to love ourselves again here are 9 hand picked Instagram accounts you can follow right now. I know there are thousands of people out there using their internet space to cover people in positivity, and I wish I could see every single one of them, but these are just a few that I've been lucky enough to come across over the years. I go to their pages when I'm having a rough day or not feeling too good about myself, and I always leave feeling a million times better. If you're ever in need of more reasons to love yourself give them a follow. Loving and accepting ourselves isn't always an easy task, but with a little help slowly we can drown out the messages of negativity and fear, and replace them with little sparks of love and light.
Sarah's bio states that she is a Mother, writer, creator and speaker from Canada, but to so many she is so much more. To me she's one of the people I think about when I feel self conscious about all the physical changes that accompany becoming a Mum. Feeling this way about your body as a Mother can make you feel so, so vulnerable. In the past my stretch marks, extra weight and looser skin have made me feel as though I wasn't attractive anymore. I have looked at myself as broken, or used up. As though my body was something practical, here to serve a purpose, rather than something soft and pretty to be loved and enjoyed. Sarah's page is like a tight hug from someone who knows that place. Her warmth, and passionate encouragement, that gently push me to accept my new body are quite simply beautiful.
To so many she is a guiding light that reminds us that we deserve to be held. That we're no less deserving of love because our bodies have changed. Her energy shines through every post, and gives me a delicate strength that really can't be described. All I can say is go and read for yourself, and remember that you deserve to love and be loved in return, regardless of your size, stretch marks, scars, or shape.
"What a wonder it is to be born layered with skin, built upon magic, woven to stretch and expand. To be forever a custom design for you and your needs. What a wonder."
Danni Tabor is the wellness coach everyone needs. I'm so grateful for her live chats, because I feel like I just need her in my ear all the time, telling me not to beat myself up or take this life too seriously.
Her positive attitude, realness, and refreshing approach to health and fitness never fails to boost my mood. In the gym all too often a PT's questions are all about what we want to look like rather than what we want to feel like. No judgement, it's up to you what motivates you. But it's amazing to see trainers who understand that health and fitness can be so much more than that. Trainers that are making a real difference, by working with clients and encouraging them to love themselves, instead of profiting from them hating themselves.
Give her a follow if you need some daily realness about all of life's ups and downs, a gentle reminder that you're beautiful the way you are, or just a good bit of fun over TikTok.
"It's not wrong to make changes. But there's summit horrid about making changes even if they make your life shitter. It's never about making ya life shitter"
Felicity Hayward's no fucks attitude and pure, untamed, unstoppable approach to self-love might just be the most inspiring thing I've ever seen on the internet. Her devotion to loving herself completely and encouraging others to do the same is so strong that it's simply infectious.
I first came across Felicity watching Naked Beach, a show I recommend you drop everything and go and watch right this second, because it's amazing. I followed her on Instagram and never looked back, and she's been gracing my feed with her beautifully indulgent, self love posts ever since.
Head over to her page to see the amazing work she's doing. If you need more inspiration to love every bit of yourself, fully and completely, Felicity is where to find it.
"You should love yourself and know your worth as a person rather than any labels or any flaws,"
If you're after pure comedy gold, perfectly intertwined with a very serious and heartfelt message about accepting and loving yourself for who you are, you need not look any further than Laura's insta page "Knee Deep in Life".
It's perfect. That's all I can say, is it's pure perfect. I literally live for her "Google Goals" comparisons - which by the way if you haven't already seen, you're seriously missing out. She's the queen of insta vs. reality we've all been needing. She says the things we're all too scared to, for fear of being judged. And I mean it when I say that with every post she makes me feel a little more normal, a little more okay with being me the way that I am. She makes me realise that I'm not polished or perfect but the secret the internet's keeping is nobody is!
She makes me want to strive harder every single day to be my whole authentic self. She makes me feel inspired to accept my quirks, every single one of them. And if that isn't the most beautiful gift you can give a person then I don't know what is.
"Learn not to waste days wishing to be that other person because all the time you've been looking at them, you've failed to see how incredible you already are. Go shine, be you and start working on how it feels to love you. Dig deep, it's worth it."
I first found Molly's page after watching Naked Beach on Channel 4. And I'm just going to repeat this for the second time in this article, if there's one thing you do today, watch that show. In fact, if you have to, close this article right now, fire up channel 4's website and just watch Naked Beach for the rest of the day. It will change your life and have you feeling like a fucking goddess all week long, I promise you.
Molly campaigns passionately about keeping the toxic messages surrounding diet culture away from children. And I love her emphasis on modelling body positivity for our kids, so that they hopefully never grow up hating their bodies the way so many of the women, and men, of our generation did.
On a personal level, I adore her reminders that the idea that there's a specific "type" of clothing a woman must wear, based on her age and whether or not she's a mum, is absolute bullsh*t. We all have the right to express ourselves creatively through our clothes no matter who we are or what titles we hold. And I love her philosophy that clothes should be something to be enjoyed by us, instead of something to be suffered by us.
"Years ago I'd have walked past a dress like this telling myself it wasn't for me. Too loud, too much knicker flashing risk, too trendy, too young. Here's to realising that we wear the clothes, they don't wear us. So wear the damn clothes - life's too bloody short not to. PS if in doubt, get the legs out."
Loving ourselves isn't just about our bodies. I believe there's so much more to it than that. As someone who has been plagued with perfectionism for as long as they can remember, self care for me takes on a broader meaning, involving accepting where I am right now; Giving myself a break; and not being so hard on myself all the time. The way we talk to ourselves is so important, and all too often I've been guilty of berating myself within an inch of my life that I'm not doing enough, especially since becoming a Mum. I know this is something so many other people have felt too.
This is why I fell in love with Hannah as soon as I watched the opening of one of her videos. Hannah proudly describes herself as "The World's Okay-est Mom." And I just adore that and everything it stands for. She does post about body positivity too, but I love how she takes a broader approach to the topic and covers all aspects of self acceptance. It really makes me feel amazing when I read her posts, each one a much needed reminder that I'm okay, I am enough, and I'm worthy of love and acceptance without "perfection" - whatever that is.
"I learned that my past insecurities were rooted in something that doesn't matter. My kids can't tell the difference between a $30 stroller and a $3000 stroller. They don't care how much their outfit costs when they're young. Just because I can provide Henry with more "stuff", doesn't mean I'm a better parent this time around. My kids' best memories are of time spent together, not what I bought for them."
I came across Lhouraii's profile after watching an episode of "Hooked on the Look" on Snapchat stories and instantly fell in love with her individuality. She reminds me that my individualities are beautiful, and inspires me to live my life for me and nobody else.
I love the way she shares her struggles and vulnerabilities as well, by talking about her journey with agoraphobia. And in doing so reminding me that I can still love and accept myself whilst dealing with struggles of my own.
Her blue looks are so amazing, and having her on your feed will without a shadow of doubt inspire you to get creative with your look and embrace your own individual style.
"I just think people being their true selves, living for themselves. And just dressing how they want to dress, I find that so beautiful."
Like most people I came across Sophie (AKA Mrs Hinch) when her Instagram home account took off. I loved her videos, her outlook on life and her positivity. She really made me smile and inspired me to find some joy in cleaning my home. Her stories captivated me in such a way that soon I was hinching away and hauling home half of B&M on the regular, and I'm not one bit sorry. All the best Hinchers, if ya know ya know.
But I really fell in love with Sophie when I listened to her first book on audible "Hinch Yourself Happy". It was so raw, vulnerable and real, that I found myself walking around my kitchen in tears, covered in goose pimples, more than once. The beauty of her genuine, caring nature shines through in her words and is like the warm hug from a friend you didn't know you really, really needed.
She talks about her journey and personal struggles with anxiety and accepting herself in a way that really comes from the heart. And it was a much needed reminder that we all go through hard times and have challenges, even if everything seems perfect on the surface. You literally can feel how much she loves her readers and wants them to love and accept themselves. And her gentle, kind nature never fails to make me feel calm and reassured. Whenever I'm feeling anxious I have a flick through her stories, or fire up her book on audible and Hinch around my house, and before I know it I feel so much better.
"I've been looking at my photo albums tonight and it got me thinking... The image may change but truth be told, if anything, I feel less confident now than I did back then. Don't be fooled by these "glow ups" guys. Please don't focus on anything other than what's inside, because that's all that really matters. Without feeling good on the inside, no amount of "glowing up" on the outside will help, trust me on that one. Goodnight everyone, love you all"
9. Maui The Writer (Amirah Morris) - @maui_w
I've followed Maui for a while now and first came across her page at a time when I was really trying to find my own strength, and her poetry breathed so much life and fire into me. She is the poetic powerhouse of self love and female empowerment that everyone's feed is just craving. I don't think there's another time I feel as confident in myself as when I've just listened to her speak one of her pieces.
Her energy is so incredible, and so infectious. I dare you to listen to just one of her pieces and not walk around for at least the rest of the day standing tall. Ready to conquer the world. Fully aware of your worth and the power you possess. She makes me feel like an absolute queen.
"You come before anything. Be gentle and kind with yourself, prioritise yourself so that you can show up consistently as the best version of you. You can't give all of yourself away and not save none of yourself for you."
So there you have it, some little boosts for you, a series of virtual pick me ups. The one thing that shines through with every single one of the accounts I've mentioned, is that they genuinely, passionately care about their audience. I can feel it in every word they write, how much they just want to lift people up and make them feel better. How much they just want to grab us by the shoulders, shake us around and say "It's okay!". When I read their words I can feel their love for others in my heart. And so I just want to thank them.
Thank you each and every one of you. For every post, every picture, every video, every silly dance. Every time you wrap your arms around us, and help us to heal ourselves that little bit more. I can, without a shadow of a doubt, say that I wouldn't feel the same about myself without you all. I want you to know that it's working, what you're trying to do for us. I want you to know we feel the love. I can't begin to express my gratitude for you sharing your vulnerability with me, and thousands of others, through the power of social media. I know how much courage that must have taken. We see it, the vulnerable side in all of you. It doesn't go unnoticed, it's why we love you. It's what makes us feel connected to you like the sisters we never had. It's why we come back week after week, and smile when we see new posts on your grids.
We see you, we hear you. Every time you post it brings us a little closer to accepting our own bodies, styles and quirks. It allows us to see our own vulnerabilities and know that it's okay to have them. It gently encourages us to turn towards them rather than away from them, and by doing so, brings us closer to embracing our true selves.
So from the bottom of my heart and soul,
Thank you, for everything x
If you liked this article feel free to give me a follow too while you're adding these absolute queens to your Instagram feeds! My Instagram profile is linked below, and I post every time I write something new. Thank you so much for your ongoing support.
social media
About the author
Writer | Mum of Two | Mental Health Advocate
Libra 🌛
Instagram: @_theartofanxiety
Personal: @rebekahcrawley
Reader insights
Be the first to share your insights about this piece.
Add your insights