7 uplifting Instagram accounts that give me feel-good fuzzies.
Need to curate some more positivity onto your Instagram feed? Look no further! (Or should I say "scroll no further!")
I'm a big believer in controlling my online experience. Social media is only what you make of it, right? And with the, frankly, terrifying world we live in at the moment, this feels more vital to our wellbeing every day.
A while ago, I found myself feeling pretty crap after a few hours of mindless scrolling on Instagram. And I thought to myself, Why I am following these accounts? Do they make me happy? Answer: Nope. They make me feel lousy, like I'm missing out on life and it's all happening elsewhere.
Even though I did like the content I was seeing from these accounts, it wasn't good for my mental health as I found myself constantly comparing my life to theirs. After all, these accounts only showcase the highlight reel of someone's seemingly perfect life. Not that there's anything wrong with only sharing the best or most interesting parts of one's life, but it makes me feel like I'm not seeing a real person I can relate to.
Maybe that's also why I found myself scrolling so mindlessly. I wasn't getting anything from my Instagram feed other than a short escape from reality. I wasn't inspired by anything I saw to make active, positive changes in my own life. Or finding anything that eased the worry clouding my mind.
I know what is important to me. So why not reflect that in my online experience? The truth is I can choose what I see on my Instagram and so can you. So, I decided to break out the KonMari Method: Does it spark joy? If not, unfollow!
To help you along in creating an Instagram feed that leaves you feeling uplifted instead of deflated, here are 7 accounts that fill me with happy, calm vibes:
1. Matt Haig (@mattzhaig)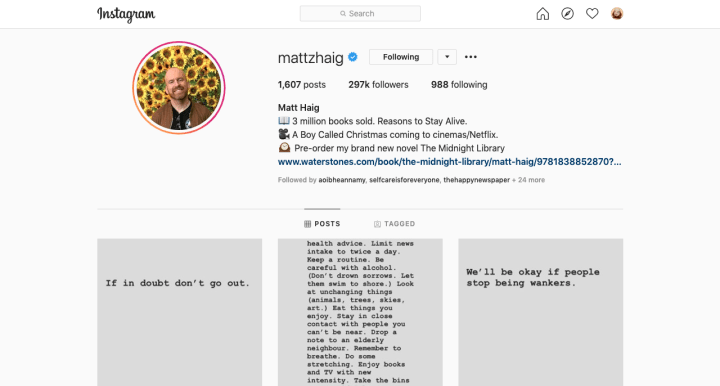 Matt Haig, author of Reasons to Stay Alive and Notes on A Nervous Planet, among other glorious gems, is one of my absolute favourite humans. Over the years I've found his words to be a source of great comfort and a reminder that we are not alone in our struggles.
Matt's Instagram posts almost entirely consist of wonderfully sobering thoughts. He is both candid and wistful, and finds a way to poke fun at life when it all gets a bit too much. I find I can relate to so much of his writing, even though we are both entirely two different people with very different life experiences. A passionate mental health advocate, Matt's notes are most welcome on my Instagram feed when I'm feeling a little out of sorts.
2. Megan Jayne Crabbe (@bodyposipanda)
I cannot begin to explain how much joy this incredible woman brings me. What a ray of sunshine she is! Every time Megan posts a video of her having a dance party in her underwear or a photo of her fantastically colourful outfits, an instant smile appears on my face.
Megan is all about body positivity, feminism, and inclusivity. It's hard to scroll past one of her posts and not feel uplifted by her kind, compassionate words. She is simply badass and makes me feel badass too.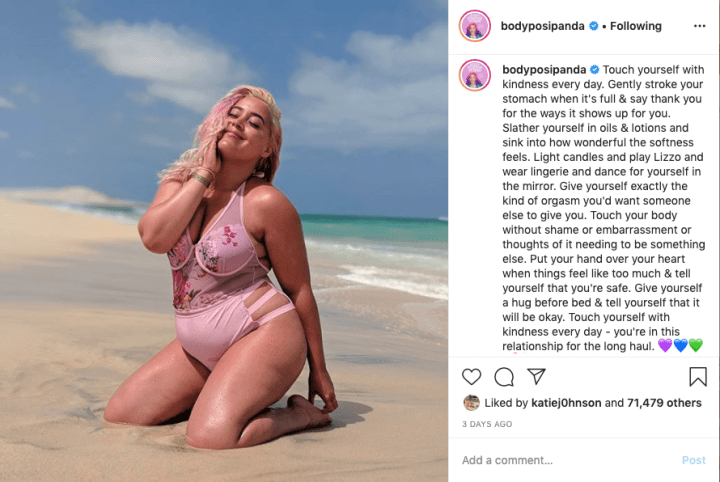 P.S. She has also written a cracker of a book, Body Positive Power. Check it out!
3. Hazel Hayes (thehazelhayes)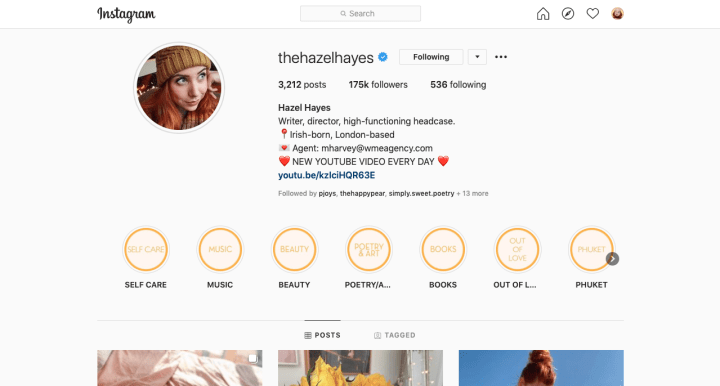 Hazel is unapologetically herself online. Not only are her posts extremely aesthetically pleasing (huge bonus for me), they're also full of beautiful slice-of-life moments. Rising suns, homemade breakfasts, blooming flowers, yoga practice, a confident woman taking sexy photos of herself because why the hell not?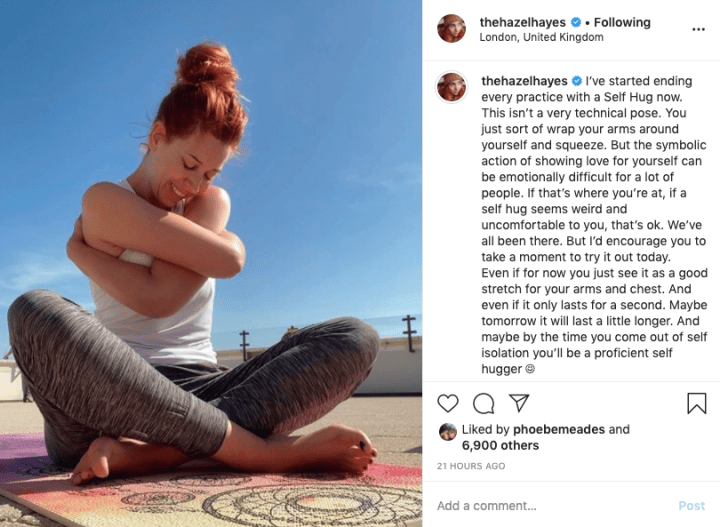 Maybe my favourite thing about Hazel's Instagram is how much she shares her love for the women in her life. I feel the gratitude she has for her friends radiate through my phone and it reminds me how thankful I am for the amazing female friendships I hold in my life. As Jo March states in the 2019 adaption of Little Women, "Women!"
4. Dougie the Shih Tzu (@dailydougie)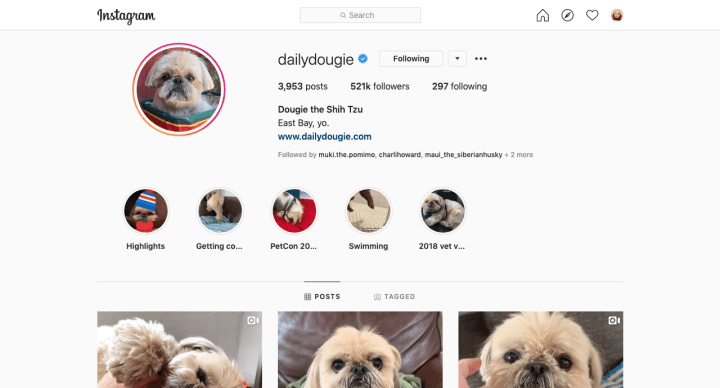 A fluffy, adorable, toffee coloured shih tzu that enjoys ear scratches and mid-day snoozes. Need I say more?
Dougie reminds me of my own two shih tzus, whom I love more than most things truthfully. It's always an uwu inducing moment whenever he pops up on my feed that leaves me feeling warm and fuzzy all over. Then I go off in search of my own pooches because dogs really are the best form of therapy.
5. Lindsay Arakawa (@blindsaay)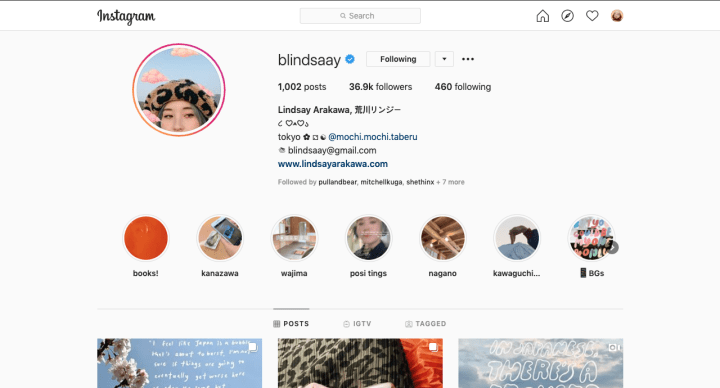 I share A LOT of this lovely lady's posts to my story on Instagram. Lindsay merges her talent for photography with doodled quotes, proverbs, and words of wisdom to make gorgeous images. I find everything she puts up to resonate with me in some way; she brings me a little piece of calm with every post.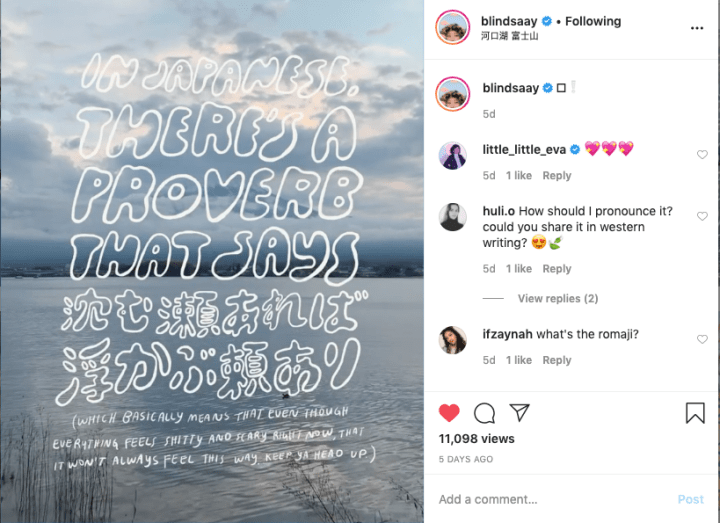 The simplicity of the images is what makes them so serene for me. There are also many snapshots of our daily lives to be seen, such as a shop front or people crossing the street. Lindsay finds the beauty in even the most mundane of things, something which we may take for granted. The next time I walk by a tall building I'll be sure to look up, smile, and remind myself that everything will be okay.
6. Charlie MacKesy (charliesmackesy)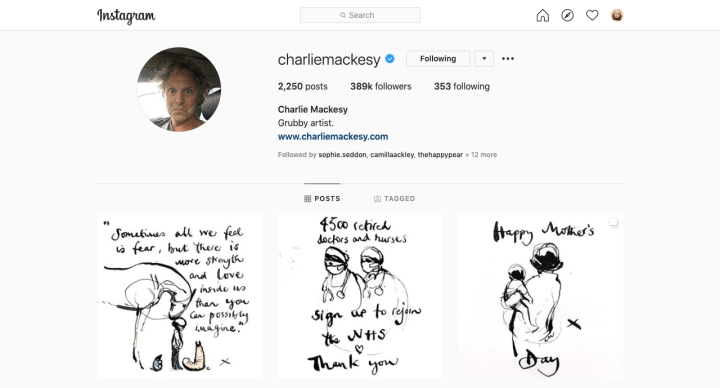 Charlie, who self-describes as a "grubby artist", is someone you may already know from his stunning book The Boy, the Mole, the Fox and the Horse. I was gifted his book for Christmas and quickly became enamoured with the art and words that gave me, and keep giving, so much hope.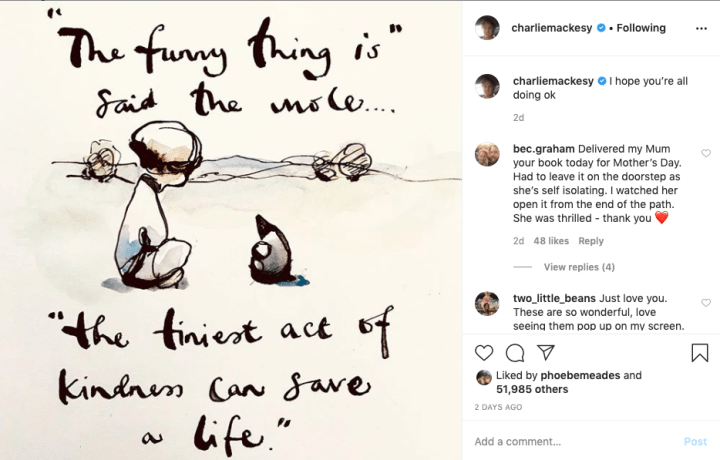 Charlie's Instagram is full of his characterful sketches, some old, some new, all beautiful. His more recent posts have commented on the positive things to come out of the current ongoing crisis and make me feel as though there is still much, much love out there. If I could thank Charlie for every single post he makes I would, and I do in my heart every time.
7. Dani DiPirro (positivelypresent)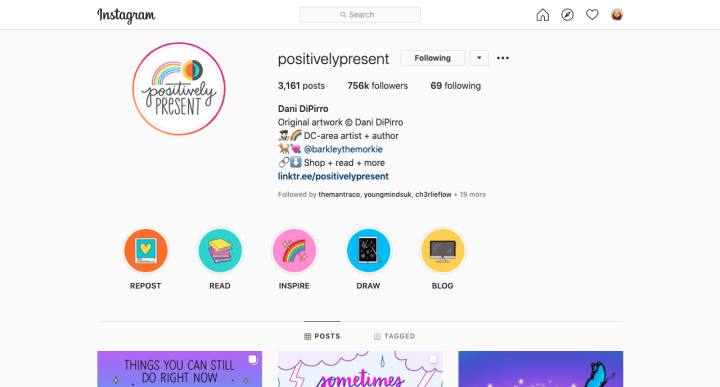 The username says it all. Dani makes art that reminds you to take care of yourself, love yourself and be kind to yourself. Things we all need reminded to do every once in a while. Each post is like getting a lovely brain hug, as odd as that may sound! I always feel more at peace and more focused on the good things after a little nudge from Dani to check in myself.
Noticing your feelings, allowing yourself to really feel them and then letting them go. That is my main takeaway from Dani's account and something I constantly come back to. Always seeking to be in the present moment with the most positive mindset I can muster up is the biggest act of showing up for myself, especially when it feels like the world is moving so fast.
There you have it! Of course, there are so many other accounts I could rave about but these are the few that stick out the most for me. With all of us spending much more time on our phones than normal, I hope you found something here that brought a little sunshine to your day. Remember not to check the news too often! Lots of love to you, and stay safe.
Bonus! The wonderful folks over at Mahogany (@mahogany) have been doing a series of Isolation Sessions that you should definitely check out.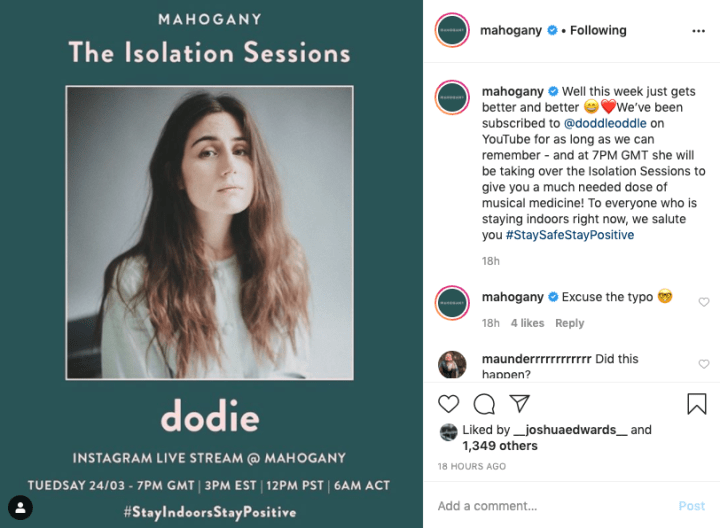 Many of my favourite singer/songwriters have been included so far, such as Sam Fischer, Lewis Watson and dodie. Keep an eye out on their story for more live streams!