7 Badass Mantras to Live by
I love a good mantra
As I have discussed previously, I love a good mantra.
I recently did a deep dive on one of my favorite corny, inspirational quotes/mantras, "Look for the Helpers" by Mr. Rogers:
The right mantra can make me feel like my mental health is cured (just kidding, of course, I highly recommend therapy.) However, I think there's something to be said about the mild dopamine boost I get from recalling a particular powerful quote. (I'm not a professional, so don't quote me on that. I just like cheesy quotes, okay?) Here are a few of my favorites.
1. Do no Harm, Take no Shit
This one is pretty self explanatory, but it's important for me as a recovering people-pleaser and empath to remind myself that I can maintain my soft, sensitive and loving nature (do no harm), but at the same time, whilst not taking any shit. This mantra reminds me to stick to my boundaries, and not shrink myself for the comfort of others.
2."It's okay if you only save one person, and it's okay if that person is you."
I actually got this little nugget of wisdom from an old Tumblr post, believe it or not.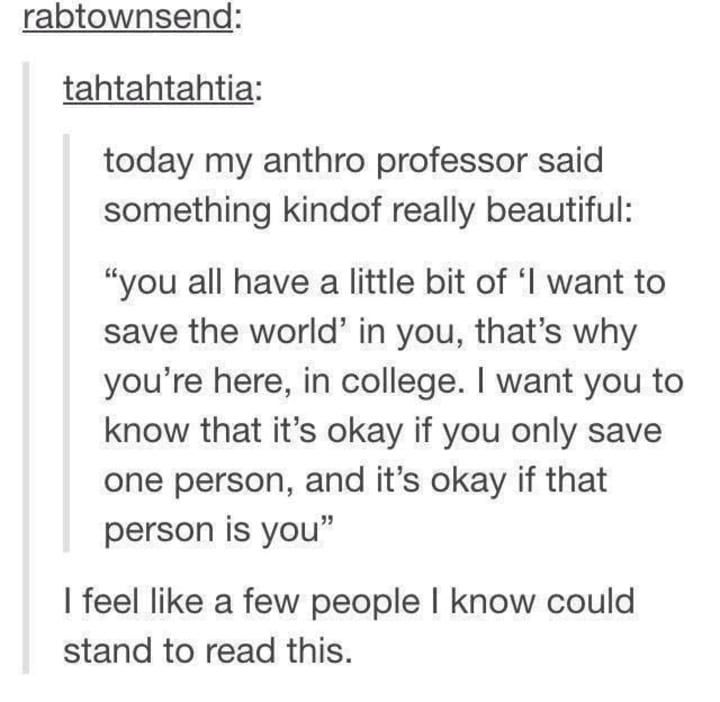 I definitely am someone who can relate to having "a little bit of 'I want to save the world'" in me. I've written previously about being a Highly Sensitive Person, and taking on the pain of others:
3. "I am a hot, smart woman, with an ass that doesn't quit." - Mindy Kaling

This one helps me remind myself of what a badass, empowered woman I am, but the sentiment remains regardless of gender. Mindy Kaling is hilarious, and her humorous approach to self-love really resonates with me.
4. You can't change the people around you, but you can change the people around you.
Meaning, we can't force people to change, but we can change who we surround ourselves with. This one has been important for me to remember in my quest to develop rock-solid boundaries that I am able to consistently enforce. Sometimes, you just have to accept people where they are, wish them well, and know that you can't have them around you. This is one of the many things that therapy has helped me to accept, which I have written about previously:
5. "The only way out is through." - Robert Frost
This is a line from Robert Frost's poem "Servant to Servant", that has served as a good reminder for me when I am experiencing difficult emotions, that I need to sit with them instead of fight them. Of course, this can be applied to just about any adversity or difficult time. I like to remind myself when I am the midst of something, that the only way out is through, so I am already almost through it, while I am in the midst of it.
6. Comedy = tragedy + time
This one probably isn't helpful to remember in the midst of the tragic or difficult situation, however, I find that it does help to keep in the back of my mind at difficult times in my life, that hard times do usually make good stories.
Just don't tell someone who's in the midst of dealing with something horrible that, they probably don't want to hear it.
7. "I am the Storm"
"Fate whispers to the warrior, 'You cannot withstand the storm.' The warrior whispers back, 'I am the storm.'"
The exact origin of this one is unclear, but this quote is powerful. This is a mantra that makes me feel badass and powerful, even when I think I'm not. I am the motherfucking storm, baby!
quotes
About the author
Self-identified Highly Sensitive Person (HSP) trying to carve out a joyful corner in an increasingly bleak world. I have one daughter, a French Bulldog named Chanel who farts a lot. I'm an Aries.
Instagram: @mariadubbs
Medium: @maria.wallisch
Reader insights
Be the first to share your insights about this piece.
Add your insights