12 Months of Inner Work with Angela Hryniuk - My Spiritual Teacher
The lessons were intense, yet enjoyable. The best personal and spiritual development I've ever experienced.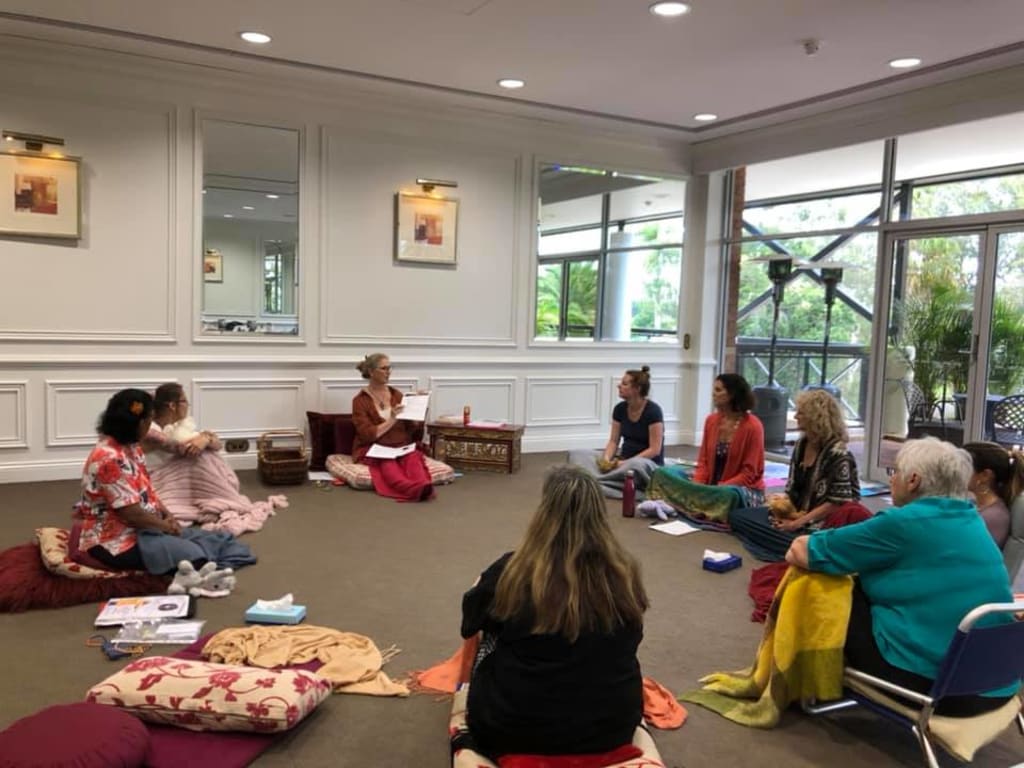 My childhood was traumatic, and I would not even wish this trauma on my own worst enemy (if I had one). Without going too deep into the specifics, my father left me the moment I was born (he was involved in an extra-marital affair. That's how I came into the world via a c-section), and my mother was diagnosed with virtually every illness imaginable. This is no exaggeration, where I had a foster family looking after me one weekend a month from age 9, in which they fostered me on a permanent basis when my mother passed away when I was only 13 years of age. In Angela Hryniuk's Ultimate Prosperity Intensive program; you learn about the six stages of childhood development as it relates to money and your life experiences to date. Due to my tough upbringing (with illnesses of my own, while growing up in a poor family in housing commission homes); I was wounded in all six stages of childhood development. School was torture as well - naturally. I was suicidal. After 12 months of deep inner work with my spiritual teacher, Angela Hryniuk - I have transformed, and have moved mountains in every area of my life; from my finances to my relationships. Angela knows how to serve, and to give immense value, care and love to her students/program participants.
From early 2006 (at the age of 25) after completing my undergraduate degree; I invested time and countless amounts financially in order to clean up any old karma from previous lives, and to heal this traumatic childhood that made me a late bloomer (held me back) in every area of life. You name it, I went to many of those 'ra ra' type of seminars, and I walked through fire/a bed of hot coals. I achieved abundance and success quite quickly, and became a healer a short while afterwards. And got awarded a doctoral degree in psychology. Yet there was a massive problem, despite this personal development returning itself tenfold. I was still stuck in the head, and not in the heart. And sometimes the glow of some of these motivational programs wore off upon immediately returning to work (the real world). The constant manifesting had burned me out (significantly) on a couple of occasions. There was no ease and flow, and no real connection and intimacy with a power greater than ourselves.
As a result, Angela came into my instagram feed in early 2019. At that time, I was stuck in my career, and in my life, despite having an abundance of money and a nice home to name. One of my close friends fell and fractured her elbow while on a holiday interstate the same day I met Angela. Her meditations immediately brought me calm, peace and joy. I knew I had to work with Angela to be transformed, where I have had success in healing my inner child (that little girl or boy holds the keys to your greatness), while bridging materialism and spirituality together.
The Ultimate Prosperity Intensive (UPI) program (level 1) with Angela Hryniuk is so affordable. There is a two-day retreat you attend (like the image herein, Angela is facing us all, holding the paper in her right hand) to engage in deeper meditation and recovery activities in order to recover the spirit. Some of the activities bring you back to your childhood. For example, colouring in with your non-dominant hand is reflective of your motor skills back when you were three years old. It teaches you (reversing the school systems school of thought) that it is ok to make mistakes, in order to learn and to grow.
Many seminars and retreats leave you out to fend for yourself at the end with zero (or minimal) follow up. Not with this inner work with Angela. You're also invited to a private Facebook group where you're invited (optional, yet you get more out of this inner work with her and her wisdom coaches if you participate and share) to share your breakthroughs and pains in a safe, friendly, loving space. It is impressive as to how promptly Angela personally replies to nearly all of the posts shared. Additionally, there are weekly zoom calls every Wednesday night where some of the other participants in the program get to share (in a couple of minutes) what joys and/or challenges they've experienced that week, and Angela (and/or her wisdom coaches Andy & Liza) provide insights/feedback to you on your circumstances in order to grow. The entire group benefits. Replays are sent the next day. The online modules (they only take an hour a week to study) are also insightful in helping shift your beliefs around money, and in healing the inner child.
The spiritual toolkit that Angela and her wisdom coaches help you create (based on Angela's 30 years of experience in bridging spiritualism and materialism together, as well as recovering from addictions) can be used at any time, from Emotional Freedom Techniques (EFT), to meditations, to writing a message (say a love letter to money, with money responding in turn) with your non-dominant hand - direct feedback from the unconscious mind without getting stuck in overthinking mode in the head.
You keep re-connecting with other participants in the community for your spiritual growth. Angela has created generous spiritual development programs that allow this to happen. As a result, I completed Level 1 of the UPI program, and then immediately upgraded to the level 1 Accelerated Transpersonal Timeline Method (ATTM) where I repeated the online Enlightenment & Money modules (deeper growth and breakthroughs the second time around), and attended the two-day retreat again back last month (as at the time of writing this) where I finally was able to forgive my father for abandoning me at birth. Level 1 of the ATTM method with Angela amplifies accountability, where procrastination has no room to grow. Just love, and being with the divine on a daily basis. I look forward to my 15 minute one on one wisdom coaching calls, in order to keep my inner child safe, and in allowing the little girl to trust me more and more, as I am there for her now. An incredibly powerful program that comes from the heart.
Angela did not pay me to write this feature article on my experiences of working with her and her wisdom coaches over the last 12 months. I chose to write this from the heart, in order to help others get closer to enlightenment, as I've never felt so relaxed, grounded, radiant and peaceful . in my life, until now. I am about to turn 40 in a few months time, yet I look and feel like a teenager all over again - all thanks to my lovely spiritual teacher. To find out more, Angela has allowed my lovely readers to receive a complimentary phone chat with her assistant Anna, who has also undergone this inner work with Angela, yet at even deeper levels. Anna will be happy to answer any of your questions. You can book a call to find out more about engaging in your personal and spiritual development with Angela by clicking here, or Anna can be contacted direct on 0423 948 717. Only act if you're willing to enjoy abundance in all areas of your life (finances, health, relationships, time and peace of mind) at a higher level through the heart, and you're also willing to follow Angela's meditations on a daily basis (they only go for 15 minutes a day. If you miss a day, you simply start again).
This wonderful teacher has changed my life forever, and for the better. I am in deep gratitude for that right now. I now engage in her meditations every day on autopilot too. No matter how busy I am. Life will still present you with some dodgy lemons, yet the support is always there. Thank you very much Angela (and her angels). xx