Why Rituals Play Crucial Role In Hindu Bengali Weddings?
The Big Fat Great Indian Bengali Weddings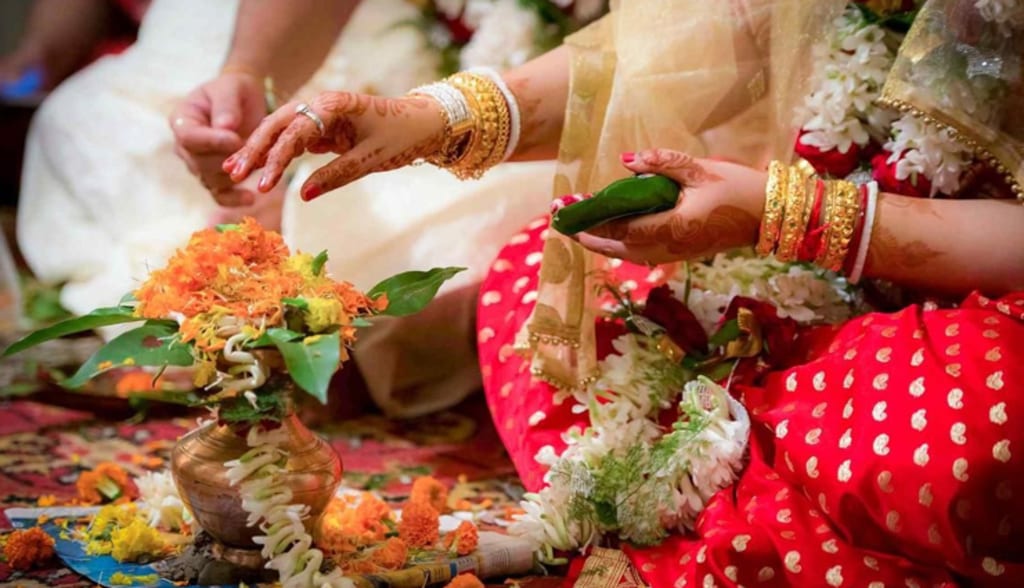 As a Bengali couple starts the beginning of their married life together, the Bengali rituals and traditions play an important role in bringing two families together. There are so many aspects of Bengali Marriage, From the bridal outfits of the Bengali girls to the week-long pre and post-wedding ceremonies, culinary delights, which makes it uniqueand memorable.
A big fat Bengali Hindu wedding is not a two or three days' affair but can go on for more than a week as well. However, Bengali weddings and ceremonies are known for their rituals, delicious food menus. Separate preparation for vegetarian and non-vegetarian meals, which makes it unique in the Matrimony domain.
Let us have a glimpse at all the pre-wedding rituals, wedding ceremonies, making Bengali weddings memorable and unique.
Rituals Of Bengali Wedding:
• Aashirvad:
It is the first ritual performed before the wedding.Once the date for the wedding is decided. A ceremony is arranged where the Bengali bride, groom and their in-laws, elders and relatives give them a blessing before they start this beautiful journey together.
As a welcome gesture, The relatives shower the couples head with husked rice, trefoil leaves and give them gifts, which often include gold jewellery.
• Ai Buro Bhaat:
In this ceremony, a day before the wedding Friends and family members gather at the bride and groom's house. A plate full of delicious traditional Bengali food is offered to the bride or groom which is considered as their last grand meal as single.
• Bodhi Mangal:
In the early morning of the wedding day, family members and relatives of the bride/groom go to a water body and fill a pitcher with water which is to be used during the Snan which means bathing of the groom and bride.
Then the couple eats curd, rice, fruits and sweets. the mother of the bride feeds this meal to the newlywed bridegroom. After which they are required to fast until they finished the wedding rituals.
• Nandi Mukh:
After Bodhi Mangal, a small Puja is arranged in the bride and groom's house respectively. Where the family members pay respects to their ancestors and also seek their blessings for the new future of the couple.
• Tattva:
This is one of the interesting rituals of Bengali weddings. Soon after the puja, both the family members send gifts which are known as 'Tattva' to their in-laws. Moreover, The groom's family send a new saree, accessories, grooming products, makeup kits and food items to the Bengali brides to use during 'Gaye Holud.
• Gaye Holud:
In this ceremony, a turmeric paste is prepared which is applied to the groom's body and the left paste is then packed along with the tattva gifts and sent to the Bengali bride's house where the same paste is applied to her body.
What are the Challenges faced by Bengal Matrimony?
Choosing the bride or groom as per their profession. Many Bengali youths decide to Marry the bride/ groom of the same particular profession. For example, a groom who is a doctor wants to marry a Bengali girl who is also a doctor. And hence the marriage process becomes complicated and the list of matrimony choosy.
A destination wedding is another challenging aspect faced in the wedding of Bengalis. Today as per trend, many Bengalis are demanding destination weddings. But as Bengali weddings are loaded with rituals where relatives and friends play an important role, organizing them in a new destination becomes tough and challenging.
In this situation, various Matrimony sites have appeared as a true helper for Bengali youths who are thinking of getting married. These sites help to find a suitable partner as per your choice and create a match. In matrimony sites, Various types of premium services are offered to make your Bengali matrimony process Faster and easier.
It is becoming a faster and reliable way to connect with multiple prospective brides or grooms by using the internet only. And hence theBengali matrimony registration is soaring up day by day.
The best matrimonial site offers premium services that include arranging online chat with the selected match, sending best match alert messages, security etc. Some matrimonial websites also offer destination wedding packages, including the marriage event organisation and catering services at an attractive discount.
About the Creator
Balakrishnan is a digital marketer and blogger. He also writes unique and research-driven content about business, Matrimonial, and career.
Reader insights
Be the first to share your insights about this piece.
Add your insights