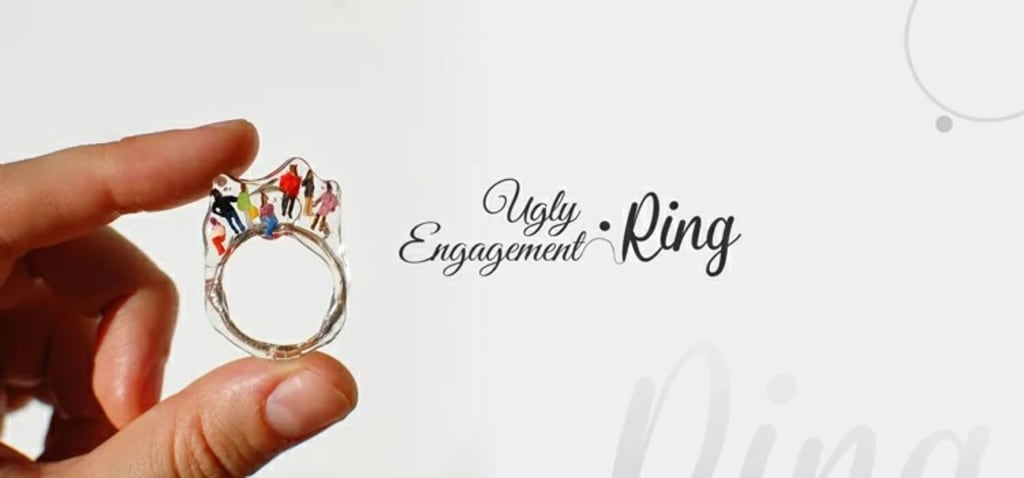 Engagement rings hold a significant cultural and societal significance as symbols of love, commitment, and impending marriage. They are often cherished possessions that are meant to be a reflection of one's personal style and taste. However, despite their emotional value, not all engagement rings are universally perceived as beautiful.
In fact, there are some uncommon rings you may consider unattractive due to unconventional designs, poor craftsmanship, low-quality materials, cultural or personal preferences, and outdated styles. In this article, we will explore some of the ugliest engagement rings, examining various factors that can contribute to their perceived lack of attractiveness.
Well! Our earlier post also discussed the ugliest jewelry in the world. You may have a look.
Ugliest Engagement Ring for Funny Couples
While most couples dream of dazzling diamond solitaires or intricate bands as a symbol of their eternal love, some daring duos opt for the unconventional. From mismatched metals to funky gemstones, these hideous engagement rings challenge societal norms and reflect the individuality and creativity of the couple who wears them.
1. Jeulia Skull Engagement Ring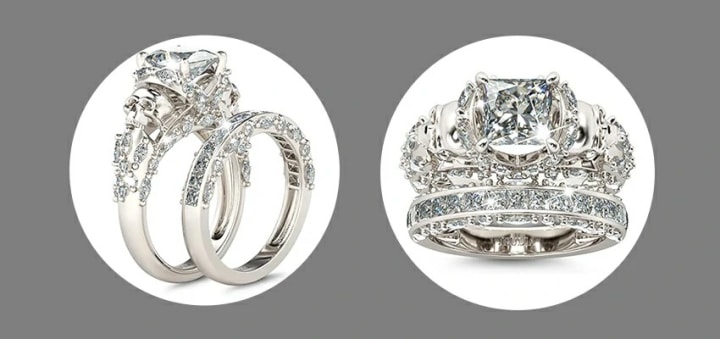 Hand-crafted with meticulous attention to detail, this exquisite ring is forged in sterling silver. It boasts a dazzling princess-cut center stone that captivates with its brilliance. Intricately designed skull heads adorn the shank of the ring, adding an edgy and sophisticated touch to the piece. Enhanced with marquise and round-cut stones that adorn the shank in a mesmerizing pattern, this unique wedding ring exudes an air of mystery and intrigue.
2. People stuck in jelly statement ring in sterling silver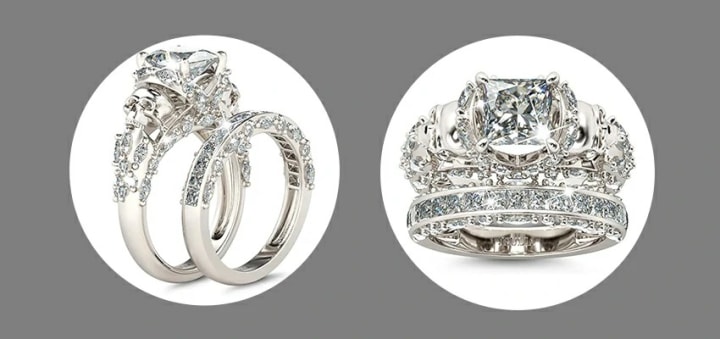 Indulge in the whimsical world of the "People Stuck in Jelly" series with this truly one-of-a-kind statement ring. Artisans handcrafted this ring with sterling silver and adorned it with UV epoxy enamel. The ring showcases tiny hand-painted figures of people that are encapsulated in translucent resin. And, they are creating a captivating and imaginative scene within the ring.
3. Scrappy ring in oxidized silver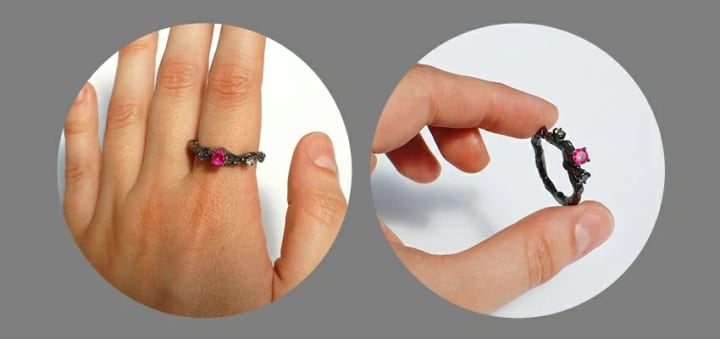 Step into the world of wearable art with the Scrappy ring, which is as unique as it is captivating. Aptly named for its creation process, the ring base is meticulously crafted from melted silver scraps, giving it a distinctively eco-friendly and sustainable appeal. The organic finish of the ring is utterly one-of-a-kind, with a texture that exudes a raw and natural aesthetic, showcasing the artist's skill and creativity.
4. Denture Ring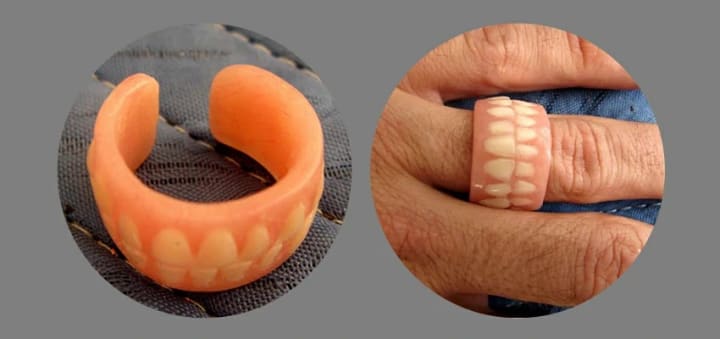 Experience the unexpected with this truly one-of-a-kind denture-inspired ring, handcrafted from hand-polished dental acrylic. The use of dental acrylic as the primary material adds a distinctive touch to these awful wedding rings, creating a conversation piece that is sure to turn heads and spark intrigue.
5. Labradorite Ring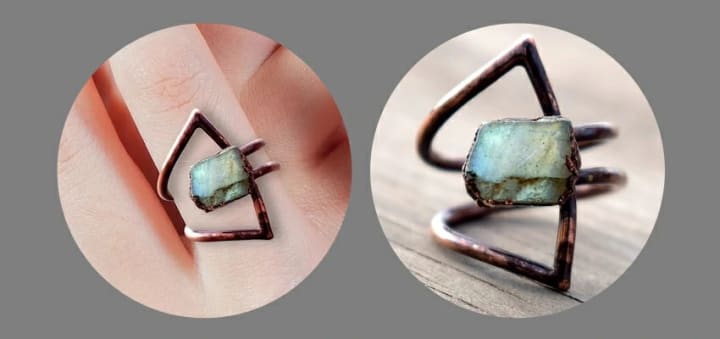 The labradorite ring is a unique and unconventional piece of jewelry that exudes an air of mystery and intrigue. Handmade with care, this ring features a rough labradorite stone set in brass, giving it a rustic and raw aesthetic. While some may find the labradorite ring unconventional and perhaps even "ugly" in a traditional sense, others may appreciate its distinctiveness and artistic flair.
6. Spartan ring Stainless steel Warrior Face rings
The Spartan ring is a stainless steel engagement ring with a warrior face design. The ring's design is inspired by ancient Spartan warriors, with intricate detailing on the face of the ring. The ring is available in multiple sizes and is advertised as being durable and long-lasting. Based on its design and material, the Spartan ring may appeal to individuals who are fans of the Spartan warrior culture or who prefer a more unique and unconventional engagement ring.
7. Frog Ring with Opalite in Sterling Silver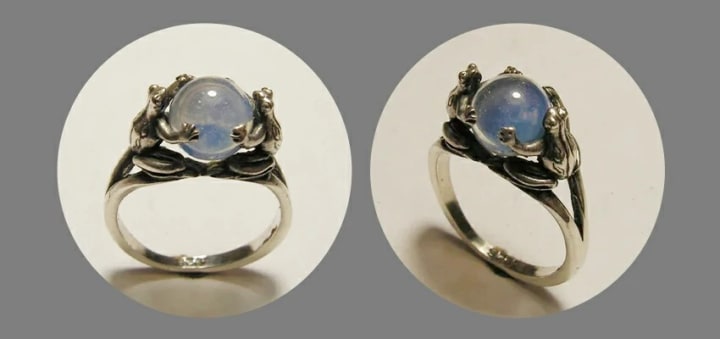 The Frog Ring with Opalite in Sterling Silver available on Etsy is a unique and charming piece of jewelry that may appeal to those who enjoy nature-inspired accessories. The tacky wedding ring is crafted from high-quality sterling silver and features a frog design with a small opalite stone on its belly.
8. Rabbit Ring with Rose Quartz and Sterling Silver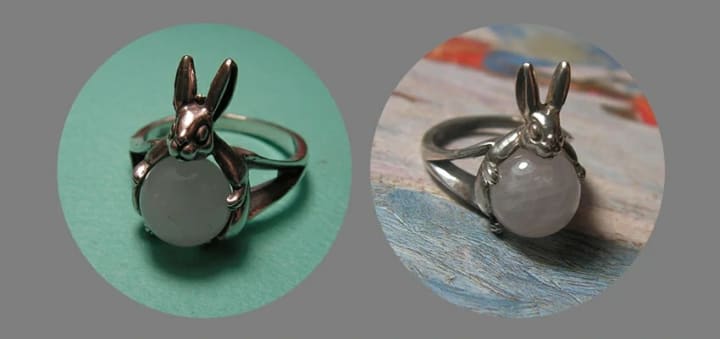 This unique and funny engagement ring is an original design made entirely of high-quality sterling silver. The ring features a beautiful 10mm natural Rose Quartz sphere, adding a soft and romantic touch to the design. The Bunny on the ring measures 3/4 (18mm) of an inch from ears to feet and 1/2 (12mm) inch from side to side. As a result, it creates the item a delicate and whimsical aesthetic.
9. Owl Ring With Aquamarine And Ruby Eyes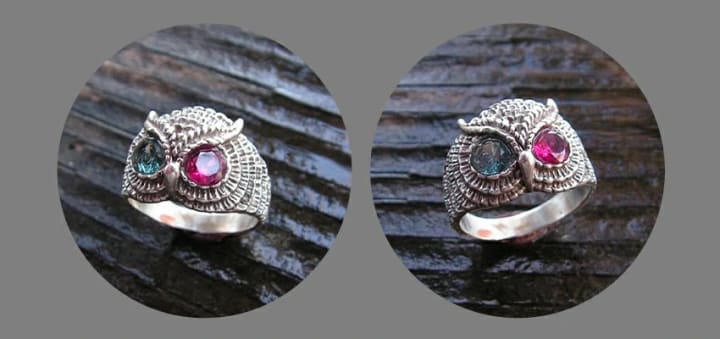 The jewelry designer has crafted the Owl Ring with Aquamarine and Ruby Eyes as a remarkable piece that will undoubtedly catch the attention of those who appreciate unique and animal-inspired accessories. They designed it with high-quality sterling silver and feature an intricate design of an owl, complete with stunning aquamarine and ruby eyes. One potential drawback of this ring is that the design may not be suitable for those who prefer more minimalistic or understated jewelry.
10. Rabbit head ring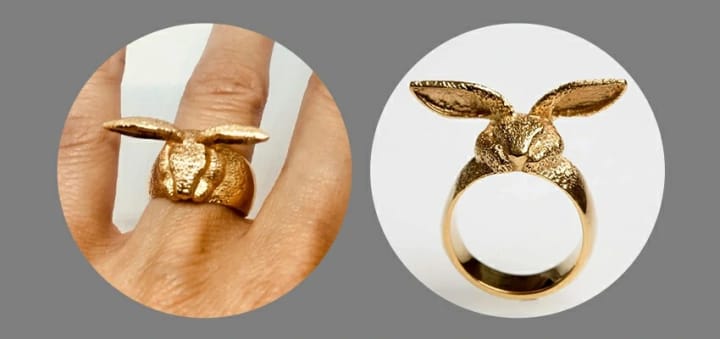 Once again, The rabbit, which is a beloved animal in Eastern cultures, is a significant part of this collection. The intricate design of the ring perfectly captures the essence of the owl, with exquisite details and remarkable high-quality materials. The aquamarine and ruby eyes add a striking contrast to the sterling silver. It makes this chunky wedding ring a truly standout piece of jewelry.
To Conclude
In conclusion, an engagement ring is an essential piece of jewelry that symbolizes the love and commitment between two individuals. While everyone has their own unique style and preferences when it comes to jewelry, it's important to consider the design and aesthetic of an engagement ring carefully. The beauty of an engagement ring is subjective. And what one person may consider ugly or weird, another may find stunning.
Additionally, vintage and antique rings have become increasingly sought after, with many couples finding the charm and character of older designs irresistible. Hopefully, our unique and ugly collection of engagement and wedding rings may help you to pick a unique one. So, let's try!
About the Creator
My name is Kawsar Ahamed, and I am a professional content writer with over four years of experience. Also I am expert in photo editing service.
Reader insights
Be the first to share your insights about this piece.
Add your insights