Look unique and stylish in beautiful Sharara
Sharara online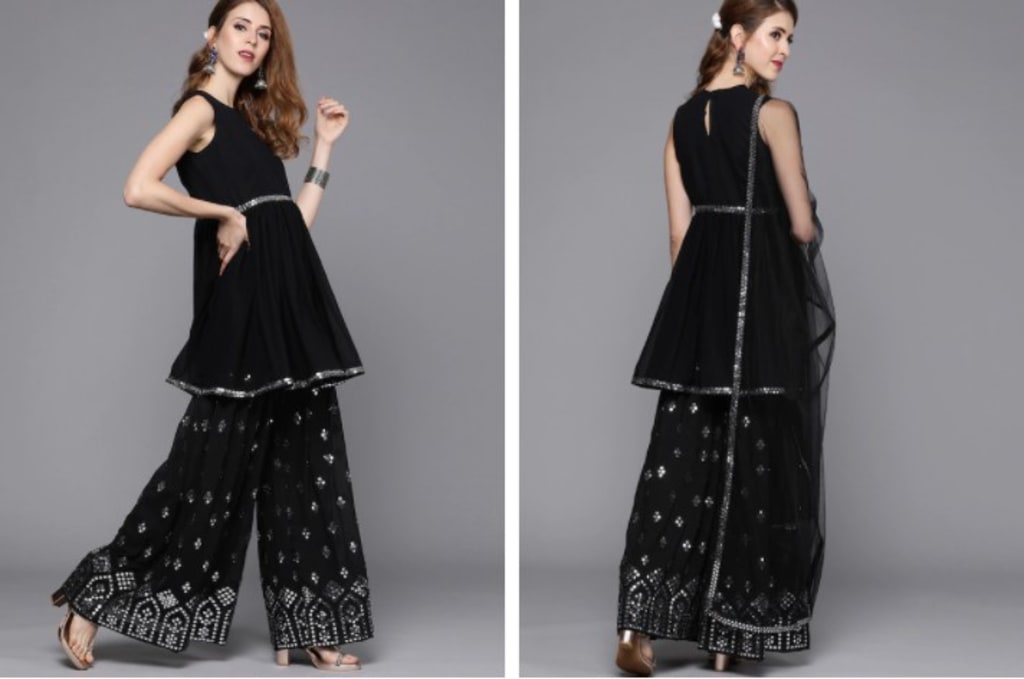 Sharara is an ethnic wear which is worn by Asian women. Its fashion has come back after a long time and in a more attractive way. Sharara was introduced to the Indian attire by the Mughals, and then became famous amongst all the women in the world. It can be worn by girls and women of all ages at various events.
This attire is mostly worn in Pakistan and India and is available in various designs and patterns. Separated in the middle one can even call them wide legged pants, which are fitted till knee and then a wide flare starts from the knees.
Muslim women wear it as a bridal dress. This dress comprises of rich handworks like zardosi, mirror work, silk work etc. Dupattas of this dress are also very heavy which is made with rich fabrics like satin and brocade, with heavy embroidery and zari works in between other embellishments. Buying Sharara online is extremely easy and reliable, thanks to all the online shopping sites. There are many online stores which offer wide range of shararas online.
Buy Sharara Online!
You can buy Sharara Online as it is available in many colors, designs, patterns and work. Online shopping sites such as Myntra give you a wide range of brands, if you are looking to buy Sharara. Brands such as Biba, Riti Riwaz, Aujjessa and many more are the leading brands. The Riti Riwaj Shararas are extremely gorgeous and comes with full flare which gives a skirt like look.
As time is passing Sharara designs has been experimented and evolved in a unique yet stylish way. It comes with smaller flares, therefore making the outfit similar to the Salwar Kameez. Sharara Suit is suitable to be worn to less formal occasions. Designers are giving new cuts and twists to the dress and tempting everyone to buy shararas. Due to its unique style and design, it has achieved its own place that appears to be getting stronger with passage of time.
If you have a designer printed kurta, then you can team it up with Sharara to look breathtakingly beautiful. If you really want to present yourself in ethnic attire and want to look different, then you should definitely buy sharara. This amazing ethnic attire can give you a look to die for on every occasion.
Magnificent Styles that Pop
Myntra's picks of salwar suits include exquisite offerings that are perfect for glamorous events. Celebrate an upcoming festival in an elaborately designed white anarkali suit with gold-toned accents and embroidery. Wear it with strappy stiletto shoes and your take on the beehive hairstyle to really tie it all together. For a contemporary vibe, try a yellow salwar suit with an asymmetric hemline that's made more prominent with metallic accents. It's the ideal choice for a wedding but also looks terrific for corporate events. Pair it up with the right shoes and accessories to bring out the gorgeous colour. Host your child's birthday party in a beautiful red salwar suit with a detailed neckline and contrast overlays. You'll make him proud with your tasteful attire!
You can't go wrong with a salwar suit from Myntra's huge selection. There are just so many to choose from. Women with a love for the understated will be drawn to the designs in beige, white, and muted yellows with accents that blend in beautifully. Those with a preference for bold ensembles will go for the creations in orange, purple, and coral pink. If you haven't really experimented with salwar suits, now is the time to start. Come visit our store and sample the numerous exciting choices. Dress up in your favourites and show them off at different occasions. You'll be admired and envied! Buy salwar suits from Myntra and give your wardrobe a breath of new life!