BEST WEDDING DRESSES: 14 BRIDAL GOWNS PLUS TIPS AND ADVICE
Wedding Dresses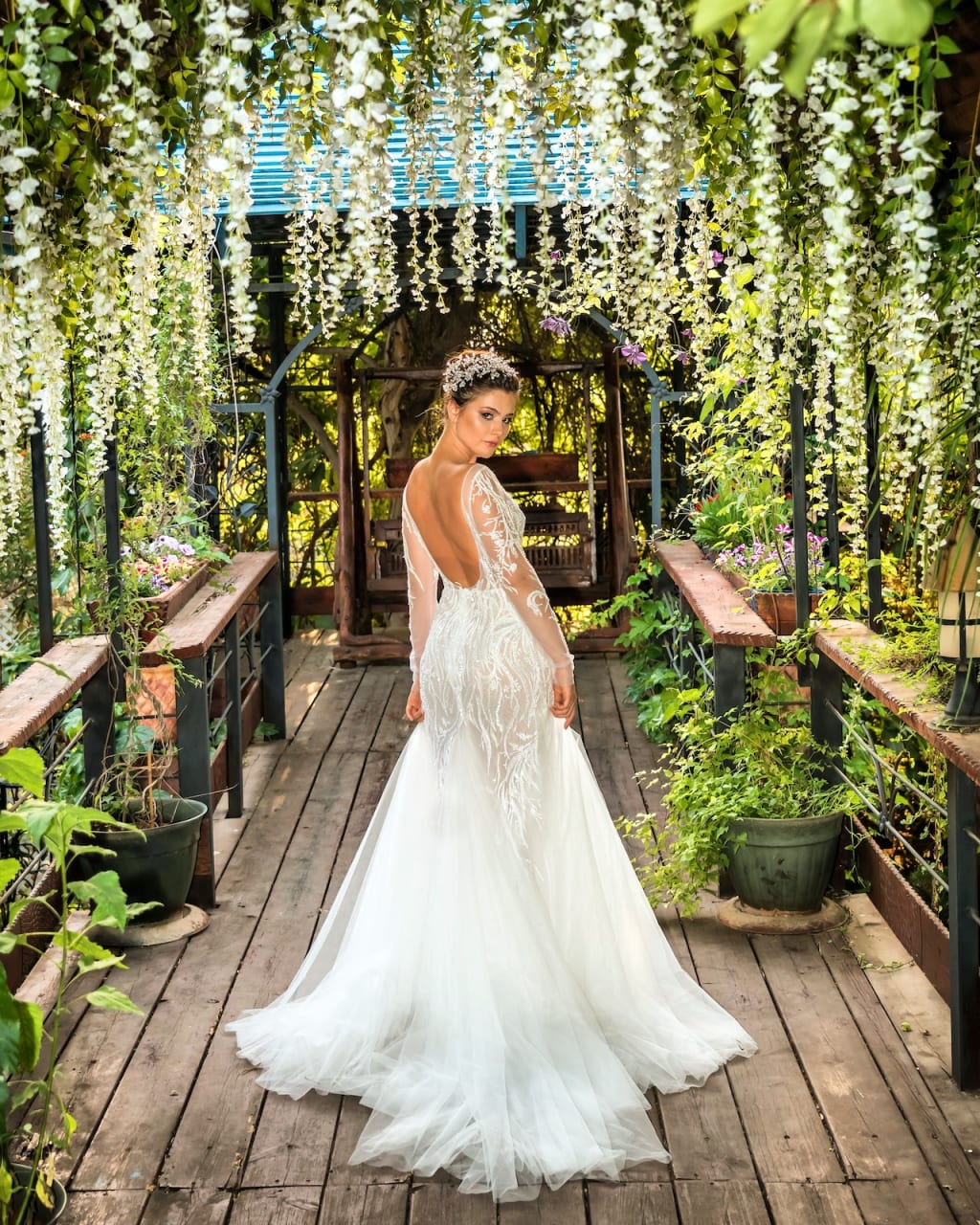 wedding dresses
Selecting the perfect wedding dress is a momentous task for any bride-to-be. It's a garment that not only reflects personal style but also embodies the emotions and significance of the occasion. In this article, we'll present 14 of the best wedding dresses, ranging from timeless classics to contemporary marvels. Alongside, we'll offer valuable tips and advice to guide you towards finding the dress that will make your special day truly unforgettable.
Timeless Elegance: A-Line Gown
The A-line gown is a classic silhouette that flatters a variety of body types. This dress is fitted at the bodice and gently flares out, resembling the shape of an "A". It's a versatile choice that combines grace with understated sophistication.
Regal Beauty: Ball Gown
The ball gown is the epitome of fairytale romance. This style features a fitted bodice and a voluminous skirt that creates a dramatic, princess-like effect. It's perfect for brides seeking a truly regal look.
Boho-Chic Charm: Flowing Bohemian Dress
The flowing bohemian dress is characterized by its relaxed, free-spirited vibe. Crafted from lightweight fabrics like chiffon or lace, it's perfect for outdoor or destination weddings. The loose, flowing silhouette provides both comfort and style.
Sleek Sophistication: Mermaid Dress
The mermaid dress is designed to accentuate the curves, hugging the body from the bust to the knees before flaring out. It exudes confidence and offers a modern, glamorous look for brides who want to make a statement.
Vintage Romance: Tea-Length Dress
The tea-length dress is a nod to vintage style, featuring a hemline that falls between the knee and the ankle. It's playful, elegant, and ideal for brides who want a touch of nostalgia on their special day.
Modern Glamour: Sheath Dress
The sheath dress is characterized by its slim, form-fitting silhouette that follows the natural line of the body. It's a chic and sophisticated choice, perfect for brides who appreciate clean lines and minimalist design.
Contemporary Two-Piece Ensemble
The two-piece ensemble breaks away from tradition, offering brides the opportunity to mix and match a top and skirt. This modern choice allows for personalization and can be a versatile option for both the ceremony and reception.
Ethereal Enchantment: Lace Gown with Illusion Details
A lace gown with illusion details combines the timeless beauty of lace with contemporary elements. Delicate lacework with sheer panels adds a touch of allure and elegance, creating a stunning, ethereal effect.
Dramatic Details: Beaded and Embroidered Gown
A gown adorned with intricate beadwork and embroidery is a showstopper. These details add depth and texture to the dress, creating a dazzling effect that captures the light and the eye.
Romantic Whimsy: Tulle Ball Gown with Floral Appliqué
Tulle, with its soft, dreamy texture, is perfect for creating a romantic and whimsical look. When adorned with floral appliqué, it adds an enchanting, fairytale quality to the gown.
Chic and Stylish: Jumpsuit or Pant Suit
For the modern, fashion-forward bride, a jumpsuit or pant suit offers a unique and contemporary alternative to the traditional gown. It's a bold choice that exudes confidence and individuality.
Bohemian Beauty: Fringe and Lace Dress
A boho-inspired dress featuring fringe and lace detailing is perfect for the free-spirited bride. It adds a touch of whimsy and creates a carefree, effortlessly beautiful look.
Sleek Satin Elegance: Gown with Clean Lines
A satin gown with clean lines offers a timeless, sophisticated look. The smooth, luxurious fabric drapes elegantly, creating a sleek and understated silhouette.
Playful Elegance: High-Low Hemline with Ruffles
A high-low hemline with ruffles adds a touch of playfulness to the gown. It's a dynamic choice that combines elegance with a touch of whimsy, creating a captivating visual effect.
Tips and Advice for Finding Your Dream Wedding Dress
Start Early: Begin the search for your wedding dress at least 8-12 months before the wedding. This allows time for fittings, alterations, and any unexpected delays.
Set a Budget: Determine a budget for your dress and stick to it. Remember to factor in alterations, accessories, and undergarments.
Consider the Venue and Theme: The style of your dress should complement the venue and overall theme of your wedding. A formal ball gown may not suit a beach wedding, for example.
Be Open-Minded: While it's good to have an idea of what you want, be open to trying on different styles. Sometimes, a dress that you hadn't considered can surprise you.
Bring Supportive Companions: Bring a trusted friend or family member whose opinion you value. Too many opinions can be overwhelming, so choose your entourage wisely.
Prioritize Comfort: You'll be wearing your wedding dress for an extended period, so make sure it's comfortable to move in, sit, and dance.
Trust Your Instincts: When you find the right dress, you'll feel it. Trust your instincts and choose the dress that makes you feel confident and beautiful.
Conclusion
Selecting the perfect wedding dress is a deeply personal journey, one that should be cherished and enjoyed. Whether you opt for a timeless classic, a contemporary masterpiece, or a bohemian dream, the key is to choose a dress that makes you feel like the most beautiful version of yourself. With the right tips and advice in mind, you'll undoubtedly find the dress that will make your wedding day truly unforgettable.
Reader insights
Be the first to share your insights about this piece.
Add your insights