WHAT CAUSES SUBSTANCE AND DRUGS ABUSE
Motivating Factors
Its not easy To quite as an Addict.....!
As a Kenyan man living in major cities and not employed is a major challenge because the cost of living is greatly rising. The casual laborer, it's not easy for them to sustain themselves with the wages they earn majorly because of the consistency of earning. For instance, I have a friend named Johh whom we went to college together. John now 35 years old living in Mukuru kwa Njenga, In Embakasi South Nairobi City County. He did a course in Building and construction and graduated in the year 2012 with a Diploma. He has being employed in construction companies in contractual bases. In the year 2018, unfortunate incident happened in their residential place where his mabati house was burned completely and nothing was rescued including his academic certificates.
In the year 2020 due to ICT Dynamism the company he worked for needed to digitize it's operation and all employees where required to resubmit their Original Academic certificates for digital updating. This really affected John's life in the company because he was not able to present his certificate as required and this led to loss of the Job.
This particular incident really impacted negativity to John's life. John was really in deep depression, fortunately a colleague friend sympathized with him and assisted accommodating him for a month as he looked for a job.
John had to find a job to earn a living and the easiest was to find jobs in construction companies. By the end of the first month he secured a job in a construction company and as agreed with his colleagues he shifted and rented a house at a cost of 2500 per month thus becoming independence. He used to sleep in the floor and taking meals from local Hotels where he could only afford only one meal in a day(Chapati Chafua). He worked in that construction company for 2 months then there after the production went down thus few casual laborers were needed. My friend's life become more stressful because now they were required to work for only two weeks in a month.
The two off work weeks my friend tried to search for another job but in vain due to lack of certificate. He started idling with friends in the slums and his life really changed negatively.
Life become unbearable to him and due his status he started socializing with other jobless men. Due to social influence John started smoking weed and chewing local khat known as "Muguka".
Life continued in the slum workings in construction companies where amount of money attained as wages was directed to weeds and khat! Initially john was chewing the khat only on weekends but within a period of six months he started chewing it on daily bases.
John was really in a big mess he become a victim of substances addiction. I tried to help him recover from the addiction but all in vein.
Life in slum areas is really difficult because of poor services from local government and increased number of un employed people shifting to or other many people coming from rural areas to come and stay their due to low cost of shelter and other basic needs. This aspect of the cost of living makes them to be very densily populated. The people living in these areas come from different parts of the Country having different social background hence mostly leads to emanation of many vice.
It's these slum dwelling where most of crime originate from majorly contributed by high rate of unemployment. When you visit most of the slum areas you will note that most of the youths owns most of the illegal businesses like selling of water through illegal connection, selling of illicit brews like 'Chagaa', selling of illegal drugs like weeds, cocaine and selling of Khat. Most of these youth the money they obtain from their business is purely directed to drugs and substance abuse thus they are not able to take care of thire personal needs thus not able progress well in their life.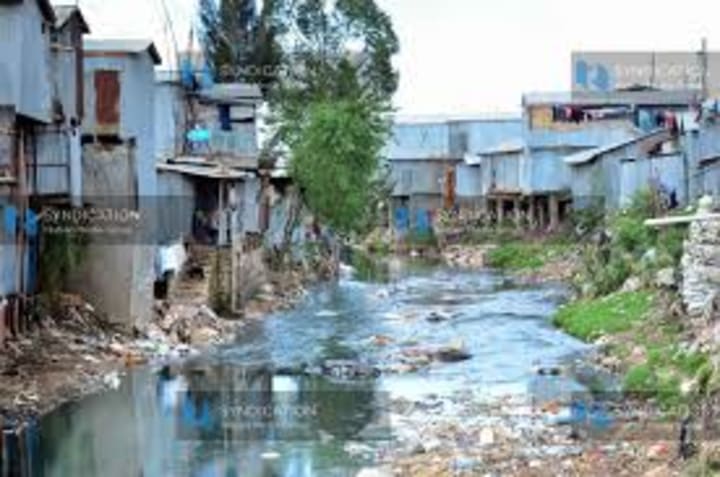 In Mukuru kwa Njenga slum, located in Embakasi South Constituency in Nairobi City County in Kenya, it's one of the densely populated slum dwelling in Kenya is serving as the Center of many vices. Many of illegal businesses like child trafficking and Internet crimes like fraud and hacking is managed in this place thus making it the Central vice headquarter.
About the Creator
A very hardworking enthusiastic, result oriented man, always taking opportunity on any life challenge as a chance to use ICT as the Key in the solving the issues. Always ready to ensure equitable access to any ICT Innovation information.
Reader insights
Be the first to share your insights about this piece.
Add your insights