Top 20 Mobile App Development Categories that will dominate 2023 & beyond
As mobile apps become more prevalent in this digital era, people increasingly rely on them for daily activities. There are a lot of mobile apps out there that are designed to help you do everything from attending virtual meetings to receiving payments.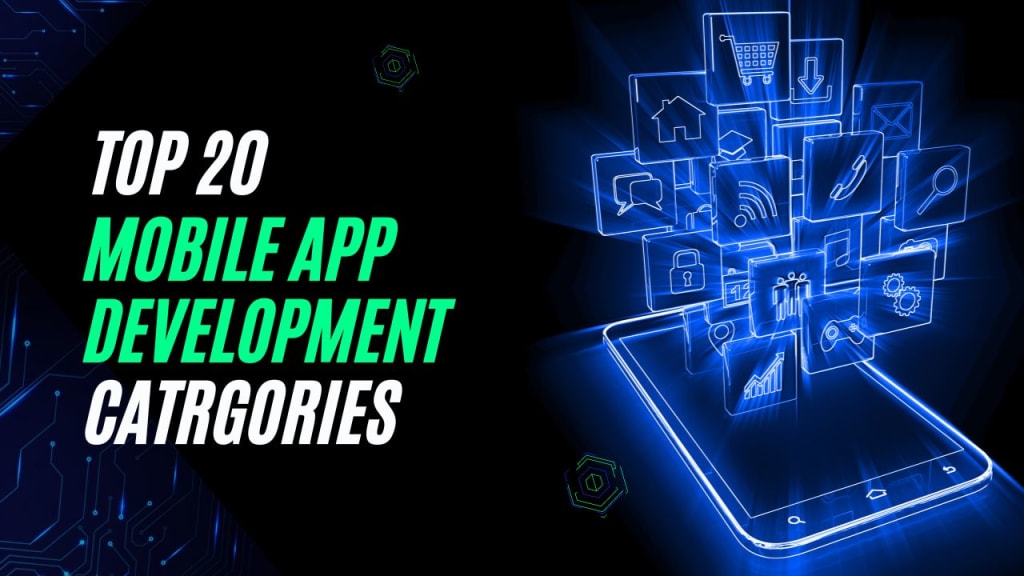 It has been recognized that Mobile Application Development has shown tremendous popularity for enterprises, making them significant for more and more opportunities than ever.
Statista reports that mobile apps will generate revenues of more than $600 billion globally by the next few years.
Mobile app development services providers and users are responsible for the emergence of apps. Nevertheless, mobile apps are making our lives easier in several ways, which is one of the benefits of having them. Further, mobile applications have a brighter future than ever before.
Thus, let us find out which mobile app development category is expected to be the most popular in 2023.
Key Market Insights for Mobile App Development
Grandview Research claims that in 2021, the global market for mobile apps was $187.58 billion. From 2022 to 2030, it is estimated to grow with a CAGR of 10.9%.
A study by Grandview Research concludes that the growth of mobile applications is being driven by the expanding entry into previously inaccessible areas of the Internet, which is driving accessibility to the Internet through mobile devices.
Similarly, artificial intelligence has made the capabilities of applications more powerful, making them more appealing to consumers.
The most popular areas for using mobile applications are games, retail and e-commerce, health and fitness, music, social networking, and other related services.
Mobile apps also excel in the entertainment category, where they compete well. Netflix, Spotify, and many other streaming app offer streaming-on-demand content.
Machine Learning (ML) algorithms have succeeded as a more innovative approach to determining users' interests based on their search history and recommending content that may interest them.
Importance of mobile app development
There is no doubt that with the rapid expansion of smartphones and smart devices on the market, the number of people installing and downloading the applications is continually growing.
In today's world, mobile apps have become the basis for most businesses, and they increase the number of customers. Moreover, market experts project that app revenue will reach $1 trillion by 2023.
Building an application has the following advantages:
Communication between the developer and the customer through the app provides continuous communication between the two parties so that the developer can build a loyal customer base.
With app development, you can ensure your brand is pervasive worldwide.
When you run a business and want to inform your customers about upcoming offers and new products, the right way to tell them about new additions is through the app.
Adding payment options to your app will increase the sales of your products and services.
Top Mobile app development category expected to dominate in 2023
Currently, applications play a significant role in our daily lives. Various types of applications are available in the marketplace. Even companies that have never had to deal with apps in the past now realize their importance of them.
Even some of these companies go out of their way to keep up with technology and work on improving their apps. However, many meet the needs of their customers by providing apps that make their lives easier. App development encompasses a wide range of categories.
Health care apps
Healthcare apps top the list of mobile app development categories, and this category includes a wide range of applications.
We have achieved a great deal with healthcare apps, from scheduling a doctor appointment right at your fingertips to letting you discuss your symptoms with a doctor and even schedule in-person appointments.
There is more to it; it even allows the patient to be educated regarding the disease and preventive measures to prevent it from getting severe.
Whatever your healthcare app development requirements, choosing to Hire mobile app developer is always the best choice.
Gaming Apps
No one would disagree that one of the most popular and well-known mobile apps is gaming apps. In 2021, Google Play generated 37.3 billion U.S. dollars from gaming apps. People have been playing more games on their phones since they can access them anywhere.
Play-to-earn games are fast becoming one of the most popular types in the market, with action games being among the most popular.
In case you are unaware, the pay-to-earn games are built on blockchain technology and are based on rewarding players for their time with cryptocurrencies. Rather than doing the development work yourself, consulting a mobile app development company is a great choice.
Dating Apps
The online dating industry is growing exponentially daily, making dating apps the next outstanding mobile application category all set to dominate throughout the year and beyond.
As an example of the constantly growing dating app, Tinder has become very popular worldwide and has captured the attention of a big global audience. Dating applications are in demand amongst consumers all around the world.
Accordingly, around 220 million people are seeking romantic relationships through dating websites. By the end of the next five years, there are expected to cross 280 million users.
News and Magazines
With the use of a smartphone, you can be at the forefront of all worldly events and be informed about important topics. Various magazines and newspapers can be read through news and magazine apps catering to the widest interests.
Entertainment Apps
The entertainment apps are designed to agitate the user's mind in various ways, such as watching videos online, searching for events near you, chatting, posting pictures on social media, and much more.
All these apps are built to create an interesting experience for the user. The overall user experience is too refreshing with such apps due to including fun and interactive elements.
Manufacturing apps
A good way to improve your manufacturing process is by integrating data analysis. To make your workforce more efficient, manufacturing apps help decrease the number of flaws in your system by systematically addressing them.
Photo and Video Apps
There is a dedicated category of mobile application development for photo and video. Photographers and filmmakers will find such applications valuable. Various editing tools are available in these apps, so you can get creative and make your masterpieces from your photos and videos.
Utility Apps
In most cases, we use these apps daily. A utility app can be used to book a cab, secure a home repair service, or even take care of everyday needs so that user sessions are as short as possible. These applications enable users to get things done earlier and more efficiently, making them extremely popular.
Lifestyle Apps
Whether it is fitness, shopping, working out, weight loss, virtual trial rooms, and more, applications in this category serve as a way to enhance the lifestyle experience of its users by enhancing healthy living. Several of these apps offer users ideal solutions to problems they may experience with their work, leisure, or other aspects of their life.
Social Media
Despite social media and messenger apps ranking as the most downloaded apps. Though it is not as dominating as dating and streaming apps.
Apps for social media have evolved naturally over the years due to their popularity among the young heads. Social media companies were also actively trying to acquire messengers to complement their platforms to expand.
Even though social media and messenger applications do not have the highest in-app sales revenue, they are still expected to remain the most profitable apps based on downloads.
Travel Apps
The apps offer clear, concise information about the trip, making the experience more enjoyable for the users, easier, more informative, and easier to plan. In some apps, the user can find a route by navigating via maps, while in other apps, they can navigate through unknown locations based on maps. The provision of translation assistance can even enhance the use of travel apps.
Education and E-Learning App
Since lockdowns were introduced, e-learning apps have also increased in popularity, as remote learning may have replaced normal education.
More and more people now use E-Learning apps to gain new skills, including those who work in universities and schools that can benefit from using E-Learning apps.
Finance App
A growing number of finance apps have been developed to manage payments, assets, and bank accounts. In addition to investing in stock markets and digital assets, these mobile apps can also be used to gain access to the capital market.
As a result of their versatility, finance apps are now being used 115% more each year, thanks to their growing popularity.
Many people have started to see the potential of using an app to track costs, make payments, and trade stocks to effectively manage their finances because it will give them more control.
Business Apps
Among the users, these apps are known as productivity apps and are the second most popular among them.
It is possible to use various business apps for buying, selling, billing, tracking work progress, and e-mailing. B2B and B2C apps are both examples of these types of applications.
These applications aim to increase the company's productivity and reduce expenses. Meanwhile, it intends to enhance the customer experience and broaden its client base to offer maximum convenience.
Retail Apps
In today's world, retail apps serve a variety of purposes. Having an e-store is about more than just displaying products. It's also about providing a holistic experience for users by allowing them to interact with the business owner through the e-store.
In addition, they provide customers with information about the products they can purchase, coupons, and exciting offers.
Food and Hospitality
Food and Hospitality applications are among the best applications worth your consideration. Booking through this application will enable you to dine at the best restaurant in town or to stay at your favorite bed and breakfast during your vacation.
All at your fingertips now. The app allows visitors to view local specialties and places to visit that they might otherwise not discover, and the user experience with the app today is made much more interactive with the help of customer reviews.
Food Delivery Apps
There are a lot of challenges facing the food and beverage industry these days, and there have been a lot of them in the past year.
Lockdowns, government regulations, and consumer behavior are all factors that have driven most of this change over the last few years.
As a result of Food Delivery Apps, most of your business operations can be automated, which allows you to devote your attention to more important business aspects. At the same time, your team can focus on other essential operations.
E-commerce Apps
We are pleased to see that e-commerce apps cut the apps on this list. The trend of growing exponentially in this industry has been going on for years and shows no signs of slowing down.
A mobile app is significantly more advantageous for the user and the business than an online shopping experience through a website or desktop browser.
Employee Apps
As we cross the threshold of apps for general consumers, we also see a spike in demand for apps for workers and employees. HR applications and employee communication applications are becoming increasingly prevalent in modern workplaces.
With so many remote and field service workers out there, apps are making it easier and easier for companies to keep in constant contact with their employees even when they are away from their desks.
Logistic apps
Logistics apps are the most awaited mobile app category worth attention. However, it lands last on the list but is most useful for businesses and consumers. This is a type of application for the delivery business that helps businesses track who is out to deliver the product. Similarly, it is a great facility for the customer as they can now track their products and the time it may take to get them to their doorstep. From enabling the business to manage the vehicle's current location to getting insights into the condition of vehicles, the Logistics app brings a lot to the fingertips. Overall, it is among the most useful apps available today for businesses and customers.
Conclusion
Understanding the mobile app categories trending for 2023 may help you grow your business through mobile apps. Considering that technology will continue to evolve, we can anticipate a wide range of mobile apps to immerse and make us more comfortable in our everyday lives.
About the Creator
Technology consultant in leading software development company committed to providing end-to-end IT services in Web, Mobile & Cloud.
Reader insights
Be the first to share your insights about this piece.
Add your insights