Top 10 Most Expensive Hotels In Dubai
We take a look at the Top 10 Most Expensive Hotels In Dubai including the FIVE Jumeirah Village and SLS Dubai.
10 - FIVE Jumeirah Village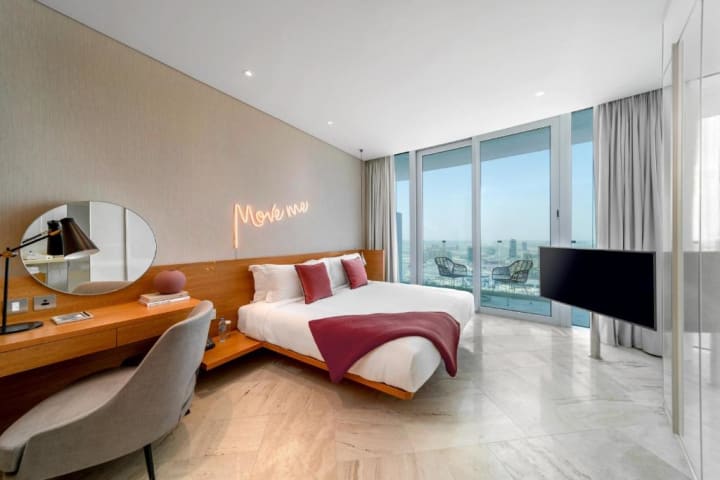 Located in Jumeirah Village Circle, a neighbourhood, FIVE Jumeirah Village is minutes from Wild Wadi Water Park and Aqua-venture if you are looking for some fun.
A poolside bar, terrace and two cafes and two restaurants are available on-site, with a free beach shuttle also in effect to transport you too and from the beach.
Indoor and outdoor pools are provided, with a full-service spa, sauna, steam room and Yoga classes all accessible for guests.
The usual reception services are on offer with a 24-hour front desk, concierge services, Luggage storage, porter and banking services on hand to make guests life easier.
All 350 rooms feature 24-hour room service and laptop-compatible safes with air conditioning, rainfall showers, 49-inch LED TV's and Hypo-allergenic bedding.
With regards to costing, your time of booking will determine the exact price, however a Superior Room will set you back around $186 where as a stay in the Deluxe Penthouse with 4 bedrooms and its own Private Pool is closer to $1321 for a one night stay.
9 - Fairmont @ The Palm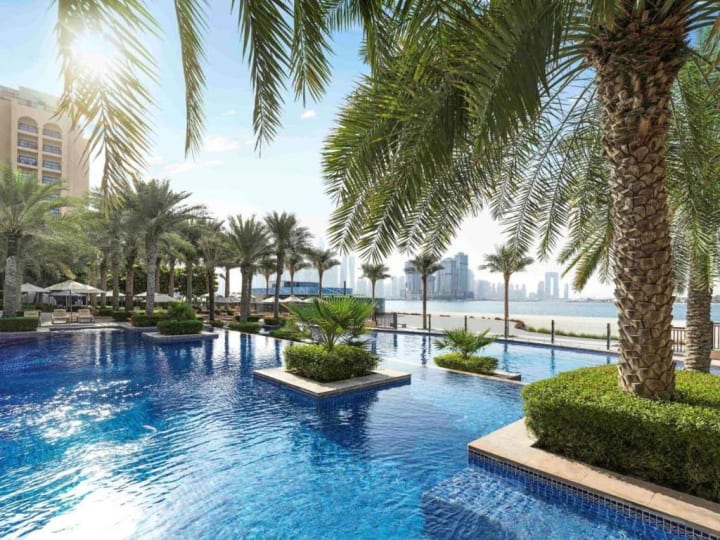 Offering guests the chance to revel amidst luxury of the highest class, this hotel is situated on The Palm Jumeirah and offers an experience that will leave visitors in a state of awe.
Just a few of the exceptional restaurants include, Flow Kitchen with its international cuisine, Frevo for Brazilian cuisine and the Seagrill Bistro which provides for those with an appetite for anything from the sea.
President Club privileges allow for guests to enjoy stunning accommodation with polished granite floors, panoramic views, private concierge and spectacular room sizes.
The hotels Presidential Suite is the most luxurious with 180 degree views of Dubai Marina and Palm Island, living area, outdoor terrace, dining room to seat 10 guests and a private butler's pantry.
The luxurious bedroom connects to a fabulous en suite with jetted spa tub and rainforest shower while the whole apartment covers 390 square metres of living space.
Other amenities at the hotel include a private beach, cigar room, 24-hour business centre, six outdoor swimming pools and all guests get signature Fairmont bathrobes and slippers.
Rates start at around $315 per night depending on which room you book and can go as high as $2390 per night.
8 - SLS Dubai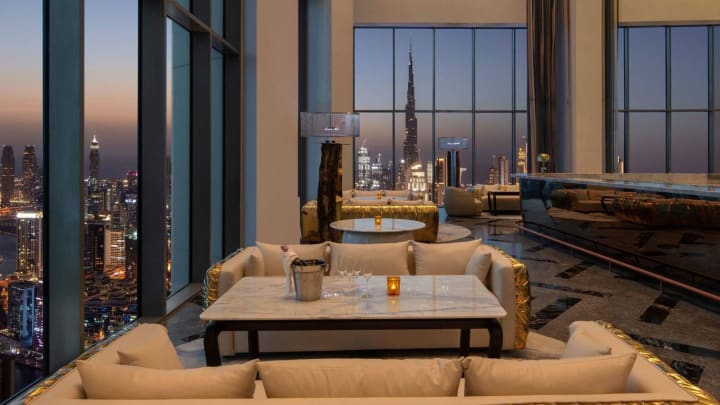 Located in Business Bay, a neighbourhood, this is one of the closest hotels to the main airport and also has good connections to the metro system.
Travellers who have shopping on the agenda can visit Dubai Mall and Mall of the Emirates, while those looking for other activites may want to check out the Dubai Cruise Terminal, Dubai Aquarium and Underwater Zoo.
A poolside bar, shopping centre and cafe are just a few of the amenities provided at SLS Dubai Hotel & Residences with spa services, such as a body wrap, a deep-tissue massage or a body treatment all on offer.
Guests can enjoy Italian cuisine and al fresco dining in one of two restaurants and other amenities include two outdoor pools, 24-hour front desk, conference space, meeting rooms and fitness centre.
Rooms at this hotel can vary in price but include a signature 1 bedroom starting at $336 and move into the epitome of luxury with a two bedroom Wonder Burj Living suite, with views of the Burj Khalifa costing over $908.
7 - Zabeel Jumeirah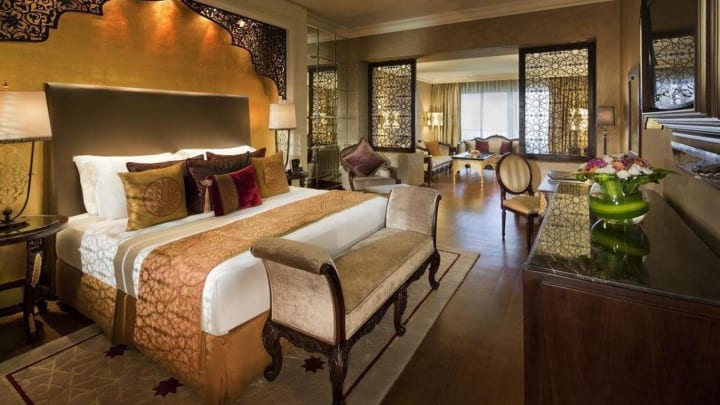 For those looking to stay in a hotel owned by a member of the ruling royal family, Zabeel Jumeirah is located located on a private beach at the very front of Palm Island.
Entertainment close to this hotel includes Nakheel Mall, Skydive Dubai and Bluewaters Island with Ski Dubai also worth checking out.
Beachfront dining is one of the privileges of staying at the Zabeel and guests have access to 8 restaurants and 1 coffee shop/cafe, 1 poolside bar and 1 normal bar, 24-hour room service and common area teas.
Free WiFi and wired Internet is available in all rooms with a 24-hour front desk, concierge services, luggage storage, spa, sauna, hot-tubs, Turkish baths and even wedding services.
Rooms at the hotel include a Superior Room with king-sized bed starting from $427 and the Imperial Two Bedroom Suite costing roughly $1,584.
Interesting to note that this hotel does have a 4962 square feet, Four Bedroom Royal Villa with direct Lagoon Pool access, we can only imagine the cost as all the dates we checked were fully booked!
6 - Sofital Jumeirah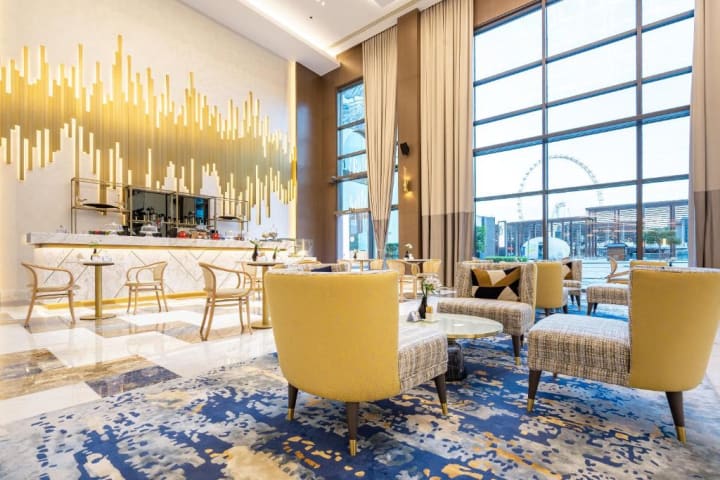 Located in the fantastic Dubai Marina, a neighbourhood, Sofital Jumeirah hotel has direct access to The Beach Mall, The Walk, Dubai Marina Mall and Baker & Spice restaurant.
This hotel is a great place to bask in the sun with a beachfront location while enjoying a massage at the on-site spa.
An outdoor pool with pool umbrellas lie son-site and amenities include valet parking, buffet breakfast, 24-hour room service and free WiFi.
Thrill Zone and Al Barsha Pond Park are not far from the hotel with some of the area's activities including golf lessons.
Rooms at the hotel are large, with bathrooms that feature rainfall showers and designer toiletries, balconies, daily housekeeping and Plasma TVs with DVD players.
Costing wise, you can expect a luxurious stay, with prices starting at roughly $428 for a superior room with one king bed, balcony and even a partial sea view.
If your looking to stay in one of the best rooms, then check out the club suite with one king bed, business lounge access and partial sea view, priced upwards of $1,592 and includes a fabulous breakfast.
Please note that as with all hotels on the list, prices vary at the time and date of your booking.
5 - Atlantis At The Palm
Situated at the top of the world-famous Palm Island, Atlantis is by far the most luxurious and biggest hotel not only on the Palm but also in Dubai.
So large is this hotel that it incorporates an underwater aquarium and complimentary access to its own Aqua-venture water park, the largest in the Middle East.
Free WiFi is available throughout the entire property and facilities include 2 swimming pools, private beach, spa and wellness center, multiple restaurants and its own fitness center.
The hotel offers a range of some of the world's finest high end boutiques and shops that cater for all of your holiday shopping essentials.
Guests even have the opportunity to book a helicopter ride for a 15 minute tour around Dubai or for Airport transportation.
Prices for this hotel start very reasonably and you can stay in one of its Imperial Club King Room's for around $469 per night.
If your looking for a more spacious, and expensive room, checking out the Grand Atlantis Suite is a must as its one of the most luxurious rooms in the city.
It features no less than 5 balconies as well as an enormous sun terrace which spans three sides of the suite offering a dazzling sensational 270 degree view.
Covering 4618 feet squared, it features 3 entrances with large dragon fish statue fountains and tailored high ceilings with its own private elevator and marble lobby entrance.
A 60" flat-screen TV, adjacent luxurious office and an 8-seater dining table come as standard with fully equipped kitchen, 4 walk-in closets and powder room.
Stunning bathrooms overlook the beautiful blue ocean and each include a rain shower, over-sized spa bath and premium amenities.
Costs for staying in this suite are not for the faint hearted, coming in at roughly $8,793.
4 - Four Seasons Resort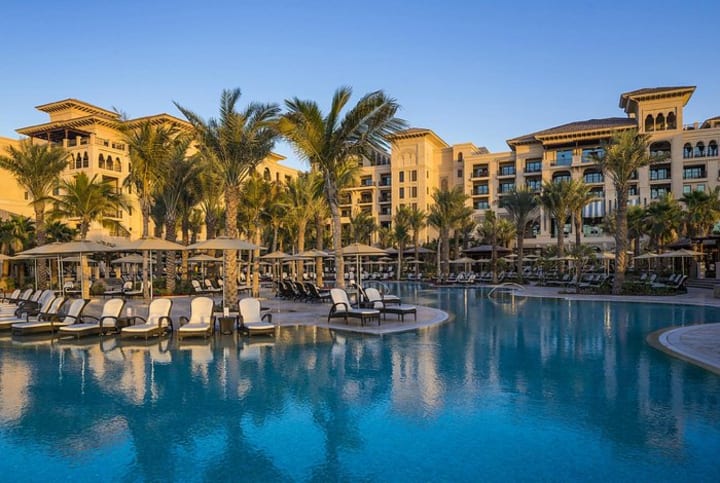 This luxurious 5-star resort featuring free WiFi in all areas, a private beach, 2 outdoor and one indoor swimming pools and a lavish spa is world famous among travellers to the city.
The Burj Khalifa and the Dubai Fountain are a 15-minute drive away with an eclectic dining experience at SUQ with its dynamic market style or the Mercury lounge located on the sixth floor.
Overlooking Burj Khalifa, this hotel offers 2 tennis courts and a jogging track by the beach, wellness centre, airport shuttle and private beach area.
Rooms at the hotel are well sought after and guests should book early with a deluxe city view room with two Queen beds costing $668.
Want to stay in the hotels most expensive suite? Feast your eyes upon the imperial suite, a 2260 feet apartment with its own swimming pool, kitchen, 2 expansive terraces and spectacular views of the sea.
Guests will want for nothing in this amazing room that has everything from its own iPad, outdoor furniture and tumble dryer to satellite TV and more.
Prices to stay in the Four Seasons Imperial Suite start at an incredible $7,425 and include breakfast, which has been described as spectacular in its own right.
3 - Bulgari Resort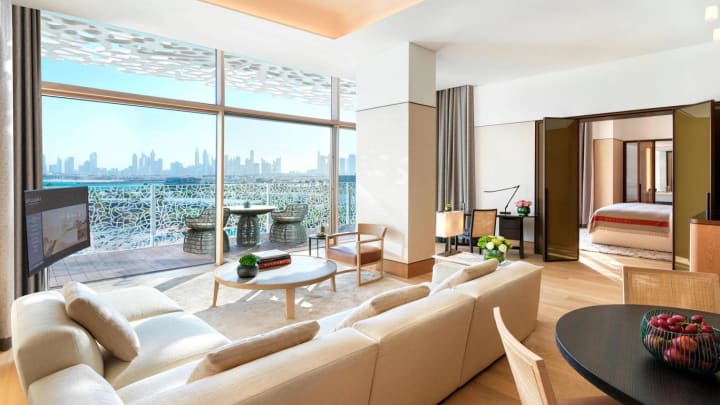 This hotel is situated on the man-made Jumeira Bay, an island carved into the shape of a seahorse and adjoined by a 350 yards bridge to central Dubai coastline.
Comprising a private Marina featuring 50 boat berths and the first world's Bulgari Yacht Club, this hotel offers 101 rooms and suites, as well as 20 Bulgari villas with pool, garden and sea-views.
A full range of amenities are available, such as the gourmet Il Ristorante and the 1,700 square-metre Spa with indoor pool, fitness centre and beauty salon with private hairdresser
La Spiaggia is one of the most exclusive beach Club's with private beach and a unique mosaic-design outdoor swimming pool.
Lower-priced rooms feature two queen-sized beds, a bathtub and shower and a private balcony with prices starting at around $832 per night.
For a more luxurious stay, I could not find a suite on the scale of the Four Seasons, however, one night in the hotel's Junior King Suite with Balcony can still set you back around $1,828.
2 - One&Only The Palm Dubai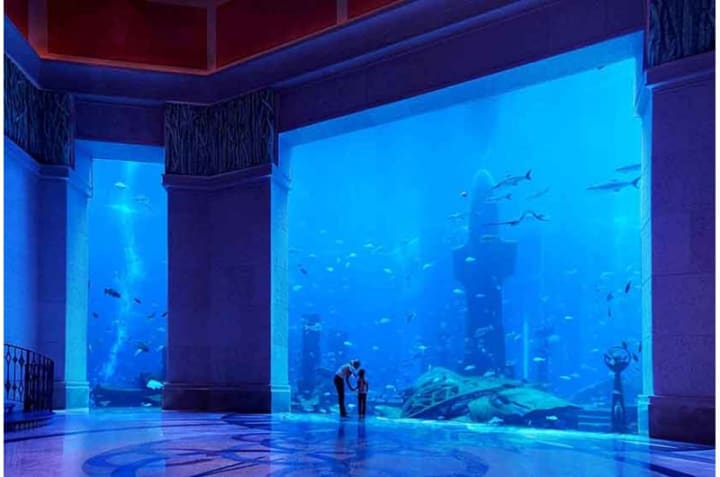 Moving into the top three and we have the One&Only at the Palm, a hotel that offers luxurious beach-front accommodation and a private beach.
Cuisine is offered by Michelin-starred chef Yannick Alléno and many other culinary options including Zest, a Middle-Eastern, Asian and Western fusion restaurant.
Guests can even enjoy an interactive experience while creating their own desserts at The Pastry Library.
The hotel features its own private Marina, with 101 Dining Lounge, perched over the water with a terrace featuring panoramic views and serving some of the best seafood in the city.
The Guerlain Spa, is set amidst outdoor gardens, features its own pool and 8 private treatment suites, and offers treatments created exclusively for the hotels guests.
The hotel also features the Cure Studio by Bastien Gonzalez nail salon, the Zouari Hair Salon by Alexandre Zouar and a fitness centre featuring the latest Technogym equipment.
With regards to rooms, luxury comes across the board, with a one night stay in the Palm Manor King Room with its bathroom sliding doors and daily breakfast for two starting at around $1,347.
The hotels most expensive option that we could find, the executive suite, includes a grand master bedroom, spacious living area and beachfront garden patio with prices in the region of $3,120.
1 - Burj Al Arab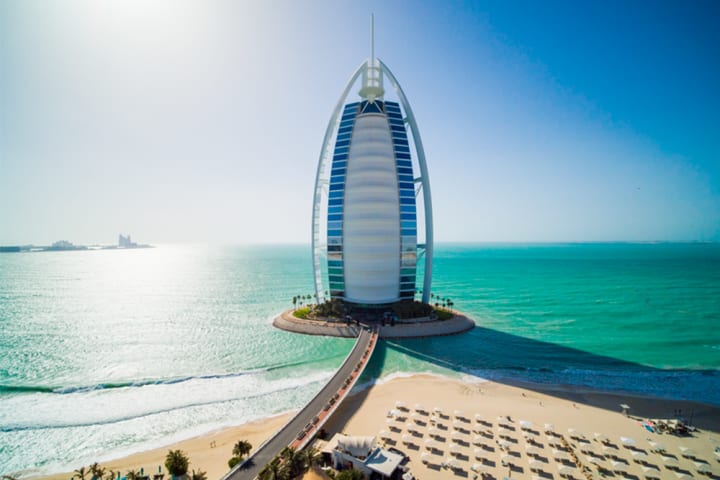 Famous for its place on Dubai's cost and sitting on its own private island with guest or restaurant-only access, the Burj Al Arab is described as the only 7-star hotel in the world.
Staying here is ultimate luxury and guests have access to 8 signature restaurants and a full-service spa and the Sky View Bar is suspended at 657 feet above sea level.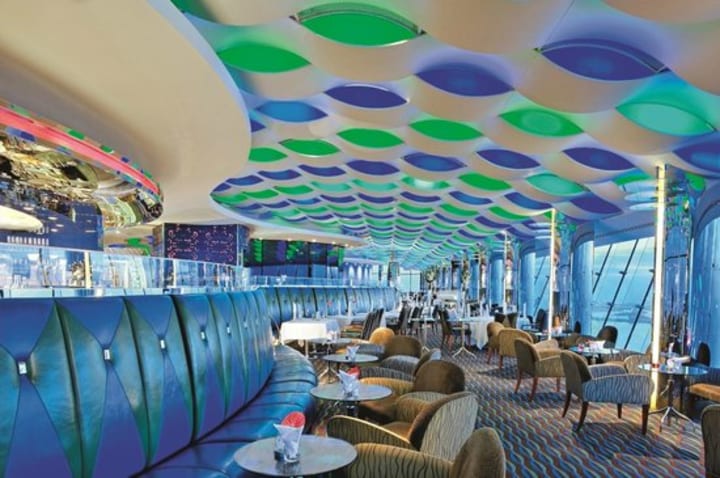 Guests may arrive at the property by chauffeur-driven fleets of Rolls-Royce's or alternatively by a dedicated helicopter transfer service with the helipad having its own immigration.
The terrace offers two swimming pools, 32 luxury cabanas, a restaurant and a bar with cabanas and sun loungers on offer for all guests.
The hotel offers unlimited access to water sports activities at Wild Wadi Waterpark, located just a 5-minute walk across the island bridge and Souk Madinat Jumeirah is a 15-minute walk away.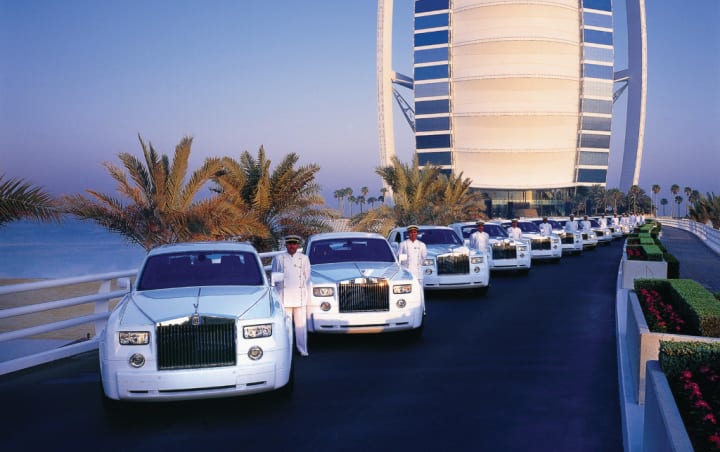 Al Muntaha is the Burj Al Arab's signature fine dining restaurant serving contemporary European cuisine, while Talise Spa has both ladies and gentlemen's relaxation areas that feature an aqua retreat.
Rooms are ultra-exclusive and luxurious with features such as panoramic floor to ceiling windows, En suite bathrooms, soundproofing, Flat-screen TV's, free Wi-Fi and full Sea view's.
Costing wise, you can expect to cough up the cash with a Duplex Suite costing around $1,462 per night.
Looking to stay in the hotels more expensive option? The three-bedroom Diplomatic Suite sleeps seven and comes with more than 7212 square feet of space with prices starting at $11,578.
Thanks for watching, remember to comment below if you think I missed a specific hotel or room so that other viewers can make better choices when visiting Dubai, smash the subscribe button for more videos just like this one and check out your next viewing experience on this page!
About the Creator
My name is William Jackson, a YouTube content creator and crypto enthusiast with over 142,000 subscribers and I make videos that are focused on the billionaire lifestyle and crime.
Content consists of top list videos.
Home North-East England
Reader insights
Be the first to share your insights about this piece.
Add your insights