The Best Eco-Friendly Mattress Toppers
Upgrade your sleep and reduce your carbon footprint with these sustainable options.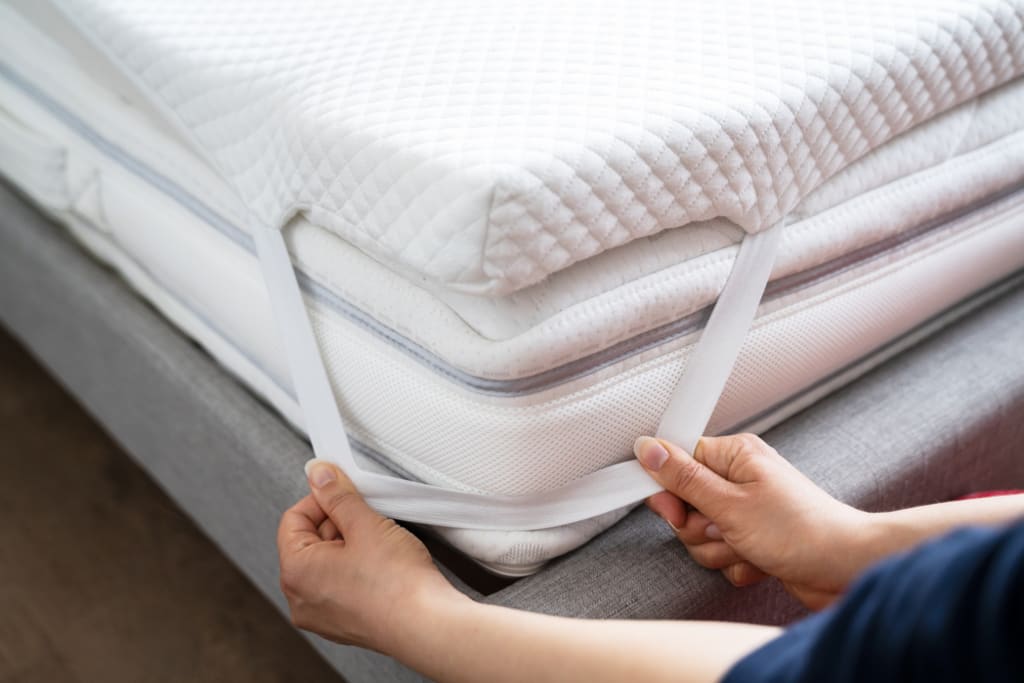 Image from DepositPhotos
If your mattress isn't providing the comfort you're looking for but can't afford to replace it just yet, maybe you should buy a mattress topper.
But not just any mattress topper would do. You need an eco-friendly mattress cover.
There are plenty of benefits to using a mattress topper. They're great mattress protectors. They help keep you cool while you sleep. They even prevent motion transfer.
You have plenty of options online. Here are a few of the best eco-friendly mattress toppers you can get today.
Top 5 Eco-Friendly Mattress Toppers
#1 PlushBeds Natural Latex Mattress Topper: Best Overall
The PlushBeds Natural Latex Mattress Topper is just what your body might need after a long day. Not only is this mattress topper free from harmful chemicals, but it's also absolutely comfortable.
It comes in six sizes: Twin, Twin XL, Full, Queen, King, and Cal King.
There are thickness options as well. It comes in a 2" and a 3" version. Even better, you can choose from five firmness options: Soft, Medium-Soft, Medium, Medium-Firm, and Extra Firm.
You can add an organic cotton cover to your order for $93.
This latex mattress topper is made from natural materials. The company describes it as soft and elastic. It's designed to relieve pressure points in the body.
The topper also supports the shoulders, back, knees, and hips as you sleep.
But what about the quality?
PlushBeds has certifications from OEKO-TEX Standard 100 and GreenGuard Gold. That means this mattress topper has the highest quality standard for manufacturing and distribution.
It doesn't use synthetic latex, meaning the topper is hypoallergenic and odorless. The natural latex used comes from sustainable sources.
The Natural Latex Mattress Topper only comes with a 5-year warranty. However, PlushBeds is quick to point out that their toppers can last up to 20 years.
Price Range: $194 to $658
Get the PlushBeds Natural Latex Mattress Topper Today
#2 Birch Plush Organic Mattress Topper: Best for Hot Sleepers
The Birch Plush Organic Mattress Topper is one of the best rewards you could give your hardworking self. The organic materials used to create this topper make for a relaxing sleep.
It's a great product for hot sleepers because it can maximize airflow to keep you cool. Plus it's made from organic compounds. Specifically, Birch sources organic cotton, wool, and latex. It's the cotton that makes it so breathable.
If your current mattress isn't doing its job, place the Plush Organic Mattress Topper on top and feel the difference.
You can get the Birch Plush Organic Mattress Topper in six sizes: Twin, Twin XL, Full, Queen, King, and Cal King.
This organic latex topper is more than capable of providing pressure relief. And since no synthetic materials are used, you can rest easy knowing you're getting a premium product.
Its GOTS certification means that the whole topper comes from sustainable materials.
Customers get free shipping when they order this product. By the way, you can try this topper for 100 nights and send it back if it doesn't meet your expectations.
This topper's construction prevents it from losing its shape. Organic wool is a natural fire retardant too because wool fiber turns to carbon when exposed to open fire.
Price Range: $327 to $561
Get the Birch Plush Organic Mattress Topper Today
#3 Brentwood Home Organic Latex Mattress Toppers: Best Budget Option
The Brentwood Home Organic Latex Mattress Toppers are organic toppers made from organic materials. No toxic chemicals are in it so they won't affect human health.
They are available in six sizes: Twin, Twin XL, Full, Queen, King, and Cal King.
The product is certified by GOLS and GOTS as organic. So you know Brentwood can back up its claim that it has non-toxic mattress toppers. You can even trace its natural latex topper materials back to its source in India and Guatemala.
The GREENGUARD Gold certification lets you know that this topper has low emissions.
It gives you the ultimate sleep experience.
You can also choose from two firmness options: 2" and 3". There are plush mattress topper businesses that don't give you a choice on how thick you want your topper to be. Having at least two options gives you some flexibility.
If you're a back or stomach sleeper, get the 2" option. If you like to sleep on your sides or if you're a heavy person, get the 3" version.
If you want a better night's sleep but don't have the budget to get a new mattress, the Home Organic Latex Mattress Topper would be a good temporary fix.
Price Range: $179 to $389
Get the Brentwood Home Organic Latex Mattress Topper Today
#4 PlushBeds Natural Wool Mattress Topper: Best Plush Option
The PlushBeds Natural Wool Mattress Topper could be the eco-friendly product you're looking for. It's exceptionally comfortable, providing you with a layer of comfort you won't get with just a mattress.
It's a plush topper — with pricing that reflects that. But it could be worth it especially if you've struggled with regulating sleeping temperatures and relieving pressure.
There are benefits to using natural wool toppers. Not only are they super soft, but they do a fantastic job of absorbing moisture. That means your skin will always be dry as you sleep. They're also cool so body heat won't be an issue.
They also tend to maintain their shapes better as the years go by.
Each Natural Wool Mattress Topper is 3" thick. It has a 400 thread count with a GOTS-certified cotton cover. All sourced materials are from the United States.
Speaking of materials, they are all fair trade. PlushBeds use cruelty-free, sustainable wool.
Unfortunately, products like toppers aren't returnable due to sanitary and safety concerns. However, there is a one-year warranty that covers manufacturing defects.
One of the good things about this topper is that it's easy to maintain. You only need to air it out once in a while to get rid of moisture and odors, if there are any. And you can spot-clean dirty sections with a damp cloth and mild detergent.
Price Range: $516 to $937
Get The PlushBeds Natural Wool Mattress Topper Today
#5 Coyuchi Climate Beneficial Wool Mattress Topper: Best Eco-Friendly Packaging
The Coyuchi Climate Beneficial Wool Mattress Topper is affordable, making it great for people who want an extra layer of comfort without exceeding their budget.
The bad news is that you can't use this with any size mattress. The only size options are Twin, Queen, and King. The topper can weigh anywhere between 5 and 8 pounds depending on what size you order.
However, it is a green mattress. It's made from organic cotton and wool. And Coyuchi packs the topper in a reusable, organic cloth bag.
Unlike synthetic memory foam, this topper will manage to keep its shape and absorb moisture. This organic wool mattress topper won't have any problem keeping you cool while you sleep.
It comes with straps that you can secure on all four corners of your mattress so it stays in place.
There are no thickness options. But if you want a firm topper but your partner wants a soft topper, the Beneficial Wool Mattress Topper might be right for you. It's neither too soft nor too firm.
Still, there's no need to worry. If you don't feel comfortable using this product, you can return it within 30 days of purchase and get a full refund. If you take too long and go over the 30-day return period, you'll still be eligible for store credit for up to a year.
Price Range: $448 to $598
Get the Coyuchi Climate Beneficial Wool Mattress Topper Today
Benefits of Using Eco-Friendly Mattress Toppers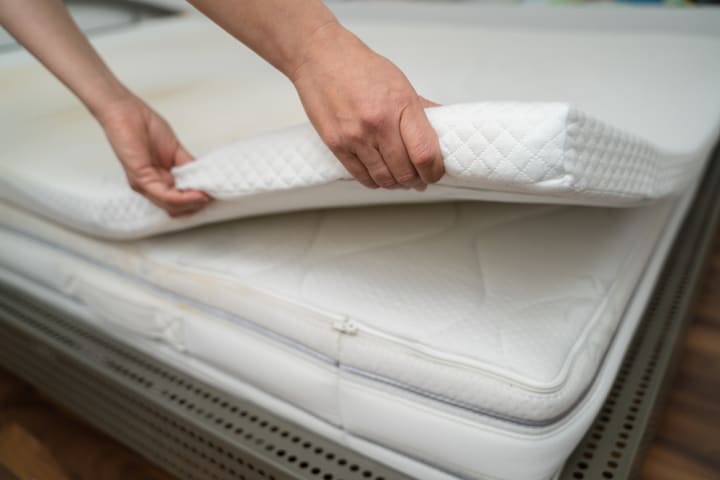 Here are some reasons why should care about using these toppers for your eco-friendly mattress.
Sustainability: By buying sustainable products, you're helping ensure the world can conserve some of its natural resources for future generations.
An organic cotton topper is made from renewable materials. It means that the cotton materials used can be easily replaced. That makes it an excellent option compared to synthetic materials.
People want the organic option to secure the future of the next generation.
Companies that champion eco-friendliness also tend to care more about their carbon footprint. They facilitate carbon offset projects and implement sustainable practices.
So when looking for a mattress topper, look for businesses that avoid non-organic options.
Health: There are mattress brands that use toxic materials for their toppers. Thankfully, that practice isn't as common anymore. Still, you'd want to watch out for companies like those.
An organic cotton mattress topper won't have anything that can harm you. These toppers are made of breathable material and reduce the possibility of dust mites and allergens from taking hold.
Eco-friendly mattresses won't have harsh chemicals. And they don't have chemical adhesives. They don't even have chemical flame retardants too.
The good thing is that the finished product comes out even better when you remove all these harmful materials. They're likely to be softer and more comfortable.
Comfort: Organic cotton is more breathable than synthetic materials. That means you won't have to sweat through the night.
And eco-friendly mattress companies have learned how to get the balance right over the years. That means whether you want a firm mattress topper or a soft one, you'll find a topper close to the firmness levels you're looking for.
Mattress companies have also learned to expand their mattress size options. So you'll find the right size for you — from Twin to a Cal King.
Eco-friendly toppers can give you that added comfort that non-organic mattress toppers couldn't give.
Durability: Eco-friendly mattress toppers are there to provide extra comfort. But they also protect the mattress from wear and tear, especially if body weight is an issue.
Organic mattress toppers are capable of taking a lot of abuse. They won't give out so easily.
Some topper models undergo rigorous testing to ensure they stand the test of time. Mattress companies are so sure of this that some offer a 10- or 20-year warranty.
There are even those that offer a 100-night sleep trial. People can return their toppers if they find them unsatisfactory.
Ethics: Companies that believe in running an eco-friendly business will have fair trade practices in place. They want to ensure that the people they source their materials from are treated fairly.
They care for the planet and the people who work for them. That's something worth supporting.
Factors to Consider When Shopping for an Eco-Friendly Mattress Topper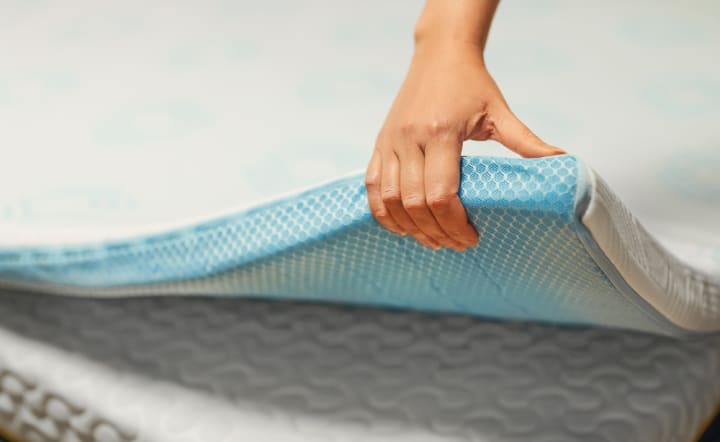 Here are the things you should look for when shopping for a mattress topper.
Material: You can't go wrong with buying organic. Eco-friendly mattress companies will proudly state when they use organic materials. When it comes to toppers, you want to see if they're made from organic cotton, latex, and wool.
If you don't see those mentioned, look for signs indicating whether they use non-organic materials. Customer reviews can be a good source of information.
Thickness: Some companies offer thickness options while others don't. If the product offers a thickness above 2", that means firmer options are available.
Certifications: You'll want to buy products from mattress companies with certifications from organizations like the Global Organic Textile Standard (GOTS), Global Organic Latex Standard (GOLS), OEKO-TEX Standard 100, and the Rainforest Alliance.
You can trust businesses that have earned organic certifications from these organizations.
Price: Organic toppers aren't cheap. You do get what you pay for though. Many would argue that investing in a topper is worth it.
That said, some mattress companies make more affordable products than others. And some will offer discounts or coupons. So do your research before making your purchase. A cheaper alternative topper might be around the corner.
Return policy: There are topper companies that don't have a return policy due to health and safety reasons. They will offer store credit instead.
However, some companies will accept returns and give you your full money back. If that's important to you, you should see what return policy a mattress store has before buying.
Reader insights
Be the first to share your insights about this piece.
Add your insights