The 9 Most Funniest & Weirdest Inventions in Japan!
Although Being Smart and Creative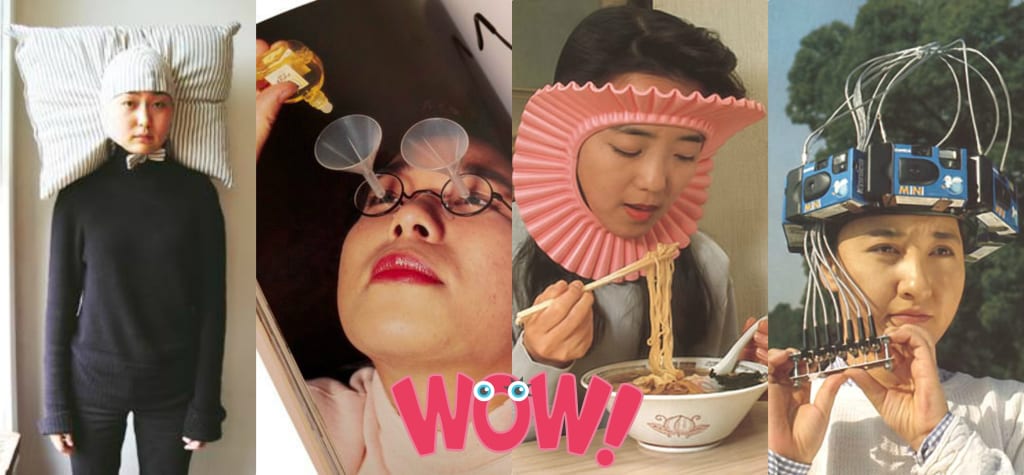 Pillow head, Head extentions, Eye-drop funnels, Hair protecting shield 
We all know that Japan can be a little weird whilst being a famous inventor, itself. However, some of the creations it has provided us with, ones that are usually only found in Japan are quite alarming. I personally find them hilarious!
Anywho, we live in the world that is full of surprises, weird things and bizarre inventions. Some of these inventions are so strange that it's hard to believe whether they are created by genius or a fool.
1) Liberation Wrapper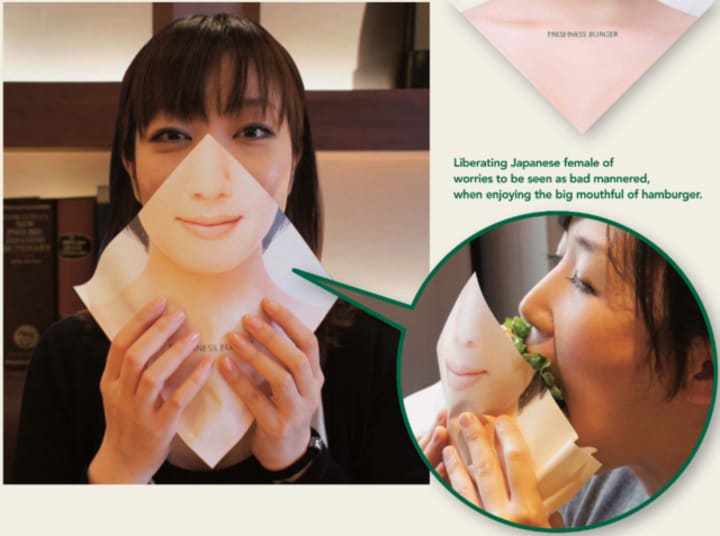 The famous Japanese hamburger joint, Freshness Burger, noticed that females weren't ordering their largest hamburger, as in Japan, it is seen as rude or unattractive for a woman to eat something big considering they open their mouth so wide without covering it. To solve this problem, they designed the "Liberation Wrapper", a hamburger wrapper that covers the lower half of people's faces with an image of a dainty, closed mouth.
2) Butter Balm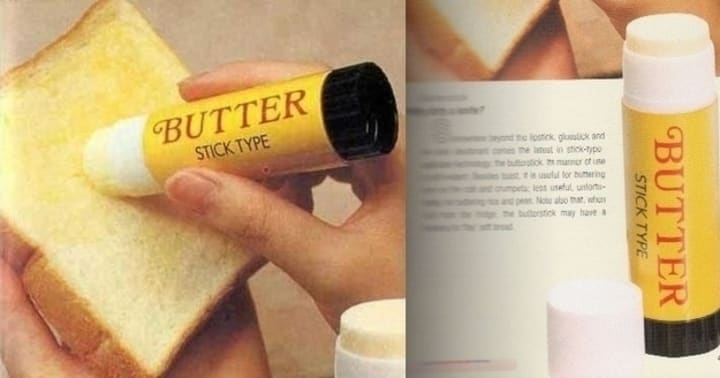 Butter balm is something that you can use as both, lip balm, to keep your lips from getting crusty. And also, to use it for your morning bread or any other food... you can even use it on paper if you're running short on glue.Obviously there is an expiration date!
3) Onion Cutting Glasses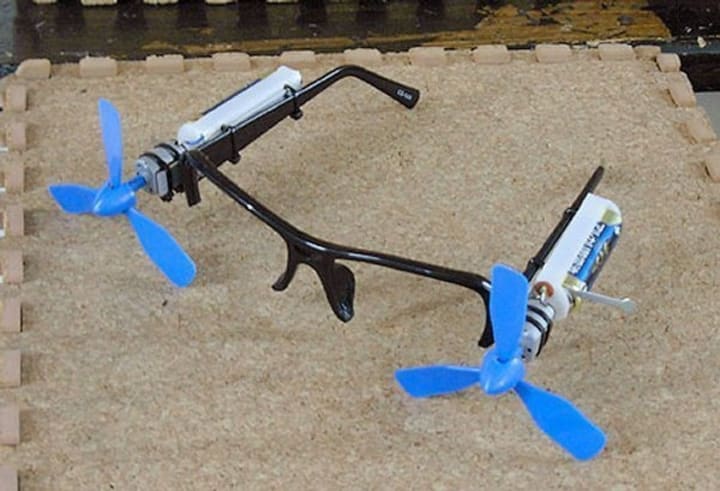 These glasses are what every housewife needs, something that should globally be a thing. They prevent you from tearing during cutting onions, or even if you're sitting next to someone who is cutting onions (Just don't make it too obvious!).
4) Finger Toothbrush
Now you can control the toothbrush around with your finger, way easier right? It may be a thing worldwide at this point, but it was originally invented in Japan!
5) Cockroach Stepping Slippers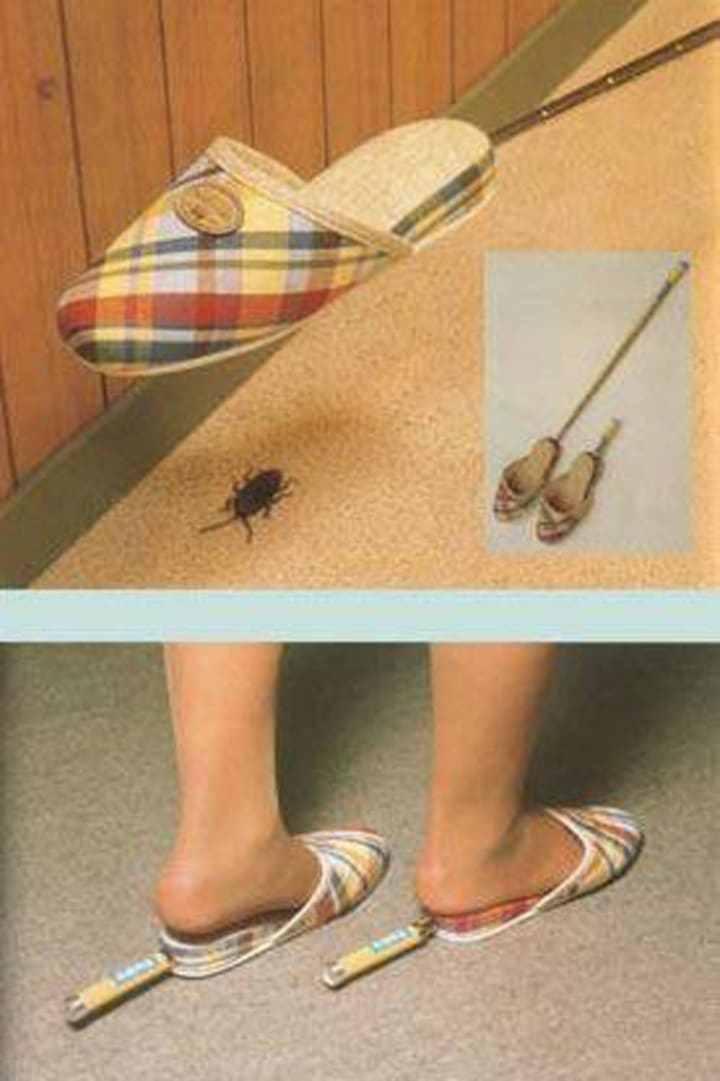 Yes, you can wear them around and anytime you see a cockroach, you may fear but the slippers even stretch long so no need to worry about it flying on you, anymore, just crush it. Something I would pay a hundred bucks to get.
6) A Device That Lets You See the Inside of Your Ear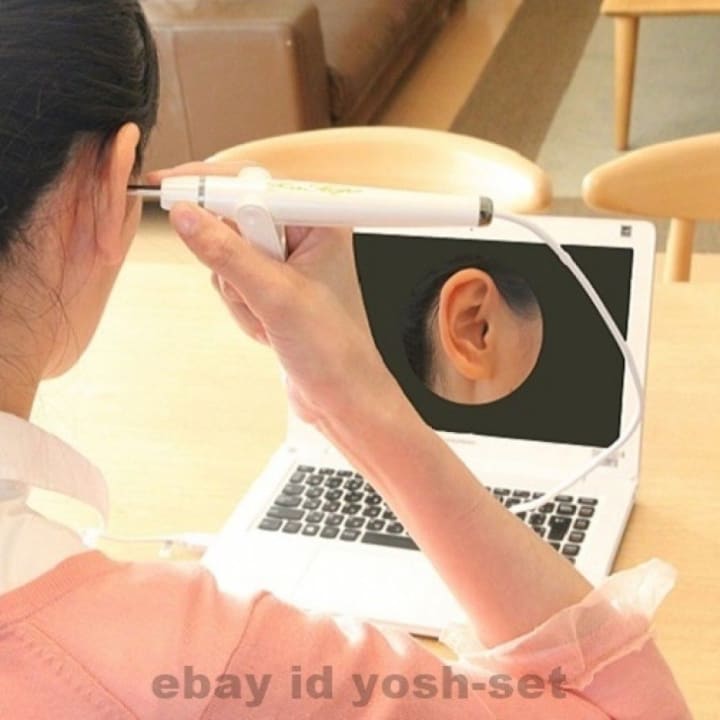 I would definitely not want to explore the inside of mine or anyone else's ear, but if you got something stuck in there, this is a device that could come in handy!
7) Hair Dryer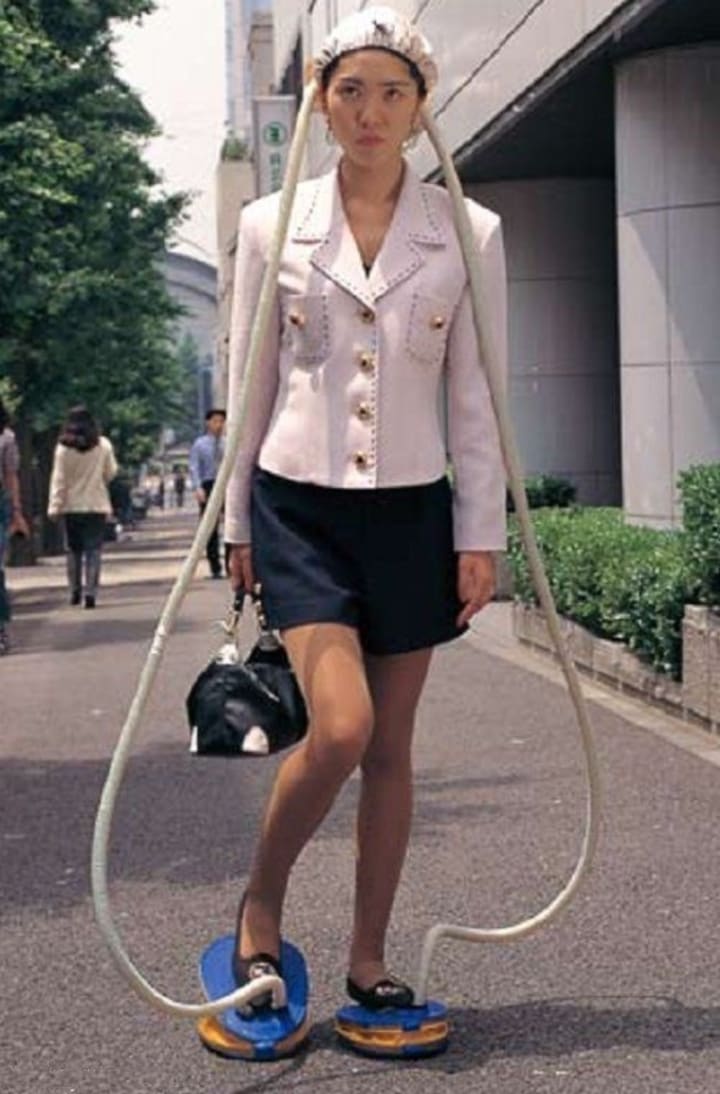 Are you one of those electricity savers? This hair dryer may be time-consuming but this should be important to you. As you're really not using any electricity by using one of these.
8) Food Cooler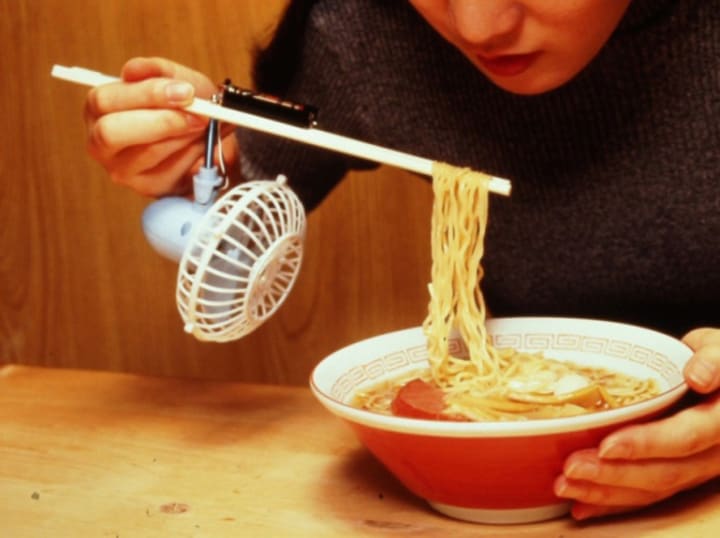 I think we all get unbearably hungry at some point and can't be bothered to blow in our warm food, which only just came fresh out of the stove. In those times, keep a food cooler with you, very cheap and supportive!
9) Baby Mop

Too tired to mop around the house? Use your baby as a mop, so as they crawl their way through the floors, it does the job just right.
10) Ear Enhancer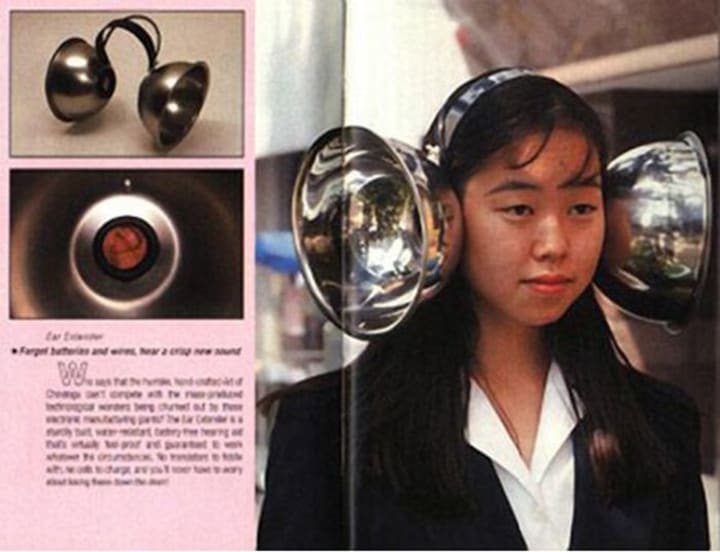 The mega ear enhancer is very effective if you have problems hearing things, it does hold weight on your head, but in exchange it gives you a chance to not mishear certain words or even miss out your name in an appointment you made, etc.
11) Nose Lifter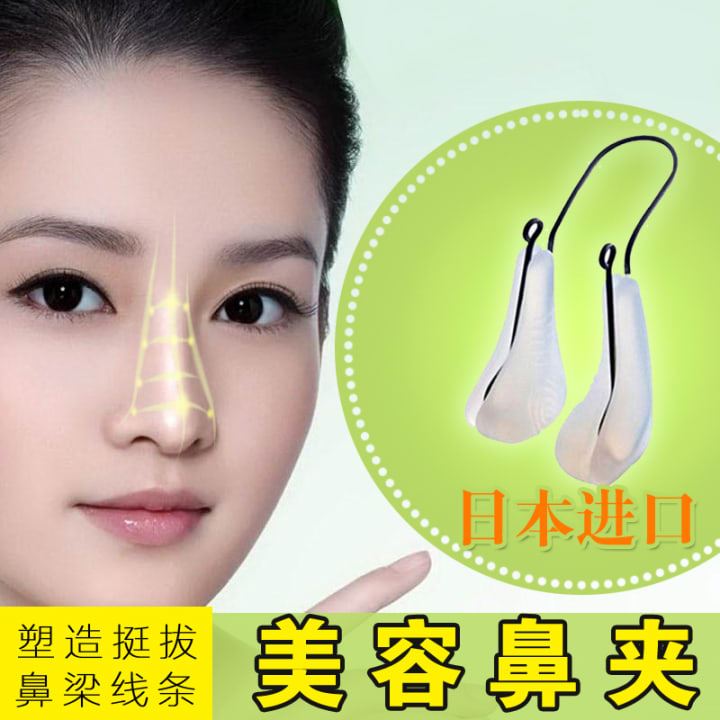 This nose lifter is very cheap, almost always 50 percent off. It straightens the bridge of your nose and makes it thicker. It even comes in many shapes and sizes. For the ladies or men out there who have insecurities about their nose, this nose lifter is for you!
12) Face Slimmer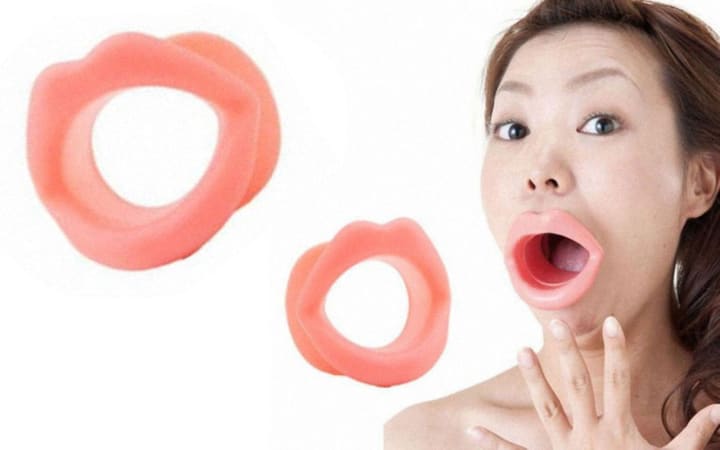 This face slimmer leads to a youthful mouth by strengthening facial muscles, not so much used in daily life. It is a great physical exercise and is pretty effective as it helps to achieve a better, much slim looking face, which I know that females work so hard to attain!
13) Water Saving Umbrella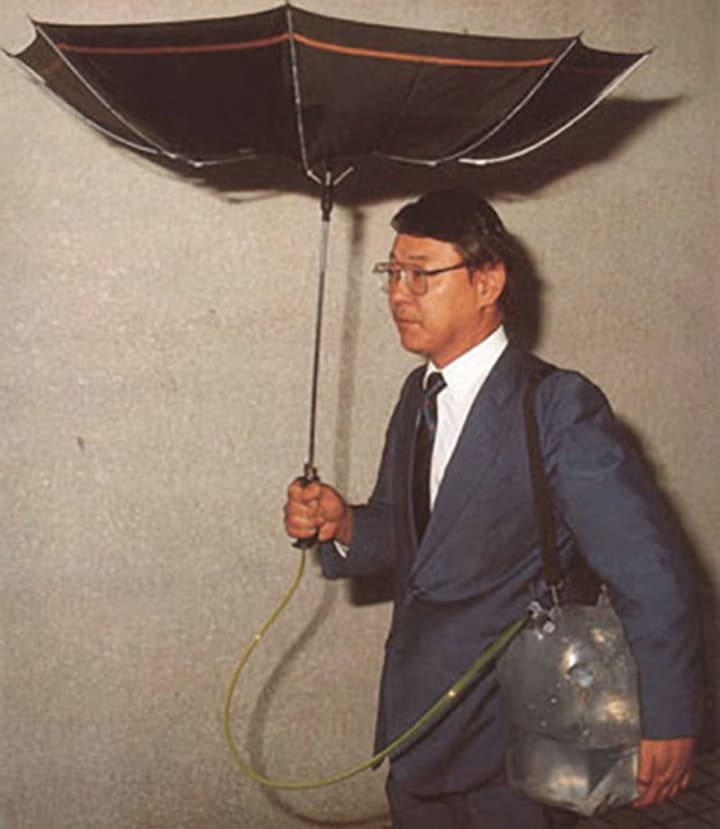 Some people at their homes have water shortage problems, this may be a useful item for those, and if you're one of them then this is an invention that was made for you. You can filter this water and reuse it, by the help of the umbrella. Now, you don't have to pay most of your water bills or have any complications with water not dripping out of your tap!
14) Bubble Wrap Keychain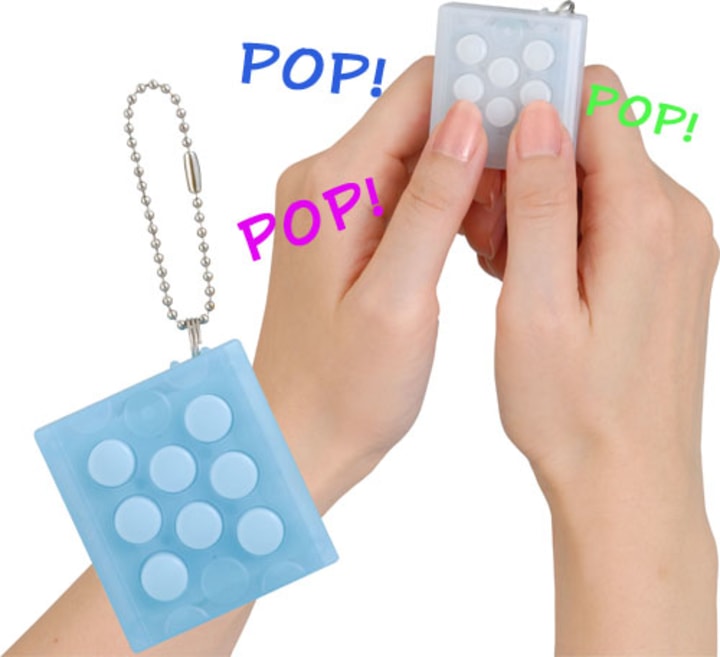 You know how satisfying it is to pop one of these! Now you can pop them as much as you want, there is no limit. Satisfy your needs with this keychain.SHARE these weird but somewhat useful Japanese inventions with your friends and family. Who knows they might solve someone's daily problem.