Must-Have Kitchen Gadgets for Effortless Meal Prep
Mastering the Kitchen: 2023's Must-Have Gadgets for Effortless Meal Prep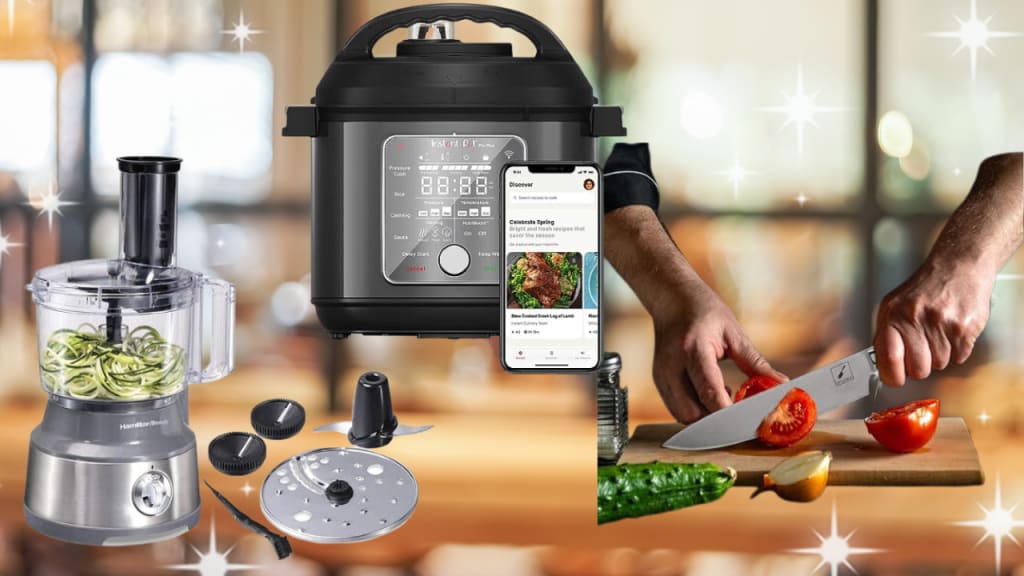 In today's fast-paced world, where time is a precious commodity, the kitchen has evolved into a hub of innovation and convenience. With the help of cutting-edge kitchen gadgets, we can turn mundane meal preparation into a culinary adventure that's not only efficient but also enjoyable. In this discussion, we'll explore some must-have kitchen gadgets that are poised to revolutionize your kitchen experience in 2023.
Hamilton Beach Food Processor & Vegetable Chopper: This versatile kitchen companion is designed to simplify a variety of tasks. From slicing and shredding to mincing and pureeing, it's a true workhorse that streamlines meal prep. With a generous 10-cup capacity, it can handle large batches effortlessly. Moreover, it comes equipped with a veggie spiralizer, perfect for creating healthy zoodles and ribbons, adding a touch of creativity to your dishes. Its sleek grey and stainless steel design not only looks great in any kitchen but also signifies its durability.
Instant Pot Pro Plus Wi-Fi Smart 10-in-1: This intelligent kitchen gadget is a powerhouse that combines ten essential cooking functions into one device. Whether you need a pressure cooker, slow cooker, rice cooker, steamer, sauté pan, yogurt maker, warmer, canning pot, or sous vide, this Instant Pot has you covered. What's more, it connects to a dedicated app boasting a library of over 800 recipes, providing endless culinary inspiration. In a 6-quart size, it's suitable for families and gatherings, making it a game-changer for busy households.
Imarku Japanese Chef Knife: The heart of any kitchen is a trusty chef's knife, and the Imarku Japanese Chef Knife fits the bill perfectly. Crafted from high-carbon stainless steel, it offers exceptional sharpness and precision for a variety of cutting tasks. Its ergonomic handle ensures a comfortable grip, reducing fatigue during extended meal prep sessions. With this essential tool, you can effortlessly create culinary masterpieces in the comfort of your own kitchen.
As we delve into these groundbreaking kitchen gadgets for 2023, you'll discover how they can elevate your culinary skills, save you valuable time, and make cooking a more enjoyable endeavor. Let's explore each of these innovative kitchen companions in detail and unlock the potential they hold for revolutionizing the way you approach meal preparation.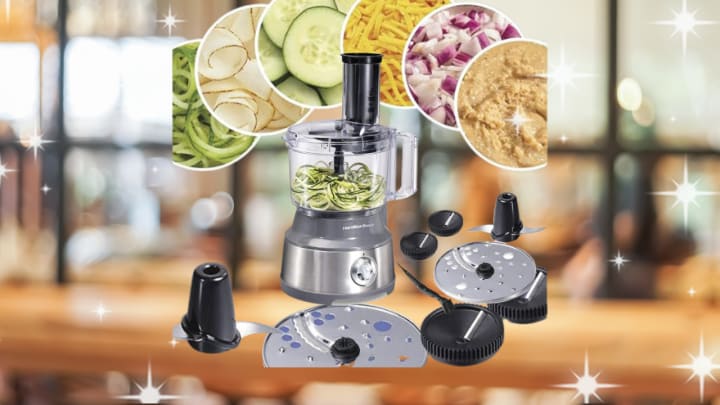 The Hamilton Beach Food Processor & Vegetable Chopper is a remarkable kitchen gadget that stands at the forefront of efficiency and versatility. Designed to simplify meal preparation, this appliance is equipped with four versatile attachments that empower you to spiralize, slice, shred, chop, and puree ingredients with ease.
1. Spiralize, Slice, Shred, Chop, and Puree: This kitchen powerhouse comes with four specialized attachments that cater to a wide range of culinary needs. The spiral and ribbon blades allow you to create perfect veggie spirals and ribbons, adding a creative touch to your dishes. Meanwhile, the stainless steel S-blade is your go-to tool for chopping, mixing, and pureeing various ingredients. Additionally, the stainless steel disc is adept at precise slicing and shredding, giving you the perfect consistency every time.
2. 2.5" Feed Chute for Whole Foods: One of the standout features of this food processor is its 2.5-inch feed chute. This sizeable chute eliminates the need for extensive pre-cutting because you can fit whole foods like a zucchini or a block of cheese directly into the processor. This feature not only saves you valuable time but also reduces the hassle associated with meal prep.
3. Powerful 450 Watt Motor: Behind its sleek exterior, the Hamilton Beach Food Processor boasts a robust 450-watt motor. This motor provides ample power to effortlessly process a wide variety of ingredients. Whether you're spiralizing, chopping, slicing, or shredding, the two-speed/pulse dial gives you precise control over the process.
4. Large 10 Cup Bowl with Pour Spout: With a spacious 10-cup bowl, this food processor enables you to process substantial quantities of food without frequent interruptions to empty the bowl. The addition of a pour spout simplifies the transfer of dressings, sauces, and purees into serving or storage containers, ensuring a mess-free experience.
5. Effortless Cleanup: After a satisfying meal preparation session, you'll appreciate the convenience of effortless cleanup. All removable parts of the Hamilton Beach Food Processor, including the blades, bowl, and lid, are dishwasher safe, making post-cooking cleanup a breeze. Moreover, all food zones are constructed from BPA-free materials, ensuring peace of mind about food safety.
Incorporating the Hamilton Beach Food Processor & Vegetable Chopper into your kitchen arsenal will undoubtedly revolutionize the way you approach meal prep. Its versatility, power, and user-friendly features make it an indispensable kitchen gadget for those seeking to streamline their cooking experience. Whether you're a culinary enthusiast or someone looking to save time in the kitchen, this appliance is designed to cater to your every need.
CLICK HERE TO GET YOUR HAMILTON BEACH PROCESSOR NOW!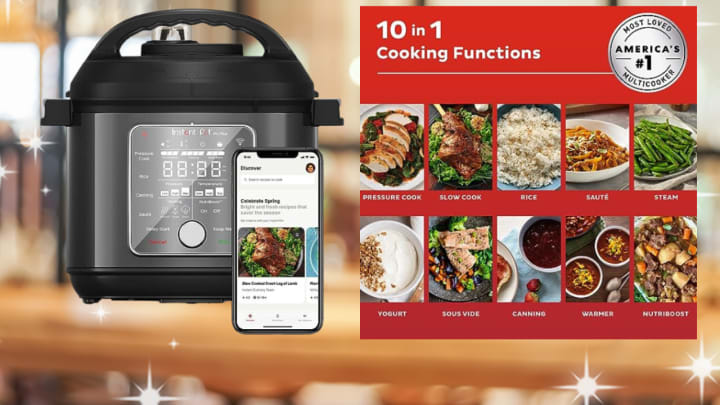 The Instant Pot Pro Plus Wi-Fi Smart 10-in-1 is a kitchen marvel that combines convenience and versatility to elevate your cooking experience. Offering a wide range of functionalities, this appliance is designed to simplify meal preparation while keeping you connected and in control.
1. 10-in-1 Functionality: This Instant Pot is not just a pressure cooker; it's a culinary Swiss Army knife with 10 different cooking functions. It seamlessly transitions from being a pressure cooker, slow cooker, rice cooker, steamer, and sauté pan to a yogurt maker, warmer, canning pot, sous vide machine, and NutriBoost. With this appliance, you can diversify your cooking techniques without cluttering your kitchen.
2. Staying Connected: Embracing the digital age, the Instant Pot Pro Plus offers the convenience of wireless operation and programming via the Instant Brands Connect app on your mobile device. You can access over 1900+ highly rated Smart Recipes, ensuring that you always have culinary inspiration at your fingertips.
3. Simple to Operate: Despite its advanced features, this Instant Pot maintains a user-friendly approach. The large, easy-to-read display and intuitive, sensitive touch controls make programming and monitoring your cooking a breeze.
4. Stress-Free Steam Release: Managing steam release is a breeze with the one-touch button on the control panel or through the Instant Brands Connect app. This ensures safety and precision in your cooking.
5. Top Cooking Performance: The Instant Pot Pro Plus boasts 20% higher power for better sautéing and searing, as well as a shorter pre-heat time compared to other electronic pressure cookers on the market. This means you can achieve professional-level results with ease.
6. The Most Versatile Inner Pot: It's the only multi-cooker with a premium cookware-grade inner pot featuring stay-cool silicone handles. This unique feature allows you to seamlessly transfer your cooking from the Instant Pot to your stovetop, giving you even more flexibility in your culinary endeavors.
7. Easy to Clean: Cleanup is hassle-free with dishwasher-safe cooking pot, pressure cooking rack, and pressure-cooking lid, ensuring that you spend less time on chores and more time enjoying your meals.
8. Large Capacity: With a 6-quart capacity, this Instant Pot is capable of cooking up to 6 servings of food. It's perfect for meal prepping, family dinners, and entertaining guests.
9. Safety Features: Your safety is a top priority, and this Instant Pot is equipped with over 10 safety features, including overheat protection and a safe-locking lid, providing peace of mind during cooking.
10. Discover Amazing Recipes: The free Instant Brands Connect App, available for iOS and Android, is your gateway to a world of culinary possibilities. It offers a wide range of recipes to help you create quick favorites and prepare delicious meals.
Incorporating the Instant Pot Pro Plus Wi-Fi Smart 10-in-1 into your kitchen not only simplifies cooking but also enhances your culinary repertoire. Its extensive features, convenience, and smart connectivity make it a valuable addition to any modern kitchen, whether you're a seasoned chef or a cooking enthusiast.
CLICK HERE TO GET YOUR WI-FI SMART INSTA POT PRO PLUS NOW!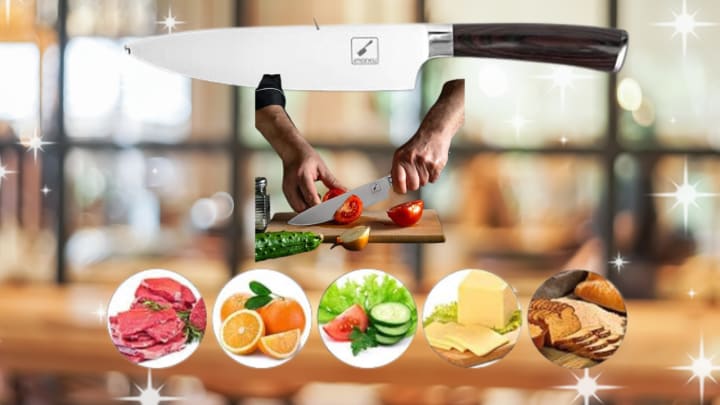 The Imarku Japanese Chef Knife is a testament to the fusion of traditional craftsmanship and modern technology, resulting in a versatile and reliable kitchen tool that is set to redefine your cooking experience in 2023. With its exceptional features and attention to detail, this knife is a must-have for any kitchen enthusiast or professional chef.
1. High-Carbon Stainless Steel Blade: Crafted from high-quality stainless steel with a carbon content of 0.6–0.75, this knife is designed to maintain its functionality and sharpness over an extended period. Compared to knives with lower carbon content (around 0.3%), this blade is twice as hard, offering unparalleled durability.
2. Multi-Functional Knife: The Imarku Japanese Chef Knife is a true workhorse in the kitchen. It is classified and designed as a multipurpose knife, ideal for professional applications. Its capabilities extend to cutting, dicing, slicing, chopping, and even cutting meat off bones. With a Rockwell Hardness Scale (HRC) rating of 56–58, it stands as one of the toughest knives in its class, ensuring it can handle a wide range of culinary tasks.
3. Ergonomic Pakka Handle: The knife's handle is designed with the utmost attention to comfort and usability. Crafted from Pakka wood, which originates from Africa and is known for its exceptional comfort, strength, and stability, the handle minimizes fatigue, finger numbness, or aches even during extended periods of use. This ergonomic design enhances precision and control during food preparation.
4. Ultra-Sharp Edge: Sharpness is the hallmark of any top-quality knife, and the Imarku Japanese Chef Knife doesn't disappoint. Its blade boasts an ultra-sharp edge that remains sharp even after handling tough tasks such as cutting through meat or removing flesh from bones. This sharpness is a result of the latest Japanese engineering techniques, ensuring precision and consistency in your cuts.
5. Corrosion-Resistant Stainless Blade: In addition to carbon, the blade's metal composition includes 16–18% chrome. This not only enhances corrosion resistance but also gives the blade a glossy finish that will not tarnish even after extended use. This knife is not just a kitchen tool; it's a long-term investment that maintains its beauty and functionality.
6. Warranty and Customer Satisfaction: The Imarku Japanese Chef Knife comes with a commitment to customer satisfaction. The manufacturer offers a no-hassle refund within 3 months and a lifetime warranty on these knives, providing you with peace of mind and assurance of the knife's quality and durability.
Incorporating the Imarku Japanese Chef Knife into your kitchen in 2023 will undoubtedly enhance your culinary endeavors. Its exceptional craftsmanship, versatility, ergonomic design, and commitment to longevity make it a valuable addition to any kitchen. Whether you're a professional chef or a home cook seeking precision and reliability, this knife is poised to become an indispensable kitchen companion.
CLICK HERE TO GET YOUR IMARKU JAPANESE CHEF KNIFE NOW!
Conclusion
In the realm of modern kitchen gadgets, the Hamilton Beach Food Processor & Vegetable Chopper, the Instant Pot Pro Plus Wi-Fi Smart 10-in-1, and the Imarku Japanese Chef Knife stand as remarkable innovations that are set to redefine how we approach meal preparation in 2023.
The Hamilton Beach Food Processor & Vegetable Chopper combines versatility and efficiency, allowing you to slice, shred, mince, and puree with ease. Its inclusion of a veggie spiralizer opens the door to creative dishes like zoodles and ribbons. With features like a 2.5-inch feed chute, powerful 450-watt motor, and a large 10-cup bowl, it's designed to save time and reduce hassle in the kitchen. The dishwasher-safe components and BPA-free construction further enhance its appeal by simplifying cleanup and ensuring food safety.
On the other hand, the Instant Pot Pro Plus Wi-Fi Smart 10-in-1 is a digital marvel that offers a staggering range of cooking functions, from pressure cooking and slow cooking to yogurt making and sous vide. Its Wi-Fi connectivity, large display, and intuitive controls make it a smart kitchen companion. The inclusion of the Instant Brands Connect app, with access to over 800 recipes, ensures that you'll never run out of culinary inspiration. With safety features, high cooking performance, and a dishwasher-safe design, it's a multifunctional powerhouse that simplifies complex recipes and reduces the number of appliances cluttering your kitchen.
Completing this trio of kitchen innovations is the Imarku Japanese Chef Knife, a high-carbon stainless steel masterpiece. Its sharp blade and ergonomic Pakka handle redefine precision and comfort in food preparation. With multi-functionality and corrosion resistance, this knife is not just a kitchen tool; it's a lifelong companion that promises durability and ease of use.
In conclusion, these three kitchen gadgets epitomize the direction in which kitchen technology is heading in 2023. They offer convenience, versatility, and a commitment to quality that is sure to delight both culinary enthusiasts and professional chefs. Whether it's the Hamilton Beach Food Processor's time-saving efficiency, the Instant Pot's multifunctional prowess, or the Imarku Japanese Chef Knife's precision and longevity, these gadgets are poised to make meal preparation more enjoyable and efficient than ever before. Embrace these innovations, and let your culinary journey flourish in the years to come.
About the Creator
I'm a firm believer that true entrepreneurs are born, not made. There are certain qualities that every successful entrepreneur possesses. Entrepreneurship can be lonely, especially for those who do not have mentors.
Reader insights
Be the first to share your insights about this piece.
Add your insights