How to Save Articles to Read it Later Offline?
Read Articles Offline
How to Save Articles to Read it Later Offline?
We all have hobbies, some are easier while others are more on the complex side. Watching movies, gardening, rock climbing, cooking, sewing, etc. are many such hobbies. One such great hobby is reading. Reading is not just about reading stories or information, it more, more than one meets the eye. If you are reading then you are gathering knowledge from a lot of resources, it can be someone's experience, imagination, actual knowledge from studies and news, etc. So when you are reading, especially for knowledge, you grow on a certain intellectual level. And believe it or not this activity is performed by the majority of people, almost all of them. Maybe not as a hobby but as a necessity. In earlier times it would have been a library or newspaper, if not for the grandparent's tale, if one wanted to gather knowledge and know things that he hasn't experienced. As the technology advanced, we moved on and forward and now we have these digital libraries on the internet and if you have a smartphone, it is so much easier and free to access all this information. All the blogs, articles, news, events, facts, reports, thesis, research papers, all of it is just there to reach out to. But as things went digital, the internet became the link between. So if one doesn't have an all-time internet connection, things can get out of reach at times. Here, I am going to list down some of the best offline reading apps for Android. So that you can read it even when you are not connected with the world.
Best Offline Reading Apps for Android
1. Pocket
One of the favorite applications and our first choice on the list. This app has a tie up with big news and article houses like Google News, Buzzfeed, Business Insider, etc. You can read a lot of articles on it and can also save it for later. The best part, you can save not only articles but also video content offline. So when you are travelling and are not connected on office or home Wi-Fi and still want to know things, download them in advance and get going again.
Not in a mood to read or watch? Want to give rest to your eyes? No worries, you can even ask the app to read out the articles to you. It can convert text to speech which is pretty handy. With intuitive design and simple user interface, this app is easy on the eyes.
2. Article Reader Offline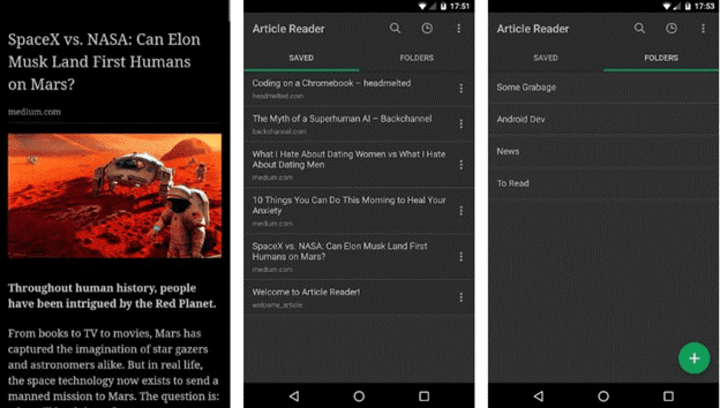 Okay, so on the second position we have is Article Reader Offline, an amazing application with great features. You can read articles online and offline, wherever you go, whenever you feel like. So what's different in this app? You cannot save video content so that is a drawback. But despite this there are some great ones, like you can save any article you read online, into a PDF file and can save it for later or can even share it with your friends and family. If you want to not read and listen, this app has the text to speech converter. Put on your headphones and you are set.
3. Instapaper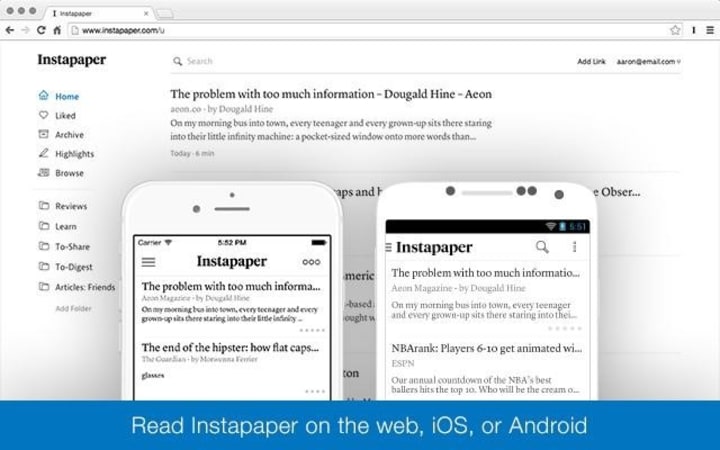 One of the other best and the most popular offline reading apps is Instapaper. Why preferred by its users? Well, when you are surfing the internet and through the articles of various kinds, most of the articles, blogs, websites, etc are just overly filles. They are either filled by ads, clickbaits, links which are not related to the article. So all of this not only just fills in your page and decreases the quality of your experience but also eats up your bandwidth unnecessarily. But what this app does, is to remove all the unwanted elements present in the article and present to you in the simplest way possible.
With Instapaper you can download upto 500 articles and many more, if you surf on the website. There are also different reading modes available for reader's convenience like dark mode and daylight mode.
4. PaperSpan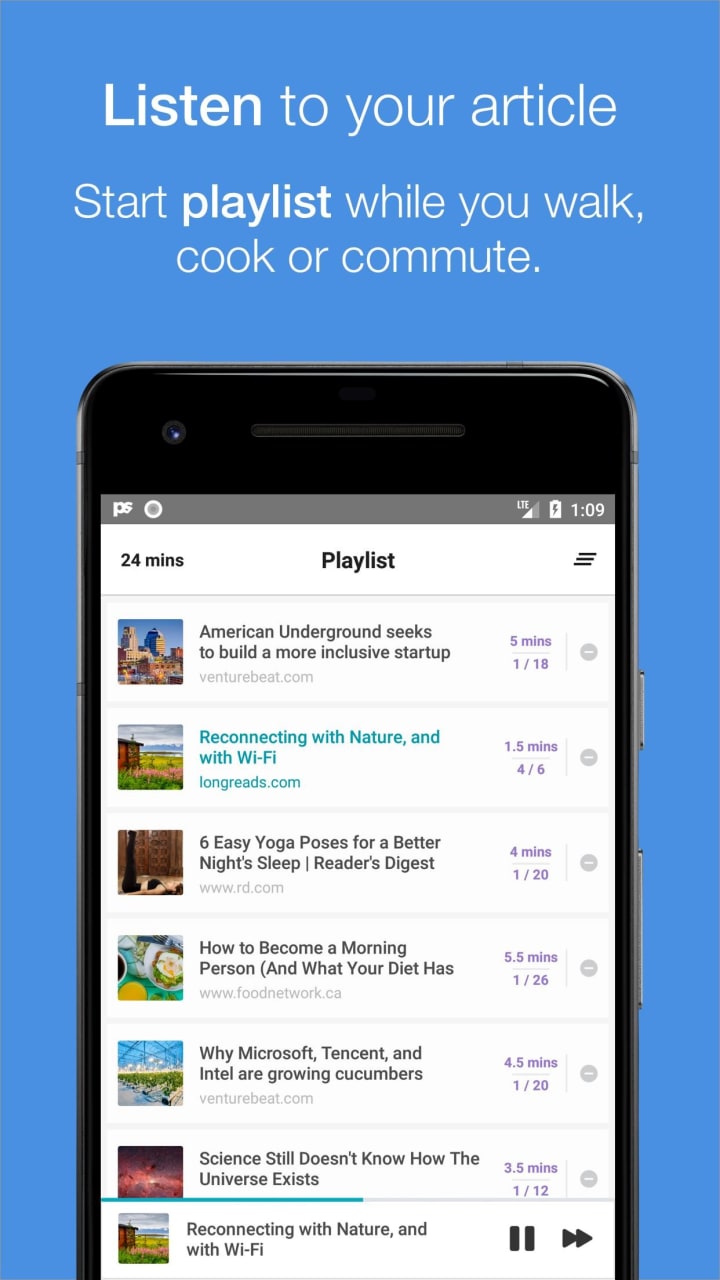 Next app on the list is also one of the very popular on Playstore. PaperSpan is quite an ideal app. If you have an old smartphone that cannot tolerate heavy apps, don't worry, PaperSpan is quite lightweight and compatible to use. With a simple looking but professionally designed user interface, you can easily manage the articles that you want to read.
Want to workout or do something else while listening to the article? PaperSpan has got you covered with its offline article reading built in the app. Like an article? Want to save it or a part of it? You can select it, highlight it, save it in your gallery easily with a single click. Articles are also categorized in a neat manner so that you can decide what you want to read and not struggle to find what you are looking for.
So these were some of the best offline reading apps for Android that I wanted to share with you. There are many more out there in the market but these are some of the most used and widely loved ones. I am sure you would love them.
Hope it helps.
Thanks for reading!