How To Create a Cloffice
How I built the room of my wildest workspace and shoe queen dreams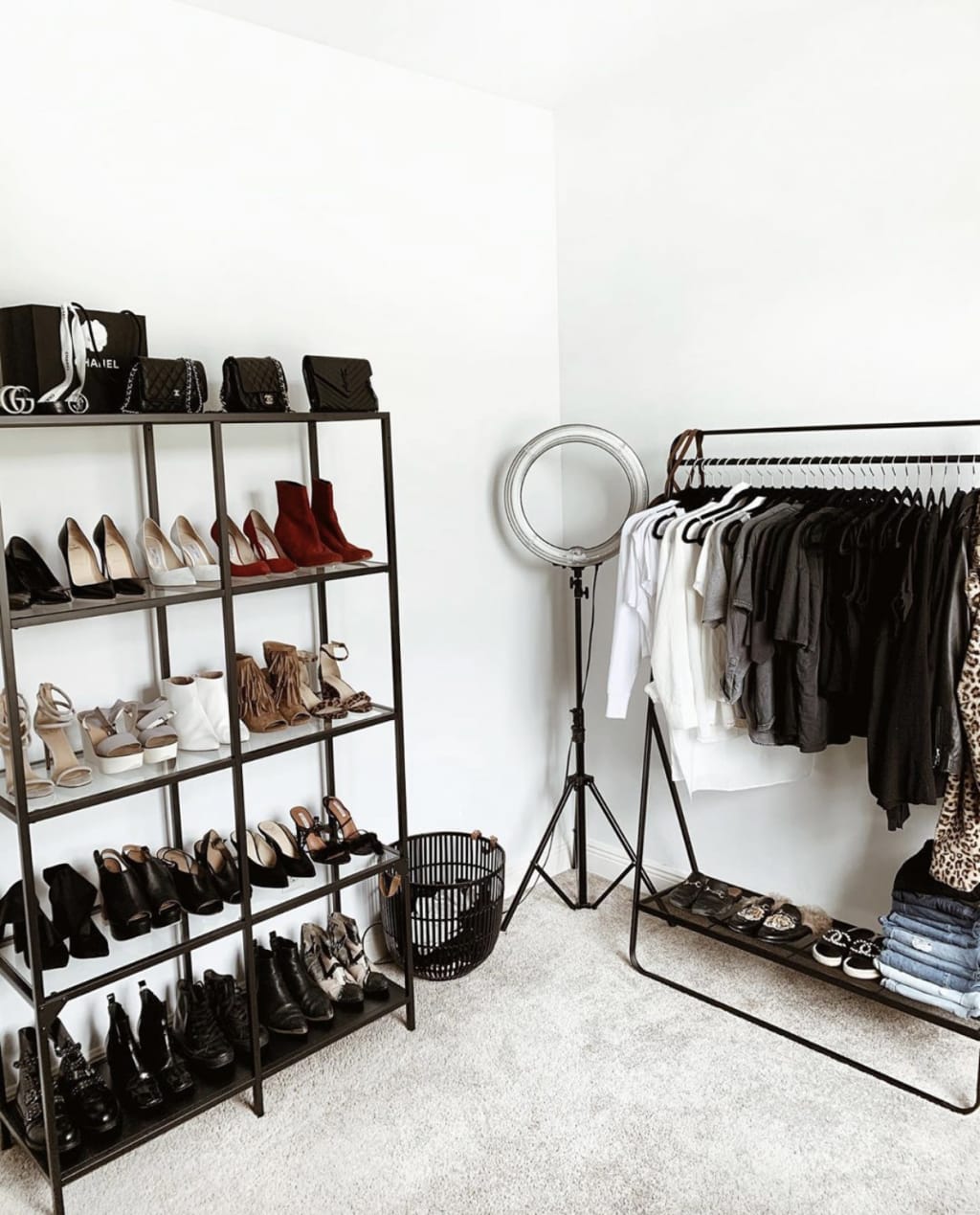 Traveling full-time has its perks. From living in hotel rooms and ordering room service for dinner to getting to explore a new city every couple of months… I definitely loved my life on tour for five years. However, living out of a suitcase and having to only pick a few different pairs of pants to "switch it up" between is hard for anyone - especially someone who had 20+ pairs of jeans waiting at home.
As a business owner, I was working remotely either from my hotel bed or a local coffee shop I could get to without having to take a taxi or multiple trains because #nocarlife. Therefore, two things I just could not wait to have in my house were: a closet and an office.
Fast forward to the present, and here I am. Typing up this article from my home in Orlando, in my cloffice. Yes, you read that right! My cloffice. A cloffice is any woman's dream - a closet and an office. It's essentially where I go to do everything - answer emails, get ready for the day, decompress, and strategize. It's like my version of a man cave - but better. Much better. (And actually functional.) I get to have my cake and eat it too!
Cloffices were made Pinterest-worthy by other women like me, influencers and bloggers, who work from home and usually have an overflow of products and pieces of clothing. But a cloffice isn't limited to people that need a cool backdrop for their IG photos - it really can be for anyone that has an extra bit of space.
When we moved in, I got to decide between two rooms for my space. I ended up opting for the smaller room because it gets flooded with light at all hours of the day. Natural light is a big thing for me. I find it essential to be able to get a clear head and stay focused throughout the day. Majority of my time is spent staring at either a phone or computer screen, so it's really important that I supplement that blue light with natural light to stay stimulated and avoid feeling like I just want to close out of my tabs, pop on Netflix, and crawl into bed. (Of which, I've shamelessly done a number of times.) I didn't have anything for the cloffice yet, so I wasn't concerned about fitting furniture into the room, which was nice that I could pick things out based off of what was going to be functional and stylish without it having to be too much of a stressful task. My main priority was the desk and it feeling like it wasn't too crowded. So the desk and "office" aspect of it was first and the closet pieces came second.
I repainted the walls to have a plain, crisp, and bright white to emulate a blank slate and allow an airy feeling. I was toying between black pieces of furniture or white for a while. I knew white was going to make the room feel much bigger and a little less crowded, but I've always been drawn to black and I knew it was going to feel more "me" with dark pieces - so mostly everything in my room is black.
My desk is a modern and simple glass piece. I don't like anything clunky, and because I don't really need any storage space for work things (because everything is digital), I didn't want to get a desk with drawers that felt big. I love that my desk is clear and simple. It almost disappears into the room! My chair is an extra that my mom had in her house that I took just to be temporary, but I really love it and I don't have any plans on swapping it out anytime soon. The touch of cream is nice and because the legs are thin, it keeps it feeling open. The desk fits perfectly under the window, so I often have my curtains open to let the light in and so that I'm directly looking outside.
The clothing and product storage wasn't a big concern of mine. I knew I wanted it to look nice, but I was working on a budget. Being that I was traveling for five years... I didn't have any furniture. We literally had to buy everything from scratch. Therefore, I just wanted to find pieces that I liked enough that pair well together and I could replace them in the future if I wanted to.
I knew that IKEA had really great storage solutions so that was the first place that I looked. I chose their Kallax 8-cubby shelving unit for $70 to go inside of my closet. We took out the sliding doors of the closet and put the shelves on the bottom. The shelf holds my workout gear, my swimsuits, sweatshirts, and T-shirts. It's the area that I need but I don't necessarily want on display. On top of the shelves are my sneakers and shoes that are a bit more worn. Above that is where all of my blouses and dresses hang. Everything is color-coded so that it flows nicely and I've used the same hangers for every piece. This helps to make it look organized - kind of like a store instead of a messy, personal closet.
In the actual room, is where I display my favorite shoes (like pumps, cool sneakers, booties, etc.) pieces that I wear a lot, and my products. I chose the Vittsjo line from Ikea for my shoe rack and my product shelving. The shelves were at a really great price point and still looked like good quality, so I went for those. My clothing rack was under $50 from Target and it matched the IKEA pieces really well. So on that rack, I have clothes that I wear a lot like staple pieces such as; T-shirts, jeans, and my leather jacket.
I also have little extras for organization and aesthetics, such as a cool hamper, a white board, a giant calendar, and bins for extra cords and such. Because the room is small, everything that I needed for functionality also had to look good. I have jewelry storage from West Elm, candles from Le Labo, and decoration accents on display to elevate the design of the room.
It's nowhere near being finished, but I'm not rushing the process. I want to love everything in my cloffice and make sure it really serves a purpose. To see my cloffice, head to my Instagram, @victoriavanness and check it out.