Cold Weather Survival in an RV
Making the Most of Winter Living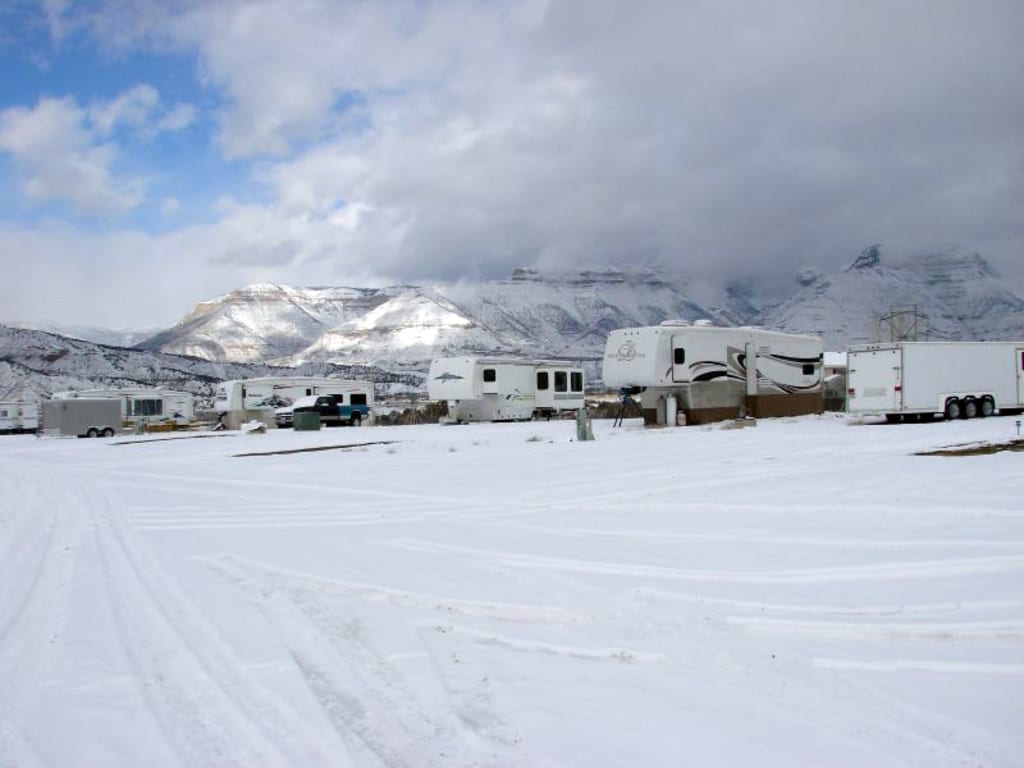 Last winter was cold here in Virginia. We had lots of snow, many days below freezing temperatures, and icy conditions. Despite all of that, my dog and I lived in a small recreational vehicle for the entire season.
Don't let anyone fool you: Winter living in those conditions is difficult and requires a hardy comportment. But, it can be done. Here are a few tips that worked for me.
1. Insulate your windows.
All the windows of your camper/RV have to be covered or heat will escape faster than you can replace it. I used two layers to accomplish this. I first cut cardboard to size for each window and set it in place. I wanted a snug fit, so no taping was necessary. Then I cut thin layers of Styrofoam to fit each window as well. The white Styrofoam added some light to the interior too. This insulating will create a bit of a claustrophobic feeling inside, but it is very helpful in holding in heat.
The most difficult place to insulate was the pull-out living room. The entire area around the sofa was always the coldest part of the camper, so I was forced to keep extra blankets on the sofa to wrap in while watching television or relaxing. There was nothing I could do to improve the insulating factors of the flexible rubber seals that moved with that section.
2. Skirting
There has to be some kind of skirting around your camper to help cut down on the freezing breeze under the camper that robs you of heat. I couldn't afford traditional aluminum skirting, so I made do with a combination of heavy-duty cardboard, plywood, and later in the season, snow. Anything that reduces the wind blowing under the camper will be helpful.
3. Water Pipes
There is no saving the fresh water pipes during winter. No matter how much heat tape and insulation you put around them, they will freeze at some point. The same is true for your black water tank. I kept multiple gallons for fresh water stored under the table and the sofa storage area because the running water just became too difficult and unreliable. Try adding a half gallon of blue windshield cleaner fluid to your black water tank after each emptying to help keep it from freezing. This only works if it goes into the tank immediately after emptying it BEFORE YOU ADD FRESH WATER. It is imperative that the windshield cleaner fill up whatever portion of exposed pipe goes from the tank to the ejection valve.
4. Auxillary Heat Sources
The propane furnace will do a fair job of keeping your camper comfortable throughout the winter if you can afford the cost of keeping both tanks full and manage your tanks well. Never open both tanks at once. Keep one tank in reserve so that when the first one goes empty, you can switch over and still have a few days to refill the empty tank. To save energy, I switched the furnace off when I was cooking, because the stove seemed to warm the entire camper by itself.
I was always careful about open flames inside the camper, but a three-wick candle is helpful in multiple ways. First, it provides light, ambiance, and fragrance to the small space. Second, it adds heat to the immediate area. Finally, by standing two bricks alongside the candle, I was able to balance a small pot of water over the candle. This kept hot water available all the time and added some much-needed humidity to the camper.
At night, I turned the furnace down to its lowest setting (52 degrees) and turned on a small space heater in the bedroom area. An electric blanket did the trick in making sure I was comfortable on even the coldest of nights.
5. Tank Management
My RV had three tanks (one fresh, one gray, one black). My fresh water tank was useless during the winter, so I let it go empty and kept it that way all season. The forward gray water tank was the kitchen sink, so I left that open and draining throughout the winter. That insured that it would not freeze, however there was always a buildup of ice on the connecting hose. Usually, this melted away when I dumped hot water from cooking down the drain. The black water tank remained a constant challenge throughout the coldest months until I discovered the windshield solution treatment. That resolved all my black water tank problems.
If your electric supply permits, you can place a very small electric heater under your unit on a stable, wind-resistant platform. This will keep your fresh water and black water tanks from freezing and allow storage of fresh water. However, refilling the fresh water tank remains a challenge in the coldest months, so never depend entirely on freshwater tank and always, always keeps an emergency supply of water available for use.
Living in a camper or RV during the cold winter months is definitely a challenge. I spent a lot of time every single day working on generating more heat, warming up the interior or creatively trying new methods of staying warm. Unfortunately, it is a daily task, because every single time the door opens, all the heat will escape. But, if you are up for the challenge, it can be quite the experience.
Good luck.