Christmas Tree Crafts for Kids That Are Super Easy to Do
Want your kids to get into the Christmas spirit? Try these Christmas tree crafts for kids ideas to get started!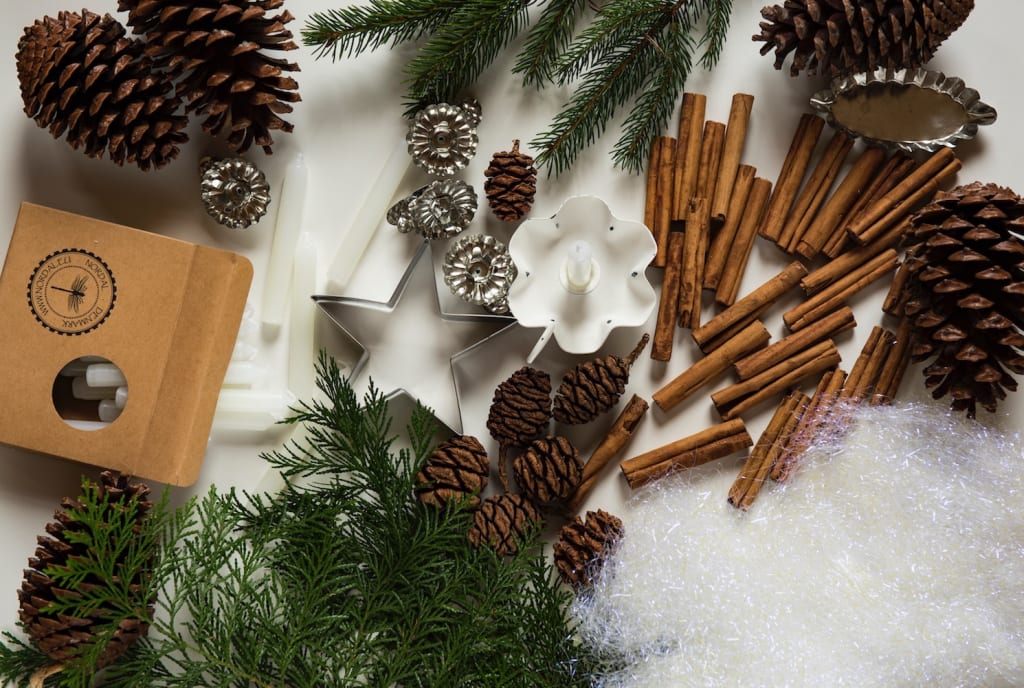 Christmas time is literally for the kids, and getting them in the spirit is the best. They look forward to whipping up gingerbread cookies, wrapping gifts, watching Christmas movies, decorating the Christmas tree, and many more exciting activities. But what really gets them excited for one of the best holidays of the year are crafts!
Aside from decorating the Christmas tree in the house, have them create their very own Christmas tree, made out of arts and crafts supplies. While these crafts are super simple to put together, it gets kids thrilled. To get started, here are the easiest and best Christmas tree crafts for kids to do to have a happy crafty Christmas.
DIY Handprint Christmas Tree Cards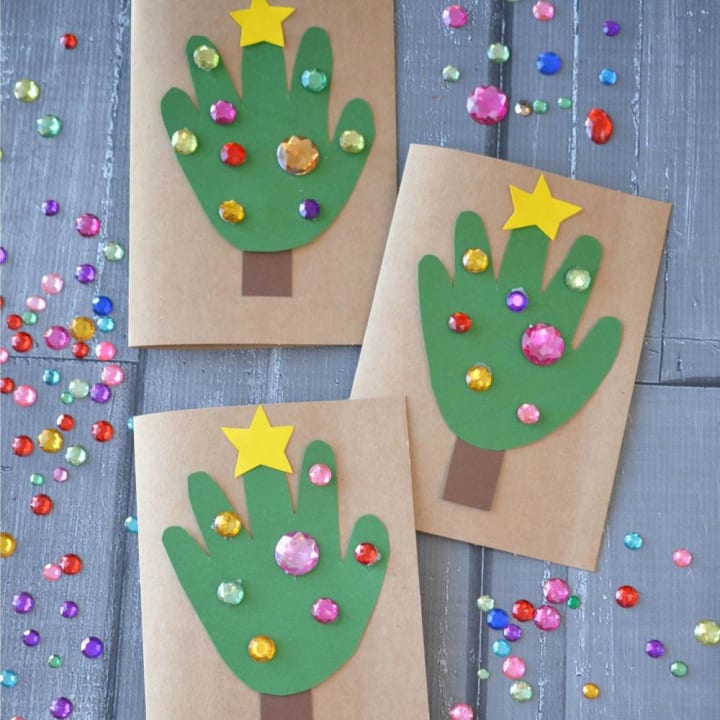 Let your kids glam up their Christmas tree with these DIY Handprint Christmas Tree Cards. Seen to be one of the more sparkling Christmas tree crafts for kids, kids can trace out their hand on green construction paper and cut it out as the tree.
Then, grab different sizes and colors of beautiful, vibrant jewels to place as ornaments. Every Christmas should be a glistening one, and this craft will get kids right in the spirit.
Christmas Tree Art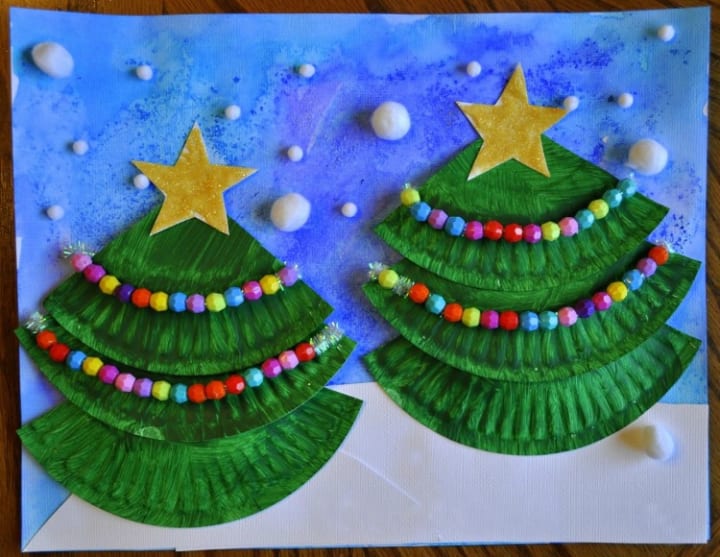 Recycle old paper plates with one of the coolest Christmas tree crafts for kids. Cut a paper plate in threes and have your kids paint them green to stand out as the tree.
Then, add colorful strings of beads across the tree as ornaments. And, of course, we can't forget about the star on top of the tree. This Christmas Tree Art can be done by all ages who can work scissors. But if they can't, you can help them out with the cutting.
Button Christmas Tree Ornament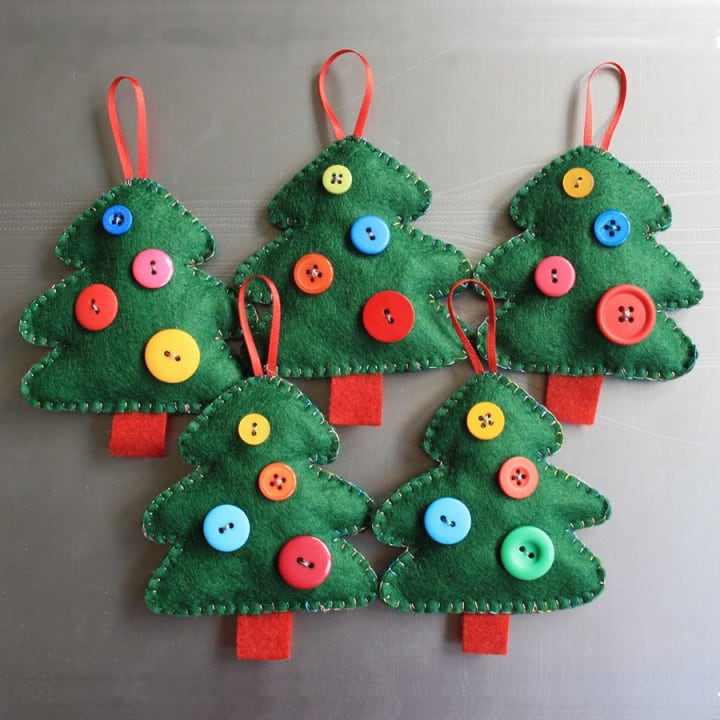 Have any extra button laying around the house? Use them for this Button Christmas Tree Ornament craft! If you have mismatched buttons from different shapes, sizes, and colors, then they'll work perfectly for this craft.
After your kids create the Christmas tree, they'll have a blast gluing on the buttons. There isn't a specific order, they can just scatter the buttons all over their tree.
Family Handprint Christmas Tree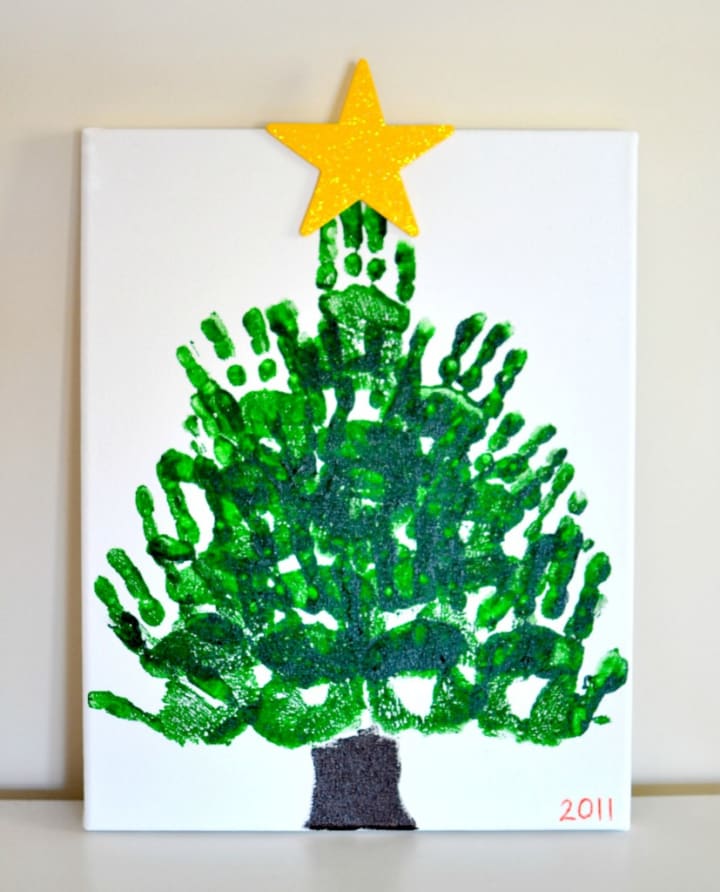 This is certainly one of my favorite Christmas tree crafts for kids, the Family Handprint Christmas Tree. Your child can trace out the hands from each family member and use them to build a Christmas tree!
From the parents to the siblings and even themselves, allow them to carefully cut out the hands, or you can help them out with the cutting process. Then, once your child has all the hands, they can begin to layer them in the form of a tree. It can be a challenge to do, so you can help them with that, as well. But in the end, it becomes a beautiful family Christmas tree!
Z Is for Zig-Zag Glitter Trees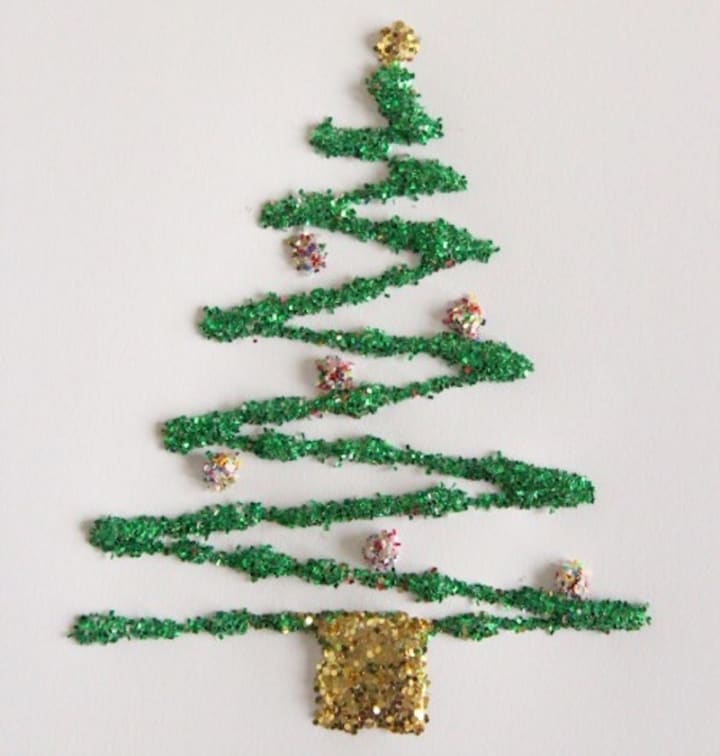 Here's a unique way for your kids to create a Christmas tree, the Z Is for Zig-Zag Glitter Trees craft! Your kids can simply take a plain piece of paper and use glue to zig-zag a Christmas tree.
Once the glue gets tacky, coat the base of the tree in sparkling, green glitter, and gold glitter for the star and trunk. While the glitter settles into the glue, lift the paper to allow the excess glitter to fall right off. And BAM, your kid created the most glittery and sparkling Christmas tree ever.
Scrap Ribbon Tree Ornaments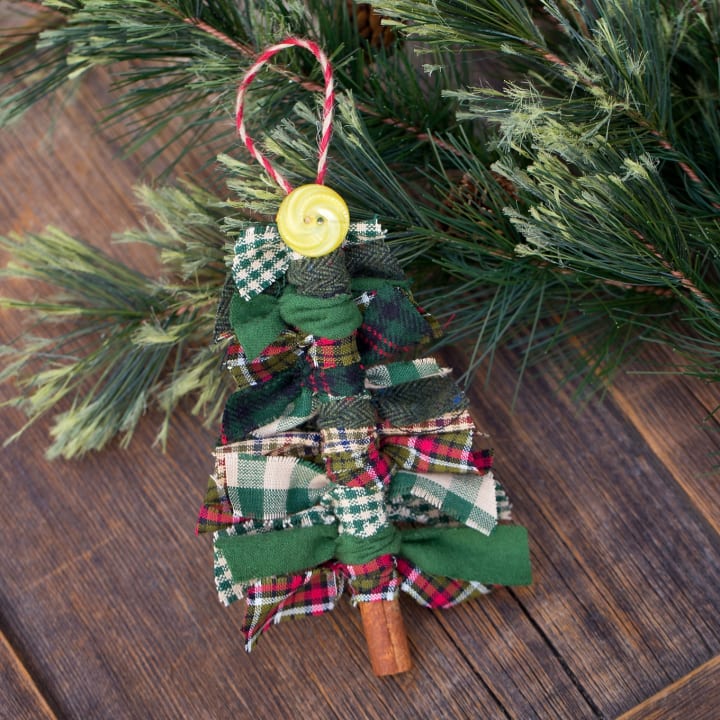 Among the Christmas tree crafts for kids, the Scrap Ribbon Tree Ornaments is a gorgeous craft for your kids to get into. While you need various green ribbons in different patterns and styles and either a tree branch or cinnamon stick, your kids can tie each ribbon strand onto the stick, until it becomes a ribbon Christmas tree!
I would personally use the cinnamon stick as the base, because it'll give off that delicious cinnamon scent. And, your kid can tie a string around the stick and use it as an ornament. This is also a super cute DIY Christmas gift idea for someone who loves the sweet scent of cinnamon!
Jeweled Christmas Tree Craft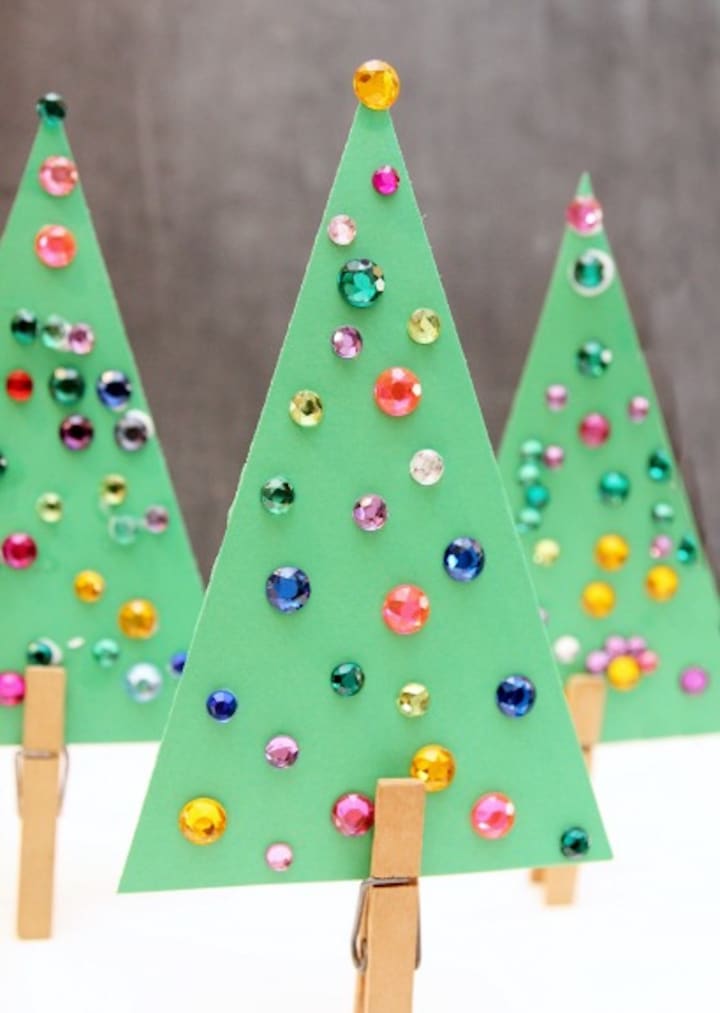 Can't get enough of the sparkling Christmas tree crafts? Here's another one for your kids to shimmer their way into the holiday spirit! The Jeweled Christmas Tree Craft features jewels... and lots of them!
After cutting out the triangle-shaped tree, have your kids load the tree with beautiful jewels of various colors and sizes. Once they're done, use a clothespin as the trunk of the Christmas tree.
Christmas Tree Rice Krispie Treats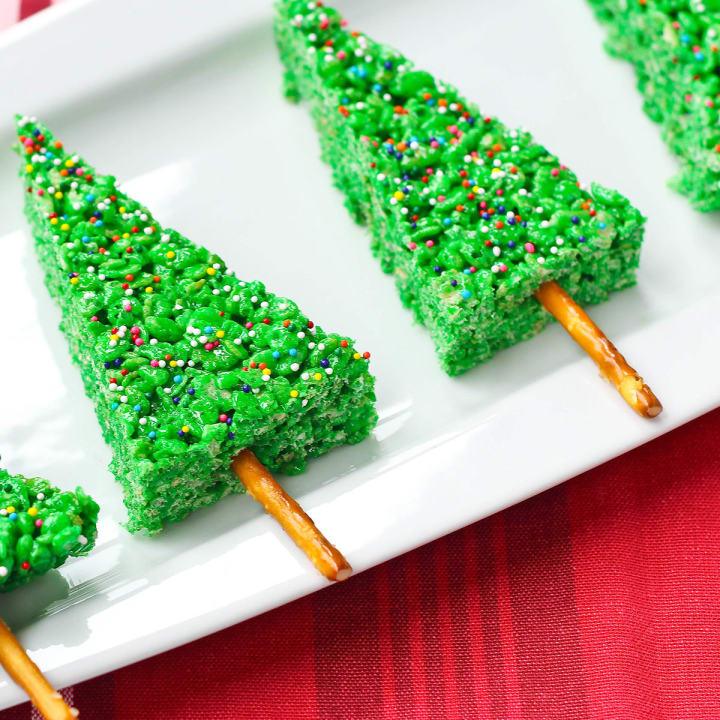 Something your kids can create... and eat? These Christmas Tree Rice Krispie Treats are super fun to make. As for one of the best Christmas tree crafts for kids to get into, the kids will love this and it will never get old. While it's the same process as making regular Rice Krispie treats, you use green food coloring to turn the treats green.
As for the trunk of the tree, pretzel sticks are perfect. Your kids can also add sprinkles to the treats as ornaments. Plus, it gives the trees a hint of color.
Paper Plate Christmas Tree Whirligig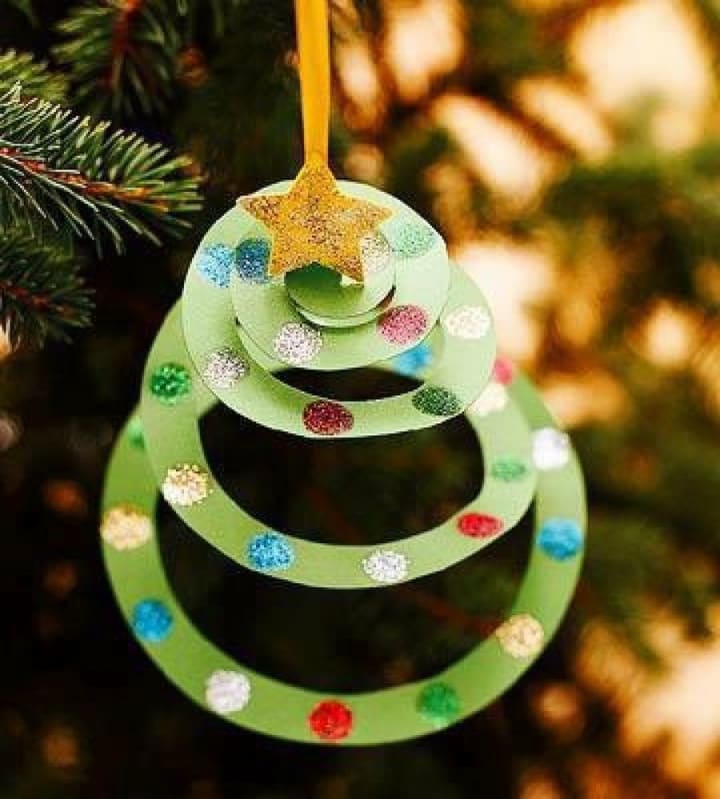 The Paper Plate Christmas Tree Whirligig craft can be used to hang anywhere in the house, or even right outside. Your kids can use a paper plate to cut out a spiral that will form a tree. As for the ornaments, they can cut out different shapes and colors to tie and hang on the paper plate.
When the craft is complete, you'll be able to see a very unique Christmas tree, and the ornaments dangling once lifted up. Hang this in the kitchen, in the kids' room, or right outside on the porch. This is also one of the easiest DIY art projects they can get right into.
DIY Paper Christmas Trees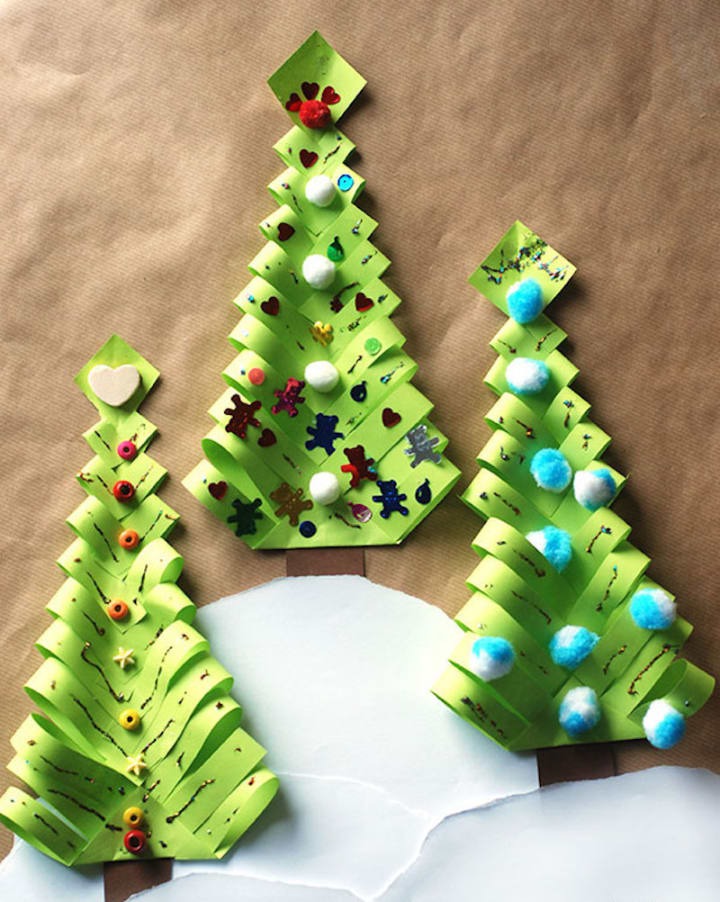 Last among the fun Christmas tree crafts for kids to get right into, this DIY Paper Christmas Trees craft might look complicated, but it's actually very easy to put together. Your kids will fold a green piece of construction paper diagonally and cut slits on the outer ends.
Once they're done with that, open the paper and allow each strip of paper to be joined and glued into the center. Then, they've got themselves a tree! Now it's time to decorate the tree with ornaments such as pom-poms, stickers, glitter, jewels, anything! In the end, your kids will have a stunning, 3-D Christmas tree.
About the Creator
Bakes sweets ever Thursday and donates them to her local homeless shelter. Is an owner to five pugs and can count to 500 in French.
Reader insights
Be the first to share your insights about this piece.
Add your insights