Best Multi-Tools You Never Knew You Needed
The following equipment are, in fact, some of the sharpest tools in the shed, plus they're also nine other things wrapped into one, creating the very best multi-tools.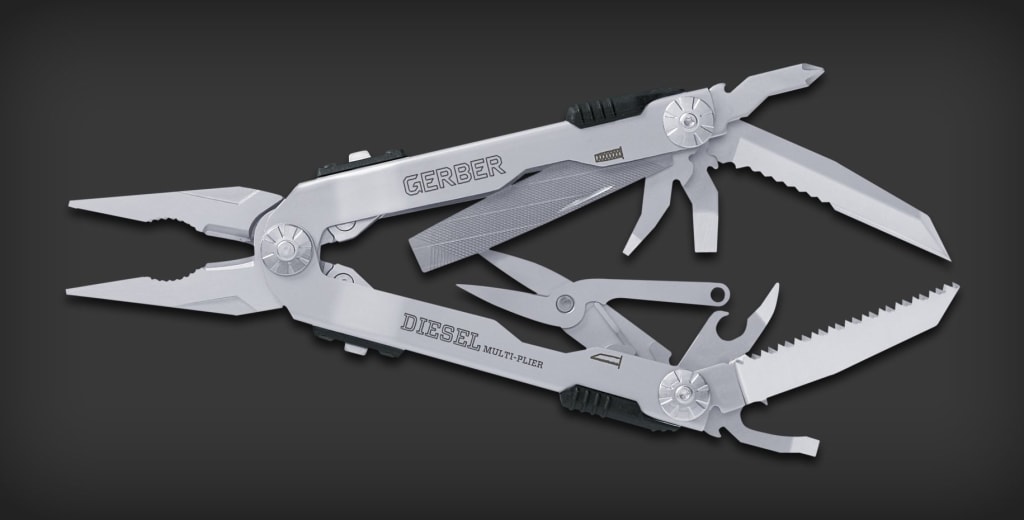 Multi-functioning utility and equipment has, by far, some of the greatest preforming tools on the market, since productivity can help you be more successful. Unfortunately, with so many different options on the market, it gets difficult finding ones that are not only efficient, durable, and all-encompassing, but also super cool.
Things like a pry-bar and a Phillips-head screwdriver are both necessary, but when combined into one compact piece of equipment, the options and work you can preform will be exponentially quickened. Plus, they'll make those fall DIY home decorations an instant breeze to make. Try out any of these crazy, mind blowing contraptions, because they're the best multi-tools you never knew you needed. Trust me, after reading this, you will!
Despite it being first on this list, the Gerber center-drive is probably the last multi-tool you ever buy, because you don't need anything else but it. There's a long list of added features, like a one-thumb opening saw and a magnetic center-axis bit driver, but there's so many it gets hard to fit them all.
With a multitude of functionality, from an awl and a pry bar with nail pullers, to rotatable wire cutters and magnetic screwdriver bits, Gerber's 2017 new make is one of the best multi-tools you never knew you needed.
Built for the common military or civilian shooter, Leatherman's MUT multi-tool makes working in any type of situation a cinch. It's one of the best multi-tools you never knew you needed, because it has 16 tools attached to one handle, plus these different pieces all have their own threaded components.
The MUT can be a tool for practically anything, what with an assortment of various pieces, like a flashlight, cleaning rods, brushes, screwdrivers, and so much more. It's also extremely durable, which makes it one of the best multi-tools out now.
With the appearance of an everyday, ordinary knife, Columbia River Knife's Bivy is one of the best multi-tools you never knew you needed, because it adds a level of conceivability and compactness to its design, since it only weighs a mere 7.7 ounces.
Crafted for riggers and climbers of all sorts, the Bivy has a myriad of different pieces, such as feathered screwdrivers, a marlinspike, spring assisted pliers, and a knife.
As the lightest on this list of the best multi-tools you never knew you needed, Leatherman's Squirt PS4 weighs a slim two ounces! This bad boy is meant for keychains, making it not only more accessible than all the rest, it's by far the most versatile, too.
Some of its features include two sets of pliers, wire cutters, a knife, scissors, three screw drivers, a bottle opener, a nail filer, and much more.
SOG crafts some of the very best in knives and tools, since they are one of the few original brands, but this PowerLock device is one of the overall best multi-tools you never knew you needed.
This stainless steel multi-tool comes with compound leverage mechanisms, allowing it to not only be the toughest product on the market, but the one with the most upgraded gear drives around.
This product is SOG's second best multi-tool, next to the newly engineered PowerLock. Despite it being quite expensive with its $120 price tag, the SOG Baton Q4 is one of the best multi-tools you never knew you need, since it's so lightweight and versatile.
As a step up from the Q3, this brand new product by SOG serves as the necessary and only equipment needed for outdoor fun, such as hunting and wilderness adventures.
The Spirit X lets you tackle any type of project without the hassle and in half the time. This product is pretty much an entire tool box in one, since it's got everything you need from nose pliers to a crate opener.
With three different size screwdrivers, a combination-edge blade, wire strippers, and more, it's not too difficult to see how Victorinox's Spirit X is one of the best multi-tools you never knew you needed.
Gerber's Diesel looks menacing, but it's actually really helpful in all situations you find yourself in. It simplifies projects by making every tool with one handed deployment, is super rugged to withstand almost anything, and doesn't wear out like others.
Coated in either black or steel silver, this product is one of the best multi-tools, because it has everything you need, plus a second one just in case.
If you need a kitchen helper, or just want something to make your bartending experience a tad bit better, look no further than the Bar10Der. This crafty new invention brings you all the needs necessary to make a killer cocktail and a French dinner at the same time.
As one of the wackier products off this list of the best multi-tools you never knew you needed, the Bar10Der makes any wanna-be chef an instant kitchenista.
You might want to learn how to use a saw properly before you start using this bad boy. Whetstone's 10-in-1 camping tool is perfect for any mountain hikes or long nights in the woods, because it packs some heavy tools and secondary equipment.
Within only one neat red handle there hides a plethora of gadgets, like a hatchet head, a hand saw, a large hammer, a couple knives, a Phillip's head screwdriver, and so much more, making that camping trip you're planning look a whole lot better with it on hand.
The Swiss+Tech multi tool isn't an everyday necessity like others from this list, but it still serves as one of the best multi-tools, because it's the lightest and most compact of the bunch.
This tiny tool has it all for minor repairs and installations, such as multiple types of screw drivers and knives, a bottle opener, plus a serrated cutting surface, all only weighing a simple 0.5 oz.
About the Creator
Politics may be a disgusting battlefield, but it is a necessary vice in our country, and a particular fancy of mine, like productivity and success. These are important facets in the modern world, and must be expounded upon.
Reader insights
Be the first to share your insights about this piece.
Add your insights