Which Ibiza Venue Will Win Your Heart (and Wallet)?
Find out how to be one of the top Ibiza venues.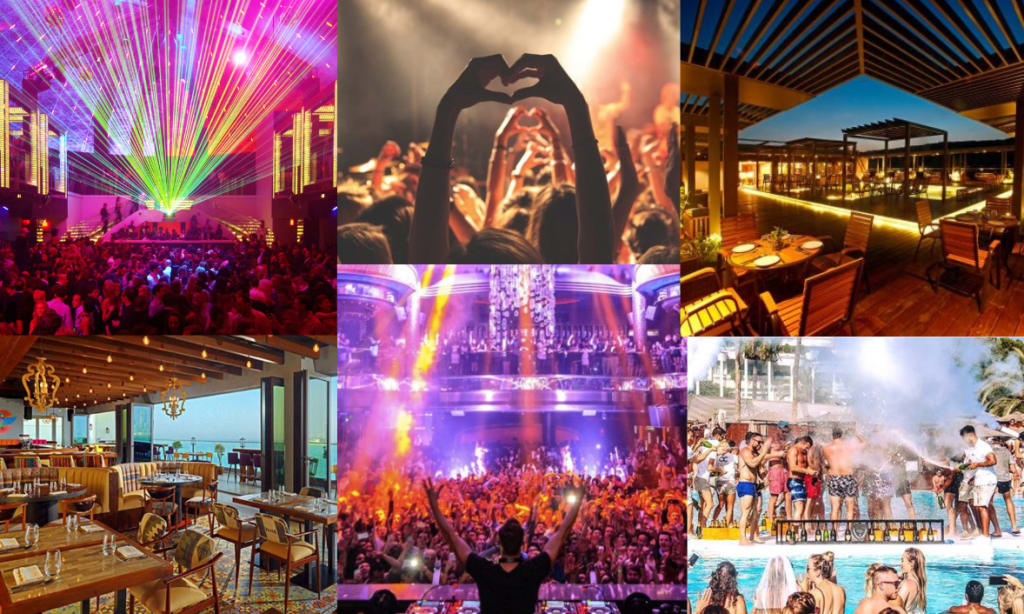 What makes one venue in Ibiza successful over another? Why would a customer choose one place over another on an island full of options? These are questions that any business owner in Ibiza has asked themselves. While luck is always a factor in the success of any business, there are certain factors that can influence a customer's choice.
In a highly competitive market like Ibiza, venues need to consider a variety of factors that contribute to a customer's overall experience. Here are some of the key factors that make a venue successful in Ibiza:
Location
A venue's location is crucial for success in Ibiza. It should be easily accessible, ideally in a trendy or popular area, and close to other tourist attractions and beaches. Venues located in busy areas can benefit from foot traffic and visibility, while those located near other popular venues can attract customers who are looking for a variety of entertainment options in one location.
Ambiance
The ambiance of a venue can greatly influences a customer's experience. The decor, lighting, and overall vibe should be welcoming and match the type of experience the venue is trying to provide. For example, a beach club may have a relaxed and tropical ambiance, while a nightclub may have a more high-energy and flashy ambiance.
Crowd
The crowd that a venue attracts can also play a role in its success. Customers want to be around other cool, attractive, and interesting people, so a venue that attracts this type of crowd can be more popular than one that does not. This can be influenced by the venue's reputation, marketing efforts, and overall atmosphere.
PR
The team responsible for a venue's public relations can greatly influence its success. They can attract media attention, secure celebrity appearances, and create buzz around the venue. A strong PR team can help a venue stand out in a crowded market and attract customers who want to be a part of the excitement.
Entertainment
The type of entertainment offered at a venue can also be a key factor in its success. Whether it is live music, DJs, or other performers, customers want to be entertained and have a memorable experience. The quality and variety of entertainment offered can set a venue apart from its competitors.
History
The history and reputation of a venue can also contribute to its success. Venues that have been around for a long time and have a strong reputation can attract customers who are looking for a tried-and-true experience. Additionally, venues that have hosted high-profile events or celebrities can add to their cachet and attract customers who want to be a part of the action.
Culinary Offerings
While entertainment is important, customers also want to enjoy delicious food and drinks while they are out. A venue that offers high-quality culinary offerings can be more appealing to customers who are looking for a complete experience. Whether it is gourmet cuisine or creative cocktails, a venue's culinary offerings can set it apart from its competitors.
Music
Music is a crucial factor in the success of many venues in Ibiza. Whether it is a club playing the latest electronic dance music or a beach club playing chill-out tunes, the music should match the venue's ambiance and overall experience. A venue with a well-curated music program can attract customers who are looking for a specific type of experience.
The Team
The team working at the venue is also a crucial element in its success. The kindness and quality service provided by the staff are essential to keeping customers satisfied and eager to return. A positive and welcoming atmosphere among the team members is also important, as it can be transmitted to the customers, making them feel even more comfortable and appreciated. Ultimately, a well-trained and motivated team can make all the difference in creating a successful Ibiza hotspot.
At the end of the day, running a successful venue in Ibiza is no easy feat. With so many options available, it takes more than just luck to stand out from the crowd. A combination of factors such as location, ambiance, entertainment, reputation, gastronomy, music, and of course, a skilled and motivated team, are all key ingredients for success. By offering a unique experience and creating a positive atmosphere, Ibiza venues can attract customers and make them feel like they are part of something special. So, whether you are a party-goer, foodie, or music lover, choosing the right venue in Ibiza can make all the difference in your experience. So go out, explore, and find your perfect spot in the ultimate party paradise!
Fátima Hernandez is seasoned professional with over 20 years of experience in Ibiza's nightlife industry.
Throughout her career, she has worked for some of the top companies on the island, including Amnesia, Lio, the Pacha Group, and the Cipriani Group, in various roles such as artistic manager, director of image and public relations, and general manager. These experiences have given her a deep understanding of the local scene and its needs, as well as the ability to manage diverse teams, coordinate complex events, and deliver exceptional service to high-end clients.
Currently, she is running her own consulting and event planning business, where she provides market research, strategic planning, and brand positioning services to new businesses entering the Ibiza market. She also organizes private events of all kinds, from corporate launches to weddings and personal celebrations, handling all aspects of the production, from concept design to execution. In addition, she offers personalized concierge services to VIP clients, such as transportation, accommodation, reservations, and entertainment.
She is proud to say that her most recent project, Konnected, was a highly successful party that she hosted at the W Hotel last year 2022. It is a testament to her creativity, attention to detail, and ability to deliver memorable experiences.
Her extensive experience, deep knowledge, and passion for the nightlife industry, combined with her strong organizational, communication, and leadership skills, make her a valuable asset to any company that seeks to thrive in Ibiza's competitive market.
Please visit her website at fatimahernandez.net to learn more about her background and services, and feel free to contact her if you need her services.
About the Creator
Fátima Hernandez is a seasoned professional with over 20 years of experience in Ibiza's hospitality industry.
Reader insights
Be the first to share your insights about this piece.
Add your insights