Where To Post Articles For Free?
Importance Of Content Promotion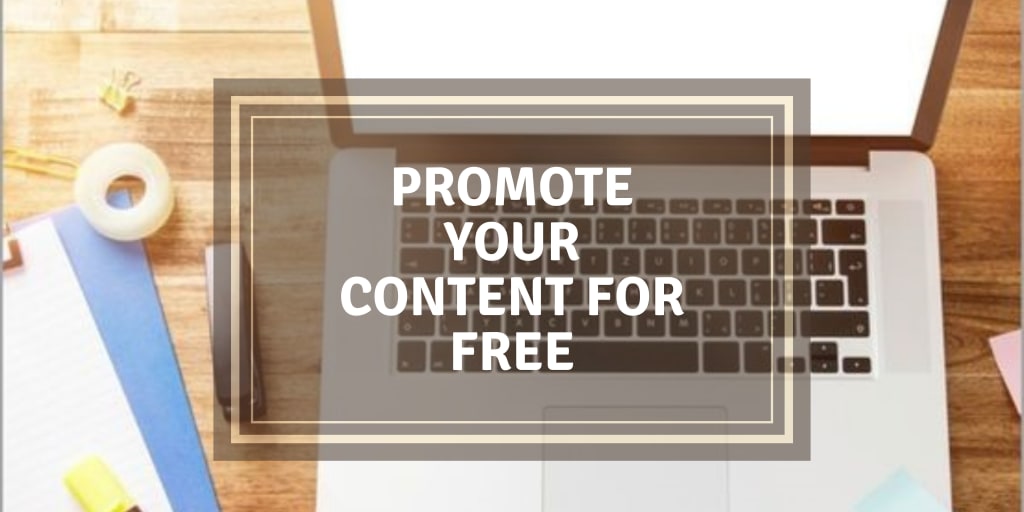 It is said that if Content is the King, then Content Marketing is the Queen.
Good quality content and content promotion go hand in hand. If the content is useful but promotion is poor, you're holding up a lot of visitors from your site!
If you have the best content written by experts, then promoting it using the right platforms will help you get increased web traffic and conversions, or your hard work might go wasted. For dynamic content promotion, you should know where to submit articles to get business and gain recognition.
Let's first see why content promotion is important.
Importance of content promotion:
Creating valuable content that is loved by the audience helps to earn off-site signals which improve your authority in the respective industry and gives your brand visibility on the search engines.
Those businesses that do not have a large crowd cannot do anything even if they produce supreme content quality because it is not being discovered by people!
They need a boost; they need content promotion to disclose their content to new audiences and get traffic. This will increase sales and conversion rates.
Content promotion is essential because:
Search engines pay attention to content promotion: Content promotion is all about getting valuable content in front of the right audience at the right time using the right channel. If the content prepared is educational, informative, and it will cause engagement using the social channels.
Earned links: When you earn links, your content becomes more popular. This is the reason many digital marketing companies and bloggers write guest posts for high-authority websites. If the content is published in a foremost authority domain, then your website earns a backlink, which means you get more traffic to your respective website. These are genuinely earned links, which result from content promotion strategy. You can get the content published on a free guest posting site, to begin with, because some high domain authority websites may ask you to pay for publishing content on their website.
Improved domain authority: When you get valuable inbound links, then the domain authority of your website can be improved. It will also improve search engine rankings. Pay attention to the promotion of valuable content and you will see these indicators of success.
Increased conversion rate and traffic: When there is a high organic ranking on Google, you directly get high traffic and this results in more conversions naturally. This is not the only purpose of SEO, but it is one of the most effective results of content promotion. Content promotion and SEO are connected intrinsically, and the success of one creates success for another.
As the web traffic and conversion rate hit the sky, more consumers can see your content and it results in more social shares. With more conversions and leads, rankings boost automatically. You get better results and in SEO success should be repetitive, which can only happen if good content is originated and promoted robustly.
Big brands create industry contributors which put them as thought leaders in front of the public and highly reputed off-site signals drive the authority of the domain. To earn these signals, generate and promote quality content, so it is cited.
Importance Of Submitting Articles
When you submit an article to websites, you need to read the article submission rules and offer meaningful content and value to the readers. The following websites are free to publish articles and these platforms will not just help you get your article published, but if it is worth reading, then it can gain more exposure as well.
Where To Submit Articles?
Ezine Articles
It is one of the most popular platforms where you can submit article sites and they will place the articles online. From freelance writers to bloggers to big brands, various companies are searching for writers who source out the employees from their websites. As a writer and company, you get promotion and recognition. Thousands of searchable quality content are available, like articles and posts written by the subject expert, and they can convert it into newsletters.
Ezinestack
One of the best article submission websites for SEO is ezinestack.com. You can write content on different niches and post it here. The content should be long and meaningful so you can get backlinks to your website. You can write content on beauty, home improvement, health, technology, etc. Get it published on this website and build your reputation as a writer or a company. The website gets many visitors and people can view your work.
LinkedIn
Just like Medium LinkedIn helps to syndicate the blog posts on your personal LinkedIn profile like the LinkedIn Articles. Though these articles do not add canonical links, Google never flags duplicate content even if they are shown as duplicate content on Copyscape.
Many users have built a strong subscriber base for their articles on the platform because of their existing network on LinkedIn. So, your users can choose to subscribe to the posts which means they will get a notification every time the blogger or company publishes something new.
The built-in alert system is advantageous over other platforms because your blog readers do not get alerts just like that. They have to subscribe to email to get alerts.
Also, consider sharing your content on LinkedIn groups. Do check group policies on content sharing and make sure you are an engaging member of the group. You should not engage with members related to your posts only, but you must talk otherwise as well.
Conclusion
So, you know where to submit articles and why it is better to focus on guest posting and content promotion. It will help you build a portfolio and acquire relationships with other bloggers for increasing your network online. It will attract quality and relevant links and improve personal branding too. You can get more traffic and conversions easily.
Remember, no one likes a self opportunist who is interested in sharing and not engaging. So, these article submission websites are a great way to engage with others and share content.
Be a part of a supportive community that shares each other's links. Medium and LinkedIn have allowed sharing content and taking part in discussions.
Participate in discussions and do not involve in self-promotion all the time. Follow the rules of posting an article on the websites. These are free websites for posting articles. Just make sure your content is valuable and will likely hit readers.
Thus it will be easier to reap the benefits without spending anything.
advice
About the author
Independent Teacher, Freelance Writer, Conservationist, Eco Friendly Environment Crusader. A life hack writer by choice. Published articles on Ezines and Lifehacker.
Reader insights
Be the first to share your insights about this piece.
Add your insights