What It's Like To Be: Instagram Celebrity Noel Leon
If you think Instagram star Noel Leon is just another pretty face, you're right. But this brainy beauty's thoughts about Woody Allen, President Trump and alien sex will surprise you...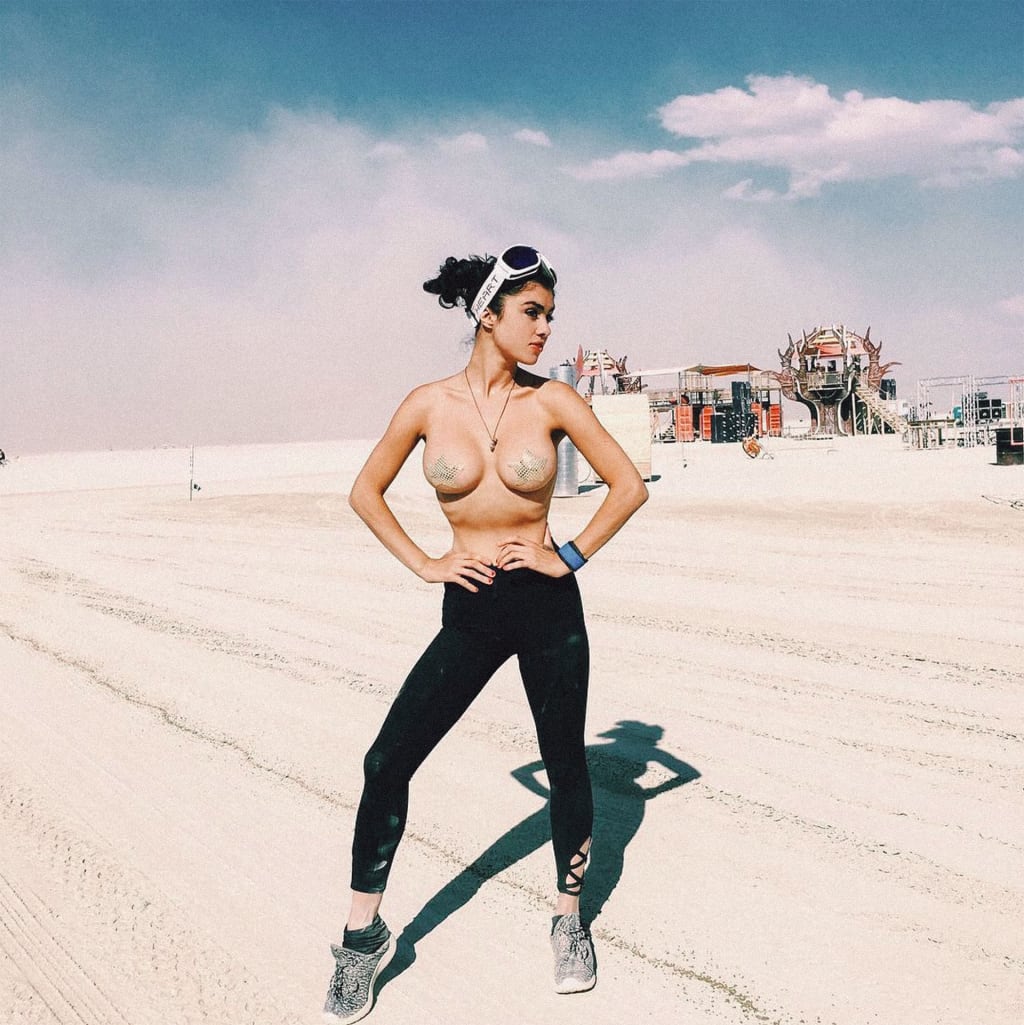 Burning Man. Of course.
With her Valley Girl voice, Jessica Rabbit body and doe eyed face, Noel Leon is like watching anime on Molly. The Insta model with a palindrome for a name is fast becoming one of the hottest girls on social media, mixing her unique brand of beauty, sensuality and humor for a journey that is entertaining, fun, sexy and downright weird.
While some attack her for the shameless use of her ample assets, others consider that she's smart enough to parody the very stereotype she's helping perpetuate. So which is it? Is Noel just another sexy social media celeb or is there something much deeper going on underneath it all? Read below and find out for yourself...
Do people underestimate you or not take you seriously because of the way you look?
I would hope so. In surpassing others' expectations of me, I'm contributing to the deconstruction of ingrained stereotypes.
YouTube vs Instagram vs SnapChat?
Of all social media platforms, Instagram is my first choice because vibrant short form comedy conducive to Instagram's one minute time limit is the easiest to create. Instagram is also the perfect platform to generate immediate feedback on my YouTube video ideas. YouTube comes in close second because its lack of time constraint allows full creative freedom. Snapchat is definitely not on my list - I still don't see it's utility.
Who are your comedy heroes?
Three people immediately come to mind when considering my comedy heroes: Robin Williams, for his energetic improv and hysterical impressions; the timelessly genius Woody Allen, who once said, "if my films make one more person miserable I'll feel I have done my job;" and Lena Dunham for her unabashedly authentic portrayal of a generation.
How long does it take you to create your videos?
To create an Instagram video I post, it takes a moment of inspiration to conceptualize, a day to mull over the punchline/write the script, an hour to film, and an hour to edit. For YouTube it's slightly longer.
You've worked with people like David Spade and Jake Paul; any dream co-stars?
Yes, I have always had the biggest crush on Megan Fox!
How did you become a science geek?
Attending a strict all girls catholic school provided me with an overall rebellious curiosity and also enabled my love of science.
What's the weirdest proposal you've ever gotten?
To answer these interview questions.
Are you a hot girl who's funny or a funny girl who's hot?
I think like a lot of people, I'm a human with a degree of attractive facial symmetry and optimal female body proportions. As for being funny, laughing at my own ridiculousness or my ridiculous stereotype is extremely cathartic (and I guess enjoyable for the observer).