What does an architect do?
What do the data say about future architects?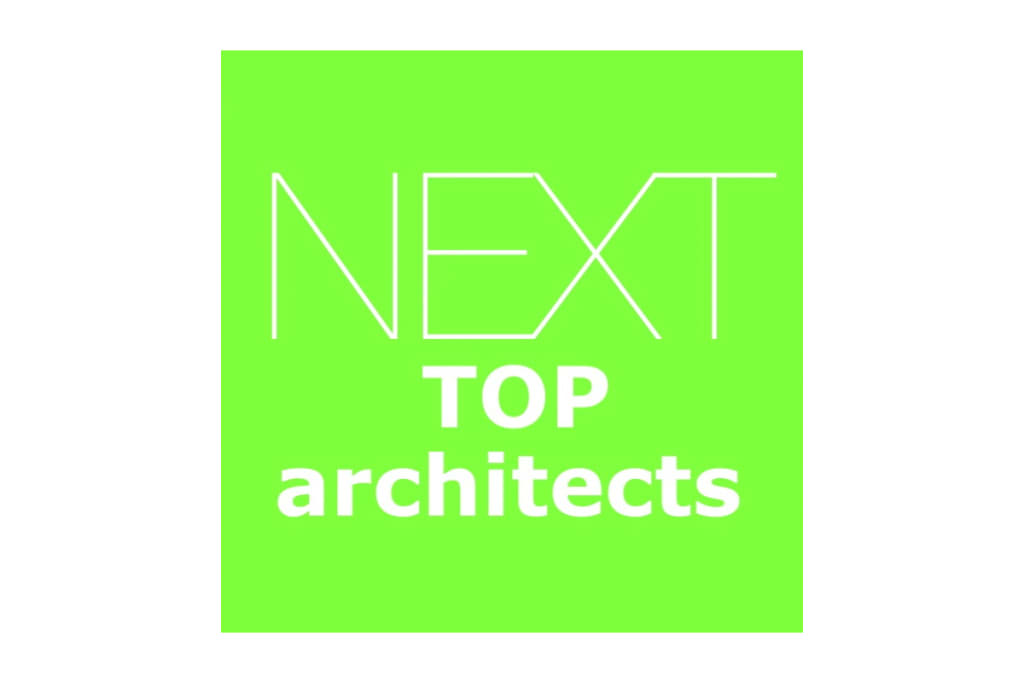 https://www.instagram.com/next_top_architects/
In this article, I try to find an answer to the question of what contemporary architecture does and where it looks for inspiration. The source is data. I've been running #next_top_architects for 10 years. I humbly look at where the world of architects is going, the examples below may be surprising, but the data doesn't lie.
The article is based on data from the last 10 years of the global #next_top_architects community. NTA is a community of over half a million people interested in a new perspective on architecture. Every next idea is better than today. Imagination is our fuel, our driving force is data, and the highway is fiber, servers, and social media platforms
I begin the series of articles on #next_top_architects by showcasing the top three posts that have appeared on NTA in the last three years 2019 -2021. The posts show the directions in which architecture will go in the broadest sense, we are not talking about skyscrapers, which we leave to the celebrities of twentieth century architecture — buildings for low-growth investors. These three posts with the most appreciation from our community in recent years are :
1.In this interior, visitors are transported to an animated film
The first post we present is a video from Seoul, South Korea showing the interior of CAFE 연남동 239–20. The space makes customers feel as though they've stepped into a cartoon world.
Post Insights:
17.203 likes ,
492 958 impressions ,
2060 actions taken from this post
5002 saved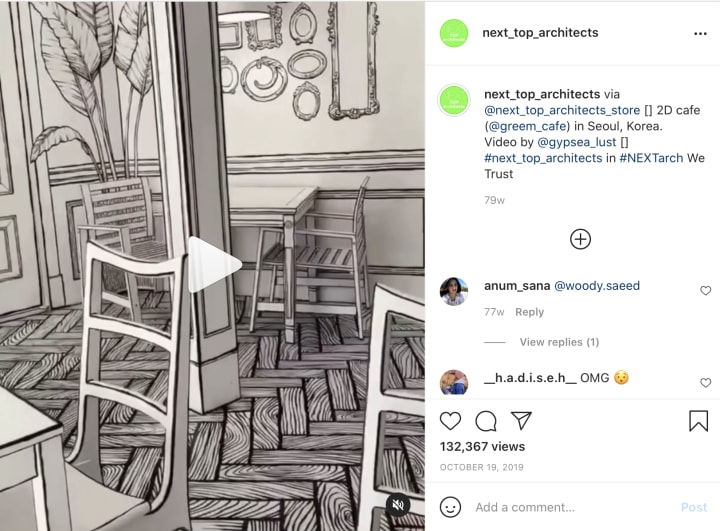 The artistic, monochrome designing was inspired by Korea's popular TV program, W by Lee Jong-suk and Han Hyo-joo, in which the characters clash between "two worlds" —
the world outside the webtoon, and a fantasy reality inside the webtoon. The design of Cafe Yeonnam-dong 239–20 creates a 2D optical illusion, which makes customers feel as though they've crossed dimensions into a comic book illustration. Visitors are greeted with black and white furniture, walls, and floors. Furthermore, the eating utensils and the drinking vessels also look like they are figures from a line drawing.
#next_top_architects are combining the virtual, biological, mystical and philosophical worlds. The example is a small representation of this directive. #Datasculptor
2.Where does the individual end and the group begin?
The next post is an application. A great sociological interactive story about why the next top architects don't follow the mainstream . I made this video at Ars Electronica in 2019
KIDS by Michael Frei and Mario von Rickenbach Computer Animation
Post Insights:
15.522 likes,
704 635 impressions,
3212 actions taken from this post
3900 saved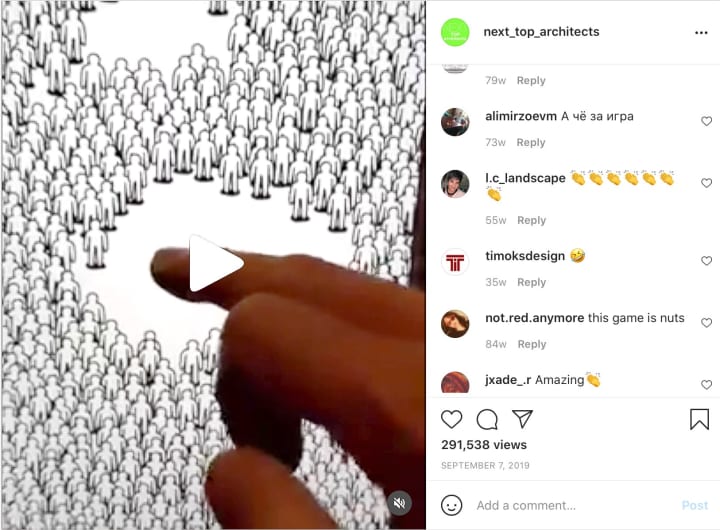 Where does the individual end and the group begin? Where are those in control? What if it is pointing in the wrong direction? In the interactive installation KIDS, visitors can control the group. The characters in a crowd behave much like matter: An ambivalent response, they attract and repel. They lead and follow. They grow and shrink. They align and separate They are purely defined by how they relate to one other — giving them no recognizable features
Apps provide the infrastructure of a city, and communication between buildings is analogous to talking with a person. the above application is an example of how communication does not have to be just data, it can be an allegory #Datasculptor
3.The bloody traces that accumulate around him
third post last post that closes this article
Sun Yuan & Peng Yu — Can't Help Myself — I made this video during the pre-opening at Venice Art Biennale 2019
Post Insights:
5 879 likes,
499 946 impressions,
5401 actions taken from this post
763 saved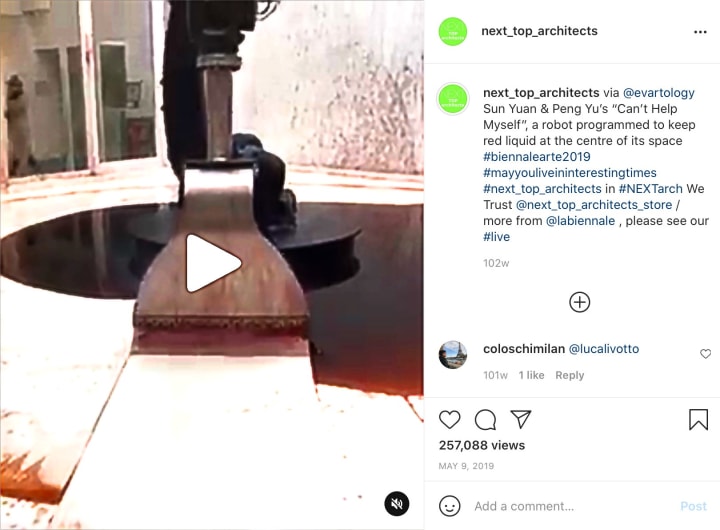 We can observe the world we live in from a new perspective by employing an industrial robot, visual-recognition sensors, and software systems. What is the relationship between people and machines? Machines have largely replaced human labor, but the way we interact with these machines is changing. We are no longer in control of them as they become. Their robot is designed to contain a viscous red liquid in a small area. The sensors in the machine detect when the fluid goes out of place and then a mechanical arm quickly moves to put it back. leaving smudges on the floor and streams on the walls around.
The artists thought that robots might be a more objective way to create. and how could they do that with a machine. They modified a robotic arm often seen on production lines, such as in automobile manufacturing, by adding a specially designed bucket to its front. Sun Yuan and Peng Yu worked with two robotics engineers to design a series of 32 movements for the machine. The artists' names for the movements they animate in this video reflect their intention to make a machine seem more human. Viewed from the cage-like triptych that surrounds it in the gallery space, the machine resembles a creature that is trapped and caged. At the same time, the potentially uncanny satisfaction of watching the robot's continuous action evokes a sense of voyeurism and arousal in the viewer, as opposed to thrill or excitement. In the case of a robot, who is more vulnerable: the human who built the machine, or the machine controlled by a human?
Sun Yuan & Peng Yu have a history of using dark humor to discuss contentious issues. This robot's monotonous, repetitive dance offers an absurd depiction of life in a dystopia A predilection for contemporary issues that surround migration and sovereignty. The bloody traces that accumulate around him, however, are a reminder of the violence that results from the surveillance and guarding of border zones. Such visceral associations call attention to the consequences of authoritarianism, guided by certain political agendas that seek to draw more boundaries between places and cultures, and the increasing use of technology to police our environment.
Art shows the future, we can design it now, architects design spaces for robots to design future interaction.
This is just one example of how artists are using machines to create new possibilities, including for architects to change the world. #Datasculptor
What tens of thousands of likes #next_top_architects posts say: virtual cafe interior, sociological application, bleeding-edge industrial robot. Yes, I admit, these are visually appealing images, but not only that.
Engagement, commentary and data next top architects say that the aesthetically styled, slick and wordy development marketing of the 20th century is moving into the retro era. The time is ripe for the next AI architects, where data, real-time interaction, speed of light, genetic biology, building without building is the foundation for future creators, because can they still be called architects?
the question What does an architect/creator do today? is open, There is a new region every day,
The data I present is only a tiny fraction of what we can know about the future of architecture and what architects do (?)
join us, http://aitools.nexttoparchitects.com/ in order to see this next world, Thanks for reading this article.
Check out my instagram with new material every week

If you enjoyed this, follow me on Medium for more

Want to collaborate? Let's connect on LinkedIn

https://linktr.ee/datasculptor

3D Machine Learning generated model on sketchfab