Viva Mexico:Spring Break Madness on the Sapphire Princess!
Cruise Ship Diaries Chapter 53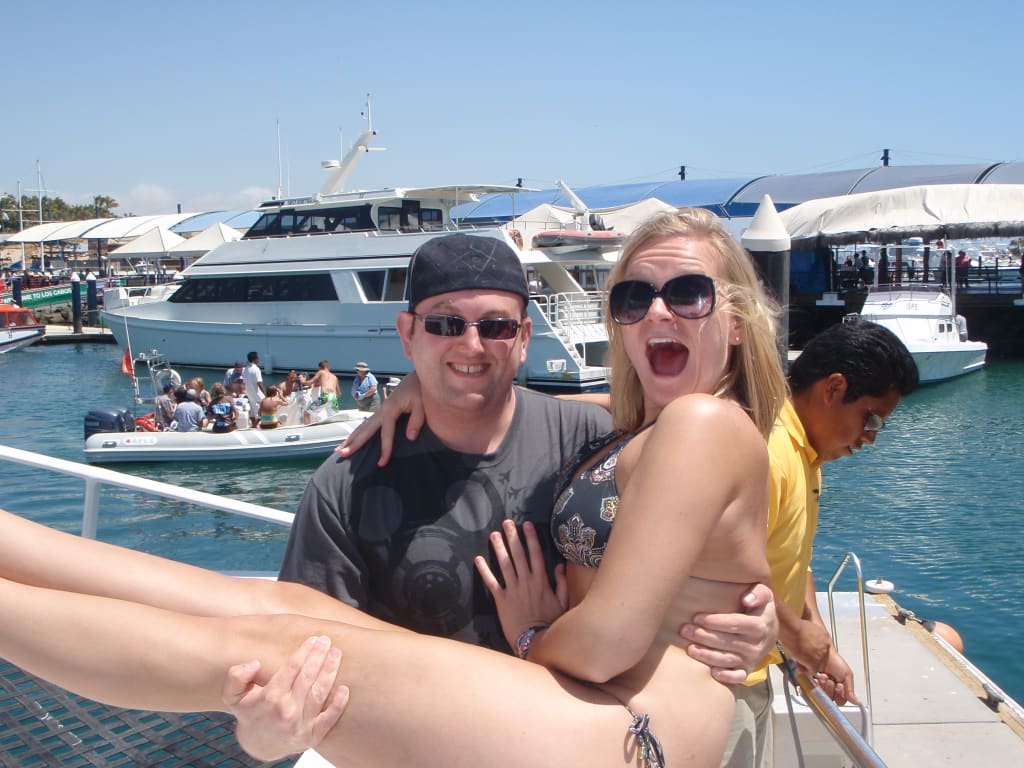 Spring Break!
So after a long six month break I was finally back on a ship without a promotion and also knowing I'd be doing Mexico for 2 months before transhipping when the ship went to Alaska, however after my dealings with the office I really had no faith in where I'd be going next.
After only one flight for a change (London direct to LA) I joined the Sapphire in Santa Clarita which is Princess headquarters though all I really saw of LA was hours waiting inside a terminal for immigration. I can't remember who met me but the photo manager was Laura from South Africa and the assistants were two English guys Steve & Scott and my senior was another Canadian guy Rich who had been around for a few years as well.
I found out that my roomate would be Scott the assistant manager and a massive bonus was that his onboard girlfriend was Laura the manager meaning he spent most of his time at her cabin, however I would be so busy I'd barely spend anytime there!
Rich was an insanely tall guy with a unique dress sense but I found out pretty quickly he was burnt out and on the outs with the company. Rich had just been transhipped weeks ago from the Star Princess where he'd been prepping for the Antartic cruise which at the time was the number 1 itinary for all videogs, it was the holy grail as you'd get some South America cruising in before heading to Antartica.
Unfortunately for Rich he'd fallen out with the new manager and the manager didn't trust him with Antartica and got him transhipped to the Sapphire which at the time was known as a death run for videogs as you sold next to no DVD's on the 7 day Mexico run. The cruise before I joined Rich had sold around 12 DVD's by himself so the only way was up.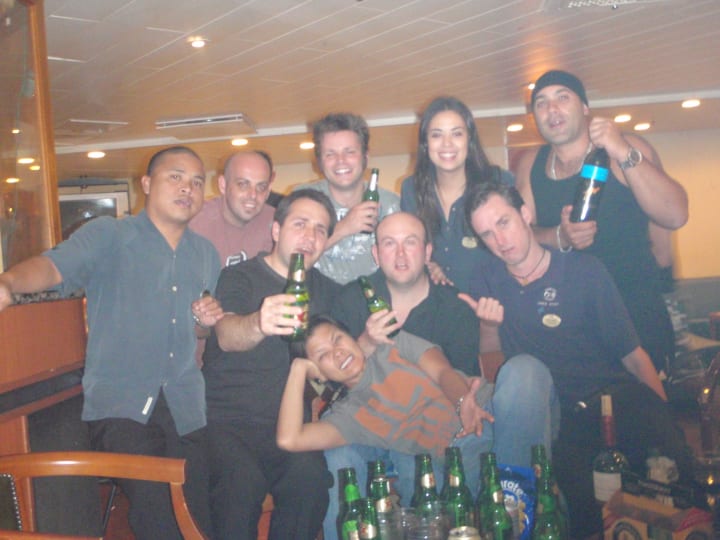 As the office also felt I needed to prove myself I'd been sent to the punishment ship as well, still I was determined to make a good impression and make the most of the touring the ports in Mexico as I was probably looking at 4 months of not being able to film in Alaska so I told Rich I wanted to go out and film every day.
Rich's stuff was very good and he was easily most technically minded senior I'd worked with do far, he introduced me to colour correction techniques and also I could see the improvement in my own work. In a way Rich was way ahead of the curve when it came to Reflections he too was sick of the dancing and waving shit that was our main job at the time and he was already trying to produce documentary style pieces on Mayan culture and Mexican history, the only problem was that we were just about to hit Spring Break cruising which meant the PAX didn't give a shit about a well produced documentary DVD, they simply wanted to see themselves drinking.
Unlike many other seniors Rich didn't shy away from the ship events and actively had ideas on how to film them which was music to my ideas as on earlier contracts I just filmed them without any real senior input, here Rich wanted to doubleshoot some events so we could cross cut and indeed Pool Games was a cruise highlight with Rich stood in the middle of the pool with the underwater camera and me on the edge of the pool running all over the place.
Rich wasn't a fan of the revenue side of Video onboard and was also really good friends with the cruise director and he'd been angling to try and create a cruise staff videographer role where he'd be non revenue based and you would produce all of the onboard TV like the morning show and anything else that the entertainment department wanted. It was a great idea in theory but like many things the you wait for months for an idea to be run the chain and back to head office, double that time and be lucky for a reply especially if you need multiple departments to co-ordinate.
The team was fairly inexperienced with many first contractors and many of them didn't get on with the manager at the time, I think that when I arrived she was just glad to have 2 videogs but I'm sure she also thought 'why is this guy only a junior 2 on his 3rd contract?' My first night onboard ended up with an impromtu drinking session with Scott & Steve in the photo lab listening to some Iron Maiden and someone who will rename nameless using one of the photo chemical waste tanks as an impromptu toilet.
Still after an unexpected 6 month lay off at home I was desperate for any contract and would have taken anything just to get back to work, but I had a few friends onboard from previous contracts, more or less my own cabin (unheard of for a junior!) and a really good senior who already was helping level up my technical knowledge. Who knows where I'd be headed in a few months when dreaded Alaska crept around but I was damn sure going to enjoy the shit out of Mexico for the next 8 weeks.