Transform Your Instagram Into a Portfolio in 5 Easy Steps
How you can make a design, photography, or art portfolio using nothing but Instagram.

Check out @shotbyclairep to see how I use Instagram as a portfolio
These days, your social media profile is your portfolio.
You might have a traditional website or even print portfolio. That's great. But the reality is, if someone is considering whether to hire you for a creative project, they will probably check out your social media accounts too.
As a visual artist, Instagram is a great place to showcase your work, thanks to its clear layout. So in this article I'm going to give you some quick tips for sprucing up your Instagram and treating it like a portfolio.
1. Choose clarity over coolness for your username
The way I see it, you have two options for your username:
Using your name, or a pseudonym that you actually use as an artist
Combining your name with your job title or what you do
Using your own name or pseudonym as your username looks professional and will help you build your reputation as an artist.
But in 2020, it's unlikely that you'll be able to nab your own name as your username on social media platforms. If this is the case, you can go with the second option, which is combining your name with what you do!
For instance, if you're a photographer, you could use one of these combinations:
@[firstname][lastname]photography
@[firstname][lastname]photos
@photosby[name]
@shotby[name], like my username: @shotbyclairep
This also applies for designers:
@[firstname][lastname]designer
@[firstname][lastname]designs
@designsby[name]
Actually, it pretty much works for any kind of artist!
@[firstname][lastname]art
@[firstname][lastname]crafts
@tattoosby[name]
@madeby[name]
@knitsby[name]
There's actually a few bonuses to using the second option for your username. For one thing, by including your job title, you're reinforcing your brand and business. When a potential client thinks about who to hire to design their wedding invites, they just might think oh! I follow @designbylaney, they'd be great for this!
Another important point is, if you have a keyword in your username, you could pop up when people are searching for it in Instagram's search bar.
2. SEO isn't just for Google
Speaking of keywords, why not include one in the name field? This is a great way to ensure that, if people are looking for what you offer, they will see you when they use Instagram's search bar.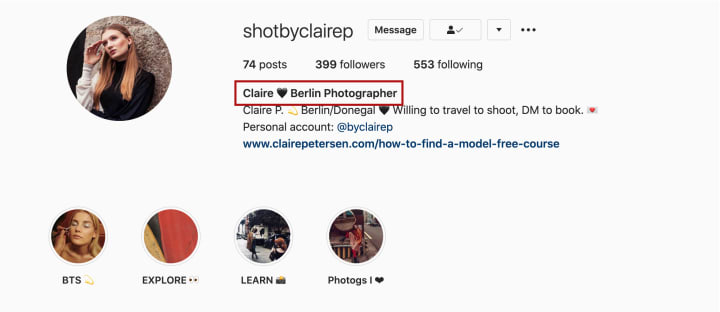 So instead of just writing your name, include your job title and your location. As you can see in the screenshot above, I have written "Claire | Berlin Photographer".
This way, when people are searching on Instagram for photographers in Berlin, I'm much more likely to appear.
3. Brush up your bio
Now, some basics. Include your job title, or what you want to be known for, in your bio. Include where you're based, especially if you didn't include it in the name section.
Also, let people know how they can contact you. Do you take bookings over DM or would you prefer that they email you? Either way is fine, just make sure to make it clear in your bio.
4. Choose the perfect profile pic
For your profile photo you can use a photo of yourself, an image of your work, or a brand logo.
If you opt to use a photograph of yourself, be sure that it's a professional headshot. This will help bring the whole Instagram account portfolio together, making you look like a good option as a future hire.
If you'd rather your work be the face of your brand, that's absolutely fine. Just make sure you choose one of your best pieces.
And using your brand's logo is obviously a-ok for this too!
5. Put your best work forward
Finally, the most important thing. Fill up your Instagram with examples of your work!
A rule of thumb is that you are judged on both the best and worst piece of work in your portfolio. So bear that in mind before you upload 10+ 'meh' photos from your most recent project.
At the same time, don't fret too much about the work you upload. Remember that as your skills develop and you create better and better work, you can archive the old images that you're no longer proud of.
_____
There you go! 5 simple steps to transforming your Instagram into a portfolio.
I focused here on Instagram, but these tips can be applied across all your social media accounts.
For more Instagram tips, check out my Skillshare class on How to Create Beautiful Instagram Stories: IG Secrets & Hacks to Up Your Story Game. There's 14-day free trial for new users with that link too!