Top 10 Mobile Responsive Themes for Shopify
Plobal Apps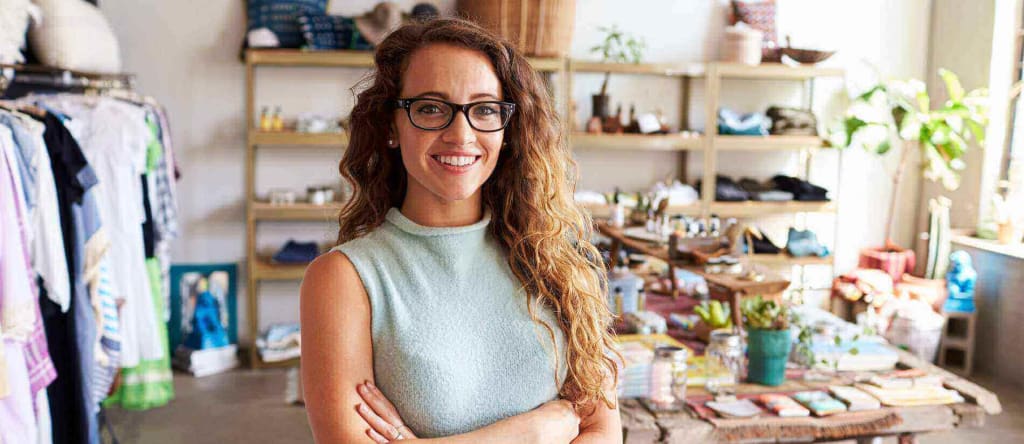 plobalapps
Nearly 60% of all ecommerce traffic now comes from mobile devices. In 2018, around 53.7% of US shoppers made purchases on their mobiles2. It goes without saying that there's no way you can put off optimizing your mobile app in 2019. When customers visit your app, they expect it to be responsive to their needs and form factor.
The good news – it's incredibly easy to choose a responsive theme for your Mobile App for Shopify. With more than 50 themes in 140+ styles, the Shopify Theme Store gives you plenty of options to boost traffic to your app. But herein lies a dilemma. How do you choose from a sea of free and paid Shopify themes (all of which look great)?
To help you decide, we've put together a list of the best mobile-responsive themes for your Shopify mobile app. Let's get started.
Venture
First on our list is Venture, a bold theme with a contemporary look. A versatile theme, this can be used for several types of products and categories on your store with easy customization options. It also lets you design a layout that works well for any device and a stunning homepage slideshow to attract customers. Other prominent features offered by Venture are typography options, drop-down menus with multiple columns, and a promotional bar. Users can navigate quickly across the website with the help of the drop-down menus. The theme supports 3 different styles: Boxing, Outdoors, and Snowboards.
Pros:
Great typography options
Promotional bar
Drop-down Menus with multiple columns
Quick navigation
Cons:
Lack of subtle layouts
Not very versatile; more suited for sports stores
You can view the demo for each style and get this theme here.
Symmetry
What makes Symmetry an amazing Shopify theme is that it was designed with the best e-commerce practices in mind. It boasts of four responsive styles – Beatnik, Chantilly, Salt Yard, and Duke – each of which can be a fantastic fit for your mobile store. During the design process, you are given numerous options for homepage design, scrolling rows, and fonts. Symmetry also has other excellent features such as live search, different views for product collections, and a slideshow for the homepage.
Pros:
Live search option
Different views for product collections
Slideshow for the homepage
Various options for design customization
Cons:
Absence of blog-related features
More suited for clothing stores than others
You can view the demo for each style and get the theme here.
Boundless
With Boundless, you can make the best product photographs the highlight of your store. The theme's sleek, minimalistic design gives your store a thoroughly professional feel. The layout is subtle yet bold, which is sure to appeal to customers. Boundless also features a fading slideshow on your homepage and edge-to-edge collection pictures. The template can be used in most devices and has some good typographical options. You can easily customize the template, including the fonts and colors. Boundless is offered in 2 styles: Vibrant and Black and White.
Pros:
Edge-to-edge collection pictures
Fading slideshow for the homepage
Minimalistic design
Good typography options
Cons:
Excessive focus on pictures
Lack of versatile styles
You can view the demo for each style and get this theme here.
Minimal
When it comes to attracting customers to your store, less can really be more. Minimal is a free responsive theme that gives your store a sleek, trendy look, be it on desktop or mobile. The best part is that it offers plenty of flexibility in terms of presenting products. With Minimal, you can customize your store with layout options, typography choices, navigation styles, product and collection views, etc. It comes in 3 attractive styles: vintage, fashion, and modern.
Pros:
Sleek and trendy look
Product and collection views
Various navigation styles
Flexibility in presenting products
Cons:
Inadequate navigation capabilities from the footer
Poor customer support
You can view the demo for each style and get this theme here.
Supply
Supply is another free theme best suited for businesses with a large inventory of products across categories. – it offers smooth navigation across product categories, ensuring a good user experience for your customers. The theme is quite flexible and lets you add new products even after the website goes live. It offers sidebar filtering, several homepage collections, and easy integration with Shopify's product reviews app. Supply is ideal for luxury products like jewelry. The theme has 2 different styles: Blue and Light.
Pros:
Sidebar filtering
Several homepage collections
Easy integration with Shopify's product reviews app
Excellent user interface
Cons:
More suitable for luxury stores than others
Limited customization capabilities
You can view the demo for each style and get this theme here.
Pop
Pop is good for businesses with a small to medium-size inventory. Remarkably user-friendly and responsive, Pop supports a 'fly-out' shopping cart to help users check out more easily. It is flexible to use as well, and you can experiment with different options for your homepage's layout. Navigation across the website is simple and easy; users can use the large sidebar to access your products and categories easily. It features 2 different styles: Bone and Toy.
Pros:
Impressive customization options
Easy checkout with 'fly-out' shopping cart
Simple and easy navigation
User-friendly interface
Cons:
Limited sidebar layout options
Not suited for businesses with large inventories
You can view the demo for each style and get this theme here.
Simple
The Simple theme is just that – simple yet elegant while being responsive. If you want to avoid having an unnecessarily extravagant or complex store, you should go with this theme. Users are particularly impressed with its clean interface. A unique feature offered by Simple is letting you highlight sub-categories for products that are tagged. The theme also consists of sleek animations that look great on a mobile screen. It has 2 different styles: Light and Beauty.
Pros:
Mobile-responsive styles
Excellent customization
Simple and clean layout
Sleek animations
Cons:
Weak look and feel for the checkout page
Navigation problems arise over time
You can view the demo for each style and get this theme here.
Canopy
Canopy is amongst the most versatile and flexible premium themes offered by Shopify. It is compatible with all kinds of inventories, regardless of size. The theme lets you define the order of each row on your website's homepage. You can enable or disable any row's content based on your store's needs at the time. Canopy offers large menus with convenient links to other pages and categories. A great advantage is that customers can add items to their cart quickly, without having to exit the page they are at. The theme comes in 3 responsive styles: Kiln, Elda, and Thread.
Pros:
Excellent flexibility
Unique and responsive styles
Quick addition of items to cart
Suitable for inventories of all sizes
Cons:
Poor customer support
Lack of modern features such as sub-menus
You can view the demo for each style and get this theme here.
District
District boasts of the unique capability of Instagram integration. With District, you can give your website a fresh, dynamic, and professional look. The theme is highly customizable with features such as the mobile-responsive slider amongst others. You can market your products effectively with features such as a promotional banner at the top of your home page, popup promotional messages, and a collection gallery. Another great advantage of District is the impressive customer support it has. It can be used in 3 different styles: Coast, Energy, and District.
Pros:
Impressive customer support
Mobile-responsive slider
Popup promotional messages
Ideal for showcasing featured products
Cons:
Highly-priced
Not suitable for new businesses
You can view the demo for each style and get this theme here.
Colors
Colors is a great theme to choose if you are just starting out and prefer setting your website up easily. The theme is very easy and convenient to use as well. As suggested by the name, it is a colorful theme that brightens your product photographs on different devices. Colors comes with several features related to products such as product reviews, product slides, etc. With this theme, users are allowed simple and easy navigation for your customers. It has an active and punctual customer support team as well to help solve any problems or queries you might have. It consists of 3 styles: Fluor, Pastel, and Generic.
Pros:
Simple and easy navigation
Product reviews and slides
Active support team
Convenient to use
Cons:
Restricted customization capabilities
More suitable for new businesses than others
You can view the demo for each style and get this theme here.
Mobile Needs Your Attention
Now that you know the top mobile responsive themes on Shopify, start zeroing in on one based on the features you need and the nature of your business. Choose the best theme for your Shopify store and leave your customers with an amazing shopping experience.