Time For Some 'Creative Destruction'
COVID-19 is causing significant constraints and strife for most, and a wave of innovation and opportunity for few.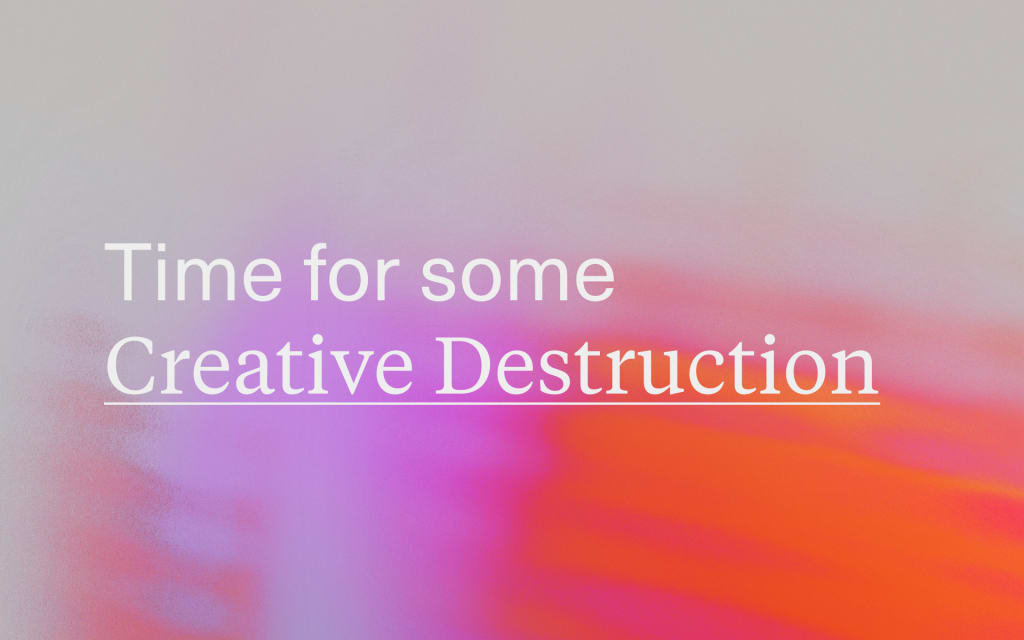 The very nature of the global economic structures we have taken for granted over the last decade are in jeopardy, from the integrity of the European Union to the future of supply lines from China, a country that stands accused of lying to the world about the extent of the virus. Coronavirus has obliterated over 22 million jobs, which amounts to nearly all the jobs that were created since the end of the financial crisis 10 years ago. This economic crisis will have a domino effect and continue to impact one facet of society after another. Ultimately it will create a wall of worry for financial markets to climb. As time passes and we begin to understand the scope of this crisis, facts will eventually force action. There are plenty of opinions about the whos, whys, whens, and hows, but we all know one thing for certain: it will take a long time for the effects of a global economic shutdown to settle enough to create some semblance of a "new normal."
We have a ways to go before we reach a point where we have proper creation, testing, distribution, and administration of a vaccine, let alone at scale. Not only will this take quite a bit of time, but there will undoubtedly be new problems that emerge by the time we get there. The new concerns will be not about the particulars of the virus, but about what the virus has revealed about the great socioeconomic divide that exists in the country, the fragility of the service and consumer-based economy, the over-inflated statements of corporate value and, perhaps most significantly, the lack of a reliable collective leadership in both the public and private sectors.
It is time for the focus of governments and industry to shift from power and wealth to the more important condition of human society. Industries that survive the downturn will face a long period of adjustment until they can fully function in the new era. In addition, industries and companies will have to prepare for future pandemics by building resiliency into their operations and supply chains. These initiatives will take years to develop and optimize. There will be a long struggle before the innovation and radical change in leadership transforms a country in desperate need of unification and purpose.
The Flip Side of Destruction
Since last publishing a business update on April 7th, when the S&P 500 closed at 2,659, the broad index has rallied 77 points, nearly 3%. Perhaps the market has reason to believe in a V bottom that I personally do not see. Sure, I understand that the Fed's actions and the bailout funds are beyond anything I have ever seen, but shouldn't that worry the market? Worse, much of the money didn't get to where it was needed, and the $600 billion lending program still doesn't have protocols for determining eligibility.
The market is disconnected from the other 50% of the country who have nothing invested in the financial markets, up until there is a problem. The two halves of the country only intersect when one impacts the other. Current conditions are divisive and are setting the stage for a social war that will be fought on a digital battlefield as well as in the real world—in protests on the street and within heated business boardroom meetings. There has been a vacuum of information regarding "how" the economy could actually start its engines again. For the time being, any mention by politicians and government bodies of being back to normal anytime soon is at this point simply relying on the age-old "bread and circuses" approach.
Bread and circus - steady supply of entertainment or political policies on which the masses are fed to keep them happy and docile.
The ancient Roman government began the "bread and circuses" program to prevent civil unrest within the large empire. Roman elite believed that if these two needs were met—food and entertainment—the poor would be less likely to notice, complain, or revolt against the empire. There is a reason why, right now, we're seeing an administration that is so antsy to get live sports up and running. Irrespective of who is in office there is always bread and circus.
The explosion in gig, temporary, and independent contracting the past few years created a myriad of opportunities for people to work in ways never before possible. It also had started to create jobs and simultaneously income instability. That instability had been growing steadily over the past year as companies gradually perfected the substitution of employment on demand for regular, full-time hires.
Today, as companies face the impending recession and investors demand cost-cuts, many are moving to more agile and flexible business environments. As a result, independent contractors and gig workers are experiencing a new sense of relevance. Our company, Jerrick, and the team that developed the Vocal platform have always had a fundamental grasp of the advantages that come with being nimble. We designed our company to be able to scale dramatically with a small group of internal core operatives that manage an expanding army of outside gig workers. We currently have an equal amount of internal employees and external segment specialists working for the company.
This point I'm alluding to here is one that is frequently made in times of financial unrest and recession: The bigger the economic decline, the greater the acceleration of what economist Joseph Schumpeter called creative destruction. This term describes the cycle whereby a recession accelerates the deterioration of declining industries and marginally successful business models, causing them to disappear faster than they would have if the national economy had continued to grow. At the same time, those same factors will in turn, accelerate the growth of strong emerging companies that figure out how to adapt to the environment—this is a chance for future industry leaders like Vocal to define their trajectories and differentiate themselves from the pack on the world's stage. The corporate leaders who radically accept the challenges of the new era and move quickly to adapt to them will put their companies in the best position to thrive throughout the next decade.
Influencer Fatigue
Over the last year, Vox Media, which owns The Verge, Vox, SB Nation, Eater, Polygon, and Curbed has been steadily cutting back on new job postings, with some ebb and flow along the way. Even before the pandemic, we saw the media and public grow increasingly critical of influencers. Now, they're citing a serious case of influencer fatigue. So, where does that leave influencers?
The general feeling in the influencer community is one of intense worry and confusion. To start, the timing of the virus couldn't be worse. The start of the year is already somewhat slow for influencers, given that brands often spend the bulk of their advertising budgets in the holiday season. This means that for influencers that didn't earn as much as they would have liked during this period, the effects are devastating.
At the same time, competition between the top and lower-tier influencers is growing. There is a great equalization of value being recognized in a world separated from the overproduced Hollywood studio practices. John Oliver, who I am a huge fan of, does not need an expensive production stage to deliver his message and engage his audience. At the same time, the unknown John Olivers have a greater opportunity to compete on a more level playing field for creation and distribution. Those high-level influencers I speak to said that they plan to reduce their rates dramatically for the rest of the year while newer influencers have been steadily growing audiences and gaining more sustainable traction. Micro-influencers are capable of going up against larger influencers at the moment.
Some influencers are optimistic that there will be a huge upturn in brand deals and ads as the economy stabilizes and begins to recover. There will be a new normal for the influencer community that offers great promise and success, but it will be a long journey there. Companies and brands will not replace the concept of influencers, but they will begin to institutionalize it. This means they will demand the kind of transparent success metrics that platforms like Vocal can provide. Straight cash deals with influencers for a single post will dwindle over time. Deals with platforms such as Vocal, partnered with the right influencers, will be one of the few ways brands will be able to generate transparency in their relationship with influencers, creators, and their audience. The age of the entrepreneur is assimilating the pest of a decade of influencer growth that is long overdue for a pivot.
Big Cultural Changes
Large segments of the economy are likely to be permanently disrupted as a result of the coronavirus' impact on the travel, retail, and entertainment industries. Many other companies will require capital and labor to shift into new areas of economic activity on a massive scale.
The New York Times published an insightful piece on the concept of the big changes needed in Japanese society and culture. While the world may see Japan as a futuristic land of humanoid robots and intelligent toilets, inside its offices, managers maintain a fierce devotion to paper files, fax machines, business card exchanges, and face-to-face meetings.
Japanese typically have at least two signature seals: a custom-made one that is registered with the government and used for formal documents and another that is used in more informal situations. People often keep one at the entrance of their home for deliveries, another in the desk at their office and a third secreted away in their house for use on bank documents. The entire society depends on 1,000 year old traditions. As a culture, though, they definitely got the slight bow of recognition, right? I prefer it over the traditional handshake and I refuse to bump elbows.
In traditional Japanese workplaces, documents flow from desk to desk and even employees with only tangential relationships to the work described in them are expected to add their stamp, indicating that they have read and approved the contents.
Essential documents are not digitized and computer systems are obsolete and tied to offices. Middle managers in Japan's team-oriented workplaces are hesitant to allow employees to work from home. Workers who do have the option of teleworking fear harm to their careers.
But even as the Japanese government has now declared a state of emergency in major cities and is urging people to reduce human-to-human contact by at least 70 percent, few companies seem to have been able, or willing, to put their plans into action.
Big changes are coming, and coming fast. There is no time to argue in Japan that fax machines are a necessity nor should we try to reconcile the US administration's stance that "anyone who needs to be tested can be tested." From supply lines of COVID tests, dining out, storing oil, or literally reducing fax machines in Japanese culture, we are all going to have to adapt to big change. We are all going to have to spend less time focusing on what the new normal is and actually begin building it.
Big Tech Problems
The technology industry, while probably the safest business space to invest in, still faces a slew of never-ending problems growing bigger with everyday uncertainty.
Alphabet
Google CEO Sundar Pichai told workers that the company is re-evaluating investments for the remainder of 2020, starting with hiring. Management also said it is having a hard time on-boarding new hires remotely. "We believe now is the time to significantly slow down the pace of hiring, while maintaining momentum in a small number of strategic areas where users and businesses rely on Google for ongoing support, and where our growth is critical to their success," CEO Sundar Pichai told workers this week.
Facebook
Prices for Facebook's ad auctions plunged between February and March. Even as people stuck in their homes spend more time on social media, advertisers are pulling back during the economic shock now underway.
Twitter
A new flurry of tweets from President Trump is pushing the limits of social platform policies designed explicitly to keep users safe from the spread of the novel coronavirus, both online and off. Trump's calls to action in support of state-based protests would also appear to potentially contradict Twitter's explicit policy that forbids any COVID-19 content that could result in the real-world spread of the virus.
Vocal Alexa Ranking
There was once over 100,000 points of Alexa ranking between Vice with their self-proclaimed value of $4 billion and Vocal with its parent company Jerrick's OTC public valuation of less than $30 million.
Today there is a manageable 650 points that divide us. Our business model is better and being validated regularly. I told this to many of our early investors who would ask me how we compare to them as far back as 2014. We are a creator based revenue-generating platform while they were audience-based. Their business model has been struggling for a couple of years and may not survive the new environment without changing its operational cost structure. Our company spent the last six years preparing for the new environment and has clear visibility on its future.
I believe Vocal can overtake Vice's Alexa score within the next 12 - 18 months if current trends remain intact. The value of our public equity will come to reflect that as we continue to tighten the spread.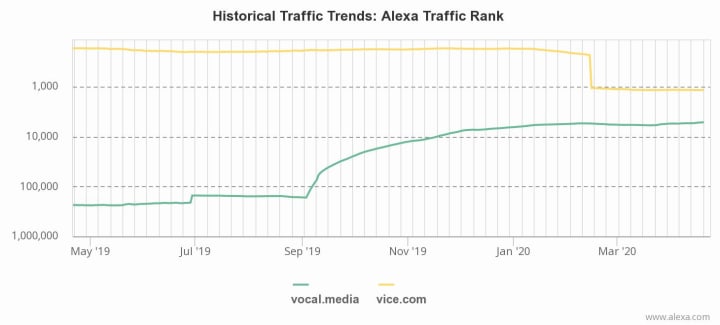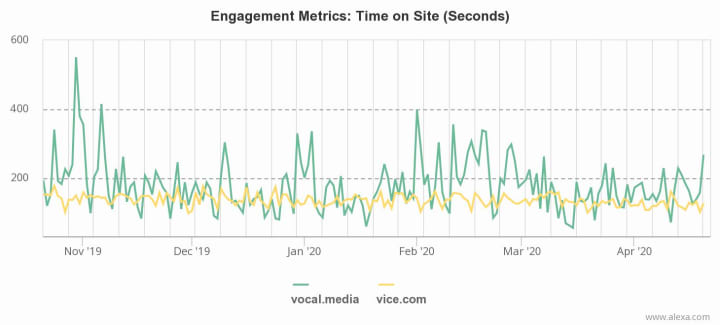 From a technology standpoint, it is relatively simple. Facts are facts. Over the last decade, every publication was trying to build Vice's business model, but it is now a legacy concept that never evolved from its roots, whereas user generated stories and targeted branded content have proven to be the keys to success.
Jerrick's flagship product Vocal by its very nature is ever-evolving and the future of content publishing, audience discovery and brand partnerships. From a valuation standpoint, it has been significantly more complex over the past few years for us. Awareness for OTC public stocks is limited and to date it is a small group of approximately 400 shareholders who have invested in JMDA. In the new world of technology financing, the key question will be expenses, growth, and believability based on facts, not the perception created by digital Svengalis and vanity metrics. We expect to begin to grow our shareholder account base significantly as we look forward to uplisting on the NASDAQ this summer.
Legacy media executives focused on hype, perception, and unbalanced business models. Valuations of many privately funded companies will have to be written down in private equity and venture capital portfolios across the world. Vice claims its valuation is $4 billion, despite Disney expecting it will never see a return on its 27% stake in the company. Softbank may become the new poster child for this issue in a new era of transparency. Solidified by the current crisis, Portfolio Managers will acknowledge more appropriate valuations, or be forced to by smart investors. In some ways, it may resemble the many fraudulent valuations of financial securities portfolios that revealed themselves in the 2009 financial crisis.
Vocal Highlights for 03/2020
1) 50% increase in Vocal free accounts MoM, with a 50% decrease in our marketing budget.
2) 50% of the Vocal+ upgrades from the freemium subscription are occurring more than 7 days after initial free sign up. This statistic implies that our users find long term value in the product.
3) Vocal for Brands has launched 9 Challenges since January 22, including the Pay It Forward Challenge in partnership with Vimeo.
Vocal for Brands Highlights
From my partner Justin Maury, President of Jerrick and Founder of Vocal:
The coronavirus pandemic has impacted every facet of our lives, and it's more important now than ever to come together and help each other out when we can. We continue to be inspired by all the amazing brands doing what they can to help out and contribute much-needed resources–we're seeing brands producing masks for health workers, news outlets lifting their paywalls and giving free access to coronavirus-related news, and much more. In fact, that deep sense of responsibility to do our part during this difficult time was precisely the idea behind partnering with Vimeo for our Pay It Forward Challenge.
The Pay It Forward Challenge gives creators the opportunity to promote the small businesses they love, and show small business owners some love in a time when they need it the most. Since the Challenge launched, we've been blown away by the amazing business owners, makers, restauranteurs, and entrepreneurs that we've been reading about. Stories like these are the perfect embodiment of Vocal's core mission to give creators the resources and community to share what matters to them with a community who cares:
Pandemic Donuts: Every Cloud has a Sprinkled Lining by Lauren Baer
A Little Piece of Vegan Heaven: Clementine Bakery by Ritalu
More Than a Business by Avery Strangstalien
Understated by Hannah Monica
Seller's Choice Highlights
Similar to Vocal for Brands' targeted partner strategy, the direct to consumer agency business has seen exponential opportunities from within Jerrick's network. Seller's Choice is in a particularly interesting spot.
With the recent changes put in effect by Amazon surrounding their fulfillment centers prioritizing essential items, many Amazon focused brands are realizing it's time to differentiate and take more ownership.
While improving our services has been a focus during this time, we've also been taking the time to remind sellers of the importance of community building and differentiation (two of our pillars). Now is the time for sellers to start building their presence off of Amazon to ensure they own their customers and are not reliant on Amazon for success. Our unique business model allows us to rapidly adapt to sellers' needs, it gives businesses a choice of platforms beyond the traditional opportunities of the last business cycle.
Recent new Seller's Choice clients include:
Matek: Made-in-California Technical Performance Intimates™
Foot Cure: Premium foot care products
Day Dreamer Blinds: Room darkening blinds
Stock Watch
We watch a number of stocks for strategic opportunities as well as for the purposes of general observational and comparative analysis. These stocks and their respective management teams are discussed as part of our regular business development and corporate finance meetings. Comparisons of the last 30 days of trading help us determine what the perception of the market will be 90-120 days out. That spread has radically tightened over the last decade as algorithmic trading makes up a significant portion of daily volume. While some of the companies relate fundamentally and directly to our company, others have less in common but experience technically similar issues in the broader business world from financing to business culture and core mission.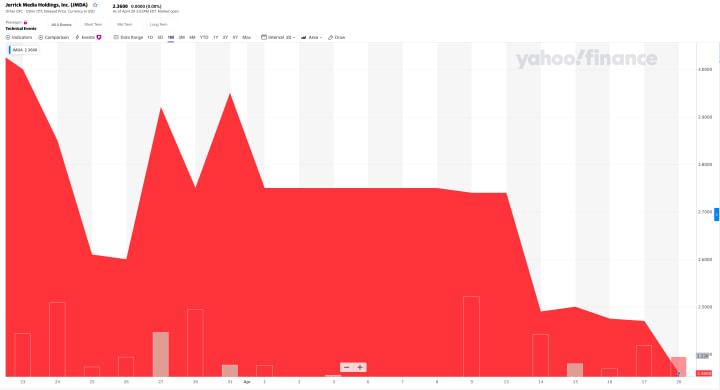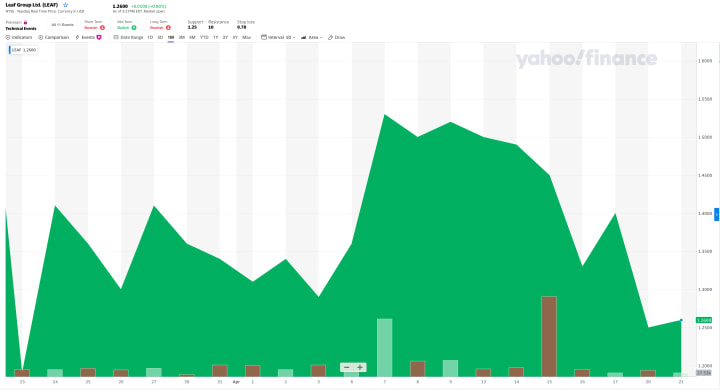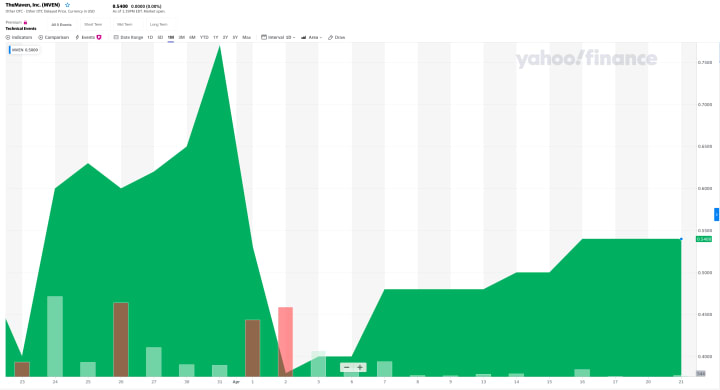 Stay tuned for another recap next week. In the meantime, for regular updates please follow me on LinkedIn as well as the company's other social pages for regular updates:
Jerrick
LinkedIn: https://www.linkedin.com/company/jerrick-media
Twitter: https://twitter.com/JerrickMedia
Facebook: https://www.facebook.com/JerrickMedia/
Vocal
Instagram: https://www.instagram.com/vocal_creators/
Facebook: https://www.facebook.com/VocalCreators/
Twitter: https://twitter.com/Vocal_Creators
LinkedIn: https://www.linkedin.com/company/vocal
Reader insights
Be the first to share your insights about this piece.
Add your insights