Jerrick CEO's Week in Review: 03/30/20 - 04/03/20
A further look back over the month of March and the impact of current market conditions on our company.
The New Era
While we officially closed Jerrick's office on March 23rd due to COVID-19, most of the firm had been operating remotely as far back as March 9th. At that point, the Dow had already fallen 4,000 points from its high and we had been focused on preparing our 2019 10-K, which we subsequently filed in a timely manner on March 30th.
The financial market duress and the economic fallout from COVID-19 is extreme and still evolving, and recovery is expected to be slow for much of the business community; and yet I believe the current environment is one that our company is both prepared for and will ultimately thrive within.
Our team has long been studying the fundamental problems with valuations and revenue streams of legacy technology and deteriorating digital media assets. Our proprietary technology platform, Vocal and the agile business model that supports it were developed to withstand the challenging conditions we are facing today.
It's clear by now that the investment world is taking its foot off of the risk capital accelerator, save for a select few sectors like technology or health-related businesses. Anecdotally, my controller has reported to me that the credit markets have essentially closed unless it is directly related to SBA government backed loans. The COVID crisis is an unprecedented moment in time, but the ripple effect may be even more profound. Significant repercussions will be felt throughout the world's cultural, social, and economic environments for some time to come.
I have witnessed enough crisis and post-crisis cycles to know that it's never a matter of if a radical moment of change in society will come, only when and how it will manifest. In business modeling, exogenous events infiltrate from outside the scope of the model, which is to say that such events are neither predicted nor explained by the model. And yet, while an event that causes such widespread financial chaos is exogenous, the ensuing crisis is systemic in nature. Looking back at similar cycles, the economy can start to recover when markets radically accept and embrace systemic change.
Oil shocks in the 1970s created recessions, as did Iraq's invasion of Kuwait. The tragedy of 9/11 as well as the subprime mortgage crisis and resultant 2008 financial crisis are even more contemporary examples of exogenous events creating systemic crises.
It will take radical change at the top level of organizations to understand the unprecedented social and psychological impact that the crisis will have on the communities they lead. Some current estimates predict up to 100,000 coronavirus-related deaths in the U.S. alone. Statistically, it will exceed the total number of U.S. soldiers that have been killed in combat since the 1960s, including the Vietnam and Korean wars. On a global level, the numbers become even more staggering. To try to predict and respond to the ripple effects from an event like this is a monumental undertaking and will require great leadership in the country and in the world.
Experience tells us that the investor community will eventually accept this radical change and adapt to the difficult times ahead. They will eventually begin to buy risky assets at extremely discounted prices. I expect it will take a great deal of time to accelerate risk in a market where this type of global shutdown is no longer a story from a science fiction novel, but an actual event businesses will want insurance companies to cover. Insurance companies are denying business interruption claims by determining this event to be outside the scope of coverage. In the old days, they referred to this as an 'Act of God' clause.
Management Team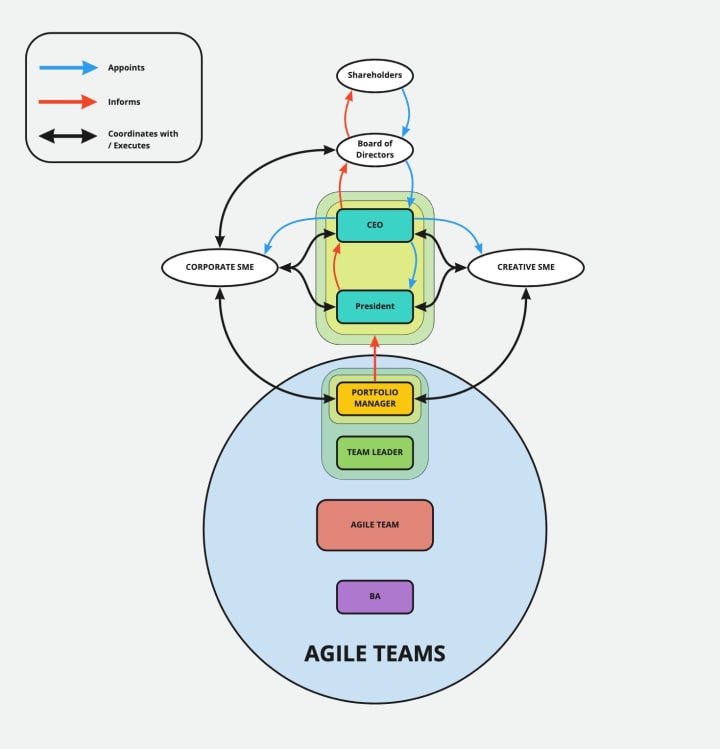 My management team was in a quiet period for the month of March. For publicly-traded stocks, the four weeks before the close of a business quarter is known as a quiet period. During the quiet period, a company's management and marketing teams cannot share opinions, projections, or new additional information about the company.
In addition to working on key financial models during this time, we planned and implemented strategic operational cost cuts for the inevitable rough and challenging period ahead. Nevertheless, our revenue projections remain unchanged, as we are seeing growth in our pipeline of opportunities. To that end, I have authored a more extensive white paper on the strength and positioning of Jerrick and its flagship product Vocal in this new era.
As CEO, I am now running a company awareness marathon that occupies most of my time. Part of this process is filtering through the vast number of contacts that I have amassed throughout my career. It is particularly important at this time for me to be in touch with my network and identify the people and companies that Vocal can collaborate with in the future. Many of my investor calls, whose original purpose is for me to provide them with an update, tend to pivot to discussions of other companies they know of that are in need of a product like the Vocal platform and partners like the Jerrick management team.
Vocal Highlights for 03/2020
1) 50% increase in Vocal accounts MoM, with a 50% decrease in marketing budget.
2) 50% of the Vocal+ upgrades from the freemium subscription are occurring more than 7 days after initial free sign up. This statistic implies that our users find long term value in the product.
3) Multiple days of 325,000 - 375,000 unique visitors, unique visitors (up 15% - 20% MoM) peaking at over 400,000 uniques on March 24, 2020.
4) Vocal for Brands launched 9 Challenges since January 22, including its partnership with Vimeo, the most notable collaboration to date, beginning on March 23.
5) 50% increase in Vocal story submissions MoM, growing from an average of 200 submissions per day to over 300 submissions per day by individual creators across Vocal's communities.
Digital Communities
"The popularity of virtual communities reflects the fact that individuals are using new technologies, such as the Internet, to fulfill both social and economic goals."

—Constance Elise Porter
In her research, Porter explains how individuals use virtual communities to buy, sell, or learn more about products and services. They use virtual communities to discuss shared interests, develop social relations, and to explore new identities. According to Porter, organizations can also benefit from using virtual communities to fulfill business goals. Many have begun to integrate virtual communities into their online strategies in search of the following benefits:
• Increased sales
• Positive word‐of‐mouth
• More effective market segmentation
• Increased website traffic
• Stronger brands
• Higher advertising and transaction fee revenue
A Competitive Look at Alexa Rankings:
Vocal
Alexa Rank (as of 4/7/2020)
Valuation: $30 million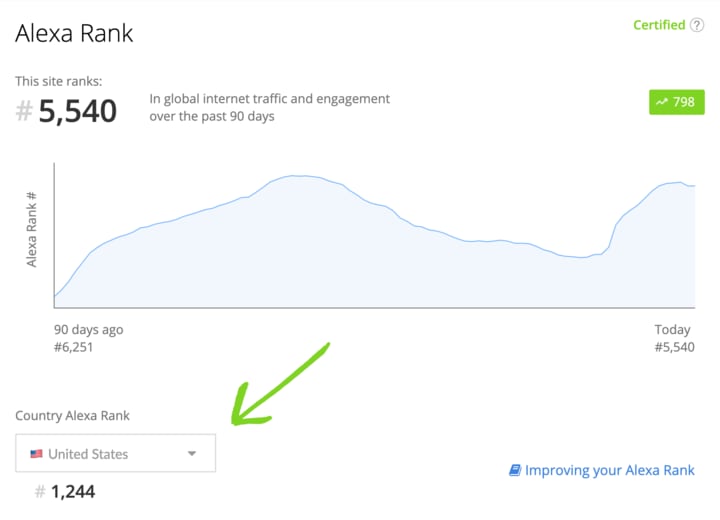 The Alexa score is the foremost indicator of a website's popularity (the lower the score, the more popular a website is). For Alexa's purposes, popularity is essentially quantified by a combination of site traffic and engagement. This definition, of course, is deceptively simple, and I recommend doing some additional reading for a foundational understanding of how Alexa rank is determined and what it can tell you about a website.
Alexa.com has evolved into one of only a handful of reliable sources for website traffic data. Alexa provides the tools most sites need to understand and improve their SEO practices and strategy, as well as to grow their traffic. This past week we reached a record-breaking U.S. Alexa rank of 1,250.
Patreon
Alexa Ranking (as of 4/7/2020)
Valuation: $500 million+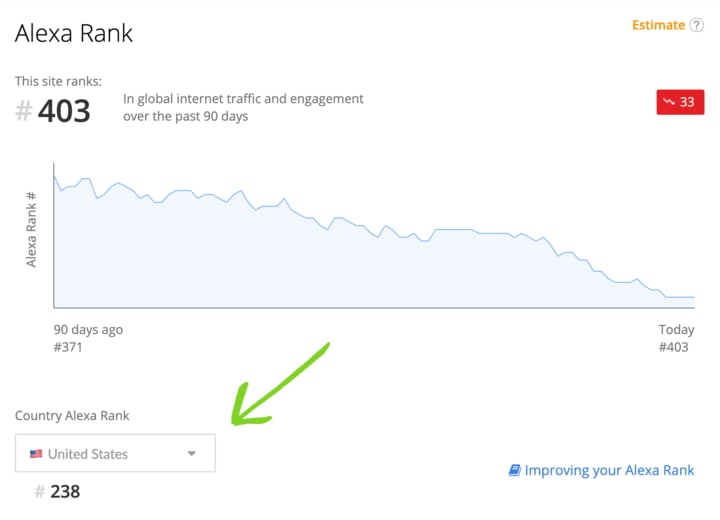 Patreon was co-founded in May 2013 by Sam Yam and musician Jack Conte, who was looking for a way to make a living from his popular YouTube videos. Together, Conte and Yam developed a platform that enables audiences ('patrons') to pay a subscription fee for access to a creator's works of art. Patreon raised $2.1 million in August 2013 from a group of VCs and angel investors. In June 2014, they raised another $15 million in a series A round and then, in January 2016, closed on another $30 million in series B funding. Since 2016, Patreon has gone on to gather another $120 million in funding from two different rounds, bringing the total to $166 million. They have used the funding to focus on greater customization for their creators and international expansion. Patreon was recently valued at approximately $500 million.
Buzzfeed
Alexa Ranking (as of 4/7/2020)
Valuation: $850 million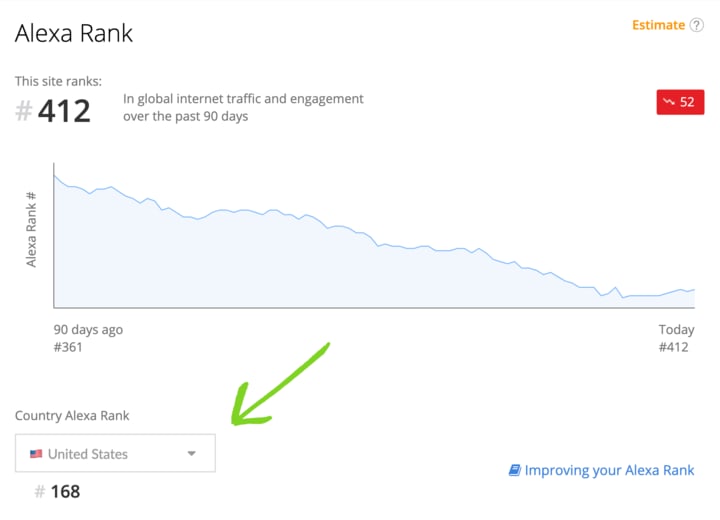 In 2006, while working at the Huffington Post, Jonah Peretti started BuzzFeed as a side project, in partnership with his former supervisor John Johnson. Buzzfeed raised $3.5 million in 2008 through Hearst Ventures and Softbank. In August 2014, BuzzFeed raised $50 million from the venture capital firm Andreessen Horowitz, more than doubling previous rounds of funding. NBCUniversal invested an additional $200 million in 2016 after $200 million in 2015.
eHow
Alexa Ranking (as of 4/7/2020)
Valuation of Leaf Group Ltd. (parent company): $37 million
eHow was acquired by Demand Media in 2006, now known as Leaf Group. At the time of its acquisition it had 17,000 articles and 5.8 million visitors a month. In 2010 and 2011 Google implemented changes to their algorithms, with the intention to reduce the ranking and impact of content farms. These changes led to a 40% drop in traffic to all of Demand Media's portfolio sites. Leaf Group (eHow's parent company) trades under the ticker NYSE:LEAF and has a current market cap of $37 million. eHow is a good acquisition candidate for Vocal, and would make a great addition to the platform's communities.
The Street
Alexa Ranking (as of 4/7/2020)
Valuation of TheMaven, Inc (parent company): $15 million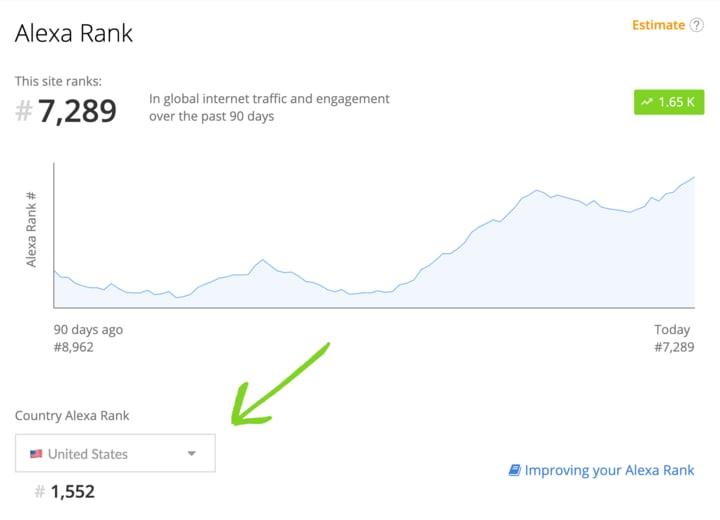 Another example of a site owned and operated by a public company may be familiar to Wall Street veterans: thestreet.com. TheStreet is a financial news and financial literacy website. In April 2013, TheStreet Inc. acquired The DealFlow Report and The Life Settlements Report financial newsletters and the PrivateRaise database from DealFlow Media Inc. The DealFlow Report covers microcap stocks, including initial public offerings and private placements, while The Life Settlements Report focuses on life insurance settlements. In November 2014, the company acquired BoardEx for $22.5 million. TheStreet is a subsidiary of TheMaven, the latter having acquired the former in August 2019 for $16.5 million. It, too, would make a great addition to the Vocal platform.
Vocal for Brands Highlights
From my partner Justin Maury, President of Jerrick and Founder of Vocal.
In this new era, brands are looking for new and disruptive ways to reach their audience. While platforms like Facebook and Instagram continue to see increased traffic and engagement due to the quarantine, consumers are more hesitant to make purchases.
That's where branded content comes into play. In order to survive this uncertain time, brands need to connect with their consumer through storytelling, which builds affinity, education, and most importantly, trust that nurtures conversions.
For Marketers, Branded Content Serves A Unique Role In The Mid-Funnel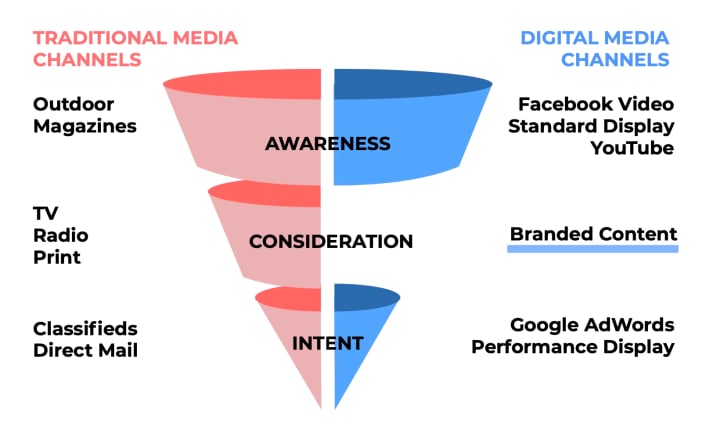 For years, Facebook and Google have been telling brands and agencies that the mid-funnel does not exist. "Buy ads efficiently at the top of the funnel and convert people at the bottom."

The mid-funnel does exist, and plays an important role in a marketing strategy.

Publishers are really well positioned to increase consideration, preference, interest, and engagement with branded content for marketers.
Vocal for Brands has uniquely positioned itself to help brand partners optimize their ROAS (Return on Ad Spend) through this consumer journey funnel. Here's how:
1) We provide brands with non-interruptive, creator produced stories, which are designed to connect with their target audience and guide them through the consumer journey funnel.
2) We reach that audience by pairing and segmenting our first-party data from organic content consumption with third-party platforms, such as Facebook and Instagram, to maximize the campaign's targeting and distribution.
Since inception, Vocal for Brands has and continues to use this methodology to provide growth for DTC brands like Lull, Daily Harvest, and hims, to name a few.
Core to Vocal for Brands mission is to find non-invasive ways to connect brands with their audience. That's why we released Challenges, a way for creators to produce Vocal stories around a brand's objective.
Since launching this feature on January 22, 2020, we have released nine Challenges. Most notably, we released Pay It Forward in partnership with Vimeo, the world's second largest video hosting platform.
Vimeo came to Vocal for Brands looking for unique ways to introduce Vimeo Create, a new quick and easy to use video-maker for high-impact social videos for small businesses. Together, we launched a campaign that asks creators to embed their Vimeo Create videos into a story on Vocal that highlights a small business. Not only does this provide Vimeo with new users and increased feature adoption, it also allows us to support small businesses during these turbulent times.
Seller's Choice Highlights
Similar to Vocal for Brands' targeted partners strategy, the direct to consumer agency business has seen exponential opportunities from within Jerrick's network. Seller's Choice is in a particularly interesting spot.
The crisis has moved almost all shopping online. Seller's Choice's service offerings are in demand. Providing front-end information solutions for e-commerce brands, especially those in the early stages of development, allows us to implement Amazon marketplace strategies, SEO content, and more effectively provide solutions to tackle existing and new client's pain points.
Recent new Seller's Choice clients include:
Huffy Corporation: The largest manufacturer of bicycles in the world.
Sanara Skincare: Plant-based skincare celebrating indigenous Latin American botanicals.
Maison Palo Santo: A boutique fragrance company, specializing in Palo Santo candles, wood, fragrance and sprays.
JMDA Stock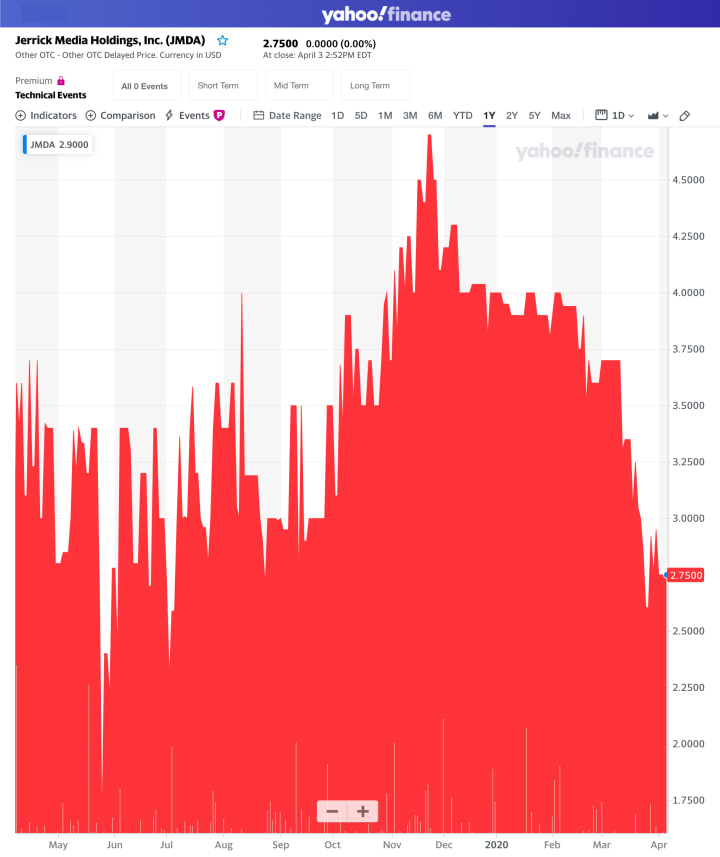 Our stock price moved toward the lower end of its 1 year trading range. Clearly with our potential uplisting in the spring, I would prefer our stock trade above the $4 threshold required by the exchange, but we are a ways to go from that moment. I am more focused on revenues and growth at this critical time, which will ultimately determine stock price in the months to come.
My Vocal story, A Microcap's Guide to Uplisting, may help explain the regulatory and approval process the company is undergoing. I have given public guidance on our first quarter, and the second quarter pipeline is even larger. As I have said publicly, our stock price at these current levels far from reflects the inherent value of our technology and the executive management team's execution capabilities.
Stock Watch
We watch a number of stocks for strategic opportunities as well as for the purposes of general observational and comparative analysis. These stocks and their respective management teams are discussed as part of our regular business development and corporate finance meetings.
Success in business today is as much about networking as it is knowledge. While some of the below companies relate fundamentally and directly to our company, others have less in common but experience technically similar issues in the broader business world from financing to culture.
Spotify (NASDAQ: SPOT)
Etsy (NASDAQ: ETSY)
Slack (NYSE: WORK)
Upwork (NASDAQ: UPWK)
Leaf Group (NYSE: LEAF)
Blue Apron (NYSE: APRN)
Enthusiast Gaming (OTCQB: ENGMF)
Chicken Soup for the Soul Entertainment (NASDAQ: CSSE)
Wizard Entertainment (OTCQB: WIZD)
Genius Brands International (NASDAQ: GNUS)
Enthusiast Gaming Holdings Inc. (TSE: EGLX)
Venus Concept Inc. (NASDAQ: VERO)
ChannelAdvisor Corporation (NYSE: ECOM)
Mohawk Group Holdings, Inc. (NASDAQ: MWK)
Cinedigm Corp. (NASDAQ: CIDM)
As always, for regular updates please follow me on LinkedIn as well as the company's other social pages:
Jerrick
LinkedIn: https://www.linkedin.com/company/jerrick-media
Twitter: https://twitter.com/JerrickMedia
Facebook: https://www.facebook.com/JerrickMedia/
Vocal
Instagram: https://www.instagram.com/vocal_creators/
Facebook: https://www.facebook.com/VocalCreators/
Twitter: https://twitter.com/Vocal_Creators
LinkedIn: https://www.linkedin.com/company/vocal
Reader insights
Be the first to share your insights about this piece.
Add your insights