The Four Best Plagiarism Detectors
Because no plagiarism detector is perfect.
If you're a writer, you know how important it is to check for plagiarism. Plagiarism is illegal, and the consequences can include:
Destroyed student reputation
Destroyed professional reputation
Legal repercussions
Monetary repercussions.
Many websites check for plagiarism; some are better than others, and some are best for checking certain types of writing. I'll talk about the best plagiarism detectors I've used in this article.
Copyscape
Copyscape is a cloud-based plagiarism tool that lets you search for plagiarism and find different content instances. It can be used in a variety of ways. If you want to see how similar something you've written is to a specific web page, you use their free comparison tool to compare what you've written to the web page - just paste your text in the first box, and the URL of the web page in the "enter a URL" field on the right: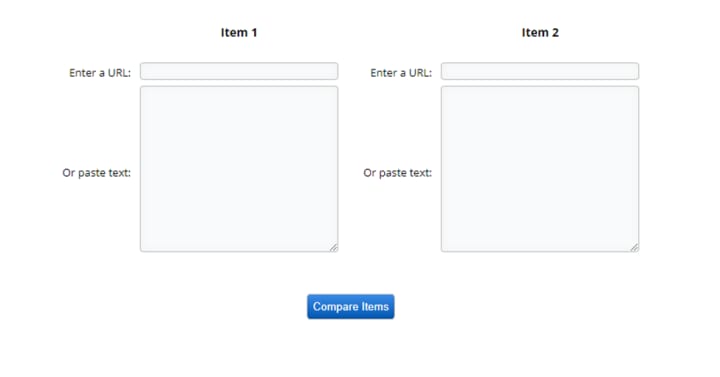 On the next page, you'll see the similar text instances highlighted - then you can go and change what you've written so it doesn't match the web page.
The second way you can use it is to create a Premium account and add credit. This lets you check as many words as you want against all the different sources on the Web.
In most cases, Copyscape shows you a copy of the web page and highlighted plagiarized text so you can correct your article or blog post. This costs money, and you will have to reload your Copyscape account when it gets low. If you write a lot, this gets expensive.
Grammarly
If you have a Grammarly premium account, Grammarly also has a plagiarism checker. It's not as good as Copyscape, but depending on your client or your teacher, it may be good enough if you're a student.
To run Grammarly's plagiarism checker, all you have to do is choose "Plagiarism" on the bottom right, and Grammarly will check for plagiarism, underline the plagiarized phrases, and show you what percentage of your text is plagiarized:
Plagiarismdetector.net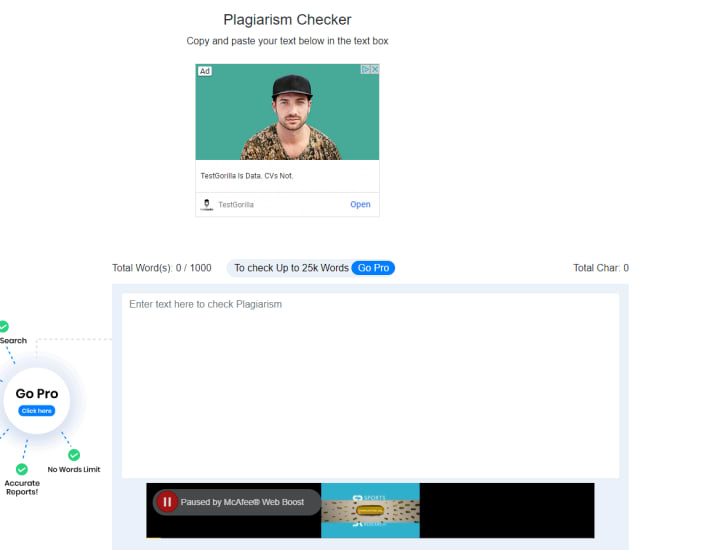 This one is free for articles, blog posts, or papers of up to 1000 words. However, if you have anything longer than that, you'll have to create an account. This one could be a good value if you think you'll be doing a lot of plagiarism checks - an enterprise account costs $20 a month, and lets you check up to 72,000 words. You'll have to buy an add-on if you want to check more than that.
I like this one because it shows you which text is plagiarized and what percentage of your text was found in each source. You can also download your reports if you want to.
Plagiarism Detector also has text compare, grammar check, and paraphrase tools.
Small SEO Tools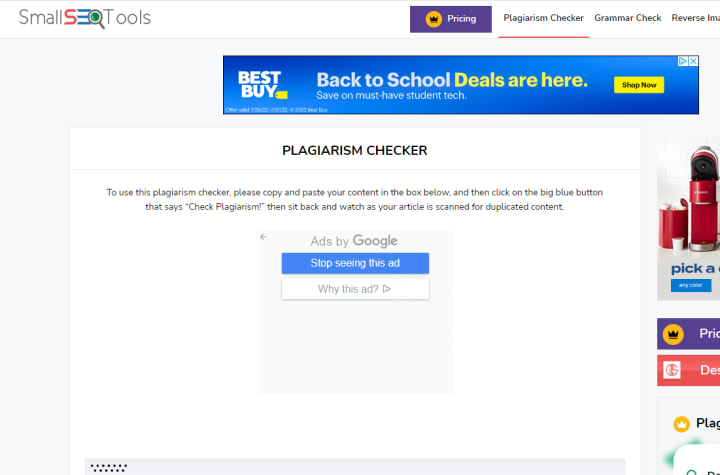 This one is also free for articles, blog posts, or papers of up to 1000 words. It shows you what percentage of your article is plagiarized, which parts are plagiarized, as well as other interesting statistics, such as your longest sentence, average sentence length, number of unique words, number of difficult words, average sentence length, syllables per word, and number of paragraphs.
If you choose to, you can upgrade to a premium account. Their premium accounts start as low as $9.80 per month for 25,000 words, and go up to $59.80 per month for 160,000 words for their basic packages.
IAPWE Plagiarism Checker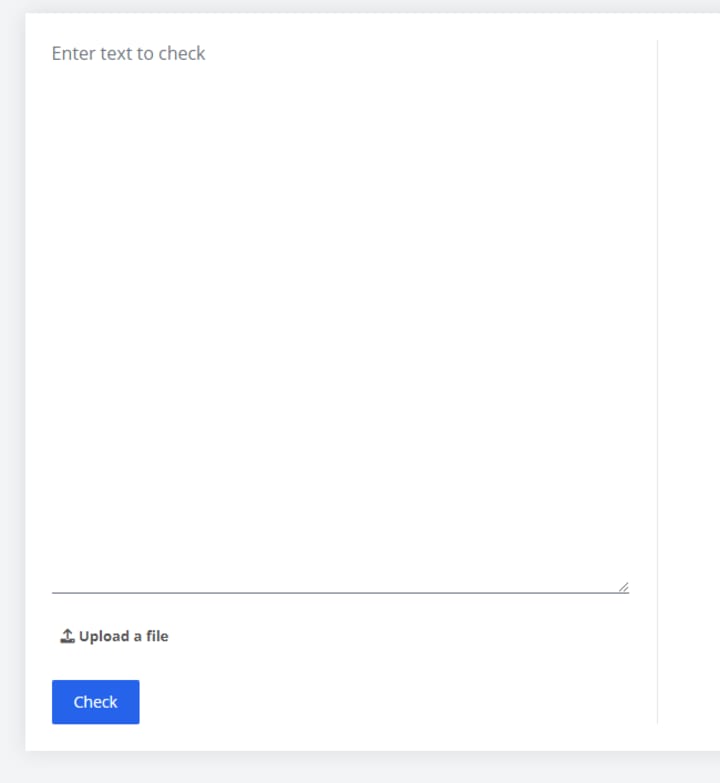 If you're a member of the International Association of Professional Writers and Editors, they also have a plagiarism checker you can use to check up to 1000 words at a time.
I believe it's similar to, if not the same as, Copyscape's plagiarism checker. If you have a membership, this could help you save some money on plagiarism checks through Copyscape and the other resources mentioned in this article.
Which plagiarism detector should you use?
That depends on your budget and your client's preference if you write for private clients. I suggest using a few plagiarism checkers because they all find instances of plagiarism.
I have a Copyscape premium account and an IAPWE membership, but I also have a Grammarly premium account because some of my ebook clients use it. I've also used both the free and paid versions of Plagiarism Detector and the free version of Small SEO Tools.
Those are the best plagiarism detectors I've found, but they're not the only ones out there. If you search for "free plagiarism checkers" on Google, you'll find many of them, including most of the ones mentioned here. The only one you won't find listed is the last; it's only available to International Association of Professional Writers and Editors members.
advice
About the author
I started writing in elementary school and haven't stopped since. I love to write about my life experiences and the hard lessons I've learned from them, as well as some of the life hacks I've discovered. I love tips for great work.
Reader insights
Be the first to share your insights about this piece.
Add your insights