The Art of Thinking Together
What the Talmud can teach us about collective intelligence and effective teams.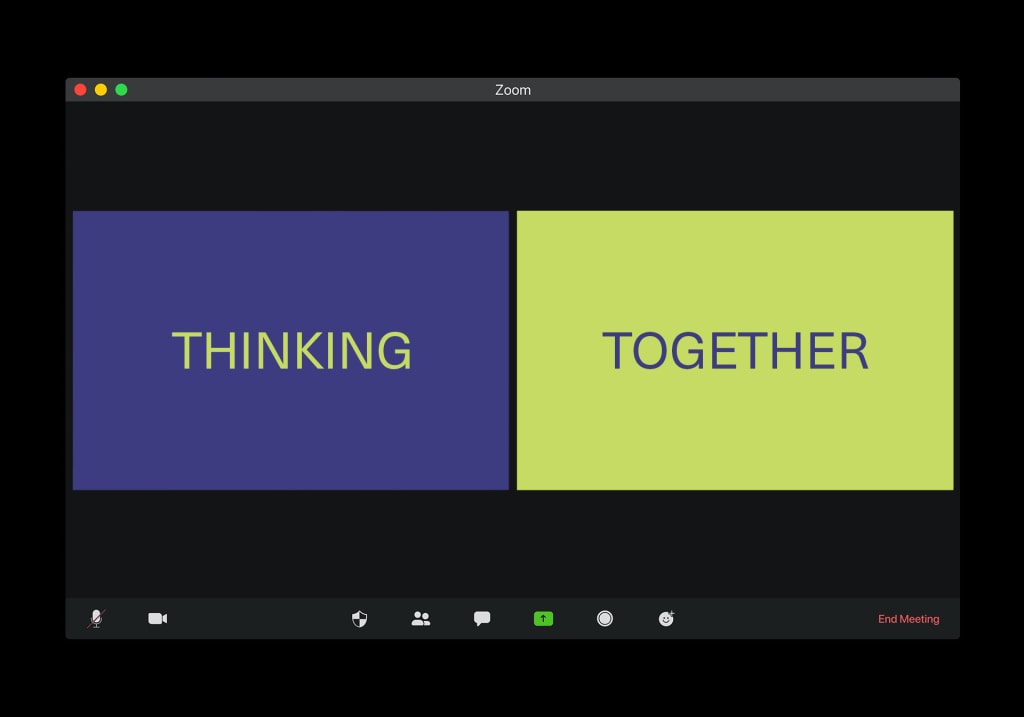 The Talmudic Way
As most of you reading this fall into the category of potential or current investors, friends and family, or creators on Jerrick (JMDA)'s platform Vocal, I wanted to share some insight into our team's current focus and perspective. As both a growth and value company, we are laser focused on the future. But curiously enough, the theme of this week's update is grounded in a theory of knowledge that dates back many centuries.
From a young age, my father instilled in me a deep appreciation for the art of debate through the lens of the Talmud, that being the central text of Rabbinic Judaism and the primary source of Jewish religious law and Jewish theology. While the Talmud contains the foundation for much of halakha, or jewish codex/law, much can be learned from it that has nothing at all to do with being religiously inclined–even the very format of the Talmud offers a lesson to be learned. One might assume that a text so fundamental to practical Jewish law would be most useful if it was a clear documentation of those laws, no different than any other legal code throughout history. And yet, that's not what the Talmud does (we have the Mishnah, another big book of codex, for that).
The Talmud is much less a definitive book of Jewish Do's and Don'ts and much more a springboard for deep discussion, rabbit holes, reflection, and most importantly, debate. The text is not centered around the 'final verdict' on any given topic; rather it's an account of the entire discussion that led up to the final verdict (a discussion that often spanned centuries). For each law discussed, the Talmud deep dives into the heated debates that took place on that matter, and the many differing opinions that were proposed, however outlandish. As the esteemed Rabbi Dov Linzer explains it:
The Talmud is really about the conversation and the conversation never ends. It is a distillation not just of oral law, but also the debates and disagreements about those laws—with different rabbinic sources occupying a different space on the Talmudic page. Mixed in with it all are folk stories and jokes.
In this context, it makes sense that in the Eastern European yeshivas (i.e. religious institutions) of the 19th century, the search for knowledge was decidedly a communal one. It was typically financed and managed by the community. Usually, the yeshiva was directed by the rabbi of the community (their version of a CEO). The never ending debates on what the Torah meant or didn't mean, and how to apply its laws practically, took place in the main library of these learned institutions called the 'beis medrash.' The beis medrash means 'house of learning' in Hebrew and was the main study hall in the institution. I often remark that Jerrick's office (and right now, our Zoom meetings) is really not much different than a beis midrash. It's a place where opinions and arguing are encouraged, and actually an instrumental part of our collective learning.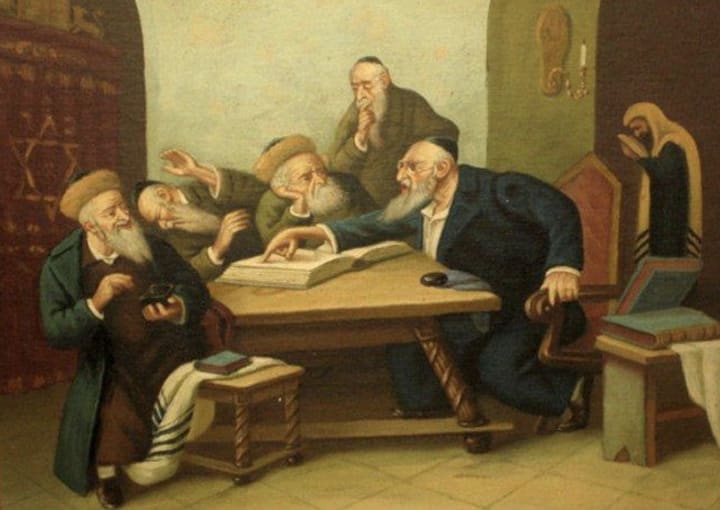 The culture of the beis medrash was similar to the one we read about in the Talmud—learning traditionally takes place in pairs called a 'hevruta' in Hebrew and, in fact, the Rabbis explicitly frown upon individual learning. Their reasoning was that individual, or siloed, learning lacks the accountability that is inherent in group work. At our company, each employee has a 'backup' who has the knowledge to support and question their peers. If an employee operates as a lone wolf, or a Talmud student learns the laws by themself, there is no check and balance, no one can tell the learner that their interpretations and takeaways are wrong or right, illogical or backward. The point is that the evolution of Jewish law was messy by design; the process was not without drama, but was always effective in advancing the collective both ideologically and substantively.
While much of my youth is a blur (as many say the 1970s was) I still can remember being in awe of the great debates of the Talmudic scholars, the codices they interpreted, and, most importantly, the power of the collective intelligence that enabled the creation and documentation of the meticulous details in book after book.
They didn't have a name for it back then, but it appears to me these students of Eastern Europe were early adopters of the culture that Jerrick embodies today—an agile team fueled by collective intelligence. Jerrick's culture has always been Talmudic in nature, logical and transparent. The group welcomes diversity, demands collective thinking, and puts the interests of the team ahead of our personal, often short-term agendas. We debate, we experiment, and when we find something that works, we codify it. It's an age old process, and one that paves the path to scale and success.
Deep Bench
I've written on a number of occasions about Jerrick's core team, which has worked as a unit for many years. My partner, Justin Maury (Head of Product and President of Jerrick) and I have worked together since Jerrick's inception nearly 7 years ago. The rest of our Management Committee includes Robby Tal, who functions as our de facto CIO, and Danielle Banner, who sits in the de facto COO's seat, as well as Chelsea Pullano, who acts as de facto CFO. Gina Callea functions as our Committee's Chief of Staff. This is an eclectic group who have been loyal to the company and to each other for numerous very eventful years of Vocal's ideation, development, launch, and growth.
Our Management Committee manages an internal army of well-trained lieutenants, all of whom come from different educational backgrounds, experiences, and walks of life. Much like the Talmud, there's no shortage of diversity of thought. Careers are built at companies like ours, and watching this particular team mature and evolve is one of my career's great successes.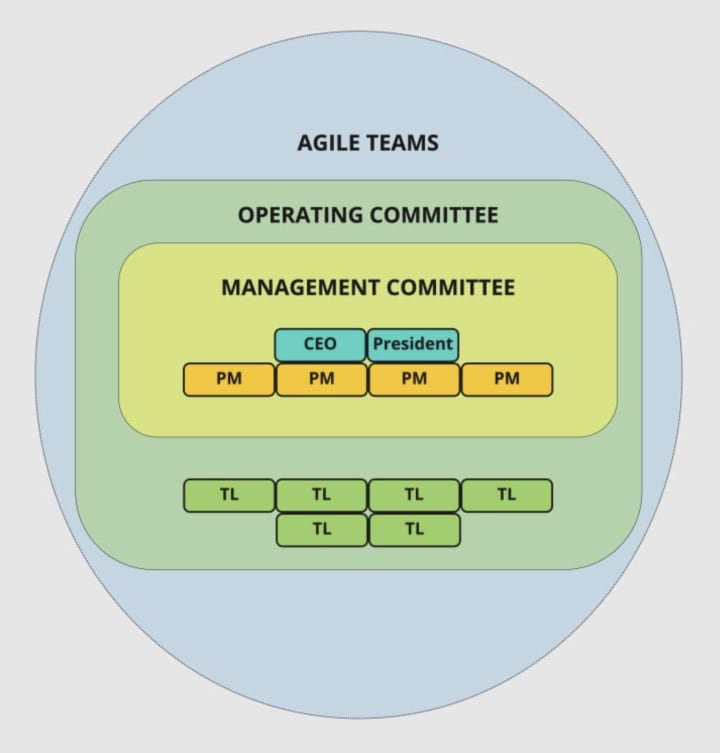 Our team is so strong because each one of us is aware of our weaknesses as well as our strengths, and we respect and defer to each others' proven skill sets instead of letting ego take hold. I am as inspired by what the others have to add to my initial visions as I am humbled. More often than not, for any nascent idea I raise to the team (and there are many), the final product is many deviations from where it started, and by that I mean that it is much, much better.
Acting As a Collective
Risk is best taken when it's shared among a collective, so that individual inputs are weighted for credibility and core values create a check and balance. This works to protect us against what is one of the first and most important 'rules' I learned as a trader on Wall Street: Never take a risk today that could put you out of business tomorrow.
Identifying that inflection point often falls to me, the CEO, to determine, but I rely heavily on the knowledge of the collective to help me weigh risk and steer my decisions. There is great power in the collective and, more broadly, in numbers, to a degree. For us, that internal team maxes at 40-50 people running a business that I predict will reflect a future company valuation of in excess of $1 billion. That is our team's collective aspiration.
More recently, our collective has been spending some time considering the requirements to reopen and bring back our 23 employees, as well as make approximately 7 additional hires. In the months and years to come, unemployment will be the toughest problem for society to overcome. The loss of jobs we're seeing right now, and the pace they're being lost, is its own black swan event. I expect, and hope, that this is a good opportunity to recruit some more exceptional, hungry individuals to add to our roster and increase our collective intelligence and capabilities.
More On Technology
It is in reimagining the world politically, socially, and economically that we are revealing major structural weaknesses in American society. There is a diminishing trust in the capacity of the US government to respond effectively to these challenges it faces. That responsibility is falling on the private sector and local government. We are seeing multiple dimensions of the ideation of our new world, particularly in the technology space.
• Peloton last month said it held its largest class ever, with more than 23,000 people streaming it from home. This is nothing short of game-changing, as it foretells of a collective reimagination of health and fitness in society.
• Google recently issued an updated policy stating that employees cannot expense 'perks' while working from home, including food, fitness classes, home-office furniture, decoration, or gifts. We can extrapolate from this that the culture of overly-generous company perks that have become the norm for many tech companies over the last decade are being phased out in the foreseeable future. The financial impact of the pandemic is ushering in a new era of cost cutting and emphasis on austerity, setting the tone for how Silicon Valley culture will be perceived for years to come.
• Companies like Apple, Facebook, and Alphabet did not envision pandemic response platforms. Given the emphasis over the last few years on data and privacy, these companies did not expect that they'd be tasked with figuring out how to track movements of individuals for the collective good of society. Four months ago, this would have seemed counterintuitive.
The technology space in general is witnessing a level of radical change not imagined since Sir Tim Berners-Lee invented the web in 1989.
Climbing the Mountain
Rahm Emanuel, who was Chief of Staff to President Barack Obama (and former Chicago mayor), once famously counseled:
"Never allow a good crisis go to waste. It's an opportunity to do the things you once thought were impossible."
It's become quite evident that Jerrick's flagship technology platform, Vocal, is in the best possible position for the type of changes the tech space and society in general are now facing. Sales and profits for countless businesses have fallen off a cliff, forcing companies to lay off more workers and slash investment in their R&D. At the same time, Jerrick is finding that its platform and resources offered to creators are more valuable than ever. Vocal is there to give a voice to anyone with something to say, and to give the people a chance to monetize their creativity. I believe we're filling an essential need—and our increasing creator and audience metrics are a testament to that fact. At the same time, we keep getting better at audience targeting and have refined our client offerings and increased efficiencies in our sales process. We are seeing continuous growth in our creator community and in the wealth of content that those creators are contributing. We are not falling off the cliff, but climbing a mountain.
Challenge Update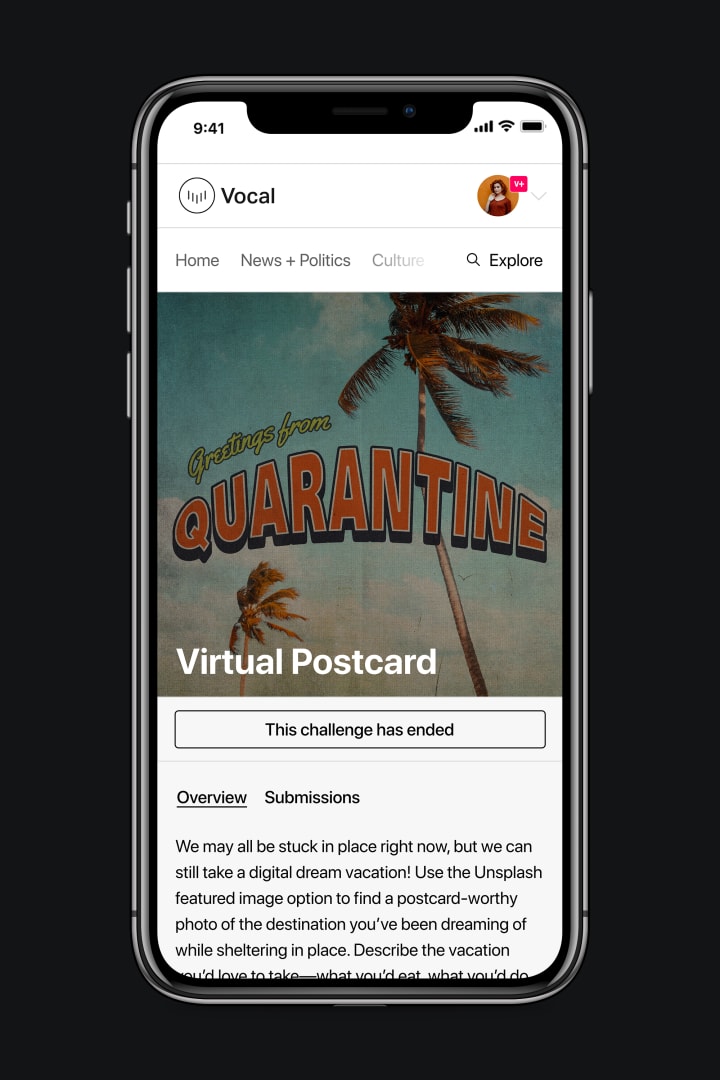 Our most recent product update, Challenges, continues to prove to be a valuable outlet for our creators. It helps them stay engaged with their community while in isolation, and gives them extra opportunities to fund their creativity. Weekly Challenges, exclusive to Vocal+ members, is also proving effective in terms of incentivizing Vocal+ subscription sign ups and galvanizing our community to participate and compete in these contests—not to mention that it supports Jerrick's revenue model and growth potential.
This week, we wrapped up our Virtual Postcard Challenge, where we asked creators to take us on a digital vacation to their dream destination. Thank you to those you participated, and a huge congratulations to our winners:
1st place: Who Could I Be In Paris? by Zoey Hickman
2nd place: I Left My Heart in A Provincial Town by Lauren Baer
3rd place: Life Four Months Ago by Hannah B
As we continue to launch more Weekly Challenges, we continue to be impressed and inspired by our Vocal+ community. It's been really great to see more and more creators participating in these and sharing stories outside of their comfort zones. We always want Challenges to be an additional way for creators to express their creativity and get rewarded.
This week, we asked our Vocal+ members to tell us what they have planned for their first day post-quarantine in our Better Days Challenge. We already have some great Challenge entries, which you can read here.
Additionally, we launched the ICYMI Challenge, which will be live for six weeks and open to our Vocal+ community. Here, we're seeking recommendations for the best underrated shows that everyone should be watching. We can always count on our creators for the best tips and advice so we're sure that by the end of this Challenge, our whole community will have dozens of new shows to occupy them.
JMDA Q2 2020 Investor Presentation
In the spirit of enhancing communications with our investor and creator community, we are thrilled to release our newly updated Investor Presentation, which focuses specifically on the Vocal platform and the power of its proprietary technology. The presentation summarizes all that we've been working toward for the last 5+ years, including our "Virtuous Revenue Cycle," our brand marketing and production capabilities, and the wide-ranging applications of Vocal's technology. With Jerrick on the precipice of an exciting new chapter, I encourage you all to review the presentation and reconstitute your understanding of Vocal's immense value proposition and long-term strategic direction.
On a personal note, I want to thank all my employees for their work ethic, dedication, and contributions to the collective. Our Management Committee is looking forward to all returning to our office as soon as circumstances allow, and continuing to grow our culture and advance the Company's mission.
As always, for regular updates please follow me on LinkedIn as well as the company's other social pages:
Jerrick
LinkedIn: https://www.linkedin.com/company/jerrick-media
Twitter: https://twitter.com/JerrickMedia
Facebook: https://www.facebook.com/JerrickMedia/
Vocal
Instagram: https://www.instagram.com/vocal_creators/
Facebook: https://www.facebook.com/VocalCreators/
Twitter: https://twitter.com/Vocal_Creators
LinkedIn: https://www.linkedin.com/company/vocal
Reader insights
Be the first to share your insights about this piece.
Add your insights