Step-by-Step Guide to Becoming a Licensed Practical Nurse!
Guide for Licensed Practical Nurse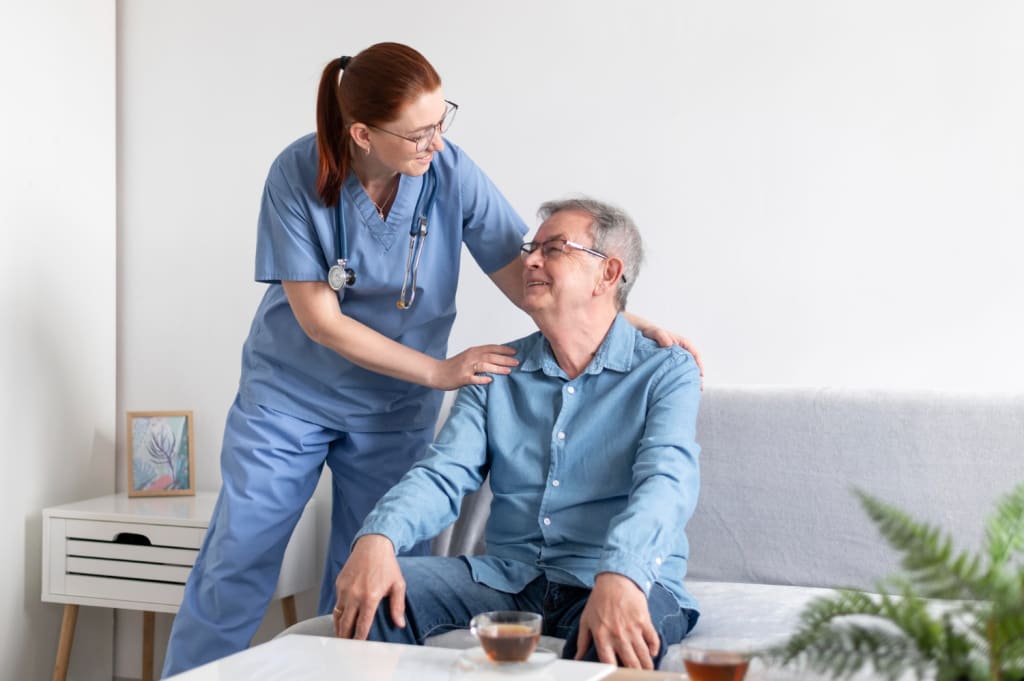 Image by freepik from Freepik
If you are deciding to become a practicing nurse, one of the first choices is what kind of nurse you want to be. The practical nurse or vocational nurse route is an entry-level option that various aspirants choose to start with a healthcare career. Practical nurses perform basic patient care responsibilities and help keep patients comfortable during the treatment. These professionals work under the supervision of registered nurses (RNs) and various other healthcare professionals.
So, if you're looking to start working as a nurse within a short duration without spending much money, enrolling in the practical nurse (PN) program could be the perfect path for you.
Continue reading to learn more about working as a PN and how one can become one.
Job responsibilities that PN performs –
Practical nurses' work centers on direct patient care. Some essential hands-on duties that practical nurses can perform include;
Helping with ADLs.
Measuring vital signs.
Dressing wounds and changing the dressings of patients.
Inserting catheters.
Documenting care.
Communicating among the multidisciplinary team.
Providing simple patient instructions.
Assisting other healthcare professionals with minor procedures.
In some places, PNs can help with more complex procedures, such as delivering babies, administering the prescribed medications, and giving more comprehensive education to help with patients' at-home care. No matter where PNs practice, they work under RN supervision to ensure they comply with patient care plans, and inform RNs or physicians regarding any changes, or complications.
Various steps to become a licensed practical nurse –
To become a practicing nurse. First, an individual must graduate from an accredited practical nurse (PN) program, and second, they must pass the NCLEX-PN exam.
Below, we will discuss the primary PN requirements for licensure, along with the intermediate steps one needs to take to prepare to become a licensed practical nurse.
Completing the prerequisites –
A practical nursing training program requires a high school diploma or GED (a high school equivalency diploma) for admission. Other requirements may include a minimum high school GPA, previous healthcare training, a first aid course, and a CPR certificate. Some schools may also need a letter of endorsement from a current LPN, doctor, or healthcare professional. In rare situations, a practical nurse (PN) program prerequisites may include some college-level classes before enrolling in this training program.
Before applying for an LPN program, basic science courses such as biology, chemistry, anatomy, and math are also recommended. Entering the LPN training program with strong basics in math and science can help you succeed in your training program, and these subjects can prepare you to handle the basic lab procedures, including lab safety, data collection, analysis, and patient care.
Passing the TEAS exam –
Though not every practical nurse training program has testing requirements for its applicants, some basic testing is common. The Test of Essential Academic Skills or TEAS is a common exam used by allied health programs to regulate a student's basic science, math, reading, and English proficiency. This exam is designed to determine the preparedness of aspirants entering the health science fields. Aspirants whose scores fall below a minimum level are customarily asked to take remedial classes before applying for this training program.
Completing a certified LPN training program –
The education requirements that one needs to possess to become a licensed practical nurse are fulfilled by completing an LPN diploma program. This training program is customarily offered in various vocational schools, community colleges, and private colleges. The training program must be approved and accredited by the Board of Nursing in your state. This training program may take one to two years to complete but tends to be shorter, so it is realistic to plan for 12 months of full-time study to graduate.
This training program customarily includes both supervised clinical practice and classroom study. A student studies various subjects during this training program, including patient care, anatomy and physiology, pathophysiology, pharmacology, and other nursing topics. Apart from this, the program also covers education certification and orientation to current legislative and regulatory affairs.
Passing the NCLEX-PN exam –
Once you have completed an approved training program, sign up for the NCLEX-PN exam. Here are a few facts that one needs to know about the exam;
The National Council of State Boards of Nursing (NCSBN) develops and conducts this exam in various vocational schools, community colleges, and private colleges digitally.
One must pay a registration fee of $200 to take this exam. In addition, your state may charge you an additional state licensing fee for this exam.
In case you fail to pass the exam on your first try, you can retake it, but you need to wait a couple of months.
Starting your career and continuing learning –
Once you have passed the national licensure exam, you can apply for the PN job roles to start your licensed practical nurse career. The training that you received in your practical nurse (PN) program is designed to help you get started in the healthcare field and provide you with the desired knowledge essential to excel in the entry-level nursing position. Licensed practical nurses typically receive ongoing training throughout their careers and may use the nursing experience they have gained as an LPN to help them advance their education.
So above mentioned is some information on how one can become a licensed practical nurse in MI. If you are searching for the best training institute to enroll in the practical nurse (PN) program, consult the career expert team at Abcott Institute. Call (248) 440-6020 to consult with their professionals to know more about the training courses they offer.
Reader insights
Be the first to share your insights about this piece.
Add your insights