Star Investor Cathie Wood Suffers a Huge Blow
She is the guru of new tech and biotech trends.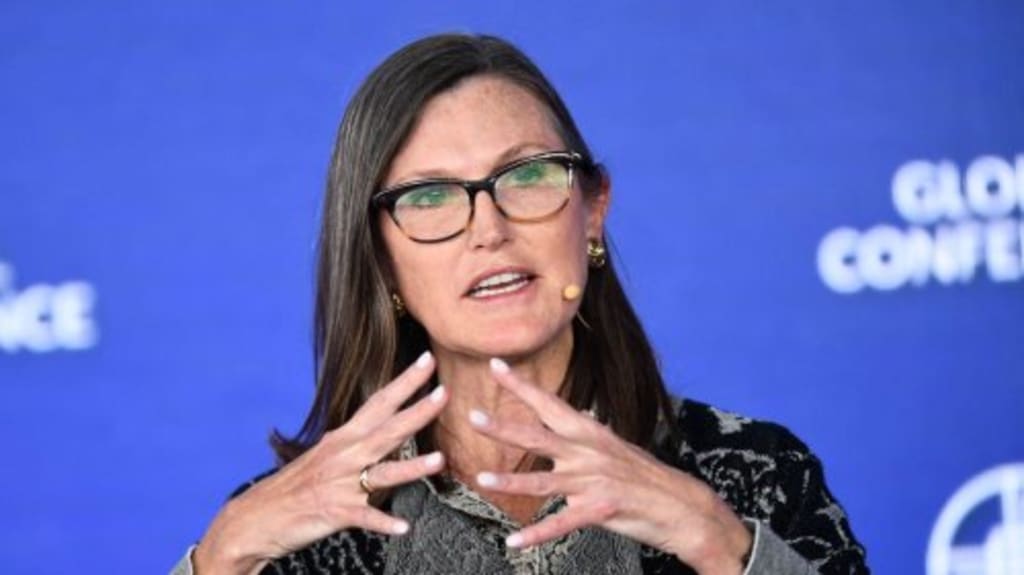 She is the guru of new tech and biotech trends.
Ark Invest CEO Cathie Wood is the one who is supposed to unearth the new tech company that'll break through to become the Next Big Stock. By entrusting their money to her flagship Ark Innovation ETF (ARKK) – Get Free Report, investors rely on Wood's instinct for the new tech golden nugget.
Wood, for example, is one of the most bullish investors in Tesla (TSLA) – Get Free Report, whose share she expects to reach $3,000. That's about 15 times the electric-vehicle producer's current trades around $201.
But for Wood, the Cybertruck, the first pickup from Elon Musk's group; the future fleet of autonomous taxis; the full-self-driving assistance system that makes Tesla vehicles partly autonomous; and new low-cost models targeting the 80% of consumers who are still strangers to Tesla will change the game and support her bet and her ultra-ambitious predictions.
Earlier this year, Wood, who is also a crypto evangelist, renewed her prediction that the price of bitcoin, the most popular cryptocurrency, will hit $1 million. The digital currency is currently trading at around $27,100.
On Nov. 10, 2021, bitcoin touched $69,044.77, its all-time high. Since then, it has been caught in the so-called crypto winter, a period of prolonged price declines in the cryptocurrency industry.
ARKK Misses the Nvidia Surge
These two examples show how the financier, who is on the hunt for the new tech treasure, is sticking to her bets. But this reputation has just taken a huge hit and has earned Wood intense criticism in the past few days.
Indeed, the financier and her flagship fund have just missed the spectacular stock market surge of the graphics-semiconductor manufacturer Nvidia (NVDA) – Get Free Report. The stock's market capitalization touched the symbolic threshold of $1 trillion on May 30.
Nvidia had closed a nightmarish 2022 with a market value of around $361 billion. Its market cap is currently $991 billion, after briefly exceeding $1 trillion. Nvidia gained $630 billion in market value in five months.
The problem for Wood is that she missed the euphoria around Nvidia because ARKK in January sold the 37,000 shares it still held in its portfolio.
Wood's flagship fund gradually sold off its Nvidia shares. As of March 2019, ARKK held more than 2.3 million Nvidia shares, according to FactSet. If ARKK had kept this position, it would currently be valued at $802 million.
if ARKK had kept only the 37,000 shares it held at the beginning of 2023, they'd still hold significant value. At the start of 2023 the 37,000 Nvidia shares were valued at $5.4 million. At Nvidia's closing share price on May 30, that stake would have been valued at $14.8 million. Nvidia stock has more than doubled (up 174.5%) this year.
What is also striking is that Wood failed to anticipate the revolutionary breakthrough in artificial intelligence and how Nvidia will play a central role in it.
The AI ​​revolution, powered by what is known as large-language-model technology, is shaking up nearly every economic sector. The belief is that AI will cut significant corporate costs, create jobs that did not exist and kill many existing jobs.
AI took the world by storm last November after the startup OpenAI unveiled ChatGPT, which provides human-like responses to even complex requests and has changed the way internet search is perceived.
The chatbot showed that artificial intelligence has reached a point where technology can perform certain tasks much better than humans can.
Read more - Firenewsfeed
Reader insights
Be the first to share your insights about this piece.
Add your insights