Six Types of Digital Content You Can Use to Boost Your Business
How can you ensure your business is reaching an audience beyond playing the Google game? Below are six types of digital content you can use to boost your business.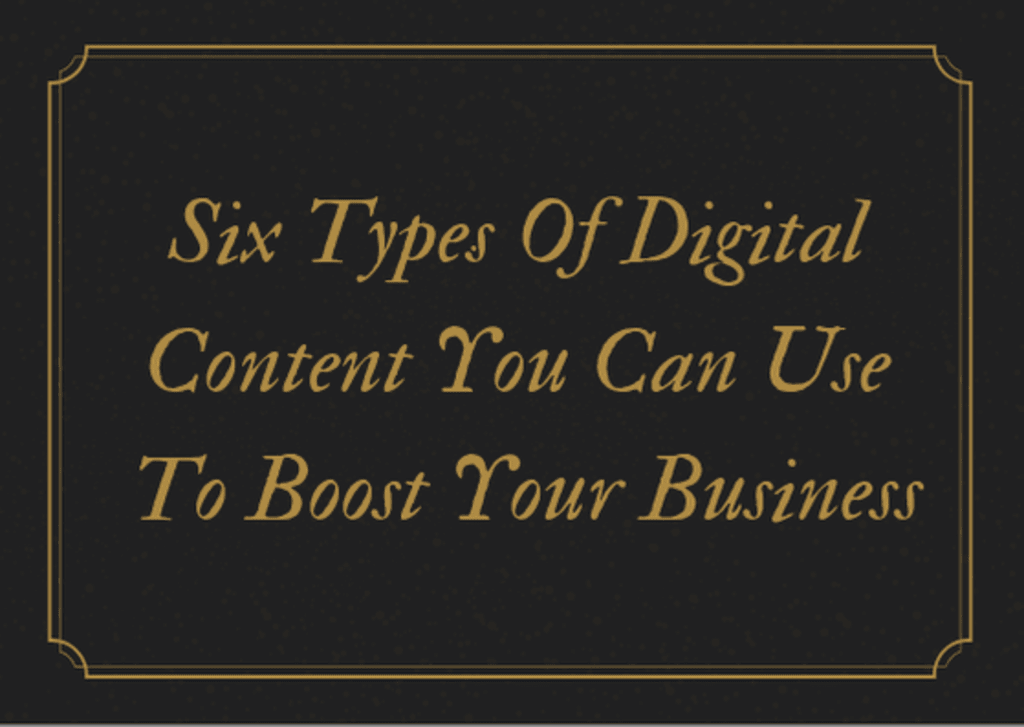 With the wealth of search engine marketers and optimizers, how can you ensure your business is reaching an audience beyond playing the Google game? Below are six types of digital content you can use to boost your business, drive growth, and create customer contentment.
Videos
Videos are the most immediate, obvious, and perhaps the most effective of all digital content types.
They can be slick, artistic, or documentary style. They provide a window into a moment of time, and they help customers feel like they know your business more intimately. An effective video can be costly, but it's something that comes with a whole host of benefits.
A well-made video looks professional, and gives a voice to your business. It is easy to share and disseminate across digital media, and it provides a talking point. It's a medium with an almost infinite set of possibilities.
Infographics
Another highly-visual form of content is the infographic. An infographic combines a written, informative element, with an illustration to present information in a more compelling, easy to digest manner. Some examples of infographics include graphs, charts, and tables. The form is even experiencing a new level of artistry with many renowned graphic artists creating comic book style drawings for this purpose.
Infographics are shared easily across social media platforms—they're able to be read quickly and passed on in order to achieve maximum impact, like Instagram for business tips, in such a way that would also help to you boast your sales. They're often the content of choice for Twitter users or other social mediums with a word limit.
How-To Guides
There has been a proliferation in the amount of "how-to" guides available on the internet—all of varying quality and price. If your business is in a specialized field or is able to demystify usually complex information, you're in a position to create an excellent "how-to" guide.
A good "how-to" guide will be accessible, easily translated, and presented with a minimum amount of jargon and fuss. Think about ways in which you can present your business's specialty which will reflect positively upon your business. Try to convey this information in a way which is non-threatening, humorous, and leaves viewers and potential customers wanting more.
A trick for businesses with particularly excellent "how-to" guides is to break it up into parts and serialize it—the way a television series is broken up. Serializing your content and making it available in controlled portions allows your business to gather support and momentum across time and across channels.
Meme Machine
A more recent phenomena, the "meme" is a viral, shareable snippet of content aimed at presenting a funny or essential truth in a visual form. Memes are easy to create (there are sites online where you can create them in an instant for free) and every bit as easy to disseminate.
Get creative with your meme. In order to engage with your target audience, don't be afraid to see the humorous side of your business or product. The more you can get your business audience boosted, the better.
Opinion Pieces
A business with a new or radical idea shouldn't be afraid to put their vision into words. A well-written and thought out "opinion piece" generates a far-reaching audience, and allows you to connect with potentially likeminded customers and businesses. An opinion piece can also create a sense of identity for your business, and set you apart from the status quo.
Listicles
A listicle is the combination of a list and an article into a more readable, actionable form. A listicle implores its reader to take action, while providing handy tips, tricks, and links to relevant content and data. Your business can use listicles to boost product relevance to your audience; that is, to show how your product or service fits into the life of a customer.
A listicle is easy to read, it's broken up into point form, and is able to be interlinked to various sites online—an ideal format for a business looking to grow and boost its audience.
Using the six above content types, you will hopefully begin to gather a sense of what's possible in the digital marketplace, and to gather the audience your budding business deserves.