Read this if you have kids
you can still be a successful writer & here's how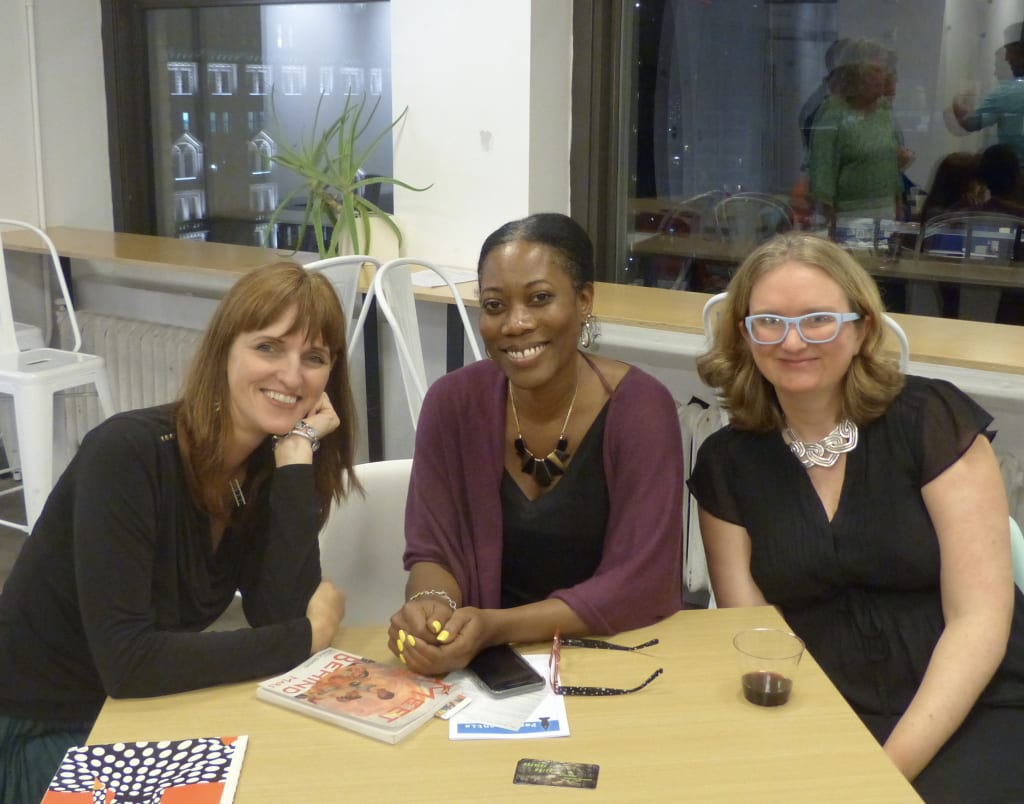 Founder M M De Voe, Board Member/Author Renee Simms, Writing Fellow Jess deCourcy Hinds
A little more than ten years ago, I was a writer with an MFA from Columbia who could not get my novel published. It won awards in its non-published form, and my thesis committee had raved over the content, but my high-powered LA agent sent letter after letter from editors rejecting me although they loved the writing. I should have known the story was being rejected because the book did not suit the market, but I was the mother of two very small children and when I went out for coffee with my childless grad school friends or mentors, they invariably would look at the baby in the bucket seat beside us at the cafe and say, "Well, you know, you kind of chose motherhood, didn't you."
It is surprising that I did not throw forks at them.
Instead, I sought out writers who had children. I found hundreds. There were Pulitzer Prize winners, National Book Award winners, PEN/Faulkner nominees, MacArthur geniuses--and no less impressive, Hugo Award Winners, Shirley Jackson winners, and Edgars. Eight of the last ten Nobel Prize winners that year had been parents. Writers obviously could have kids and still succeed. Babies don't steal talent.
I started from there. If babies don't steal talent, why is there a stereotype that you're ruining your writing career by having kids? The answer lies somewhat in technology. Around 1999, blogging began on the internet. By 2009, it was rampant and social media meant that your post could be extremely short: everyone who could string together a paragraph had started to blog, and of course, the parents of the world had done so too. Some were funny. Some were honest. Some were wry. This explosion of mommy-blogs led the New York Times to start its own in 2010 (called "Motherlode.") and writing about one's kids became not only profitable, but a possible new profession. New mothers tried their hand at blogging and for some, reporting on the progress of their parenting efforts became indistinguishable from the actual parenting itself.
As motherhood developed as a "profession" the idea of motherhood and career became -- not complimentary, but interchangeable. Instead of motherhood being rightly seen as an enormous life event that would require some time and energy (like planning a honeymoon, or buying your first home) it was suddenly being portrayed again as a competition to your career. (Anti-feminists have long held that mothers can't have careers because they, unlike working fathers, can't possibly do both.)
There were those of us, however, who had always been writers and who were not interested in writing exclusively about our kids. We had novels, poetry chapbooks, screenplays, songs, and short stories that were in progress and we needed time, energy or money to be able to finish these works.
And there was the solution: we needed resources.
Becoming a parent is a life event that takes resources. Kids take time. Energy. Money. If you have unlimited amounts of these things, you can absolutely write an epic novel, no matter how many children belong to you. But who has unlimited time? Or energy? So how do they do it, these people who manage to keep their writing careers on track?
They build community. They have support systems that allow them time, and give them space to replenish energy. They have ways of earning money (or have trust funds) or they function with little. But no one talked about this in the 2010s. No one acknowledged that it was possible. Parents posted about the latest homemade organic radicchio and blueberry salad they hand-fed their baby to save the child from plastic. The idea of admitting that you might need help from others guaranteed you were a failure.
Enter Pen Parentis. I started a nonprofit with the concept that someone should be out there providing resources to writers who happen to be parents. We gathered existing resources into one place; time-saving tips, lists of colonies that would accept writers with their kids, residencies that offered stipends for child care, fellowships for parents. To boost the energy and alleviate parental guilt, we found writers who had kids and presented them in small forums which eventually evolved into Literary Salons presenting a vast diversity of writers who have children. The discussions are intimate and open to the public. The quality of writing is exemplary. These are writers. They also happen to be parents.
Doesn't it boost your spirits to know that Min Jin Lee is a loving mother? That Jennifer Egan has boys at home? That Andre Aciman is a dad? It should. Our heroes are human. They participate. They understand ordinary things like school boards and sandwiches. They are us. We are them.
It means that what you are doing is POSSIBLE. It is worthy. You are not just spinning your wheels at a hobby. Being a writer can be a profession, you just have to treat it as such. You have to get better at it. You have to give it time, energy, and sometimes yes, money. Your community will help you; that is what a community does. It works together for a common goal.
In our case, that goal is to get your new, professional-level, creative writing out into the world. We run an annual Writing Fellowship for New Parents (open for submissions March 1 - April 17) to incentivize the early creation of that work.
I have been running Pen Parentis for more than ten years and it is always a thrill to me to say our mission out loud: we help writers stay on creative track after they start a family.
It is a worthy cause. If you are creatively stuck and need help, I urge you to visit our website. If you're not technically inclined or if you prefer to read about things before you do them, I wrote a book about the experience of founding the nonprofit which includes a two hundred page guide arranged from infant to empty-nest and organized by Time, Energy, & Money--with lists of websites and other resources at the end. It draws conclusions from the experiences of more than 300 writers who have kids. Don't take my word for it, find your way from all the examples that have come before you.
Here's a freebie for those of you who have toddlers who do not give you a moment to breathe. If you want mental space to write for half an hour, go to your car. During the pandemic, it can be a great external office! (I live in a city and we don't have cars. This was something a Title Member does during his son's swim class.)
Book & Baby: the complete guide to managing chaos and becoming a wildly successful writer is available online and in many bookstores. It is my first book, and I finished it with two kids quarantined in an NYC loft with two parents, both of which had work zooms all day. The one line summary? You can do this; here's the proof and many creative ways to accomplish your goals.
Always fall back on the Pen Parentis motto: parenting done, write.
Reader insights
Be the first to share your insights about this piece.
Add your insights