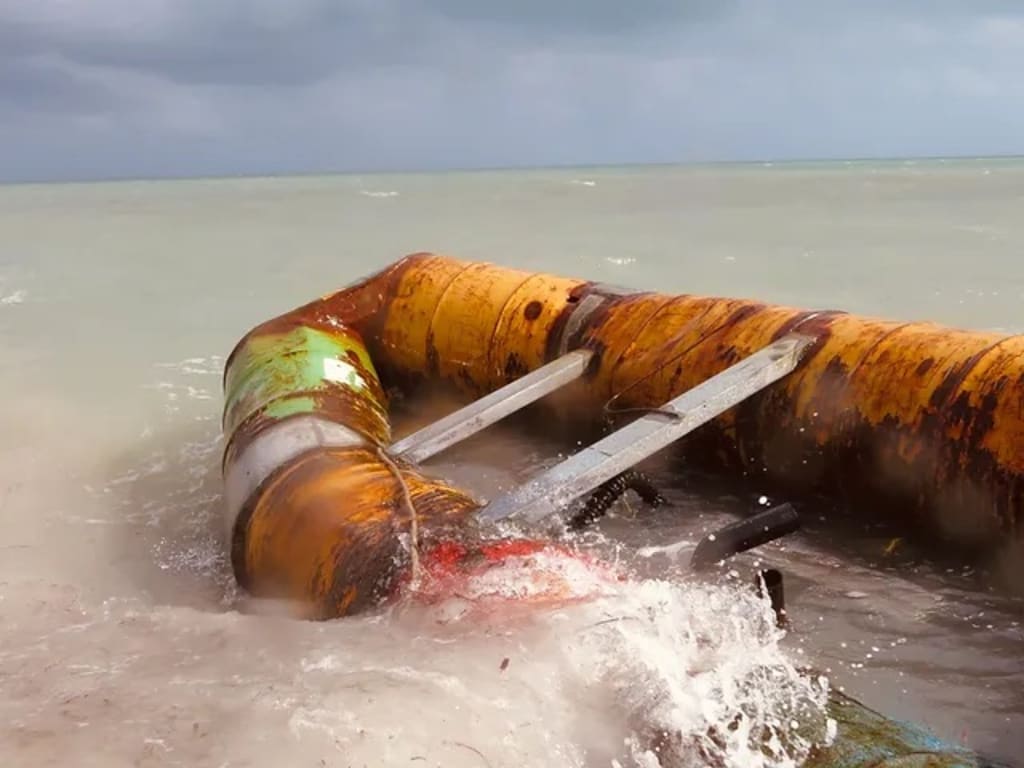 Original picture by GOC
Few sights hold our attention with such strength we seem to neglect the running of time. We let ourselves dwell in the moment out of pure appreciation that we are there to witness something that puts our lives in an earth-shattering contrast. We hold front-row seats to the unfolding of something both divine and painful. We were chosen somehow, to be the early birds to a real-life demonstration of a modern odyssey.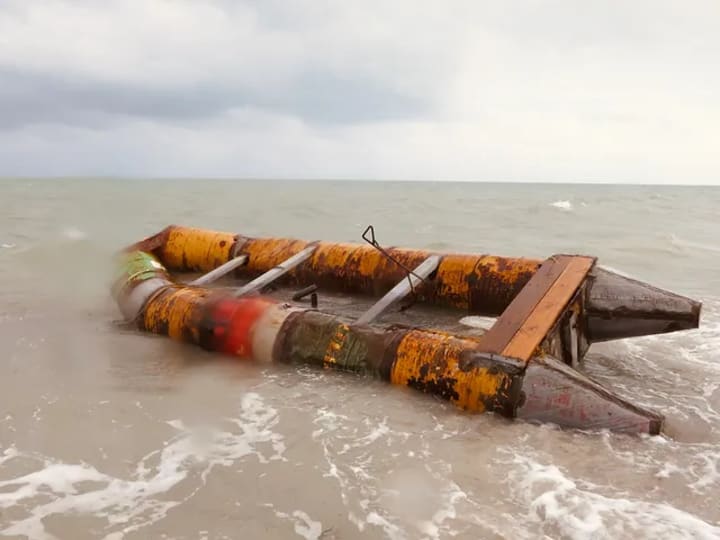 Still getting slapped by the wafting tide of Key Biscayne's east coast in the Bill Baggs National Park, a metal raft made out of Cuban honey barrels arrived sometime in the early hours of January 9th, 2022. Inside the vessel we found only a couple of empty 50 Kg bags of Vietnamese white rice, and an engine capable of bringing this over in a couple-of-days time from the island sitting over a hundred miles to the south. I recall bad weather over the weekend, and still rain on the day I shot the pictures that had my camera deep in a Jasmine white rice bag to dry, but still they seem to have managed.
There is no way of knowing if they really made it through the park, or if their boat was the only thing that made it past the US Coast guards. By the time we got there, there was no sign of a commotion, but only curious beachgoers. The raft could be seen from the last couple of buildings on the southernmost point of the Key Biscayne neighborhood, but it certainly avoided the crowded areas of the coast, making its landing in an isolated strait past the park entrance.
Since 2012, the Wet Feet/Dry Feet policy (1981) has been suspended, so the only way for the citizens of Cuba to legally enter is through petition for asylum at the southern border or through the U.S. embassy applications. From that moment on, the number of rafters decreased significantly, to a low 49 on 2019. However, with the global pandemic putting pressure on all government's spending budgets, including Cuba's long-time benefactor Venezuela, Cuban rafts have increased in numbers tenfold, reaching over 600 as the year 2021 closed.
Few of us can come close to understanding the risk these rafters take in weathering the sea with slim chances of entering legally on top of the real possibility of capsizing during the journey. Still, though we may be able to compute the risk, the experience of being at the mercy of nature even for a day on a rickety raft, taking a veritable leap of faith into the unknown, takes an unmeasurable amount of courage, and brings one inevitably close to faith and humility— something valued highly anywhere we look. Not to mention the resilience of creating a motorboat itself from honey barrels and other found parts makes the whole of it a spirited pursuit.
While we try and seek a solution to the inflow of people to the U.S., most of us are stuck in strategies to bar them from entering "illegally", despite corruption and diminishing opportunities that keep so many unable to pay all the fees that are required to become worthy of citizenship in the eyes of border security.
Still, while some seek to treat "cultural erosion, impoverished values, job displacement..." and other such symptoms of "wrongful migration" with walls and other half-measures, others look at root causes, creative solutions, and leveraging perspectives that can positively impact humanity as a whole.
Perhaps the question that this influx of rafters raise goes beyond border-politics, famine, and corruption, and speaks more plainly about human character and its untamable spirit. As spectators, how do we chose to respond? I'll side with the ones who may not have all the answers, and still make an effort to live in a world where dreams are not just a thing of privilege.
Reader insights
Be the first to share your insights about this piece.
Add your insights