Pumpkin Spice Management
Why You Should Always Encourage the Flavorful Ideas in Your Organization
Overview
We are in the middle of "Pumpkin Spice Season." That is a quite remarkable statement, considering that a little less than two decades ago, the words "pumpkin" and "spice" would really only be used in connection with making pumpkin pies for the holidays. Now however, as Nina Friend recently observed for Food & Wine Magazine, "Pumpkin spice has become a cultural icon, a representation of autumn as emblematic as changing leaves." And the flavor of pumpkin spice not only has birthed literally a thousand product offerings, but it also shows the power of encouraging taking the unusual, the unproven, and by no means the safe path in business and beyond.
PSL
The three letter acronym "PSL" now is shorthand for not just Starbucks baristas to write on cups to represent a customer ordering a Pumpkin Spice Latte, but a code saying that "fall is here!" The story of how the Pumpkin Spice Latte came into being is one that should be told and retold over and over again, as it demonstrates just how product development should be done - and how good ideas should be acted upon.
Peter Dukes, now Starbucks Director of Global Growth and Concepts, is regarded as the "Father of the PSL." However, Pumpkin Spice Latte was, in Dukes' words, "the flavor that almost wasn't!" The detailed Starbucks story on how the PSL came into existence is well worth the read. You can - and should - do so by consulting "Peter Dukes Shares the Story Behind Starbucks First Pumpkin Spice Latte."
This is the PSL story in a nutshell. In 2003, Dukes was in charge of the coffee giant's espresso drinks. The company was looking for a fall seasonal drink flavor to match the success of its Eggnog Lattes and its Peppermint Mocha flavors for the Christmas holiday season. Duke's team came up with a 100 possible ideas, and narrowed it down to a final 10 for customer taste tests. Consumers liked chocolate and carmel and cinnamon flavored drinks well enough. Those were certainly "safe" choices. However, his team sensed they did not have something that would really stand out.
So, Dukes' team went back to the drawing board, and they came-up with an idea for a pumpkin-flavored drink. To create it, they literally poured shots of espresso onto pumpkin pies to test the concept. Through trial and error, they perfected a blend of pumpkin and cinnamon spices with coffee and steamed milk to create the Pumpkin Spice Latte. The team believed that they had a winner, but only field tests would prove their faith in the admittedly unusual flavor combination. When Pumpkin Spice was tested in 100 Starbucks stores in Washington, DC and Vancouver, BC, Canada in 2003, the company knew that it had a winner and Pumpkin Spice became Starbucks fall flavor the next fall.
Pumpkin Spice is now Starbucks' most popular seasonal flavor by far. It is now available throughout the chains' locations globally, and in the U.S. alone, over half a billion Pumpkin Spice Lattes have been sold to date! But Starbucks has not stood pat on the PSL concept. Starbucks had been criticized for the fact that the original recipe had a very high sugar content and made use of no real pumpkin to make the pumpkin spice flavor. In response to such criticism, Starbucks changed the PSL recipe in 2015. Thomas Prather, Starbucks VP of Brand and Product Marketing, stated that "I think it woke up the industry a bit to look inside and say 'how can we have cleaner ingredients'" and in the process, be more innovative in serving their customers.
Pumpkin Spice Management
Pumpkin Spice has morphed beyond Starbucks to become an industry unto itself. In fact, the flavor today has been integrated into many a food product offering…
Pumpkin Spice though has become much, much more - it has become an idea, a representation of an entire season, as evidenced by all the decorative signs for fall being sold by major retailers and individual crafters alike.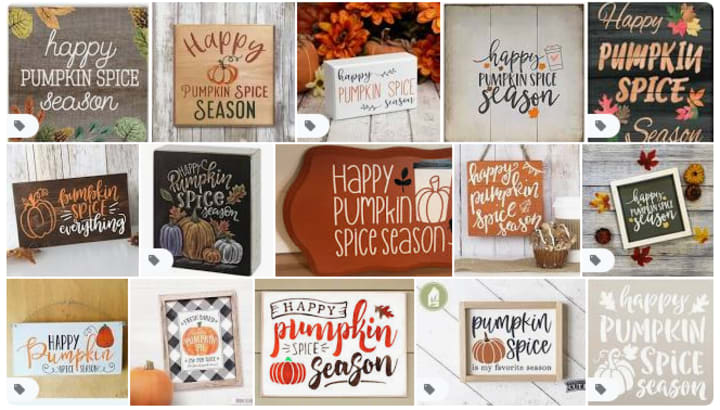 Of course, it has also been the subject of humor…
… parody...
… and even some backlash…
The most important thing however is the Pumpkin Spice has become a thing - something far, far larger than a simple drink. And almost to a person, when Pumpkin Spice or "PSL" appears anywhere - as a flavor of cookies or on a decorative sign - people associate it with Starbucks. And for a company, that is ideal. Rather than diluting the Pumpkin Spice "brand," every mention, every appearance of the flavor helps Starbucks! Yet, it is important to be mindful just how unlikely it is that Pumpkin Spice came into being at all at Starbucks. It took a product champion, one man, Peter Dukes, to bring it about. There were far-safer choices than a pumpkin flavored drink back in 2003. And likely, there was data showing how much easier it would have been for Starbucks to choose some combination of chocolate, cinnamon and other more "mainstream" coffee flavorings as its fall flavor. However, Pumpkin Spice was the choice, and that decision ushered in a wealth of success not just for Starbucks, but for many, many consumer businesses, both large and small alike, in the food and beverage industry and far beyond.
And so the message to be taken from all of this is simple. In management, you should encourage your people to think creatively and not gravitate to the simplest, most obvious, least risky, etc. solution. Whether it is in the marketing context (i.e. product development, advertising, promotion, etc.) or well beyond, one who is in charge of anything in an organization should seek to lead with a mindset to be a "Pumpkin Spice Manager." In approaching every problem, both as an individual manager making decisions or in leading a team of people working on a problem, you should want to not just do the proverbial "thinking outside the box." Rather, you should aspire to totally obliterate the concept of a box being there at all! You should seek to apply all your knowledge and creativity to thinking of every possible solution, even ones that might be easily dismissed as being off the wall, and inspire others to do the same. Think of how much better a solution for anything that arises - to a marketing issue to an operational problem to even interpersonal relations - one can aspire to come up with if one employs a Pumpkin Spice mindset. And going beyond the safe, the obvious, or the consensus choice does not mean taking a great deal of time and going through unnecessary, multiple iterations to develop a winning idea. It just takes the willingness to be open to new ideas and to take chances on novel solutions, solutions that may - like the whole PSL concept - deliver incredibly better results than one could ever dream of by simply taking the road that one usually travels, rather than the road less traveled - or even a new road that no one else has traveled before you!
On a final note, "branding" your ideas, your solutions, your innovations is key! In multiple stories about the creation of the original Pumpkin Spice Latte, Starbucks considered several names for its flavor creation before settling on the PSL. Imagine if they had gone with the "Fall Harvest Latte" branding that some Starbucks executives favored as opposed to Pumpkin Spice! And so the way you talk about, describe, and yes label/brand your ideas and your solutions is indeed something that plays into their power, and it is something that you need to strongly consider as you "sell" whatever your strategy or tactic might be.
And so in whatever you take on in your career, take the Pumpkin Spice Management approach. You will be well served if you do!
+++++++++++++++++++++++++++++++++++++++++++++
About David Wyld
David Wyld is a Professor of Strategic Management at Southeastern Louisiana University in Hammond, Louisiana. He is a management consultant, researcher/writer, publisher, executive educator, and experienced expert witness. You can view all of his work at https://authory.com/DavidWyld.
Social Media Links to David Wyld:
business
Professor, Consultant, Doer. Founder/Publisher of The IDEA Publishing (http://www.theideapublishing.com/) & Modern Business Press (http://www.modernbusinesspress.com)