Publishing Yourself...Through Self-Publishing
The Importance of Self-Publishing... Yourself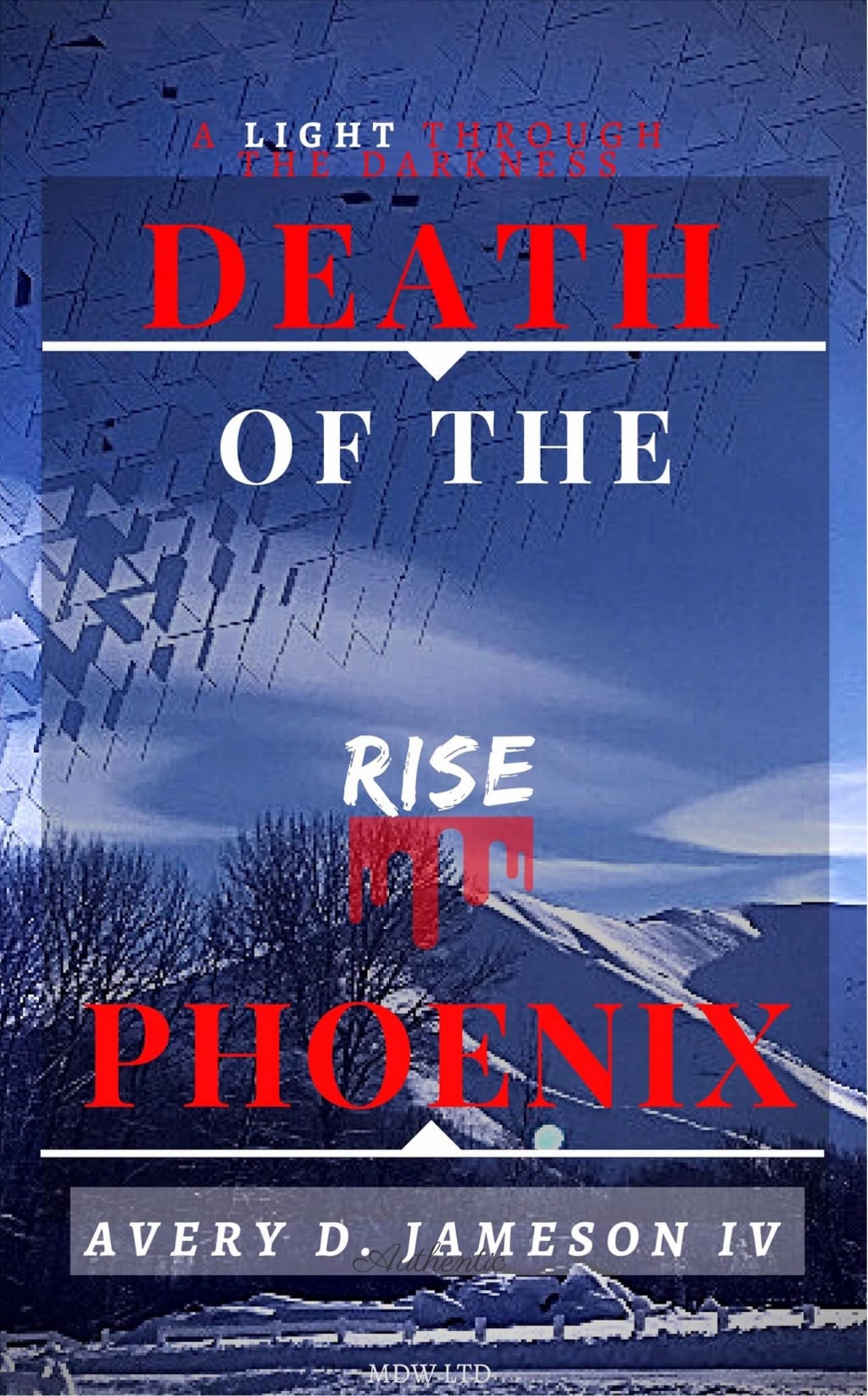 Cover design, taken from the book, "Death Of The Phoenix"
The age-old expression regarding one's own self, and its existence as one's own worst critic/enemy/obstacle..etc., surely attained such notoriety for some more-than-negligible, reason(s).
Each and every moment of each day, internal conflict arises. Almost like an introverted "rat race" or debate, where the opposing sides present, divert, then repeat the same information or points redundantly.
Surely, surrendering time and energy to this black hole, or whirlpool of enigmatic disproportion and gloom, would and could deceitfully induce a highly detrimental series of successional domino-effects. Such "negativity productivity," can and will only lead to at least one of the following outcomes:
Artistically, nothing will ever get finished all the way or...
Development of a deep production-based fear of others judgments and self-loathing (which is the worst possible side effect in my eyes), directed upon creativity and thereby completely eviscerating the natural ability and desire to create.
Loss of sense of purpose, ambition, and ... what we're talking about again?
Imbalance of multi-dimensional aspects of reality; such as mind, heart, body, and spirit.
These are merely the beginning, without delving into actualizing into the exquisite would-be horror of people lives, in details. For those with an over active imagination, just let that sink in...
All of that, that has happened, will continue to happen. It seems as though it is the systemic decline of the natural man, stemming from of all socio-innerversal patterns seen before and around us. Those patterns in themselves would form an entirely different series of long-winded texts and encyclopedic-proportioned journals...
Alas, we are here. Now.
A place most of us struggle so immensely to stay in, let alone arrive there for the first time. Books have always been a way for us to transcend the confines of these minds'-state-laws, regarding worry and stress.
So to put my own spin on Lao Tszu's words, I'll share with you some of which I have treasured:
Those who always worry about the future, are tormented by anxiety.
Those who always worry about the past, are tormented by stress.
So if one can manage to get off of that, "Worry train," they may very well end up in the present. Only then, can one begin to appreciate the "here and now,"rather than asking "who and what," or "when and where."
Gazing Through Published Picture Frames
So after overcoming my own personal worries and stress, and after having cleared my mind of any anxiety for the future, even if for a brief moment, I was able to muster up enough concentrated clarity to release and publish this book. It's not much but nevertheless, a publication.
A publication is not just some achievement, nor is it something to boast about. All the same as those not being reasons for which it is done. The most enlightening and forthcoming mechanism that has sprung forth out of this entire process is the set reflective, reminiscent windows through time, which I have created for myself.
A window-like picture frame. Through which, one could now gaze through aimlessly, to catch glimpses of what was once themselves at the time of publishing. From the present, moving backward through the halls of time, will create the opportunity to measure and compare the differing characteristics and thought patterns from then and now, within a writer(or any artist whom may publish).
No matter how chaotic our lives may be at the moment of jumping out the window to sail back to whence it was written... Just the same as it didn't matter how melancholy it was during that time of creating said publication window, it is impossible to miss the destination.
Once begun, turning those pages of the hard covered time capsule, revisitation... nostalgic voyage back to that day-dreamt moment in an instance from whence came... that had sprung forth during the writing process of the original pieces. Remembering the very source, from which a writer was impressed and inspired to create... over, about, or amidst.
It is an all incumbent, all-inclusive tunnel, wherein all of the human senses, have been tied. Some folks may say that one sense can trigger such an elaborate memory, either by a smell, a touch, or a sounded song... So why just settle for just simply one of those measly five senses? Why only remember just one sensory-triggered aspect when you now have direct sensory revitalization of the full experience for any reader who dares to share it?
Now, the magic becomes applicable; when, and in how much detail, is used to clue you in upon, is entirely up to the wordsmith isn't it? That is how to measure, decipher and determine the success of a writer. Not simply by whether or not they are a published figure of repute or notoriety, but by how accurately their words illustrate what was meant to be said, and solely by words' power to captivate a readers' attention alone.
So, I invite you to take the risk; to let go of what others may say or think. Do it for yourself. For the opportunity to grow, and develop yourself further. Publish that last (or first) piece of art, music, or copy of your book you've been reluctant and apprehensive about. Just do it, you never know what you might(and probably will) miss out on. After all, you'll be doing it for yourself, and nobody else.
"To me, what marks a successful writer, is their ability to conjure and reconstruct; to illustrate any silky, warm fibers of each moment, or to iterate and the savory succulents and mouth-watering recipes from cinammon- soft, sea-scented memories- or masterfully etched letterings in triumphant melodies, embellished by rhythmic brilliance... all in a manner which enables the reader to see it's color and hear it's tune, even after it has been transposed and reduced into these barren, monochromatic letters. The more adept and fluent a person becomes at exectuing that daunting task, then all the more fluency theey possess to fly right through those windows... those published-picture frames."
- M. Dallas W. 2017
Avery D. Jameson IV aka M. Dallas W. created, designed, and formatted all aspects of his book and is the sole rights owner of any works in the likeness to "Death Of The Phoenix."
As a part of a dual-release feature, to coincide with his EP Album Release of "Death Of The Phoenix," which is a collection of musical works by Flawless Solace, written by MDallasW.
Connect and stay up to date with MDallasW on social media!