Must-Have Products for Your Office
Love to have a well-equipped desktop? These must-have products for your office will make sure you can handle anything work life throws at you.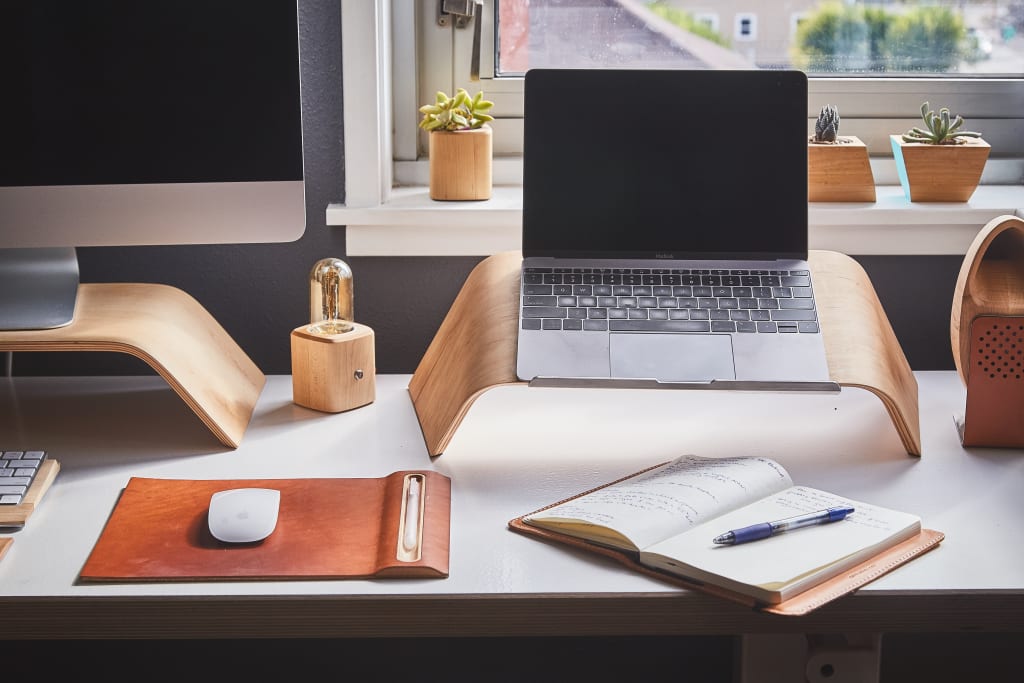 We spend around a third of our days in the office, and yet, our desks always seem to be an afterthought to our lifestyle. This doesn't make sense. After all, we spend hundreds just whiling away hours at night clubs — why shouldn't we splurge on improving the overall time we spend at our desks, too?
Speaking as someone who loves having awesome gear at their desk, the payoff on these products for your office setting is high. Grabbing these is a life decision you won't regret.
Make your desk organizer grow with your gear! This expandable, eco-friendly, bamboo desk organizer allows you to store all your products for your office life with ease. It's lightweight, made of real wood harvested in an eco-friendly way, and also is impeccably sturdy.
Royal Craft Wood points out that this organizer is meant to last a lifetime — so once you buy this one, you'll never have to shop for another organizer again.
If you're a fan of coffee that's served piping hot, and regularly find yourself on the go at the office, you're gonna love the Minipresso NS. This nifty handheld thermos brews coffee while you're walking — and lets you sip without ever having to transfer it to a mug.
People who are sick of the office Keurig going on the fritz will love this. Commuters, too, will find this to be incredibly useful during the harder winter months. It's one of the best products for your office coworker who thinks your office is always cold, too!
Most of the cool products for your office are aesthetic or lifestyle-oriented, but not Mountie. This awesome little clip works to give you a second makeshift monitor you can attach to your computer. Just clip your phone or tablet to Mountie, and watch as you suddenly have a new split-screen view.
Once you try to work with Mountie, you'll understand why this is one of the coolest office gadgets you never knew you needed. Split-screen whenever you want? Yes, please!
We've all looked at some of the coolest standing desks, and wished we had the dinero to buy one or get one approved by our HR department. However, we don't all have that luxury. That's why Executive Office Solutions created an affordable laptop stand that turns your ordinary desk into a standing desk effortlessly.
It's under $50, looks cool, and even comes with a little tray for your mouse. It's also as portable as they come. What more could you need?
A lot of the must-have products for your office, you'll notice, are the basics. This beautifully modern-yet-retro desk clock tells you all the important things, including the time, humidity levels, and temperature.
It also comes with an alarm you can set, and is voice-activated. Because it's so pretty, it's also one of the best gifts for coworkers, too.
You know you can turn your home into a smart home fairly easily, so why not turn your office into a smart office with the help of Amazon's Alexa? The Echo Dot is affordable, offers a huge amount of assistance, and allows you to make and receive calls totally handsfree.
Every day, more functionalities get added to Echo Dot's Alexa — and more products are made compatible with it, too. Needless to say, the functionality of a voice-activated assistant is what makes this one of the best products for your office's ability to get things done fast.
Everyone has a couple of toys at their desk. This is one of the better ones for people who want a desk toy that's really alive. Give a fish a new, modern home in your office with the help of Umbra's FishHotel.
This miniature tank fits perfectly at your desk, offers enough room for a small goldfish or a betta, and looks totally chic. If you make a fishy friend the office pet, and you might end up seeing more people drop by your desk!
You know how you have that one coworker who just always manages to be a pain in the butt? There are products for your office that help you avoid the anger that said person inevitably inspires in you.
Dead Fred, for example, gives you a great place to jam your pen in when you're feeling a bit stabby after hearing the latest report he gives. Along with being a great alternative to going postal in the office, Dead Fred also gives you a handy place to keep your favorite pen.
If you're going to throw out garbage, you might as well make a stylish statement about it. This modern-yet-disheveled looking waste basket is a great way to do it. Everyone knows garbage bins are must-have products for your office, so why not get one that looks stylish?
Looking for a funny way to point out an error? These sticky notes are the office supplies you're looking for — and are perfect for moments that make you want to give a coworker a reaction look, but can't.
Jot down those meeting notes in style with this breathtaking laser cut journal. 160 blank unlined pages allow you to pour your heart into this diary — or just doodle away while the big boss talks. Either way, it's stylish, professional, and a perfect gift for your favorite exec!
If you want to remind your coworkers that this office is about teamwork, rather than politics, there are plenty of decorative products for your office to choose from. We love this non-harmful wall decal sticker's positive message and adorably artsy look.
Applying this decal is a cinch, and it doesn't remove paint when you decide to take it down, either. It'd look great in any boardroom — or on any manager's office wall.
product review