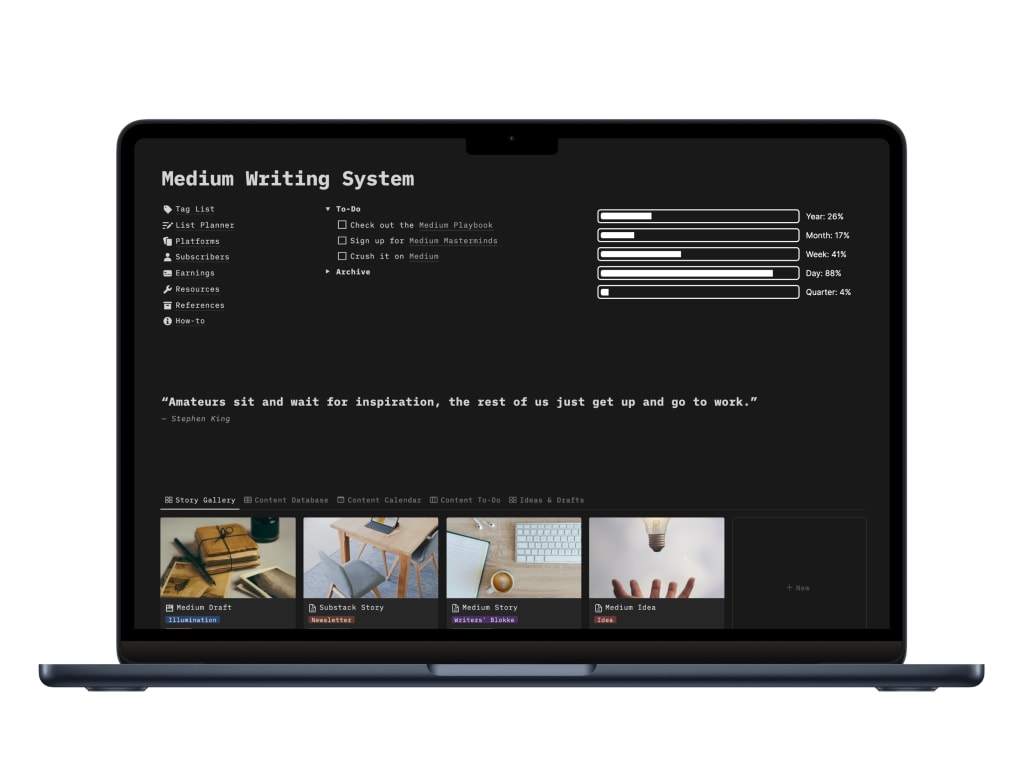 Elevating your writing and reaching new heights requires effective management and planning systems.
One tool that has revolutionized the way many writers organize their content is Notion.
What is Notion
Notion is a free all-in-one productivity tool that combines note-taking, reminders, project management, writing, and database functionalities. With its features like formulas, relations, and roll-ups, Notion streamlines the writing process and boosts productivity.
My Notion journey
Having used Notion for the past two years, I have discovered its immense potential for managing personal notes, running YouTube channels, and organizing Medium content.
In this article, I will walk you through how I utilize Notion to write, plan, and maintain my Medium posts.
By the end, I will also share a Notion template with you to help you get started.
Notion features
Notion is an all-in-one workplace that seamlessly integrates various functions into a single platform. Whether you need a place to jot down notes, set reminders, manage projects, or build complex databases, Notion has got you covered. Its robust database architecture empowers you with powerful features like formulas, relations, and roll-ups, making it highly versatile and adaptable to your specific needs.
Notion & writing
To effectively manage your written content, I recommend setting up a dedicated content database in Notion. This database can house all your written work, including Medium posts, contributions to other platforms, and even social media or YouTube scripts. By creating a centralized hub for all your written content, you can access and organize your posts effortlessly.
When setting up your content database, it's essential to define the key information you want to track for each post. Start with the name of the post as the title for each entry. Additional columns for important data points can include the post's status (idea, draft, submitted, published), publishing date, tags, platform, and link/URL.
Notion & Medium
For Medium-centric content, you can incorporate specific columns to further streamline the management process. The platform column allows you to keep track of other platforms where you cross-post your stories.
Notion's tag selection property enables you to choose from predefined tags or create new ones on the fly.
By utilizing the multi-select property for platforms and tags, you can assign multiple entries to a single post, enhancing the flexibility of the database. Another essential column is the status column, indicating the current state of each post.
Additional columns worth considering for Medium include publication and Medium lists.
Two powerful but seemingly simple columns are curated and viral. These checkboxes can be marked to indicate whether a Medium story has been curated or has gone viral. By filtering for curated or viral entries, you can gain valuable insights into patterns related to topic selection, chosen publications, added tags, and more. This data can help you identify common factors that contribute to the success of your posts.
Different database view
My Notion system offers various views and features to optimize your workflow and enhance your writing process.
The planner view displays a content calendar with your published posts, providing a visual representation of your achievements and helping you plan future posts effectively.
The pretty view showcases a card layout with the featured image of each post, making it easier to browse through your content and find specific posts or gain inspiration.
The task view, using the Kanban board style, allows you to manage drafts and ideas effectively by visualizing their progress and prioritizing tasks.
Medium top writer tags
In addition to the content database, maintaining a separate, but connected database for Medium top writer tags can be valuable. This database contains a list of top writer tags, along with competition rates. Tracking achievements, identifying opportunities, and streamlining tag selection are some benefits of this database.
Notion centralizes your writing process and offers powerful search functionality, allowing you to locate specific details about individual posts or perform extensive analysis. Filtering specific aspects of your content provides deep insights into your progress and areas for improvement.
Medium Writing System
To assist you in getting started with Notion for managing your writing, I have created a Notion template tailored specifically for Medium content.
This template includes the structure and features discussed in this article, providing a solid foundation for you to build upon. You can access the template, duplicate it to your Notion workspace, and customize it according to your preferences.
The bottom line
By adopting Notion as your go-to platform for managing your writing, you can streamline your workflow, gain valuable insights, and take your Medium stories and earnings to new heights. Get started with the provided system, customize it to your needs, and rock Medium in 2023!
Navigate the online world with me. Subscribe to my newsletter! It's free & priceless!
Reader insights
Be the first to share your insights about this piece.
Add your insights