Make The Most Of Public Relations In 2023 By Following These Tips
Tips and Techniques by Ravinder Bharti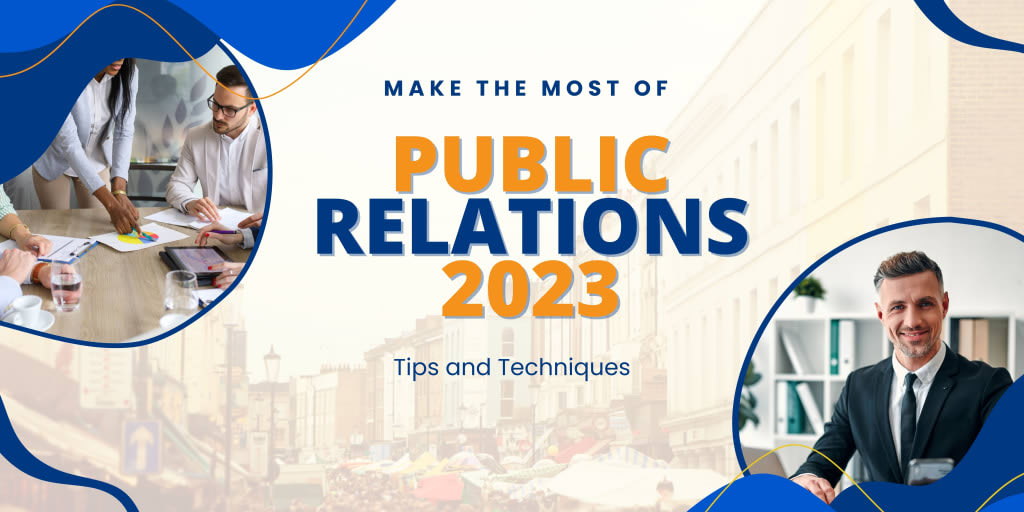 Tips by Public Media Solution
After two years of a catastrophic pandemic, 2022 was the year of recovery for businesses worldwide. It witnessed a spike in the adoption of digital alternatives to conventional activities, especially in the realm of workspaces. With businesses opening their doors again to their employees and audiences, the need for effective communication returns.
In the age of digitization, the need for effective, precise, and persuasive communication is high in marketing. You can achieve this goal with seamless public relations (PR). PR is arguably the most organic way of marketing your brand and conveying its essence to your target audience.
Depending on your objectives, you can create an effective PR campaign to make important announcements, as per the Public Media Solution to increase your brand visibility, boost your sales, invite your audience to an event, or simply let the public know about your offerings
Despite intense competition across all industries, here are some important tips you can follow to make the most of public relations as you enter 2023:
Embrace Digital PR
Digitization has become an integral part of our lives over the last few years. People spend more time watching YouTube videos and scrolling down social media platforms than reading physical newspapers and magazines. Looking at the emerging digital trends and the traction it gives, it is important to embrace digital PR.
Digital PR helps you spread your work using suitable digital platforms, such as websites, emails, social media, and more. It replaces newspaper articles with online PR articles. Executing a digital PR campaign helps you optimize the marketing tool as it includes elements of search engine optimization (SEO), social media optimization (SMO), email marketing, content marketing, and much more.
Make sure you focus on digital PR more as you enter the new year willing to get the desired traction.
Weave Your Messages Into Compelling Stories
India has always been a land rich in stories. Irrespective of the generation you belong to, you must have grown up listening to interesting stories told by your parents or grandparents.
Public relations work best when you weave your messages into compelling stories. Instead of being direct and mechanical in your attempt to promote your brand, tell a story your audience resonates with. This increases the relatability factor and keeps your audience hooked on to your subtle promotional messages as they listen to your story.
The chances of generating and converting leads are much higher when your messages are disguised as genuinely engaging stories.
Segment Your Audience Well
As PR is a subtle and organic marketing tool, it is important to understand the audience you are catering to. Never make the mistake of targeting a wide range of audiences while creating a PR campaign. Spreading yourself thin will not give you the engagement you are looking for.
To understand your audience well, it is important to segment them effectively. Identify the group of people you want to target on the basis of demographics (age, gender, occupation, etc.) and psychographics (lifestyle, motivation, taboos, etc.). This helps you implement a focused approach while drafting your messages across multiple platforms.
Focus On Local PR
Over time, local Indian businesses have upped their marketing game and started implementing new-age tools to promote their ventures. If you own a local business or have an audience that is limited to a specific region, it is advisable to focus on local PR.
For example, if you run a restaurant in Juhu and want to target people living in nearby areas, you can look for competent PR agencies in Mumbai to help you out with your campaign. Digitization of PR has significantly increased the scope of getting localized traction for startups and small businesses.
Build Healthy Media Relations
Your PR campaign is only as effective as the media houses covering your story. Media relations have always been at the core of a PR campaign and you shouldn't take them lightly as you enter 2023. Being associated with reputed and suitable media houses will increase the reach and credibility of your stories. Make sure you choose the media houses according to your brand, target audience, and marketing objectives.
Do Not Eliminate Conventional PR
In an attempt to embrace digitization, brands often make the mistake of eliminating conventional PR completely. Especially in a country like India, a lot of people still read newspapers, buy magazines, and watch cable television. While it is important to incorporate new media in your PR campaign, make sure you also have space for conventional PR platforms for a holistic impact.
Be Serious About Reputation Management
Reputation management is one of the most overlooked aspects of PR that needs to be brought to the forefront now more than ever. In the social media age, it doesn't take much for a brand's image and reputation to be tarnished for no reason. You may be people's favorite today and be on the receiving end of their wrath tomorrow.
As you enter 2023, make sure you are equipped with robust reputation management strategies for your brand. Effective reputation management helps you uphold your brand's reputation at all times and navigate through crises effectively. Whenever you encounter a crisis that may hamper your brand's image, your PR agency would take the reins of communication into its hands, helping you sail through troubled waters!
Create Unique And Engaging Content
In the age of digitization, digital platforms are flooded with content. To stand out from the clutter and grab more eyeballs than your competitors, it is important to create unique and engaging content. Whether you write PR articles, create press releases, or produce videos, make sure you are bringing something new to the table. Being unique and quirky is more likely to get your audience's attention.
The Final Word
These were some important PR tips that will make marketing in 2023 a little easier. As you aim at making it big in the year to come, focus on creating persuasive PR campaigns that strike all the right chords of your audience's hearts!
Reader insights
Be the first to share your insights about this piece.
Add your insights