Jerrick CEO's Week in Review: 02/03/20 - 02/07/20
A weekly recap of the most relevant news, updates and insights from Jerrick, Vocal and across the industry.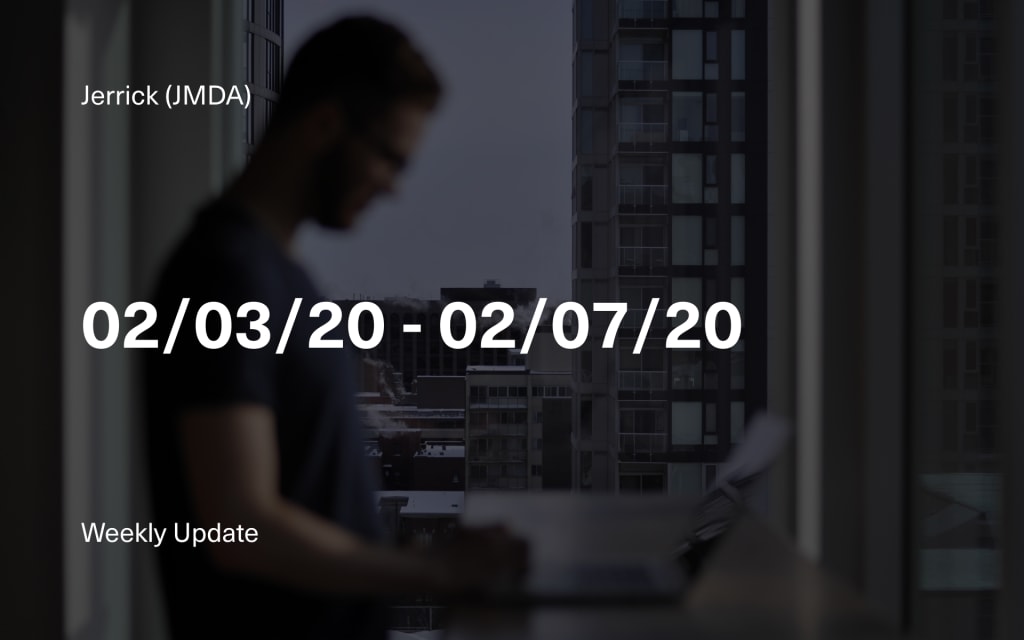 Strength in Knowledge
The phrase "knowledge is power" is most commonly attributed to Francis Bacon, in his 1597 Meditationes Sacrae. That idea, that information itself holds the key to self-cultivation, has been revisited time and time again throughout history, through the lens of everything from philosophy to geopolitics to moral discourse (Like in Proverbs 24:5, which teaches that "A wise man is strong, a man of knowledge increaseth strength.")
History suggests that knowledge is arguably a person's most valuable asset, perhaps more so than physical strength, especially in the modern world. Knowledge is a powerful factor that empowers people to do more, better. The more knowledge a person gains, the quicker he gains it, the more powerful he becomes. Then, power begets more power.

Web 3.0, also known as the Semantic Web, is the latest paradigm in web interactions, and emphasizes machine-facilitated understanding of information. The internet has evolved such that data is now better captured and interpreted than ever before and integrated across different content and information applications and systems, which provide an increasingly productive and intuitive user experience. One of the hallmarks of the shift into Web 3.0 was a dramatic reduction in the cost of data storage with advancements in hardware and processing power, meaning companies could store vast amounts of data cheaply.
Knowledge is like a compass, or even a map we build inside our brain. The brain uses the knowledge to make decisions. While it may contain many similarities to the map of the real world, meaning math and science, it is also a map of beliefs and culture that are particular to an individual's own perceptions.
Data are the actual facts that make up the map of the real world. I am a size 9.5 shoe. I am wearing a black t-shirt. These facts are true irrespective of whether I write them down or capture them in a database. We use data to form knowledge throughout human history.
The Importance of Execution
The information age, the age of scalable and rapidly distributed data, is less than 20 years old, a turn-of-the-century event. We've learned in that time that while data is always correct, it's only as powerful as the systems that inform it. Data compounds and breeds over time, and so information within a system that does not get updated can quickly become stale and either unusable or misleading. This last piece is an important distinction between technology platforms that update and accurately reflect data like Vocal, and many of the legacy platforms and their business models that are struggling because they simply did not account for saving and applying data within an evolving organism. The rapid need for and reliability on data has overhauled the entire business community and the capital markets that support them, and has left many legacy businesses in its wake. It will take these businesses a long time to adapt to the new information era, if they're able to do so at all.
Facebook's earnings were comparatively low in their earliest years–they reported a modest $382,000 in revenues back in 2004. At that point, 16 years ago, they were only just starting to collect data, and were only scratching the surface in understanding and extrapolating from it. Remember that back then, Myspace was the largest social networking site in the world, a position it held from 2005 to 2008. Facebook caught up quickly though, following its sub-$1 million debut year with revenues totaling $9 million in 2005, $48 million in 2006 and $153 million in 2007. Data made all of that possible; it was data that made Facebook stronger and stronger. Last year, Facebook reported a whopping $70.697 billion in revenues for 2019. Compare that to the trajectory of Myspace (yes, it still exists); in March 2019, it was revealed that Myspace had lost all their user generated content uploaded prior to 2015 in a botched server migration, with no ability to retrieve it. Over 50 million songs–12 years worth of users' music, photos and videos, were gone forever. The point is, the ability to successfully manage and maneuver data is just as crucial as the integrity of the data itself.
JMDA OTC Weekly Report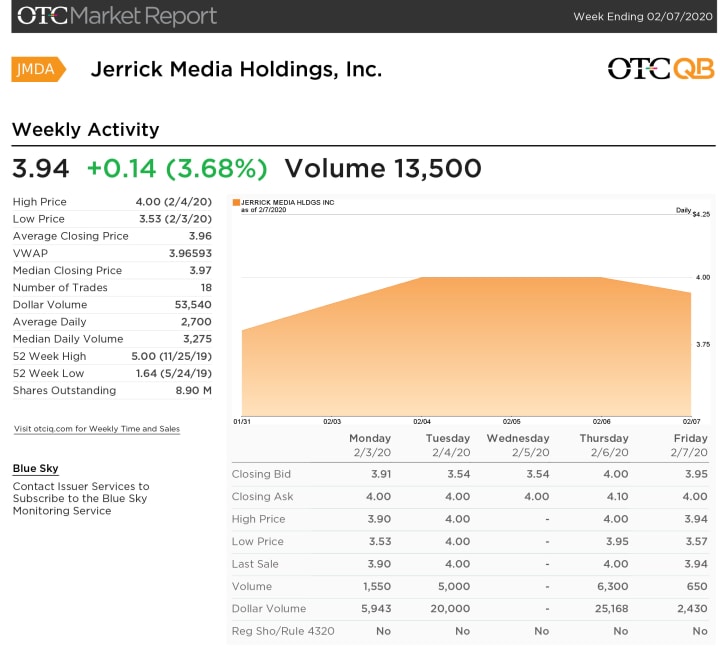 JMDA closed the week at $3.94 after holding a high of $4.00 for the majority of the week, mostly predicated on higher volume as compared to the previous few weeks.
Stock Watch / Special Situations
In a much anticipated IPO that we have been paying close attention to, Casper (NYSE: CSPR) went public this week, testing the markets' appetite for loss leading billion dollar companies. CSPR's public valuation was discounted by 34% to ~$487 million or $12 per share, less than half of its private market valuation. While Casper is a leading brand in the DTC mattress industry, oversaturation and lack of profits left the market hitting snooze on CSPR, ultimately finishing the week down 8% from its $12 IPO price. To the contrary, other initial public offerings that fared well this week included that of PPD Inc. (Nasdaq: PPD) a biotech research firm, which closed up 12% after raising over $1.5 billion–the largest US IPO of the year so far–as well as Reynolds (NASDAQ: REYN), of tin foil fame, which closed the week at $30.20, up $4.20 from its initial offering price of $26.00 on January 31, 2020.
Might this be a signal to money-losing unicorns and their ability to raise public capital?
Vocal for Brands
As we get closer and closer to our uplisting and meet its associated milestones, we spent much time last week maintaining the open lines of communication with my key investors and shareholder base. As a tech CEO from the Wall Street world, one of the most personally exhilterating aspects of these many conversations is further opening up the eyes of my Wall Street contemporaries to the tremendous value embedded in a platform which at face value might seem like a simple website building tool, no different than WordPress or any of the myriad digital content editors. In fact, there are countless ways we can and do quantify Vocal's success and measure its advancing impact in the space–we can point to Vocal's growing creator base, Vocal+ subscriber numbers, and a smoothly integrated acquired company. However, in light of our newly redesigned Vocal for Brands website and associated marketing materials, I thought it most apropos to speak to some of the key differentiators when it comes to Vocal for Brands campaigns versus industry standards for branded content. The image below, borrowed from the new Vocal for Brands media kit, highlights some of the most promising data collected from brand campaigns to date.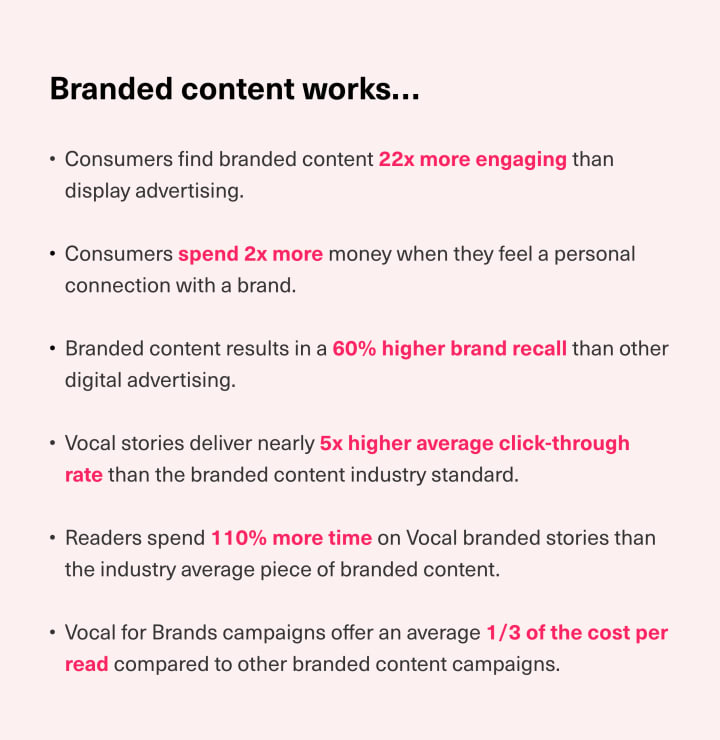 Seller's Choice
As we continue to augment Seller's Choice's library of educational content, we see Vocal more and more as a way to proliferate its key messages. After all, the Seller's Choice brand has been contributing resource content to Vocal's platform since long before the acquisition. The alignment between our respective team's principles far preceded the integration between our business models.
Promoting content, both on Vocal and Seller's Choice's site, allows us to seamlessly combine our worlds in a way that promotes all facets of Jerrick. As we continue to publish relevant content, I urge you all to investigate these resources, if not to aid your understanding of e-commerce, then to gain additional insight as to why Seller's Choice became our first acquisition target to begin with. As a company, we seek to be on the cutting edge of all technology updates and advancements, and finding like-minded people within our industry that challenge the status quo and look at data multi-dimensionally and in layers is a necessary part of our search for companies to acquire.
Visit Seller's Choice's Vocal stories here.
Vocal Creators
Right around the time that Vocal was launching its new Challenges feature, Jord Tury, one of Vocal's longtime creators, started off the new year with a challenge of his own: 34 Days. 34 Communities. 34 Stories. This past week he shared the exciting news that he successfully completed his #VocalChallenge and we were thrilled to see the outcome! Not only did this creator find a way to contribute to communities that are outside his usual comfort zone, he was cognizant that this challenge pushed him to be more creative and think outside the box. So impactful was this realization that Jord Tury subsequently encouraged other creators to join him in this challenge. Seeing others follow suit and start their own #VocalChallenge was a true testament to the power of the Vocal community and the fact that quality breeds quality. Read his story below:
Website Ranking
Our website ranking is tracking just as expected, maintaining a growth pattern similar to the previous few weeks. Vocal's Alexa ranking is still recalibrating following a newly renovated marketing and growth plan, though our global position continues to increase week over week. Vocal started off the new year at around a 6,500 global Alexa ranking, and has since improved over 1,000 positions in less than six weeks.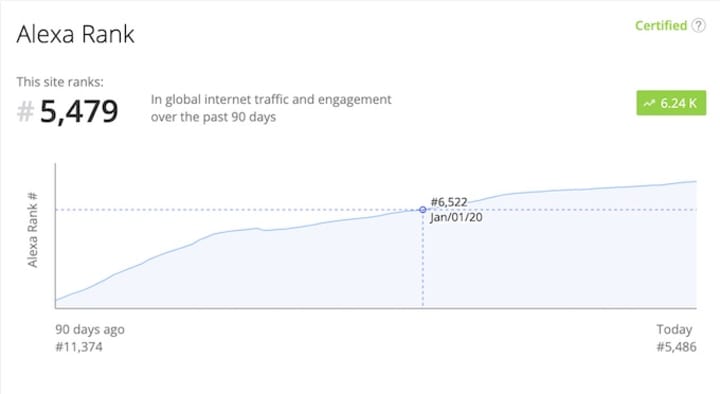 Industry News
Spotify is officially on a shopping spree. With the acquisition of The Ringer, this following the acquisition of three podcast companies last year (Gimlet, Anchor, and Parcast), Spotify further enhances their podcast catalogue, providing themselves a springboard to expand into sports media. It's evident that podcasts are a major focus in Spotify's growth strategy; among other attractive qualities, podcast content circumvents the need to worry about paying royalties to record labels and artists for songs streamed on its platform. There are many additional insights we can take away from Spotify's movement in the space over the last year, only one of them being the further validation that creators contain significant value and are hungry to access appropriate distribution platforms.
In other news, last week content behemoth Netflix released its first-ever Environmental Social Governance (ESG) report, and shared a list with the world containing the content they've taken down in various global regions at the request of specific countries. Of the nine titles Netflix removed from its library since 2015, the topics of issue ranged from marijuana (like in the Netflix original series Disjointed) to politics (Hasan Minhaj's Patriot Act) to religion (like the comedy special The First Temptation of Christ, which portrays Jesus as gay). Aside from being insightful in its own right, the report says something about the responsibility that content platforms have to both protect open dialogue, artistic liberty and free discourse, while paying attention to local laws and regional norms around the globe. This is something we talk a lot about internally with respect to Vocal's moderation practice, platform policies and community guidelines. As Vocal grows and expands into new global markets, these questions will become all the more relevant.
Recommended Reading
Renowned hedge fund manager Ray Dalio and his book Principles: Life and Work has served as a necessary staple within the Jerrick canon for some time now. Principles was published in 2017, and amalgamated much of Dalio's personal principles developed throughout his career, and centers around key rules to live by to maximize one's professional and personal lives. The text captures Dalio's core beliefs on the same hedge fund mentality that I made sure to build into Jerrick's culture and protect to this day. While I find all his principles to be wise and deeply valuable, at this moment, his first one sits at the forefront of my mind: "Embrace Reality and Deal With It." With Jerrick's agile team framework coming to fruition and with the uplist in process, there is nothing more powerful to our company than to embrace radical transparency. It is with unrestricted honesty and feedback that systems begin to change and evolve. As we move through this uplisting, it is essential that we never cease to actively seek alpha and growth within every aspect of our company.
Stay tuned for another recap next week. In the meantime, for regular updates please follow me on LinkedIn as well as the company's other social pages for regular updates:
Jerrick
LinkedIn: https://www.linkedin.com/company/jerrick-media
Twitter: https://twitter.com/JerrickMedia
Facebook: https://www.facebook.com/JerrickMedia/
Vocal
Instagram: https://www.instagram.com/vocal_creators/
Facebook: https://www.facebook.com/VocalCreators/
Twitter: https://twitter.com/Vocal_Creators
LinkedIn: https://www.linkedin.com/company/vocal
Reader insights
Be the first to share your insights about this piece.
Add your insights