Jerrick CEO's Week in Review: 01/20/20 - 01/24/20
A weekly recap of the most relevant news, updates and insights from Jerrick, Vocal and across the industry.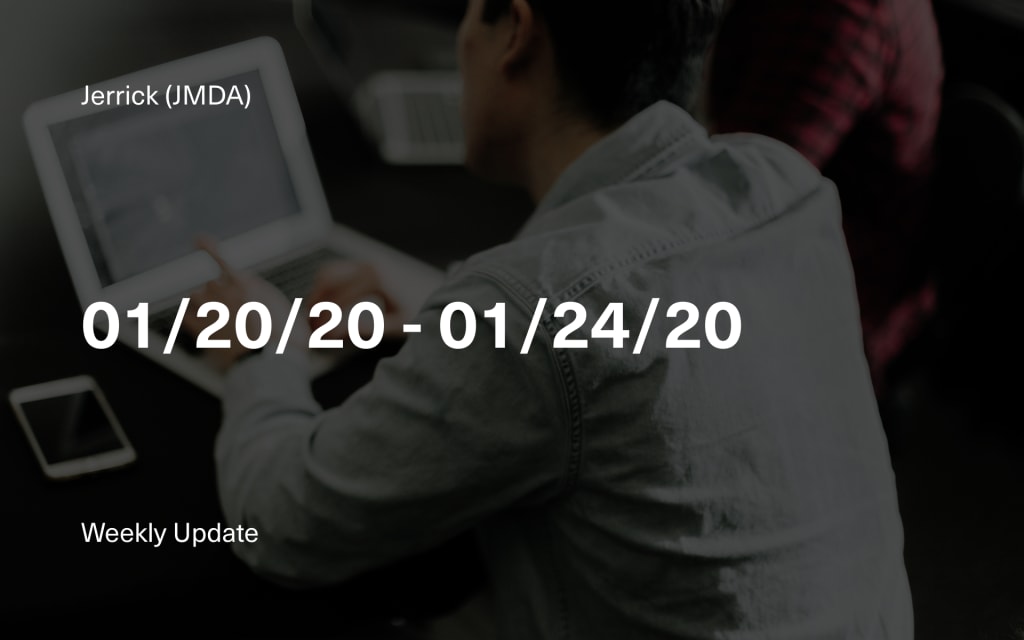 Performance
It is a bit surreal to again begin a weekly report where we are experiencing great progress on multiple fronts but continue to watch our stock lull between $3.90 and $4.10, week in and week out. Over the last 90 days, the trading range was between $3.42-$4.70, which in the last 30 days has narrowed to $3.85-$4.04 as we get closer to the uplist.
Having been regularly in touch with our shareholder base, it's a fair assumption that there is a relatively immaterial amount of shares for sale. Over 95% of our issued and outstanding shares are in the hands of friends and family who intend to remain long-term holders. This leaves only the remaining immaterial percentage shares to be traded on a day-to-day basis. I believe that most likely, the sellers are waiting for formal updates that are part of Jerrick's general uplisting and business plan in the hopes that it creates positive momentum such that their offerings are executed. For example; updates on our S-1, NASDAQ application updates and announcements regarding our final underwriter agreement with price talk are all positive steps forward for the company. While reasons can vary for buying and selling of JMDA stock, as CEO I spend a great deal of time trying to stay on top of investor sentiment.
Assume a sustained level of $4.00 in the stock (that being the minimum threshold required to uplist). Assume as well that sellers, with various reasons for selling, use any momentum as an opportunity to exit their positions. If that's the case, it stands to reason that the probability of successfully selling any substantial position would increase as a company gets closer to the uplist, thereby causing trading volume to grow. This typically occurs because as a "book" of investors is built and eventually locked down, whether in an IPO or an uplist, the next steps can lead to an oversubscription. Again, theoretically, this leaves a limited supply, and whatever is left in the public market becomes the last opportunity for investors to enter prior to a potential upward move, post an uplist. In addition, a strong company tends to take out any residual warrants or options with exchange offerings to eliminate potential future overhang. The combined effect of all of this is typically positive stock momentum.
The Overhang
When the weight of the overhang from the potential 5%, and perhaps even as much as 10%, can get lifted, it makes for a logical point for these sellers to patiently await their exit. In the interim, we continue to generate awareness of the company for the investment community, creators, brands, and the Vocal platform's ever-growing audience.
This past week we saw Zacks Small-Cap Research release their first Research & Valuation report on Jerrick.
It was pretty thorough and, having had the analyst fly in and spend time researching our company and process, I think Zacks did a reasonably good job explaining our key value propositions and comparative landscape value assessment. I was pleased that the independent valuation and the general logic of their calculation was sound. But, again, research in the small-cap space is only as good as the targeted channel of distribution reaching an audience that cares. Unfortunately, because one needs to pay research firms like Zacks, they do not wind up getting the credit for what is often a thorough job. JMDA has shown very limited reaction to any external research regardless of the research firms' claims to an independent valuation. That said, as the research gets disseminated over time, I am hopeful it will reach a broader audience and be substantiated. As I've said many times before, I do not believe that JMDA currently reflects the full value of our technology platform, Vocal, and the team behind it.
Zacks is part of a growing trend in equity research. On a broader level, the trend is part of a transition of research from legacy business models of Wall Street to a new era of commoditization, distribution and a deep reliance on data. While I have come across a few dozen quality small-cap underwriting and research groups, they are few and far between. In an era where data is king, followed by distribution, research content is the third wheel. Data, in some ways, is both the driver of content and the meat of the content itself. We have experimented with three different sponsored research groups to date; each one was a worthwhile venture, though for varying reasons. Most importantly, each one gave me the chance to study the small-cap research business from the inside and assimilate my findings into our broader research strategy.
It's pretty simple. Like all things in the deteriorating space of the lite exchanges, there are a few worthwhile paid research groups, made up primarily of individuals displaced after the financial crisis. To echo what I said last week, the small-cap space and its service providers have visibly begun to bifurcate into a group containing a few meaningful operators and another that contains a great deal of predatory practices masked as institutional business. More simply put, there is a lot of crap and limited quality.
Equity Research Model
The revenue model of equity research has been in decline since the late 1990s. I was there when it first broke, with the introduction of technology. In hindsight, those of us who were there can now look at the Bloomberg terminal as a harbinger for a paradigm shift to come. The market has no significant demand for research in an era where investors can access CEOs in a multitude of ways, from conferences to personal Twitters and scores of digital threads in between. In an era where every company is a tech company (the ones with any real value, anyway) many an analyst understands only one aspect of a business, and so even their research is not informative enough for any investor to rely on without synthesizing it with many other sources. Finding quality research from an analyst who has experienced full immersion in a company and adds true alpha is a needle in a haystack and often the privy to only a select few. People will pay significant sums of money for the best private research available.
Over the last couple of years, our ability to work with an analyst who can then format the narrative has become better. This is partly due to what I learned in this sponsored research space. Now that we are at the point of generating meaningful revenues, the company makes a great case study for whether or not there is any real value to pre-revenue research. After all, a company's survival is more relative to avoiding onerous financial structures than it is to good research coverage.
Zacks Small-Cap Research: JMDA: Solving problems for the most important stakeholders on the internet: the creative community, their audience, and the brands that want access to them (January 23, 2020 - closing day price of $3.90)
The Zacks Small-Cap analyst team has an average of 20 years' experience in the investment field. They conduct significant due diligence in an effort to maintain the highest quality small-cap universe. Zacks Small-Cap Research coverage includes a full initiation report that is a comprehensive overview of the company with valuation, recommendation, and financial statements." Further to their quantitative process, "The Zacks Rank is a proprietary quantitative model that uses trends in earnings estimate revisions and EPS surprises to proportionally classify stocks. The Zacks Rank is a very good predictor of both positive and negative earnings surprises. Zacks SCR valuations are 100% fundamental research driven evaluations of the company based on all available information, including fundamental market analysis using techniques such as SWOT and financial statement analysis."
Tormont50: JMDA Growth Report (December 2018- closing month price of $3.20)
Tormont50 is the research platform of cross-border financial advisory firm the Tormont Group, led by Patrick Wood, which features growth opportunities in the small and microcap space. Companies invited to the Tormont50 must demonstrate compelling reasons for investment, including but not limited to, undervaluation relative to peers, new and innovative/disruptive technologies or methods, management/board evolution, upcoming events likely to drive value appreciation which could enable an increase in market capitalization. The Tormont50 is introduced to companies and institutional investors providing relevant information for select top growth opportunities identified by Tormont Group in the North American small and microcap segment. Member companies are the upcoming new leaders in their segment, focused on new technologies, innovation, and disruption and is limited to a maximum of 50 Companies. Member Companies are showcased to over 70 currently subscribed institutional shareholders across North America.
CNA Finance: Jerrick Media (JMDA) Stock: "Vocal" Is Becoming Social Publishing's Favorite Platform (April 2018 - closing month price of $4.00)
CNA Finance is a for profit company. That profit is generated through three (3) different types of relationships. First and foremost, we work with pay per click and CPM advertisers on banners. We also have affiliate relationships with various companies where we earn a portion of the sales revenue that we refer. Finally, we may have relationships with some of the companies or IR firms that represent companies mentioned within our works in which we are compensated in cash and or stock for consulting, investor relations, and Press Release services (click here for details). Therefore, while we do everything in our power to provide true, well-researched, and well-thought out opinions, in some instances, a potential conflict of interest may exist. CNA Finance encourages all investors to seek professional advice before making any investment decision.
Challenges Attract Creators
The biggest news of the week was our introduction of the Challenges feature on the platform. With Challenges, Creators can enter multiple themed story contests each month for the chance to win cash prizes and other rewards.
It's worth reiterating what it is about Challenges that is so transformative to our business. Core to Vocal's unique value proposition for creators is its ability to provide a non-interruptive, ad-free environment in which creators can publish and share their content. Brands are similarly compelled to work with Vocal for Brands, attracted by the proven merits of branded storytelling, which fosters a far more authentic and engaging experience than its display ad predecessors. Now, Vocal will partner with brands and organizations to deliver sponsored Challenges that drive brand awareness and engagement. In doing so, we're giving brands the ability to tap into Vocal's network of over 500,000 content creators and encourage them to interact with, learn about and promote their brand while benefiting from the peace of mind inherent to Vocal's brand-safe, moderated and curated environment. Brand-sponsored Challenges will effectively yield a collection of crowdsourced branded content for brands and help them reach a wider audience.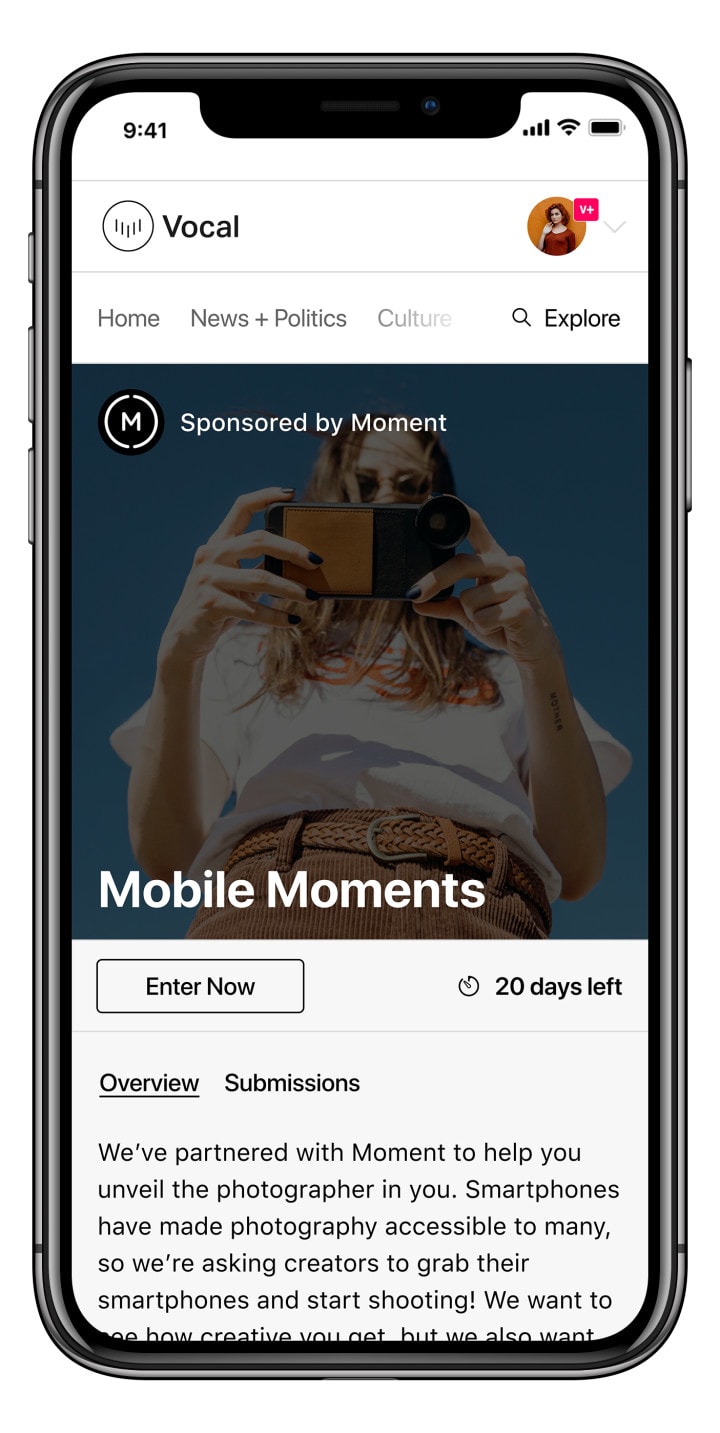 This unique structure is very organic to Vocal. The tech is significantly scalable. The introduction of Challenges showcases Vocal's unique ability to leverage the power of its creators, its communities and its curation capabilities to host unique content experiences that simultaneously drive success and value for brands and creators as well as their audiences.
Alexa
Our Alexa rankings have hovered at or near the 1,500 US and 5,700 global rank on Alexa.com. We often see a pause in growth after pushing an update to the platform as the framework adapts and site maps are updated. This is often followed by a pickup in the rapid rate of acceleration as we pass through to a new, more vibrant product than the previous iteration. As these iterations come in the product, Jerrick's agile business teams adapt to improved protocols. Meanwhile, I continue to analyze and identify digital communities that can be adapted and grown within the Vocal ecosystem. Sites like Den of Geek (#8,382 Global Alexa rank) and Empire Online (#21,959 Global Alexa rank) are just two of many examples of genre-specific content communities who need the support of a strong technology platform like Vocal in order to achieve growth rather than continued stagnation or decline.
Vocal's rising global Alexa rank is depicted in red below, as compared to that of the two aforementioned sites.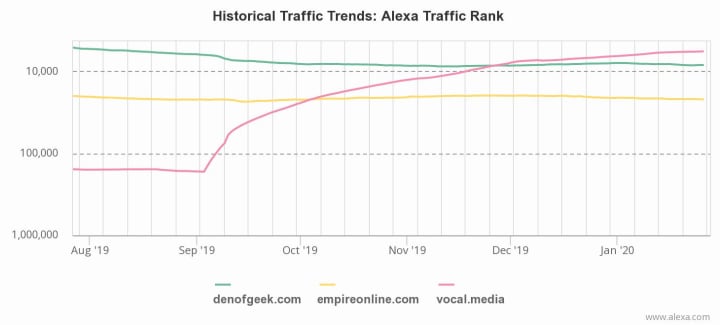 JMDA OTC Weekly Report
This week we saw a slight downtick in the stock price, closing at $3.90. Irrespective of the lack of activity, I expect things will start to pick up as we get deeper into the uplisting process and provide further guidance on general company business as well as report revenues in line with our guidance.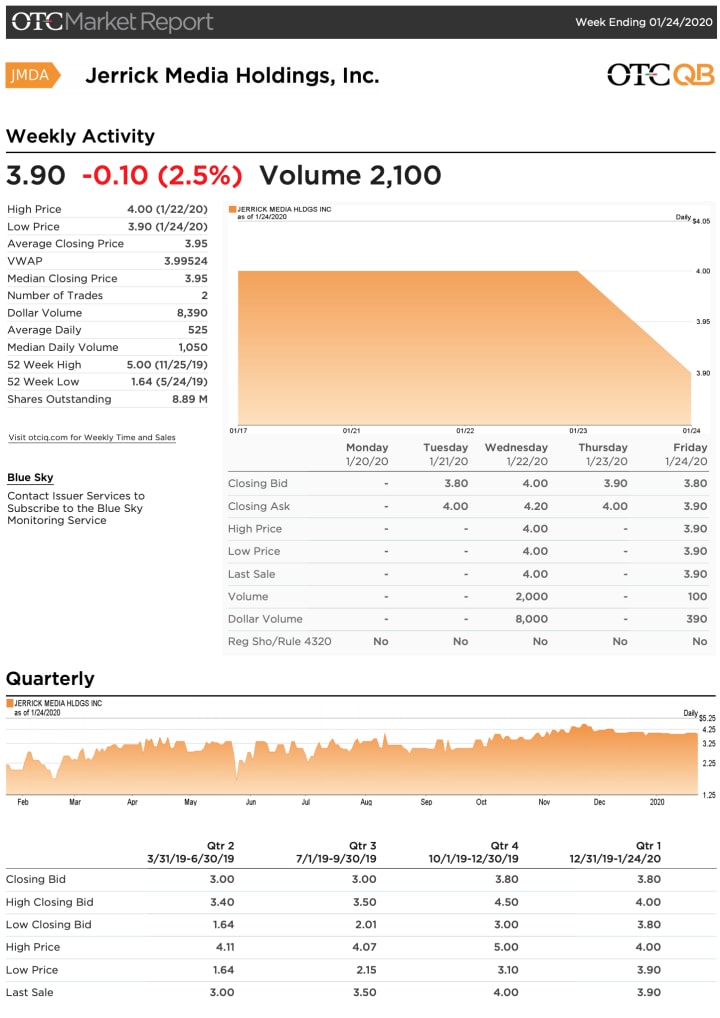 Stock Watch & Special Situations
We have been spending more time analyzing auction and e-commerce platforms, particularly eBay. As we begin to entertain more direct-to-consumer business opportunities, it was surprising for me to see relatively little innovation in the eBay platform these past few years. eBay is slated to release earnings in a few days, but the bottom line is that irrespective of short term results, I think the stagnation in the stock this past year is part of a general problem for large legacy platforms that need to evolve for a new generation of users. Some aspects of Jerrick's business model will begin to lean into e-commerce opportunities, affiliate markets and auction marketing. Understanding eBay's marketplace infrastructure is a part of a learning process that helps give us an advantage when dealing with particular creators and brands.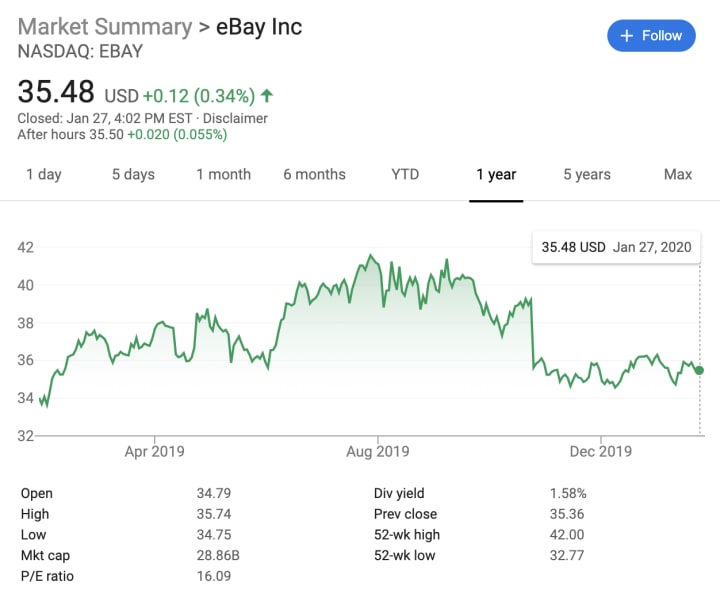 Forbes recently reported that eBay's marketplace business is expected to contribute $9.2 billion to eBay's 2019 revenues, making up 79% of eBay's $11.6 billion in expected revenues for 2019. The Marketplaces segment's contribution to revenue is nearly 4 times that of the marketing and advertising business. eBay is expected to add $2.6 billion in revenue between 2016 to 2019, out of which the marketplaces segment is expected to provide $2.1 billion; that is 80.8% of the total expected increase. This marketplaces segment revenue growth has been key to eBay's 38% price appreciation since 2016.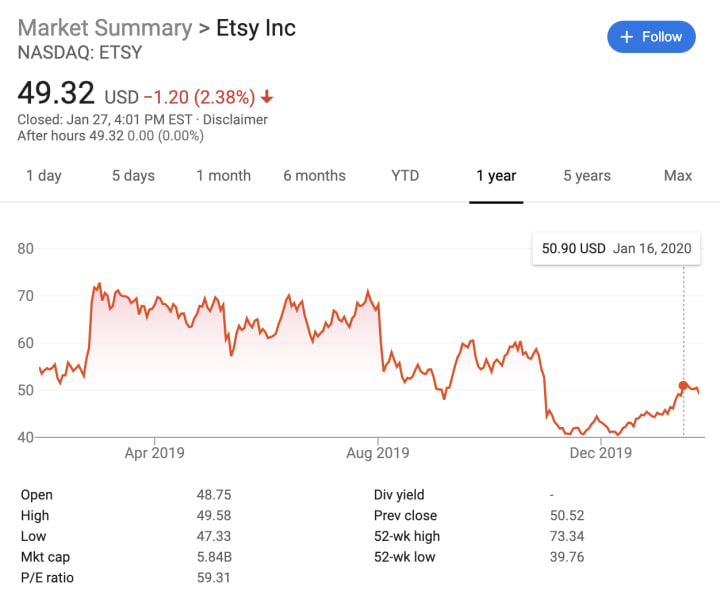 In addition to eBay, I have been studying more of Etsy's model. Aside from this year's limited advance in the market, Etsy (NASDAQ:ETSY) still represents a unique study in publicly traded ecosystems. In the first half of 2016, Etsy stock was trading in high single-digits. That said, these companies need to evolve their communities and continue to offer better resources and data to their constituents or risk being commoditized with other large legacy communities.
Vocal Staff Pick
One of Vocal's go-to creators for film reviews, Indie Films Dee, never fails to impress with her detailed analysis and honest thoughts about all of our favorite shows and movies. This time, with award season in full swing, she recommended some must-watch movies from Sundance's 2020 lineup. Not only are her stories well constructed, but they also provide the rest of the Vocal community with a curated selection of films to enjoy. Take a look at this Staff Pick below:
Creator Experiences
In last week's press release, my partner Justin Maury said:
"Challenges are the most important product update introduced into Vocal to date, allowing creators to connect with brands in an authentic, non-interruptive way that builds brand love and affinity while simultaneously giving creators more of what they love about Vocal–monetization and discovery."
In the wake of the launch of Challenges last week, the team has watched as many of our creators eagerly enter Vocal's first wave of Challenges. Mobile Moments, in partnership with Moment, asks creators to share a favorite smartphone photo, and the unique story behind it. The Locals Only Challenge encourages creators to show off the hidden spots in their hometowns. Behind the Beat is a music-focused story contest exclusive to Vocal+ members, and prompts creators to write about the songs that changed their lives. It's worth mentioning that these three Challenges are not only attractive to creators in their own right, but they represent the value of Challenges to our business model, specifically as it bolsters our Vocal for Brands offerings and Vocal+ value proposition simultaneously.
View all active Challenges here. To participate in the exclusive Vocal+ Challenges, a creator can upgrade to a Vocal+ membership here.
Seller's Choice
These last three weeks have been a particularly exciting time for the Jerrick team. With the launch of Challenges on Vocal, we see exponential opportunities for our networks to utilize each other to promote and develop additional alpha. This puts Seller's Choice in a particularly interesting spot; we have immense resources as we continue to grow Vocal that will directly impact the success of Seller's Choice. Challenges utilize brands and companies that users take interest in, and promote creative interpretations in exchange for rewards. Seller's Choice and Vocal will collectively bring in a wide variety of brands well-received by the public to participate in Challenges and other services we offer as a collective. As Seller's Choice continues to grow, we look forward to the inevitable partnerships that will occur along the way between our two core entities.
Additionally, I want to draw your attention to the newly redesigned contact form for Seller's Choice lead generation. Since bringing further attention to the Seller's Choice acquisition through this weekly update, we have generated nearly a dozen qualified sales opportunities, and the pipeline continues to grow.
Industry News
Patreon is continuing to struggle with nudity and other sexualized content being pirated and posted on porn sites. It is a systemic problem for them, with no visible solution;
"In May 2019, months after it reached out to Dozes, Patreon posted a blog describing its stance on piracy. "Protecting the works of our creators across the entirety of the internet is not something our policies or enforcement efforts are equipped to handle," wrote Patreon copyright lawyer Weston Dombroski. He further compares Patreon to a landlord, "limited in both responsibility and the remedies they can seek when theft occurs in your apartment." Patreon's "trust and safety" guidelines "give creators as much control of their businesses as possible," which includes 100 percent ownership of their work.
In other words, it's legally on Patreon's creators to enforce copyright on their own work. As Sullivan notes, it's a good thing that their creators maintain that copyright and not the platform. And yet, with a new post dump every seven minutes or so, Yiff.Party is an increasing menace to Patreon porn society. At least some rental contracts give tenants the power to impel their landlord to install window guards against theft."
This piece applies directly to the philosophies we instill within our development team — as we ask them to study each of these problems to promote hypergrowth and prepare Vocal for challenges unforeseen by those who came before.
I suggest reading the full article, and discovering for yourself just how complex the digital world has become:
Another article I suggest reading from the recent news in our space regards the overvalued private equity market —specifically the Unicorns — which I have always argued was less about value and more about a select group of Silicon Valley barons of wealth assigning value without understanding worth. This article explores the reality of this as well as the repercussions.
"If you have raised more than $250mm & are NOT public, the presumption is you are losing WAY too much money, and you probably have sh***y unit economics," veteran venture capitalist Bill Gurley recently tweeted."
We are entering an era where financially savvy individuals, from Wall Street to LA, now have legitimate tools to measure the value and determine the scope of a company's worth. Investing mentality is beginning to shift. This is a deeply encouraging proposition for Jerrick, as the Vocal platform is an exceptional product whose story is spreading daily.
Books
This particular round of book club was exciting for me, mainly because I love absorbing diverse forms of media — and what better way to immerse myself in the world of podcasts than to listen to a podcast about a podcast company? In this week's iteration, we discussed season 4 of Gimlet's podcast, StartUp, in which the Gimlet founders chronicle their experience of Gimlet's acquisition by Spotify in 2017.
While the content is not necessarily as rich with strategy and data as a book like Jim Collins' Good to Great (another essential read in Jerrick's canon), the anecdotal story of Gimlet's rise, and inevitable sale, was a great listen. If you haven't explored this podcast from its inception, I recommend you do. It's quite evident that Alex Blumberg, Gimlet's CEO and cofounder, has an impressive ability to weave a narrative, as seen in Gimlet's earliest content up through the present.
While listening, I found myself drawing parallels between StartUp and Messy Middle, in that both Blumberg and Belsky are natural storytellers who can synthesize a long and tumultuous journey into a consolidated experience for their audience, as well as the fact that each has a unique perspective on the struggles that seem to be common threads in so many start-up stories.
With all that said, an acquisition is often a long and confusing road for both parties involved, and Gimlet's acquisition by Spotify truly highlights the intense labor that goes into the purchase of a company. This journey is compelling and moving, provides great insight to the inner workings of a media acquisition, and mirrors much of the journey Jerrick took when buying Seller's Choice.
As always, for regular updates please follow me on LinkedIn as well as the company's other social pages:
Jerrick
LinkedIn: https://www.linkedin.com/company/jerrick-media
Twitter: https://twitter.com/JerrickMedia
Facebook: https://www.facebook.com/JerrickMedia/
Vocal
Instagram: https://www.instagram.com/vocal_creators/
Facebook: https://www.facebook.com/VocalCreators/
Twitter: https://twitter.com/Vocal_Creators
LinkedIn: https://www.linkedin.com/company/vocal
Reader insights
Be the first to share your insights about this piece.
Add your insights