Island of Freedom: How Ibiza Became My Forever Home
Inside the magic that is Ibiza.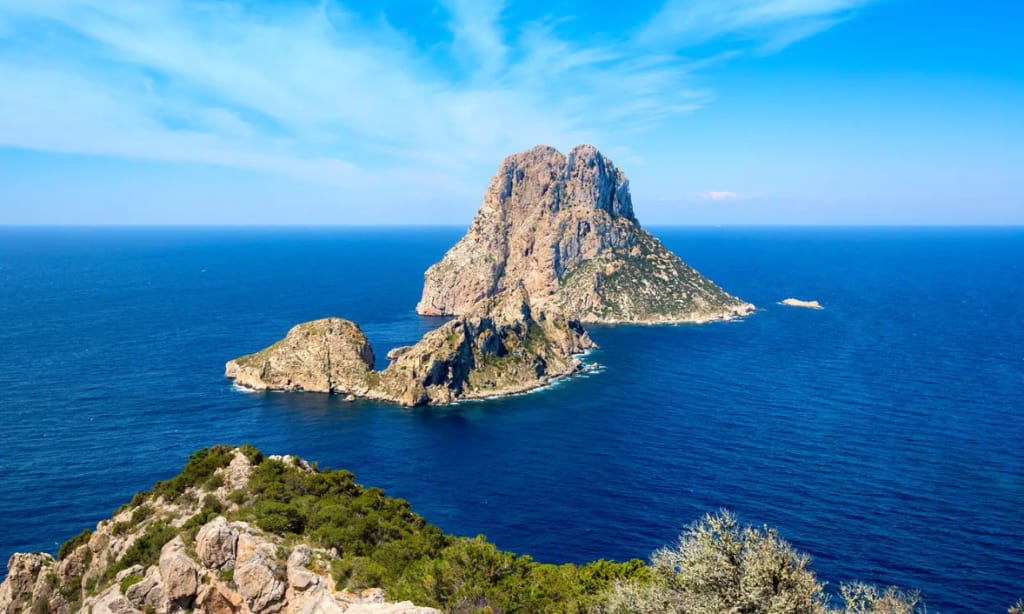 It was a twist of fate that brought me to the beautiful island of Ibiza for the first time. I was living in Argentina, working as an actress and dancer on TV, when the country was hit hard by economic turmoil. To make matters worse, the TV programs were cancelled and I found myself jobless. That is when a publicity agency approached me with an opportunity to audition as a dancer in Ibiza. Little did I know that this decision would change the course of my life forever.
Fast forward 20 years, and I have lived in several cities around the world including Madrid, Barcelona, Antwerp, London, Miami, and Los Angeles. But at the end of the day, it was always Ibiza that called me back. The island has a certain mystique that is hard to explain, but if you have been here, you know what I mean.
One of the main reasons that Ibiza won me over is the weather. We have so many days of sunshine and blue skies here, which I realized was important to me after living in gloomy cities like Antwerp and London.
Plus, everything I need is within walking distance, bike distance, or a short car drive away. In other cities like Los Angeles where I also lived, half an hour of driving is nothing, but in Ibiza, that is considered far. The time saved on commute translates into more time to enjoy life.
Another thing I love about Ibiza is the tolerance and lack of judgment for different cultures, religions, and sexual orientations. The island has been known as the "island of freedom" since the sixties, where everyone mixes no matter where they come from. This feeling and way of living has stayed over the decades up to now, and you can feel it in the air.
Ibiza also offers a unique contrast of craziness and calmness. As much as I love peace and quiet, I also crave noise, people, and excitement sometimes. In the summer, there is a wave of excitement that sweeps over the island, and if you want to succeed, you must ride with it. Then, in the off-season, you can enjoy the paradisiacal beaches all to yourself.
The mix of cultures living together is another thing that makes Ibiza special. My four-year-old son's class looks like a United Colors of Benetton advertisement, with children from all over the world speaking different languages. Growing up in this environment opens children's minds to different cultures and languages, which is a priceless experience.
And let us not forget about the breathtaking nature and beaches that surround the island. Taking a short drive to Cala D'hort to admire the beauty of Es Vedra under the warm sun is an experience that never gets old.
But perhaps the most special thing about Ibiza is the indescribable energy that you can feel in the air. It might be the wild nature with its hills, the stories that people have lived here, or the legends surrounding the island such as Tanit, Atlantis, and Es Vedra. Whatever it is, if you are connected to it, you will feel it too.
In conclusion, Ibiza may not have the best cinemas, shopping malls, or entertainment options of a big city, but it offers something far more valuable: quality of life, tolerance, pure ocean air, and paradisiacal beaches. Ibiza gives you time to enjoy life with your loved ones, which is truly priceless.
And as those who know me can attest, if Ibiza were a man, I would marry him in a heartbeat…
Fátima Hernandez is seasoned professional with over 20 years of experience in Ibiza's nightlife industry.
Throughout her career, she has worked for some of the top companies on the island, including Amnesia, Lio, the Pacha Group, and the Cipriani Group, in various roles such as artistic manager, director of image and public relations, and general manager. These experiences have given her a deep understanding of the local scene and its needs, as well as the ability to manage diverse teams, coordinate complex events, and deliver exceptional service to high-end clients.
Currently, she is running her own consulting and event planning business, where she provides market research, strategic planning, and brand positioning services to new businesses entering the Ibiza market. She also organizes private events of all kinds, from corporate launches to weddings and personal celebrations, handling all aspects of the production, from concept design to execution. In addition, she offers personalized concierge services to VIP clients, such as transportation, accommodation, reservations, and entertainment.
She is proud to say that her most recent project, Konnected, was a highly successful party that she hosted at the W Hotel last year 2022. It is a testament to her creativity, attention to detail, and ability to deliver memorable experiences.
Her extensive experience, deep knowledge, and passion for the nightlife industry, combined with her strong organizational, communication, and leadership skills, make her a valuable asset to any company that seeks to thrive in Ibiza's competitive market.
Please visit her website at fatimahernandez.net to learn more about her background and services, and feel free to contact her if you need her services.
About the Creator
Fátima Hernandez is a seasoned professional with over 20 years of experience in Ibiza's hospitality industry.
Reader insights
Be the first to share your insights about this piece.
Add your insights