"Is it Acceptable to have a Work Wife/Husband?
...Apart from your significant other?"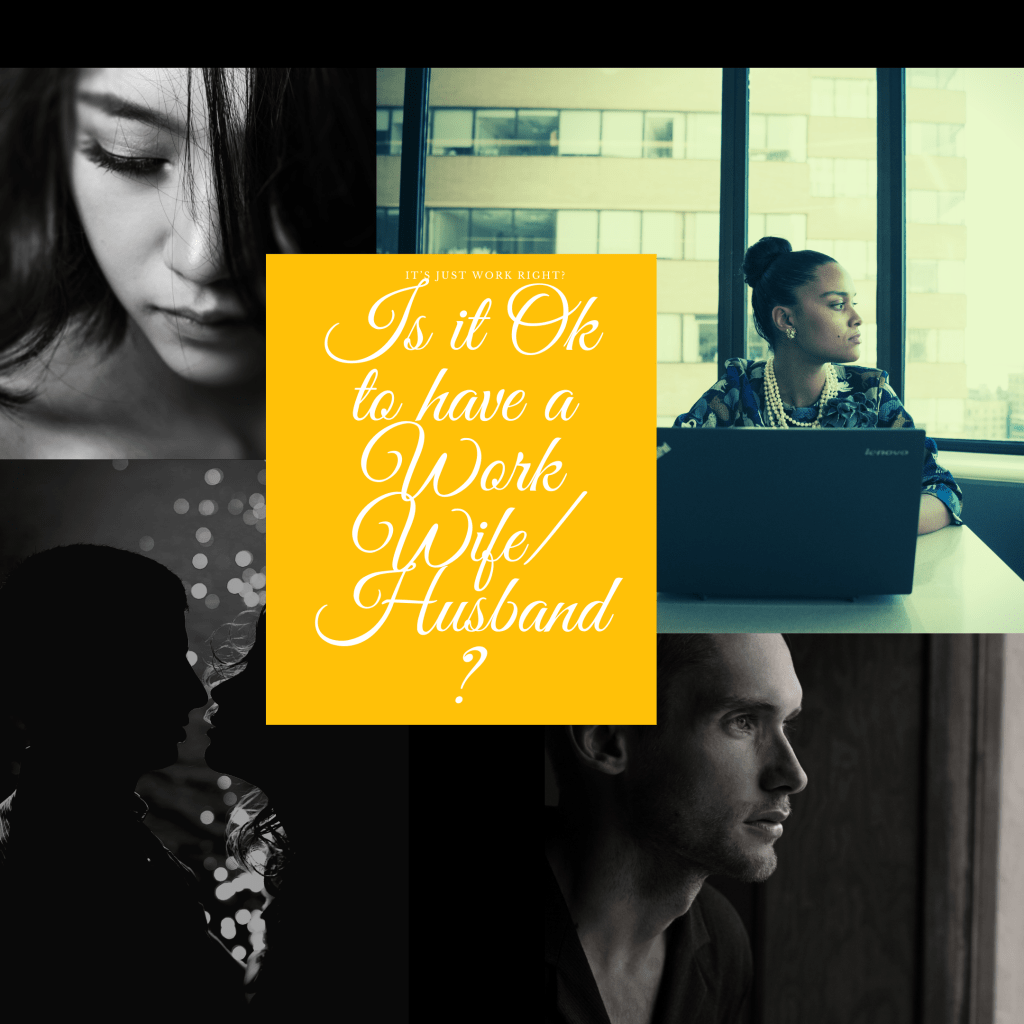 *Tips are not required but they are appreciated.
"Is it acceptable to have a work wife/husband apart from your significant other?"
There are many avenues companies explore to find ways to optimize their employees performance on the job. In fact many companies go out of their way to administer personality tests to match work team combinations to enhance work performance. Trying to find the right chemistry to break the high cost of turnover rates, lack of initiative in the workplace and stale interactions that result in a boring place to work can be the objective of a company. With all this being said, one must evaluate whether the "perfect compatibility" of who you can work with on the job that is suggested by a test would in fact be just as complimentary for the employees home life. Especially considering how the significant other could be effected by the work demands of that team suggestion. I'm not saying that the company has an agenda. In fact, some companies have no fraternization policies.
This said, good ol' fashioned common sense says to understand what is being asked of you and the fashion in which it is being asked of you before you agree to it. Even if it's from an altruistic company you should understand context of the opportunity presented to you. Let me be clear in this, it is important not to take the company's efforts out of context. The company's suggestions for placement are not to sabotage your personal life. They are made for professional performance purposes. Even still, your determination of a good fit should be based on how it affects your personal relationships as well as your career. Before you go all in for a company not realizing that you may be agreeing to put yourself into a precarious situation, give your consents a second glance. All that glitters is not gold. Remembering that it is not the company's responsibility to make choices that a person as an adult should make for themselves.
These team choices if one is not careful to scrutinize their personal choices find themselves triangulating away from their significant other. It's not that you want to make your significant other number two. They just get the designation by default the deeper you find yourself in the predetermined commitment.
For this reason, my answer is no. It is not acceptable to have a work husband/wife apart from the one you have at home. The title alone implies a breach of boundaries. Boundaries are important to apply in context of why and how we work with someone in the workplace or otherwise. Without context inappropriate interactions can become gateways to compromises in your primary relationships.
The more off balance one is in their practice of boundaries by consent, the more compromises they may begin to see off centering aspects of their work-life balance. For example, failing to set boundaries on times you can call and talk to one another, making excuses to speak to that person other than your spouse, confiding in them verses your spouse/significant other, making them priority at the expense of your relationship commitment....even rejecting or lying to the significant other for the work partner can be blatant clues that there have been some breaches on boundaries.
If these kind of breaches have been identified, the person may benefit from further exploration with their significant other regarding the impact of their decisions to determine how to rectify the underpinning challenges that have arisen.
If the matter cannot be resolved at that level maybe the assistance of a counselor could help facilitate the clarity needed to re-establish a workable and respectful norm.
I have a book called Developing Your Marital Relationship. If you would like to purchase a copy please send me an email or call to place an order.
I also have a relationship foundations class for those interested in strengthening your relationship. More information can be found at HappyMarriagePact.com
Last but not least, if you feel you could benefit from personal counseling in this area. Please feel free to check for availability in order to schedule an appointment. Please feel free to call (405)748-0091.
*Tips let me know this platform works. There is an operating budget to keep this account feed going. Your tips and your feedback are appreciated!
Here's to having an awesome relationship that works for you both.
Calvin Smith, LPC
Ordained Christian Counselor