I Reached My $20 Vocal+ Payout!
On October 20, 2020, my $20 dreams came true. Here's three little tips to help reach your payout, too.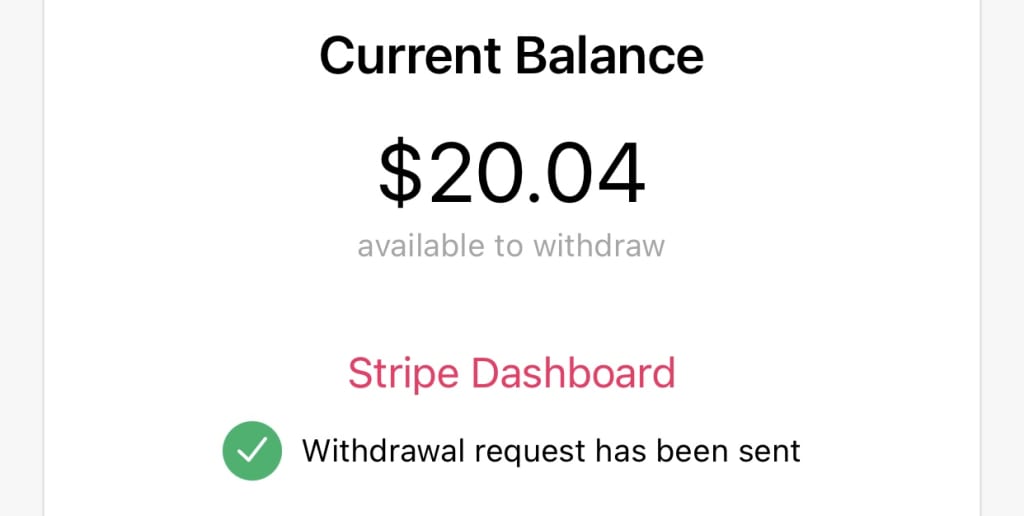 I did it folks. It finally happened. After about a year and a half, 26 articles and several monthly payments of $9.99, I finally reached enough reads to withdraw the minimum Stripe requirement of $20.
Ironically, it happened on October 20, 2020. A whole lot of 20s, if you ask me. Of course, very few people have reached their minimum Stripe payout, so no one told me the transfer was going to take A WHOLE ASS WEEK! If it had only been a day or two, I could have used the money to pay my Wifi bill!
This isn't the first time I've received money from Vocal. Throughout the course of my blogging career, I've been gifted 16 tips and gained income from six challenge wins. If you've read some of my articles (specifically How To Win A Vocal Challenge and 5 Features That Would Make Vocal Even Better), you already know my disdain for the pay-per-view system on this website. I think you only get a cent for every two reads? And that's if you're subscribed to Vocal+. For regular creators, the rate is even lower.
Six months ago, Brian Anonymous wrote a great staff picked article about reaching his $35 minimum withdrawal requirement. I think about that story a lot. One thing it made me realize is that us creators can love this website while being open to critiquing it. Nobody's perfect, not even Vocal.
I've seen a lot of Facebook comments on Vocal advertisements saying this website is a scam because of the low pay-per-view rates and access to challenges via Vocal+ subscription. I disagree that this website is a scam...but it is very hard to make money on here. It takes an enormous amount of grit and persistence, but some people have made it work.
The good news is that after withdrawing my $20, I noticed my rate of gaining money from reads has quickened. When I first started Vocal, it took several months to reach my first dollar from views. Now, it's been a little over ten days since my withdrawal request and already I have over a dollar from readership. I guess once you jump over the first minimum payout hurdle, withdrawals come easier.
I have not mastered the art of making money on Vocal through views, but here are three things I've noticed when it comes to being able to hit that withdrawal button faster...
You Need Quantity AND Quality
Some people get lucky on this website. They write one article and make a fortune because it's the first result in a Google search. Most people on Vocal, however, do not have such luck. Because this website doesn't have high traffic like Youtube or Wattpad, the average Vocal article gets about ten reads or so.
I've had my hits and misses. My least-read article only has four clicks, while my most-read article has about 1900. Sometimes, you get a huge spike in viewership for an article and you don't know why. My most-read article used to be my least-read...until it got a random spike in readership. One time it got over 500 reads in one day! (If I had to guess why, it's probably because the name "Stephen King" is in the title.)
It's best to pump out Vocal articles regularly. Make a publishing schedule and commit to it. You're going to have articles that make more money than others, but the more content you have on Vocal, the higher the chance someone will click on your stuff.
At the same time, don't write cheap stuff in the hopes it will be seen. I just convinced my friend to make an account on Vocal. She was looking up articles on Unus Annus (the Youtube channel), and scoffed out loud while reading one...
"I can't believe this," she said, "there's so many spelling and grammar errors in this! How did this get published?"
Before you lift your hands off your keyboard, make sure your Vocal articles are as professional as they can be! Check your spelling, grammar, and make sure you use titles and pictures whenever you can. The goal is to write something you want strangers to share.
Challenge Wins and Staff Picks = More Clicks
It's kind of a no-brainer: the more attention Vocal gives your article, the more people are going to click on it. And the more money you'll make from those clicks. That's why it's so important to focus on the quality of your articles. The better they are in terms of content, spelling, and grammar, the higher the chance of them being shared by people that aren't you.
Staff picks in particular tend to gain spikes in views because they're featured on Vocal's homepage and Instagram stories. People read the challenge-winning articles too: they're also featured on Vocal's Insta stories, and well...people just want to know who won the challenges!
If you want one of your articles to be staff picked, my best advice to you is to study the previous staff picks. You'll get an idea of the quality Vocal is looking for by reading them. Writing about popular topics or current events tends to help too.
As for placing in a challenge, I wrote a handy dandy article with tips on how to place in Vocal challenges. (I've already placed in six!) Check it out if you're looking for advice.
Good Titles and Cover Photos Go A Long Way
Clickbait: a thing people love to hate, but something that helps tremendously if you're looking to gain money from views.
Some people judge books by their covers, and the same goes for Vocal audiences with your article's banner. People are more likely to click on your story if it's got an appealing cover. Make it pop! Make it interesting! Make it professional! Unsplash images can help if you're struggling to find the right picture.
Additionally, you want catchy titles that will hook people in. One of my most-read articles is a piece about why I would go to outer space if I had the chance to vacation anywhere I wanted. I did copious amounts of research and set up the article like a virtual tour to various places in our solar system. I could have titled the article, "A Space Adventure" or something along those lines. Instead, I chose to title it, Get In Loser, We're Going to Outer Space.
The article was staff picked, and I think part of that decision has to do with the title. It's different, it's silly, if you're a Mean Girls fan, you get the reference, and it tells the audience what to expect from reading: a trip to outer space, albeit virtually.
It also directly addresses the audience. Titles like, "How to Do ____" and opinion-related titles like "Why You Should ____" tend to get more reads because viewers know they will gain knowledge or have their opinions changed from reading them. We all like to read things that make us think!
In Conclusion + A Bonus Tip
I still have a long way to go before I can count on gaining a steady income from reads on my articles. I know some people who successfully do it use social media to their advantage, particularly Facebook and Instagram. Sharing your stories can help you gain reads - it's just a matter of sharing them in the right places.
I'd like to experiment with sharing my Vocal articles on Reddit. On a Midsommar subreddit, I saw a Malin Evita article posted onto one of the threads. A decent amount of people commented about their thoughts on the piece, so I'm thinking sharing your Vocal pieces to specific communities they cater to might be a good way to gain some readership. I'll have to try it out with my articles and update you all on the results.
Until then, hope these three 1/2 tips helped! Get writing and get earning! I'll do the same. :)
________________________________
If you'd like to follow me on the socials, my username is @katyisaladybug! Also feel free to tag me if you want to share this somewhere on the internet. And make sure to leave a like if you enjoyed! As always, thanks for reading.
-Katy