How to Tackle the Challenges of AS400 Integration?
AS400 Integration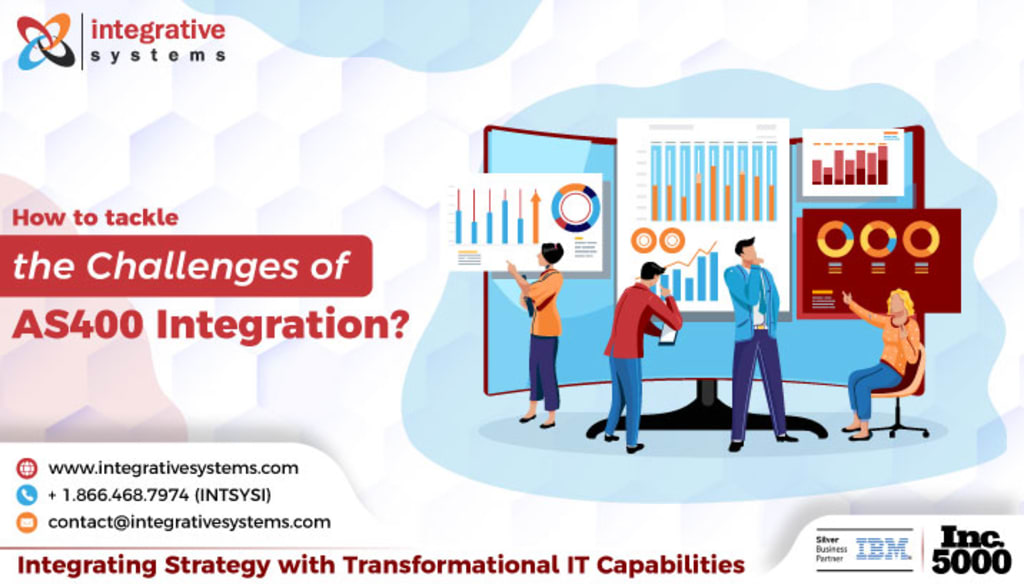 The AS400 systems were designed with a specific use case in mind. The industries like retail, manufacturing, and logistics required heavy processing capacities and AS400 systems did the justice, just right.
Over the last 30 years, IBM has rewired these systems considering the increasing demand across industries, underlining the performance and reliability these systems offered.
Despite setting a benchmark for security and reliability, the AS400 systems are questioned for the hard time they gave to the users when it comes to modernization or integration.
Let's understand the challenges of AS400 integration.
Let's begin!
Common Challenges observed during AS400 Integration
Inadequate Knowledge of Tools & Standards
As CIOs/CTOs, leaders prefer to have the nitty-gritty of the AS400 systems that they are operating on. The intention is pretty much pure, they want to enhance their iSeries system's performance and tune it according to the changing needs of users and the environment.
Failing to get access to the core tools and standards that AS400 systems operate on, leaves these leaders in the dark. And, ultimately these leaders fear away from AS400 system integrations.
Code modernization
It is necessary to modernize the code of AS400 systems in order to open up their integration capabilities.
AS400/iSeries typically are programmed with RPG language using the fixed form, which usually doesn't support many languages and can't be understood by modern developers.
This also doesn't support modern applications and hence creates challenges while integrating solutions.
Application Support
In the IT environment, there are many software systems that are used to perform different functions. The goal of integration is to make these systems talk to each other, and integrating them with one single system like an AS400 can make things a lot easier because it can act as a single point of truth.
Data Security Concerns
Data security is a matter of concern, especially when we are talking about application integration and migration to the cloud.
Moving to a new cloud is certainly a core shift and you stand a high chance of data loss or security breach.
Doing this without adequate documentation and authoritative support from an experienced AS400 integration service provider can be a disaster.
Possible Solutions to Eliminate Challenges for AS400 Integration
Documentation of Your iSeries
Back to the basics, there is nothing more satisfying than having the documentation of your iSeries architecture when you run into a mishap or disaster.
A comprehensive system document for an AS400 iSeries setup covers the tracks for the whole system architecture, defined IT policies, Inventory reports, Integration, and whatnot.
On top of all, when you run into a contingency, you know the address back to the normal state.
This simple yet consistent effort can save you from a big blow, big time.
Front-end modernization
Modernizing your RPG code is one of the proven techniques to prepare your AS400 applications for integration.
As you break the complex RPG code and convert it to RPG fixed form, it gets easier for developers to integrate the new applications.
RPG complex code is not easy to break and becomes a roadblock in your way to enhancing your AS400 applications. When the code is broken and converted to a free form, it is easier for the developers to integrate and enhance the applications.
Introducing APIs
If breaking the code is not an alternative that you want to go ahead with, you can choose to use APIs.
Enterprises globally are adopting APIs to enhance the user experience and integrate new capabilities into their legacy systems. This is allowing them to ramp up their system performance and match the expectations of users in terms of user experience.
One easy way to make this happen is by relying on two different operating systems for running applications. You can choose to use IBMi with Linux or Windows which allows you to run applications on one OS and execute using the power of IBMi.
Rope in AS400 Integration Services
According to a recent study, 3 out of 4 companies (75%) have reported talent shortages and difficulty in hiring. This is the highest in the past 16 years – ManPower Group.
No surprise - IT & Technology reported the highest talent shortages - 76% of all industries.
Enterprises operating on IBM iSeries systems have encountered a major heat in terms of talent shortage. Skilled AS400 talent who played a major role in building the AS400 applications that these enterprises are using, has either retired or is about to walk out of the door.
CTOs are left with no choice but to train the existing talent to maintain the current AS400 systems; which yet again is like shedding blood.
Considering AS400 integration services providers who have both expertise and experience handling complex systems, can be a relief for CTOs.
Conclusion
With inadequate knowledge and expertise, AS400 integration is like an iceberg to move. Approaching the AS400 services provider at the right time for the integration initiative can save both your time and money. If you are looking for an expert iSeries services provider, let us know. We will be more than happy to help.
Reader insights
Be the first to share your insights about this piece.
Add your insights