How to produce CPP film?
Polypropylene Films Processing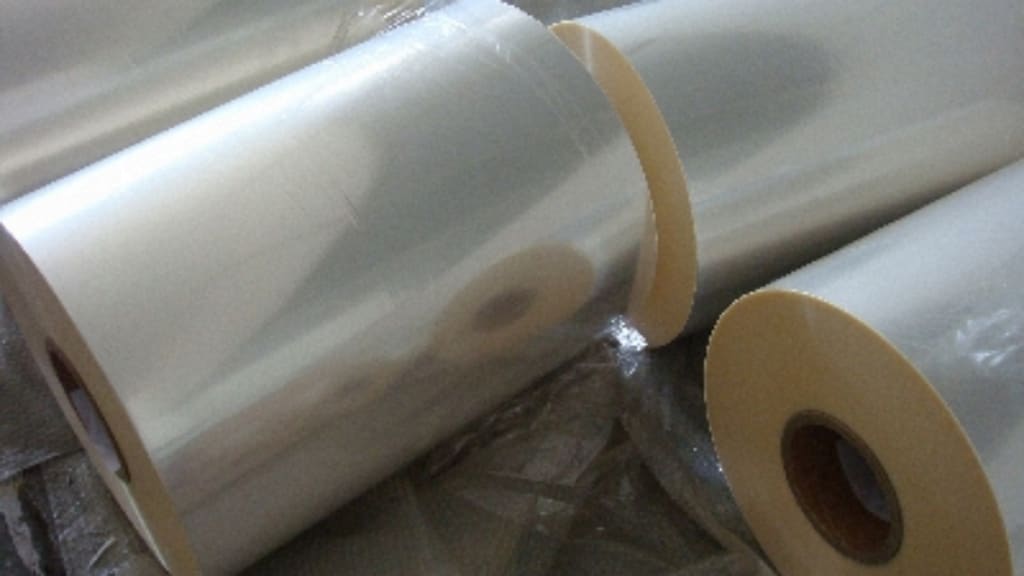 Cast Polypropylene Film
Polypropylene films are one of the most pre-potent barrier films, versatile and economic than ever used in various packaging applications. Due to its excellent moisture barrier, clarity, gloss, durability, the ability to print, emboss-ability, aroma strength, dimensional stability, process-ability and other; markets of PP films are quickly changed and a number of new applications take market share of other plastic films. PP films compete with various other materials such as PVDC films, polyester films, nylon films, polyethylene films, cellulose films, wax paper, aluminum foil, and others on the basis of performance and cost.
Product developers soon have found these qualities and come to think about one of the most versatile thermoplastic resins for a wide variety of applications. Polypropylene is a unique material which can be steam-sterilized or autoclaved without damage and resists environmental stress cracking when subjected to most chemical tests and of course, PP offers higher heat resistance and is therefore more suitable for retort packaging or hot filling. It also offers an opportunity for better grease resistance compare to LLDPE/LDPE.
Years ago, Polypropylene (PP) was generally quite difficult to produce on the conventional upward blown film line, mainly due to its poor melt strength, long cooling time and somewhat inferior optical properties, although some of the raw material manufacturer had developed some specific polypropylene grades that can be processed on conventional upward blown film extrusion but in recent years, due to economic and quality reasons, the majority of produced films for packaging applications are made using flat die process.
The polypropylene film produced with Cast Polypropylene is offers magnificent transparency and external glossy qualities. It is extraordinary for packaging snacks as well as being used as a sealant film for retorting purpose due to its excellent heat sealing characteristic and stabilizing dimensions of packaged contents.
Films produced using the chill-roll process, where the die lip are at an optimum setting with auto profile control (APC), have a much more uniform thickness than conventional blown film lines.
In the later film process, the molten polymer emerging from the flat die lip will drop on either highly-polished chrome plated or matte finish cooling roll. With the later, the most important factor is the rough surface.
In addition to the flat die process, the process of blown film is also used for some applications where the size of the bubble plays an influential role in the further processing.
In such situation, to achieve better process-ability, conventional blown film extrusion requires some modifications such as higher L/D ratio, different die gap, more efficient cooling system with higher air volume to achieve desire quality.
Interestingly, PP can be produce by water quench system for the production of IV bags, in such a process in fact melts emerges from a circular die and is led by a touch of refreshing water calibration ring, which quenches immediately; this process is called the water quenching.
High quality PP film only could be processed using the special designed screws that are suitable for PP with the right shearing and mixing part and may have a length of from 25 to 33 L/D.
The temperature of the melt, with normal residence times should be between 220 ° C and 260 ° C to produce film structures as perfect as possible. For best quality films, filter packs recommended by the manufacturer.
To produce very high quality CPP film, it is necessary to use screen packages. For example, a typical package might consist of: 20/80/200/200/80 (end 80 is used to keep the 200s in place) this sensitivity to the gels made ​​it imperative that the plates breaking and the slide plate region are completely cleaned when the screens are changed.
In general, higher melt temperatures improve the optical properties of the film, yet the rising temperatures are melting too high could cause damage and reduce the thermal material properties and also bring problems with the increased smoke from the melt curtain, increased chill roll plate out and increased die lip buildup.
Major processing Factors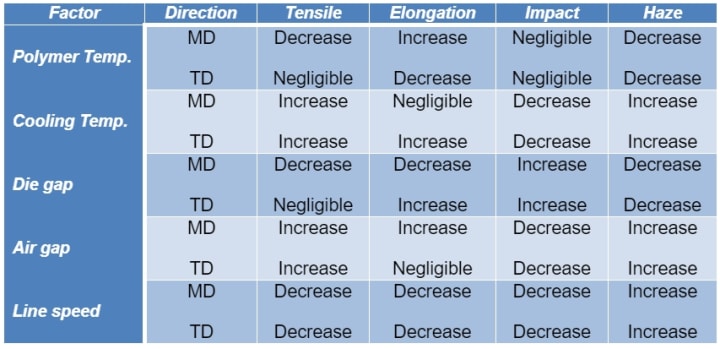 Influence of processing on film properties
Selection of the correct raw materials together with the processing parameters has a strong influence on film properties.
Increasing of the die temperature will result in marginal improvements to the gloss and transparency.
In general, by increasing the chill-roll temperature we can increase the degree of crystallinity. As we lower the chill-roll temperature, the spherulite structure becomes finer. This results in films with higher transparency, gloss and tenacity, but with reduced stiffness.
On the other hand, with higher chill-roll temperatures; frictional properties as a function of time are improved. The temperature of the second cooling roll and the winding angle impact not only the slip properties, but also the winding behavior and flatness of the finish roll.
Surface treatment
Generally, plastics have chemically inert and nonporous surfaces with low surface tensions causing them to be non-receptive to bonding with substrates, printing inks, coatings, and adhesives. Polyethylene and polypropylene are the lowest in surface energy of the various plastics and are the two materials most often subjected to surface treatment to improve their bonding characteristics.
To ensure sufficient adhesion of printing inks, lamination adhesive or metal from metallization, the surface energy of CPP must be increased so that it achieves a minimum surface tension of 38 mN/m (dyne/cm).
Corona treatment is the preferred method on cast film lines to achieve an increased surface energy.
Back treatment is moderately usual occurrence with cast film which stands up from wrinkles and flexure on the reverse face. This phenomenon can be avoided by the prevention of air between the film and the surface of the dielectric roll. Back treatment may hinder with subsequent heat sealing and cause blocking, especially over print which results in unpleasant stripes.
Surface tension can be measured using a treatment pen or test solution immediately after Winding. Surface tension will reduce by roll aging about two points or more depending on the polymer additive levels. Excessive treatment may give rise to blocking, unacceptable odors or coloration. The treatment will usually cause some heating of the web. Steps must be undertaken to prevent this from causing creasing.
Coextrusion
When using the coextrusion procedure it is possible to combine different materials/properties in a sandwich construction. Coextrusion in general, and polyolefin coextrusion in particular, have gained a dominant position over the last few years.
In particular the 3-layer coextrusion in a layer combination ABA or ABC is a preferred version of PP for manufacturing multilayer constructions.
Additives
The ideal formulation would probably change from winter to summer, since the ambient temperature will affect how quickly slip agent migrates to the surface of the film under different ambient conditions.
The usual practice is to set up feed-block combination to have the structure with the seal layer next to the chill roll, with the treated surface being extruded into free air. While it might seem strange at first, the seal layer normally has 500-700 PPM of slip to provide a (thin) release layer between the film and the chill roll. This release layer helps to prevent localized sticking of the melt curtain to the chill roll, which in turn allows wider latitude of vacuum levels to be run in the vacuum box. In addition, slip in the skin layers makes it easier to wind a "tight" roll without localized "bruise marks".
It is also common practice to include from 200 to 1500 PPM of antiblock (AB) in the treat layer to improve the film winding and also how the film performs in subsequent converting operations. AB does not migrate and increases the film's haze, so there is no reason to include it in the core layer. AB is not usually included in the heat seal layer, since AB makes it more difficult to obtain a good heat seal.
Real example of CPP in some applications
PP – Twist films
This is a substitution of cellophane, PVC or wax paper
Typically produce on a Cast coex film, often 3-layers with PP Homo and PP Raco
FFS packaging films (BOPP substitution)
This is a substitution of laminates with BOPP structures or BOPP films
Typically produce on PP cast or PE blown film/BOPP with PP homo and Terpolymer or Raco sealing layer
Metallizable PP cast films
An alternative to BOPP and new applications
Typically it is a Cast PP with Racos and Homo PP
Used for Tobacco films, twist films, food packaging (bread, etc.)
Medical PP pouches - the pouch with the liquid
An alternative to PVC bags
Typically a 3 layer cast Coextrusion with following structure;
A Layer - PP Homo PP random with low CO2 content 'heat resistant layer'
B Layer - Blends of PP Raheco or PP random with EPR, TPO, SEBS
C Layer - PP sealing layer; blend or random copo or terpolymer
Label/display films
This is a substitution of existing materials (PVC, PE) or new applications
Typically a Cast PP with Homo PP and blend of PE
Stand up pouch lamination film
This is a substitution of aluminum, white tin and glass bottles, trays, cans and boxes by a polymeric stand up pouch concept.
Typical structure often is SiOx coated PET/PA/PP laminates. PP has mainly the function of a sealing layer. It provides the tenacity and body of the film.
Used for packaging of soups, sauces, solid food, pet food, Detergent and cosmetics packaging.
Peelable films
Peelable structures/films based on PP sterilisable and non sterilisable.
Typical structure is a Coex film, consisting of PP core (homo, raco or block) and thin peelable layer (10 μm)
Used for all kinds of films for ready to eat meals, ice cream boxes, desserts, soft cheese, dairy products. Peelable flexible structures for food and detergents - peelable against itself. Sterilisable, peelable secondary packaging for medical pouches.

Above article has written by Matthew Tabassi and published by Packaging Films 1-2014
References:
K IN0070/GB FF 2007 10 BB – Polypropylene Cast line by Borouge
Corona treatment: An overview by David A. Markgraf